How to Sync Multiple Dropbox Accounts?
Dropbox has turned out to be a very popular cloud storage service with an impressive quantity of users. The importance of cloud storage services has increased with time, where people have eventually learned and understood the meaning of the advantages cloud storage poses. Cloud storage, such as Dropbox, has provided very far-reaching benefits to its users. Among many benefits, these services have made sharing and synchronizing data easier with Internet access as the primary requirement of carrying out this task. This article discusses the possibilities and mechanisms involving the synchronization of two Dropbox accounts. The process to sync multiple Dropbox accounts involves a few technical aspects that raise questions over its possibilities and feasibility. This article intends to cover all the aspects in detail with proper step-by-step guidelines for effectively carrying out a process.
Part 1: Why can't I sync two personal accounts to the same device?
The popularity of Dropbox in cloud storage services is unquestionable. However, the major drawback in the basic accounts of Dropbox is its limited storage of just 2GB. This leads to the need for two or more Dropbox accounts for increasing storage space. While forming new Dropbox accounts, the real problem arises while linking Dropbox accounts. Considering the different Dropbox subscriptions, the basic Dropbox accounts provide no options for synchronizing multiple accounts where users have to deliberately log out to log in with a new account. However, if you are a Dropbox business user, there are simple techniques for synchronizing two accounts onto a single device. With no direct mechanisms available for Dropbox Basic accounts, you might need to follow different manual and third-party techniques to have your personal accounts synced in the same device.
Part 2: How to sync multiple Dropbox accounts data manually?
Operating two Dropbox accounts simultaneously on the same device is not a feature awarded by Dropbox to its basic users. However, some methods can be adopted for transferring files between two Dropbox answers. The technique involving "Shared Folder" is recognized as the most compelling method considered while answering the question of synchronizing Dropbox accounts manually.
Synchronizing Two basic Dropbox Accounts
Step 1: Signing in into the first account
You need to log in to the first account and create a shared folder with an appropriate name.
Step 2: Transferring Data
Drag and drop all the appropriate data that you need to synchronize among both accounts. Complete this manual process and propagate towards inviting accounts.
Step 3: Allow access to the other account
Invite the second account to access your newly created folder. Sign out of the account and move towards signing in to your second account.
Step 4: Open your second account
Sign yourselves into the second account and open the tab named "Shared" present on the screen's left sidebar.
Step 5: Locate the shared folder
Drift yourselves toward the folder that you created using your first account. Locate and click on "Add." After performing this step, locate the option of "All files" present on the left sidebar. The shared folder is successfully added into your second Dropbox account. After merging Dropbox accounts, you can move all the files present in the folder anywhere in the Dropbox account. However, if the files are removed from the Shared folder, these files are not accessible through the first account. This conventional way connects two Dropbox accounts with each other.
Merging Two Dropbox Business Accounts
Dropbox provides a special feature for Business account holders where they can log in to multiple accounts on the same device simultaneously. For sharing data among two accounts, you need to follow a few easy steps that would conventionally attach two different Dropbox accounts.
Step 1: Open Dropbox and Connect Accounts
Connect both Dropbox accounts. To open Dropbox for a specific account, approach the icon and tap on the profile picture or initials of the respective account you seek to open.
Step 2: Link your Accounts
Open the 'Preferences' menu and click on the 'Accounts' tab. While being already logged into the account, click on the "Personal" tab present on the work account that you have logged in. To start linking accounts, tap on the button of "Link." Enter the credentials of the second account.
Step 3: Move Files among both Accounts
After successful linking, two different Dropbox folders can be observed in the file manager of your device. Simply copy or move files among both folders that represent the two accounts that have been linked together.
Part 3: How to sync multiple Dropbox accounts data with a cloud storage manager?
Third-party platforms are another technique that can be adopted while connecting two personal Dropbox accounts. You need to follow a series of straightforward steps that would eventually help you link Dropbox accounts easily using Multcloud, a cloud storage manager.
Step 1: Log in to the Multcloud Account
You need to have a Multcloud account for accessing its service. Sign up or log in to your account.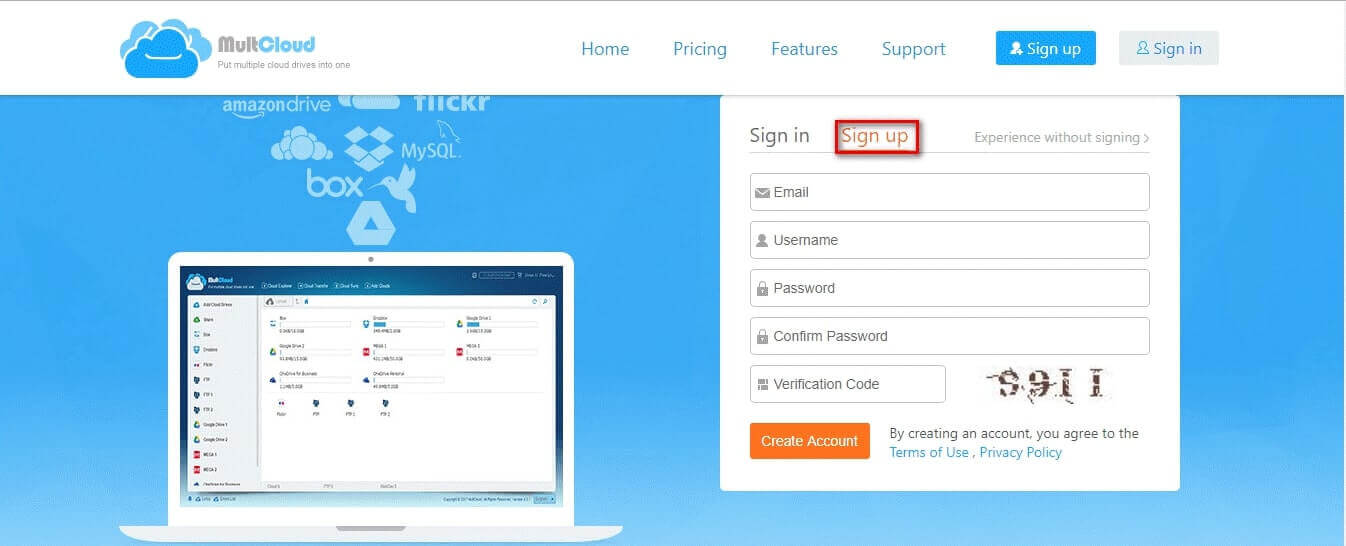 Step 2: Add your Dropbox accounts
After opening your account, tap on "Add Cloud Drives" to add your Dropbox accounts with separate display names. After tapping on the "Dropbox" button, you'd need to finalize the addition of the account by tapping on the button exclaiming "Add Dropbox Account."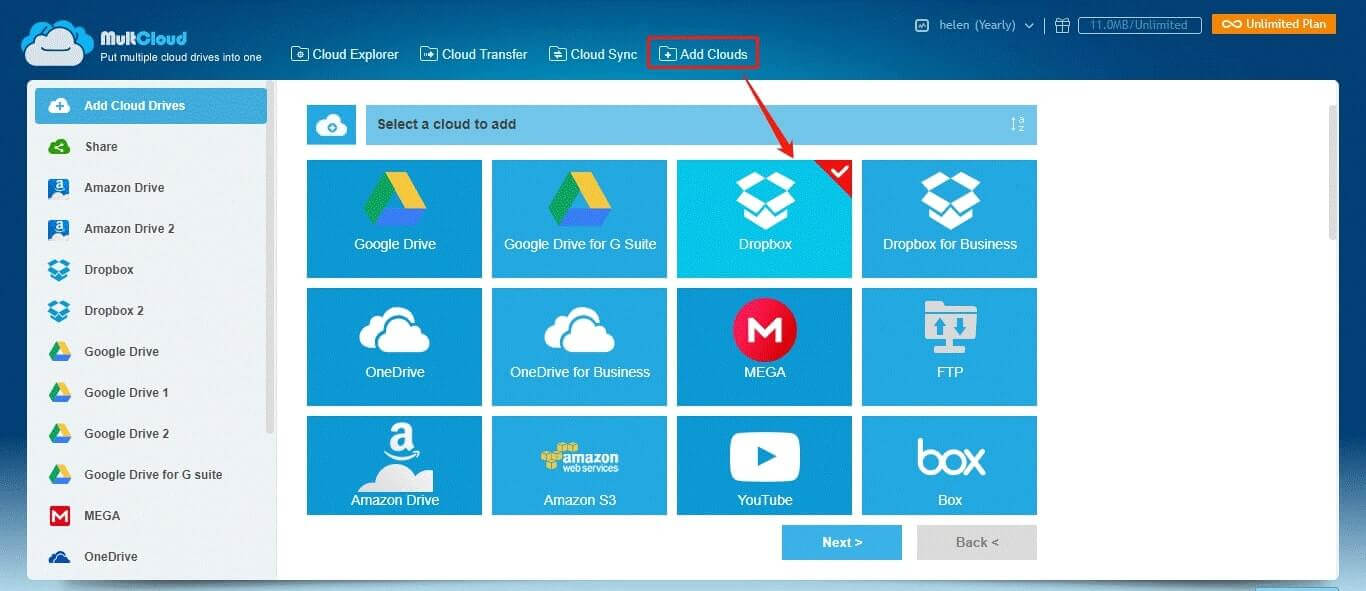 Step 3: Add other Dropbox accounts
The accounts that you seek to attach needs to be added separately. Repeat the procedure of adding accounts.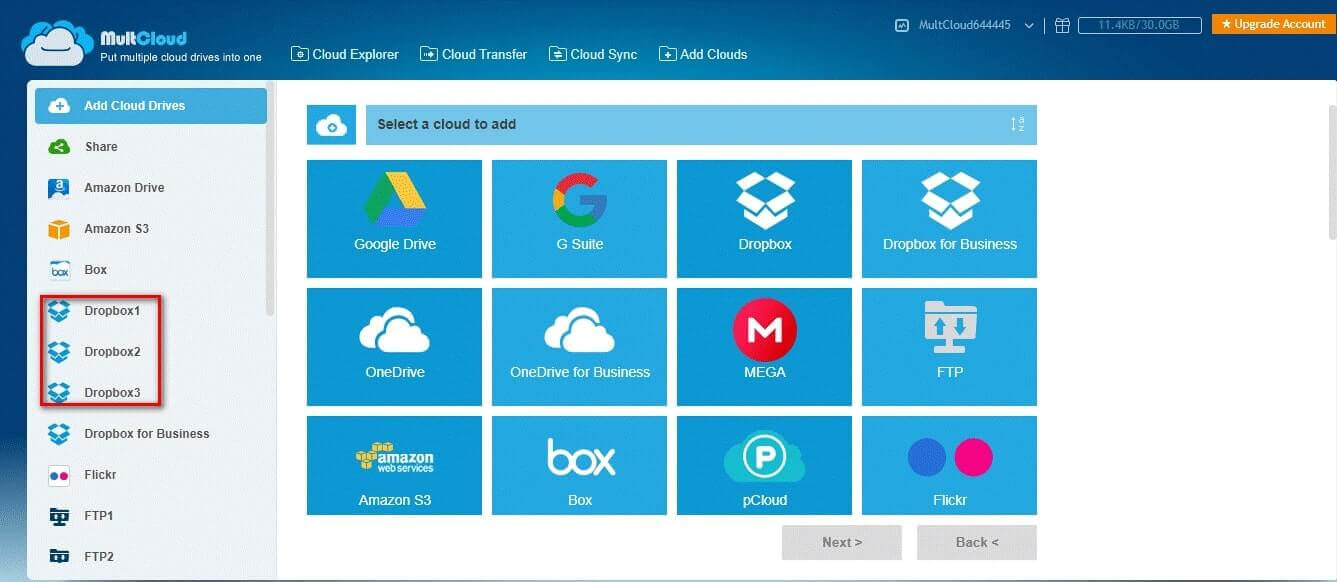 Step 4: Synchronize the Accounts
To synchronize your accounts, access the "Cloud Sync" feature and select two different accounts as a source and destination, respectively. Tap on "Sync Now" to merge both accounts and link them together.
Conclusion
This article presents a variety of techniques that will allow you to link two Dropbox accounts and share data amongst each other. You can effectively follow these steps to connect your Dropbox accounts using the same device successfully.
Different Cloud Accounts Transfer