How to Backup Android to Mac- Top ways to backup Android files to Mac
This is very important to secure your phone device data nowadays as we are more depending on our smartphone. Your Android device may lose the important data while system update, factory reset, etc. Therefore, you need to know how to backup Android to Mac. This article will help you with step by step instruction to keep a backup for your data to Mac from the Android device and restore them when it is needed. Top 4 ways will be introduce here. Check them out.
Part 1. Best Way to Backup Android to Mac
You can find a lot of tools on the internet but all are not satisfactory. To get rid of those confusing and bad interfaced tools, you can choose the best backup software, dr.fone(Mac) - Transfer (Android). This is a very powerful tool to transfer all types of Android device data to Mac in just one click. Check the key features below to learn more about the capabilities of this tool.
Backup and Transfer Android Data to Mac Flexibly
Transfer files between Android and computer, including contacts, photos, music, SMS, and more.
Manage, export/import your music, photos, videos, contacts, SMS, Apps etc.
Transfer iTunes to Android (vice versa).
Manage your Android device on computer.
Fully compatible with Android 8.0.
3981454 people have downloaded it
Part 2. How to Backup Android to Mac with 1 Click
If you want to keep backup Android contacts to mac or backup Android photos to mac, dr.fone - Transfer (Android) has proven to be the best tool to transfer your device data from the Android device to Mac in just one click. You have to follow the below instructions to do this task successfully.
Step 1. Download and install dr.fone on your Mac computer.
Step 2. After launching the software, connect your device with a USB cable. Now click on the 'Transfer' from the homepage as shown below and wait to detect the Android device automatically by the software. Go to Settings menu and enable USB debugging on the device if the tool cannot detect your device.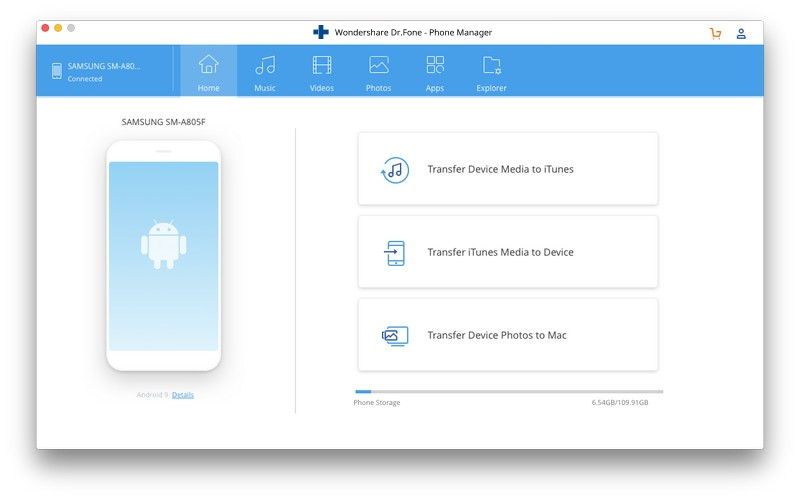 Step 3. Once your Android device is connected to the tool, you can select the data types from the top tabs to continue. Then preview and select the Android data and click Export to transfer them to Mac.
Wait for a few minutes to successfully complete the backup of Android device to your Mac.
Part 3. How to Backup Android to Mac with a Backup App
You can even simply connect your Android devices with an USB cable to your personal Mac computer. Then, go to the device drive and copy all the available information on your device to your computer drive. You can rename the folder with backup name and date. You can copy all the available information only but you will miss the apps data. Therefore, you can use below apps to back up your Android device to your Mac computer.
1. Helium Premium
Helium Premium ($4.99) is a great app for your Android devices and it allows you to schedule your backup on storage service or a cloud syncing i.e. Dropbox, Google Drive, and Box. You can download the free tool from Google Play Store but you need to buy that for full version. Therefore, you can easily make a copy of your device storage and SD card on your Mac computer.
2. G Cloud Backup
G Cloud Backup can be another handy service to back up your device data on cloud storage and then you can manually download and save them on your Mac as required. This app will allow you to have a free 1 GB storage and you can pay for extra storage ($32 for 32GB per year). You can even earn more storage by referring and activities like tweeting.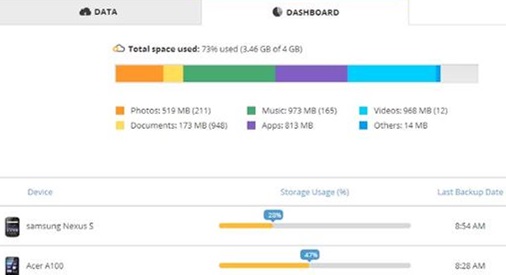 3. MyBackup Pro
MyBackup Pro ($4.99) is another option for both unrooted and rooted Android devices. You can buy this app on your Android device from Google Play Store and use this for having your Android device backup.
4. Titanium
If you are a root user, you can buy Titanium Backup Pro Key ($6.58) from Play Store. You need to download another free app, Titanium Backup. Download and install the free app first and then buy the pro app to unlock other advanced features to keep backup from your rooted Android device.
Part 4. How to transfer files from Mac to Android
You can easily restore your backed-up files from your personal Mac computer to the Android device instantly. Undoubtedly, dr.fone - Transfer (Android) is the best tool to do this task in the easiest way with the least effort through a user-friendly interface. You need to follow the below instructions to transfer your desired files from Mac to Android.
Step 1. Launch dr.fone on your Mac and select Transfer from all the modules.
Step 2. Connect your Android device using the USB cable to let the tool automatically detect your device.
Step 3. Now, if you want to transfer photos, music, videos, contacts, etc from Mac to Android phone, go to the data category tab on the top. Then click the Import icon to transfer the data to your Android phone.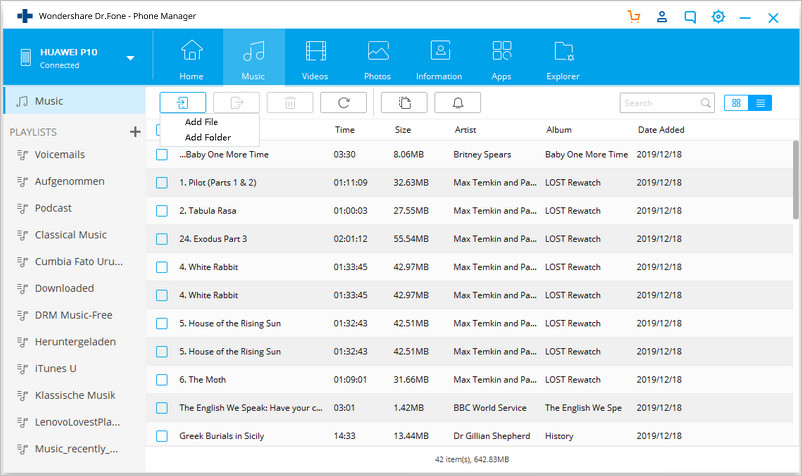 You can get your transferred files on your device after a few minutes. Thus, you can easily transfer your files from Mac to the Android OS operated devices.
To secure your device data of your Android device, you need to have a backup as well as you need to restore them later.dr.fone - Transfer (Android) is a great and powerful tool that helps you to do these tasks easily. Therefore, it is recommended to backup Android files to Mac using the popular backup and restore software, MobileTrans.
Android Backup
1 Android Backup

2 Samsung Backup
They're downloading
Backup data on your Android devices easily and restore backup files selectively to any device.
Recover deleted data from Android devices, SD cards and broken Android devices.