How to Clear Google History on iPhone
How do I permanently delete my Google history on iPhone?
If a similar question has brought you here, then this would certainly be the last guide that you will read. A lot of iOS users rely on Google to look for all kinds of things on the web. Sometimes, they use Google Chrome instead of Safari as well to sync their browsing details across multiple platforms. Though, this also means that your private data and browsing history is now not secure and can be accessed by someone else. The best way to fix this is by learning how to clear Google history on iPhone. In this guide, we will let you know ways to clear Google history, browsing data, and other private details from iPhone.
Part 1: Clear Google App History on iPhone
Mostly, users wish to clear the Google app altogether on their iPhone to delete its data. Since you can't clear app history individually on iPhone, you need to uninstall the Google app. Chances are that you could be using Chrome to access the web on iPhone too. Therefore, in order to clear Google history related to a specific app, you need to uninstall it. Later, you can go to the App Store and install the app once again.
Firstly, go to the home page on your iPhone and hold an app icon. This will make the app icons wiggle.
Tap on the cross (delete) option at the top of the app icon to delete the Google app. Mostly, it would be Google Chrome.

When you get a pop-up like this, tap on the "Delete" option again to remove the Google app. This will remove the app and its data from your device.
Once it is done, restart your iPhone and go to the App Store to reinstall the Google app you have deleted.
Even when the Google app would be installed again, its existing data and browser history would no longer be present.
Part 2: Clear Google Search Engine History on iPhone
As you know, Safari allows us to set a default search engine for the browser. Due to its high-end features, users often choose Google as their search engine. The good thing is that Safari lets us clear Google history on the app without much trouble. You can go to its history and clear specific pages of your choice. If you want to learn how to clear Google history on iPhone and browsing data in one go, then you can also visit Safari's settings.
Start by launching Safari on your iPhone and tap on the open-book icon at the bottom to visit the Bookmarks settings.
Go to the History tab from here to view a detailed browsing history on Safari. You can just swipe an entry and choose to delete it from history.
Apart from that, you can also tap on the "Clear" option and choose to clear browsing history for the duration of your choice.

In case if you wish to get rid of all kinds of data from Safari, then go to iPhone's Settings > Safari. Scroll down, tap on the "Clear History and Website Data" option, and confirm your choice to wipe off the entire Safari data.
Part 3: Clear Google Browser History (Chrome) on iPhone
Not just Safari, you can clear Google history from Chrome or any other browser as well. Ideally, the process is same for all the other browsers, and thus, we have taken the example of Google Chrome here. In order to clear Google history on iPhone, visit the Chrome History settings and wipe it entirely. This will clear all the browsing data, including the search history. It is recommended to do this on a regular basis to protect your privacy.
Launch the Google Chrome application on your iPhone and tap on the hamburger icon from the top to visit its Settings > History.
This will launch a dedicated section for the saved Google Chrome history on the device. To clear Google history, tap on the "Clear Browsing Data" option.
Henceforth, you would be given options to clear cache, browsing data, and so on. Tap on the "Clear All" button to get rid of every saved setting and data from Chrome.
Part 4: One Click to Permanently Erase if Google History Contains Sensitive Data
By following the above-listed methods, you can easily learn how to clear Google history on iPhone. Though, if you have looked for any sensitive information on your iPhone and would like to get rid of it permanently, then you should use dr.fone - Data Eraser (iOS). When we delete something from iPhone the usual way, it can later be retrieved via a data recovery tool. To overcome this limitation, you should use a dedicated data removal tool like dr.fone - Data Eraser (iOS). It can wipe off all kinds of data from your phone and making sure that no other user can access it in any scenario.
Clear Google History on iPhone for Absolute Privacy Keeping
With the help of dr.fone - Data Eraser (iOS), you can permanently delete all kinds of browsing data and search history from your phone.
It can also get rid of your photos, videos, contacts, call logs, documents, and all sorts of data entirely.
There are different levels of data removal that the application offers for its users to pick from.
The application can also be used to free-up space on iPhone by compressing photos, exporting them, getting rid of apps, and so on.
Users can also selectively erase just the browsing data or any other kind of content (like third-party apps).
4,683,556 people have downloaded it
If you wish to learn how do I permanently delete my Google history on iPhone using dr.fone - Data Eraser (iOS), then follow these steps:
1. To begin with, launch the dr.fone toolkit on your Windows or Mac system. From the available options on its home, click on "Data Erase" and make sure that your iPhone is connected to the system.
2. The application will automatically detect your iPhone and provide different options. Go to the "Erase All Data" feature from the left and start the process.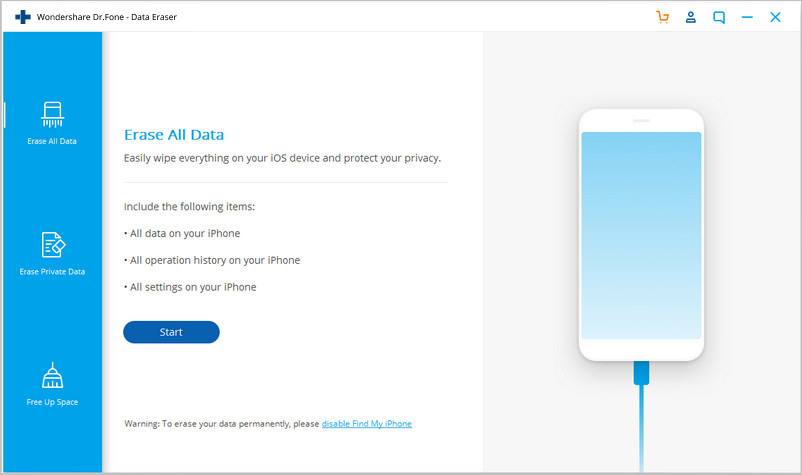 3. Furthermore, you need to select a security level to erase the data. The higher the level, the harder it would be to recover the deleted content.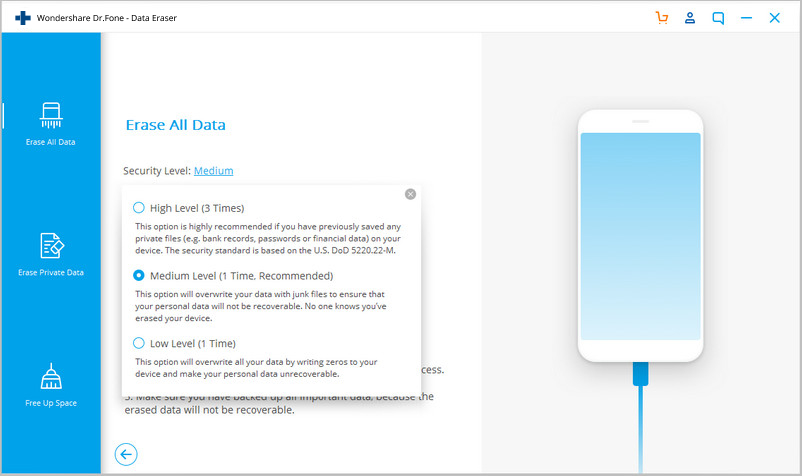 4. Lastly, you need to enter the displayed code (000000) to confirm your choice. This is because the application will erase your phone's data permanently and would need your confirmation.
5. This will initiate the data erasing process by the application. You are expected to wait for a while for the process to be completed without any obstacle.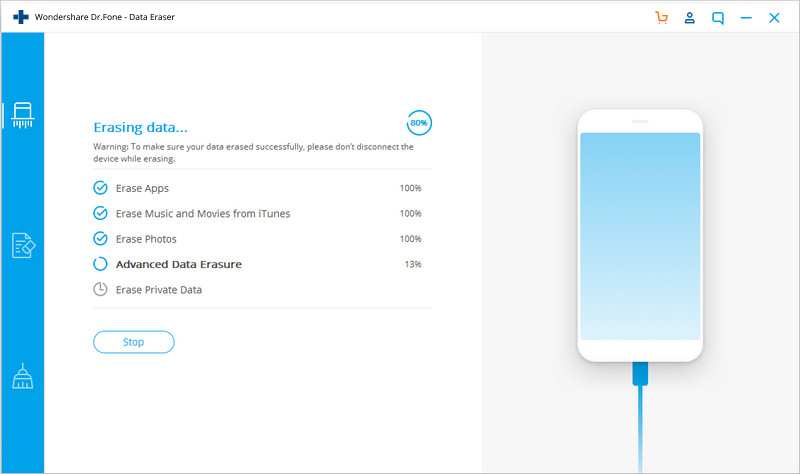 6. In the end, you will be notified that the process is complete and that your device would be rebooted to apply the changes.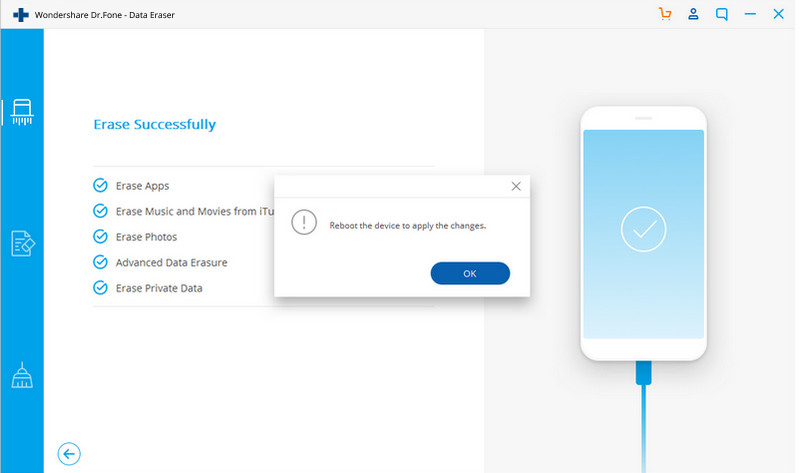 That's it! Once your phone is restarted with factory settings, you can remove it from your PC, and use it without any constraint.
As you can see, it is quite important to learn how to clear Google history on iPhone. This will make sure that no intruder would be able to access your private details or know what you have looked for on the web. To make things easier for you, we have provided some quick and smart ways to clear Google history on iPhone. Though, if you are looking for a more permanent and one-click solution, then give dr.fone - Data Eraser (iOS) a try. It is a dedicated data eraser application for iOS that will get rid of your data with zero recovery scope. If you are reselling your iPhone or are concerned about your privacy, then dr.fone - Data Eraser (iOS) would be a must-have tool for you.
Boost iOS Performance
Clean up iPhone

Clear iOS cache

Delete useless data

Clear history

iPhone safety