How to Delete Snapchat Account on iPhone
Snapchat is a hugely popular mobile application that has redefined a generation over and over again with their funky filters, unique features, and millions of users around the world who use the app every single day with friends and loved ones.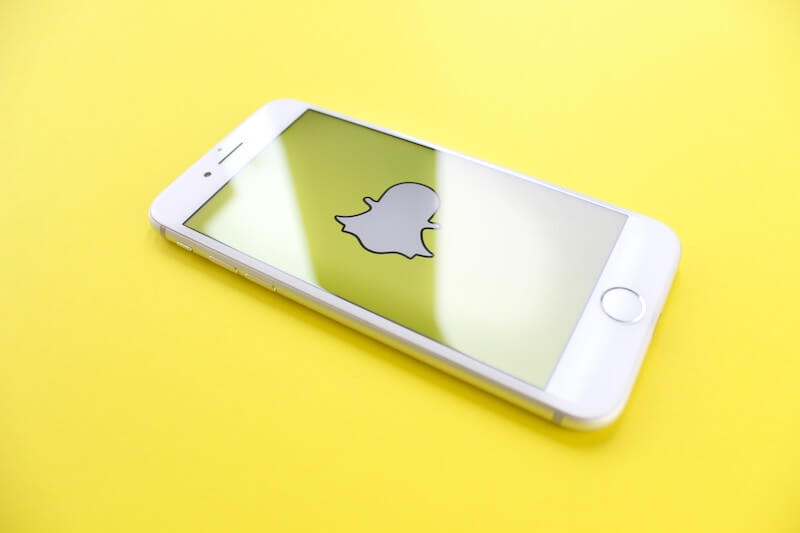 The app was a hit from the moment it was launched, and it's still one of the best social media platforms out there, but while this is the case, that doesn't mean it hasn't come without its problems.
Whether that's privacy or personal issues or simply the app using up so much space and storage on your device that it's causing your iPhone to slow down and become unusable or just irritating. Today, we're going to address all these issues.
Part 1. How to temporarily delete Snapchat Account
Whether you're looking to have a break from Snapchat for personal or privacy reasons, or you're merely seeing what life is like without the app; the best approach to take is temporarily deleting your Snapchat account.
This is basically deleting your Snapchat account, so you won't be able to access your profile and people won't be able to message you nor see your information. However, if you want to get your account back, you'll be able to restore it quickly by signing back into your account Please note, if you don't log into your account within 30 days, your Snapchat account will be deleted forever, and they'll be no way to get it back. You'll need to create a new account if you want to start using it again. Here's how you can do it;
1.1 Delete Snapchat Account from Web Browser
Step 1 – Head over to the Snapchat website using the link below and sign into your account using your usual login method and details. www.snapchat.com/delete-snapchat
Step 2 – From the menu of options, scroll to the bottom and click the "Delete My Account" option. Enter your password to confirm you want to proceed and then you're done.
If you log into your account via the app or web browser within 30 days, your account will be re-activated. If you don't your account will be permanently deleted.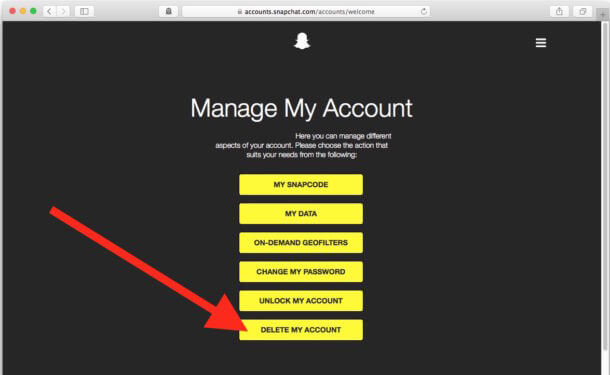 1.2 Delete Snapchat Account from the app
Alternatively, if you want to delete your Snapchat account without using a computer or web browser, but you want to do it directly through the app; instead, this is also an option. The same rules apply in terms of leaving your account 30 days for it to be permanently deleted, or temporarily if you log in again.
Here's how;
Step 1 – Open the Snapchat app on your iPhone device and tap the Settings option in the top right-hand side. Navigate Support > My Account & Settings and then find the Account Information tab.
Step 2 – Under this section, tap Delete My Account. Enter your password to confirm the process, and then your account will be deleted. You then have 30 days to restore your account or let it stay deleted completely.

Part 2. How to permanently delete Snapchat Account
As we've spoken about above, deleting your Snapchat account temporarily or permanently is the same process. All you need to do is follow one of the processes above and then delete your account.
To permanently delete your account, just don't sign back into your account on a computer or through the mobile app for 30 days. After the 30 days is up, your account will be gone forever.
Part 3. How to permanently erase all traces of Snapchat
Once you've deleted your Snapchat account and you've deleted the app, you may think this is all you need to do, but the truth is it isn't. Snapchat, like most social media apps nowadays, store a lot of resources of your device for it to provide a better service and a better experience.
However, these files can be plentiful, and they can end up using up a ton of space of your device. This can slow it down and cause your iPhone to develop bugs and will just take up storage on your device that you can spend on other things.
Nevertheless, using powerful data management software like dr.fone - Data Eraser (iOS) can help you combat this ultimately. This software is designed to dig deep into your iPhone operating system and seek out unnecessary files that are taking up too much room.
The software then deletes them, freeing up space, speeding up your device, and just overall keeping everything running smoothly. That's not all; there are plenty of other benefits you'll enjoy from using this software;
Erase Snapchat Traces Permanently
Incredibly simple to use and super user-friendly
Can wipe all data, or specific files and data types you select
Can speed up your device by up to 75%
Can compress, erase, and clean out all areas of your iPhone device
4,683,556 people have downloaded it
If this is the solution you've been looking, here's the step-by-step guide on how to use it to its full potential;
Step 1 – Head over to the dr.fone - Data Eraser (iOS) website and download the software onto your computer (either a Mac or Windows operating system). To install, just follow the onscreen instructions.
Once installed, connect your iPhone device to your PC using the official USB lightning cable and then open the software, so you're on the main menu.
Step 2 – On the main menu, click the Data Erase option, followed by the Free Up Space option located in the blue menu bar on the left-hand side of the screen. Now select the Erase Junk Files option.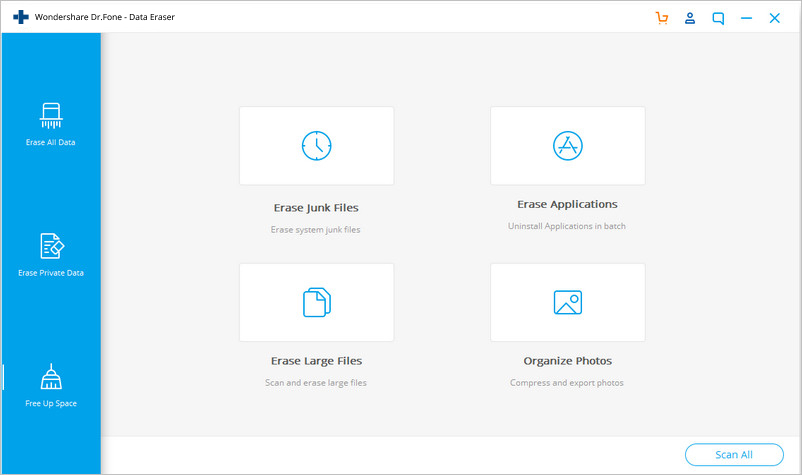 Step 3 – The software will now automatically start scanning all the files it can find on your computer that include unnecessary files, remains of apps like Snapchat, and broken files your device no longer needs.
All the results will be displayed in the window, and you'll be able to select what you want to delete. For the best experience, tick all the boxes for a full clean up. When you're happy with your selection, click Clean.
After the clean has been completed, you'll be able to disconnect your device and start using it as normal. If you want an even better clean, you can rescan the device and rerun the clean to ensure nothing was missed.
Part 4. What if you want to re-activate Snapchat Account after deletion
As we've spoken about plenty of times above, once you've gone through the process of deleting your Snapchat account both permanently and temporarily, sometimes you're going to want to get it back.
Fortunately, this has been made easy since all you have to do is download and install the app and log back into your account using the same login details as always. You have 30 days to do this since you've deleted your account.
If you leave it longer than 30 days, your account will be deleted forever, and they'll be no way to get it back!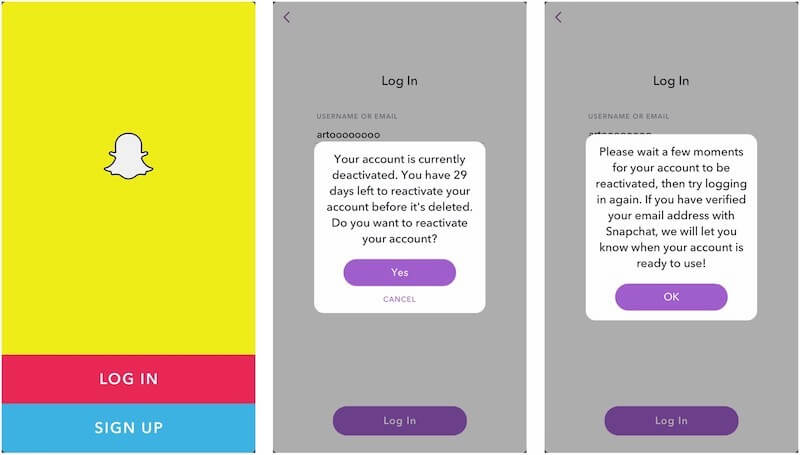 Summary
As you can see, when it comes to managing your Snapchat account, there are plenty of options available for you to explore whether you're taking a break or getting rid of your account completely. Now the rest is up to you, so enjoy!
Master iOS Space
Delete iOS apps

Delete/resize iOS photos

Factory reset iOS

Delete iOS social app data