Actionable Solutions to Delete Videos from the iPhone/iPad in 2020
Why would you want to delete videos fromthe iPhone? Well, obviously because you don't want them in the wrong hands, especially if they are cheeky videos. But most importantly, because they are weighing down the performance of your device. Plus they have used up most the storage space such that you cannot update or get new apps, can't take any more photos, and such stuff.
Are you undecided and are wondering "Now, what do I do away with and what remains?'', Worry no more. In this article, we will help you make smart decisions about how to delete videos from the iPhone. You will also learn how to keep your videos and photos and have ample space for updates and apps on your iPhone as well. You get to have your cake and eat it as well! It only gets more interesting from here.
So, here is a brief outline of what we shall be addressing in this article about deleting videos from the iPhone/iPad.
Read on!
Part 1: Permanently delete any videos from the iPhone/iPad
The ideal data eraser software to use to erase videos on an the iPhone or iPad is dr.fone - Data Eraser (iOS). In just three simple clicks, you get to permanently get rid of files of huge sizes that are clogging up your iDevice. This software is the best because it has the following features that are unique to it only.
Permanently Delete Videos from the iPhone/iPad
It erases all types of data files from all iDevices.
It is excellent for cleaning up the storage space of your devices. It entirely unclogs your iPhone of all the junk files in the system and leaves it as good as new!
It is perfectly able to erase all data permanently. Even the traces of data left by on-screen deletion, emptying the recycle bin, or using Control + Shift + Delete.
This data eraser tool is vital when it comes to protecting your privacy. Once erased, not even the best data recovery software can get back the deleted data and information.
It gives you the power to organize large data files such as video files, and free up storage on your iPhone. It clears up all kinds of junk files, thus improving the performance speeds of your gadget.
Lastly, it can completely do away with third-party apps installed on your device.
4,683,556 people have downloaded it
Next, we shall look at the guidelines to delete videos from the iPhone/iPad below.
Step 1: To begin the space-saving journey, install and launch dr.fone software on your comp. Then connect your the iPhone or iPad to it using an Apple USB data cable, of course. Once the connection is successfull, select Erase from the options on the current screen.
Step 2: Click on the Free Up Space icon at the bottom left corner on the screen. On the window that appears, select Erase Large Files option.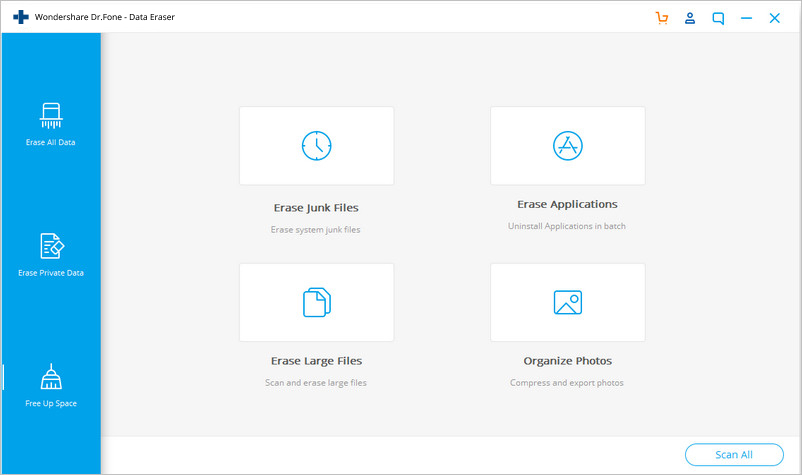 Step 3: Now, the software begins to scan for all the significant data files which are dragging down your iDevice system.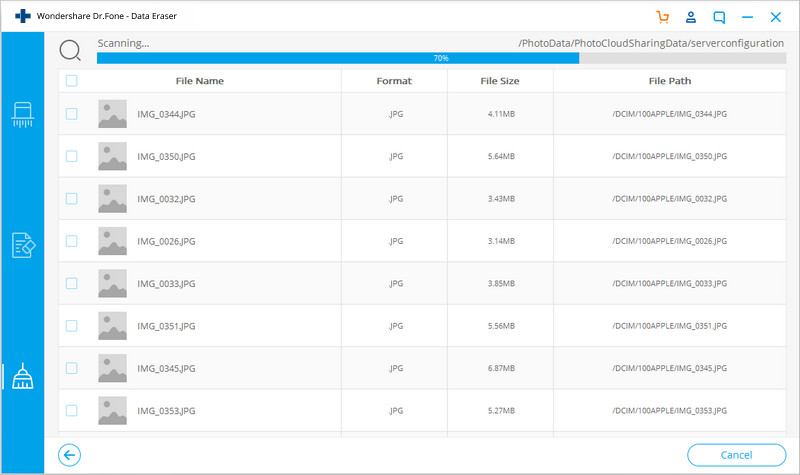 Step 4: Once the scanning is complete, you can choose the file format and size of the data you want to erase. In this case, if you are deleting videos, you can select MP4 file type with the size accordingly.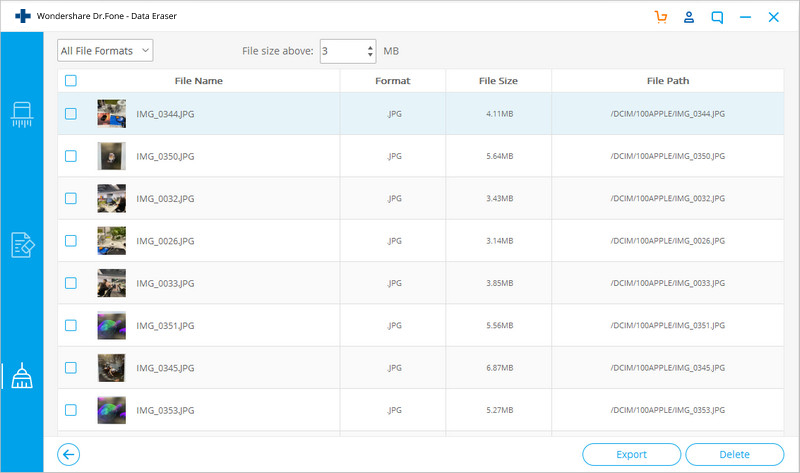 Step 5: Finally, check the large video files that are meaningless and then tap on the Delete button. Or rather, you can decide to export them to your computer for backup first, then erase.
Viola! Now you can restart your the iPhone or iPad and enjoy the improved performance speed.
Part 2: Permanently delete shot videos from the iPhone/iPad
To eliminate videos taken using the phone's camera on your iPhone/iPad, follow the steps below:
Step 1: First of all, download and launch dr.fone on your PC and choose Erase from the modules provided.
Step 2: Next, connect your iPhone to the computer using a USB data cable. To ensure a successful connection, tap on Trust on your iPhone.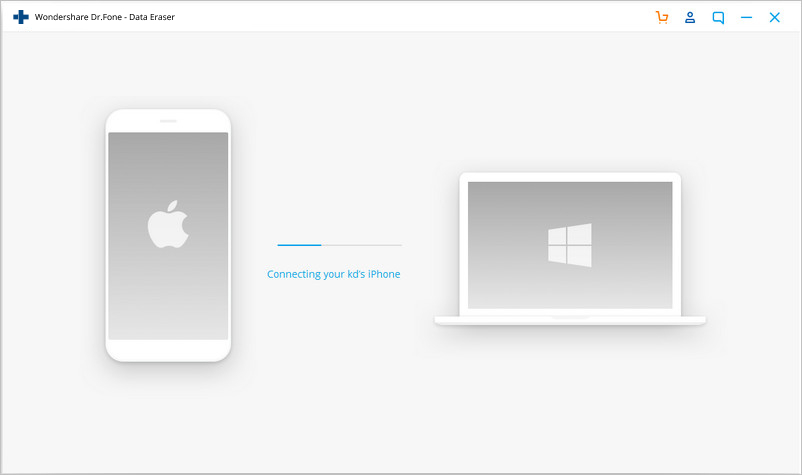 Once the link is a success, and the data eraser tool recognizes your phone, you will see three options displayed on your left. Choose Private Data Eraser option.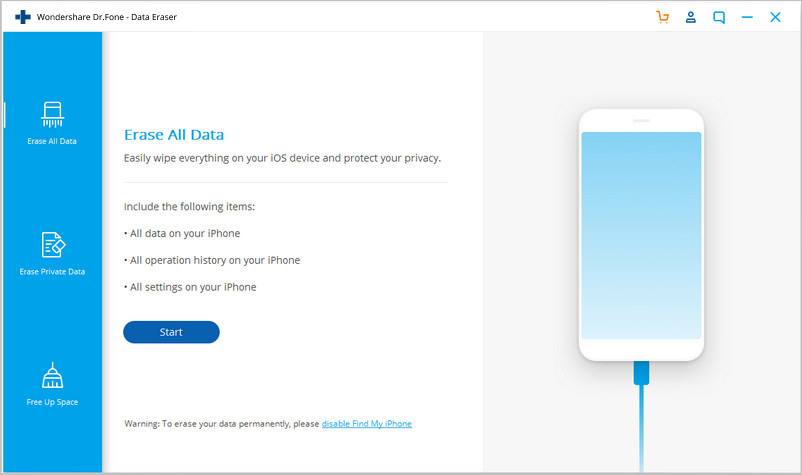 Step 3: Now, click on Start on the bottom right to begin the scanning process.
This action can take some time to finish, especially if the files are large.
You can sip on some coffee as you wait.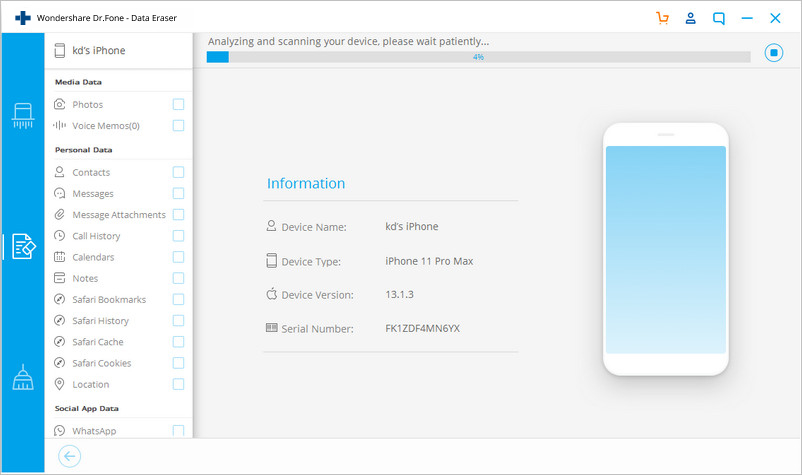 Step 4: Next, preview the private data, i.e., shot photos/videos. Then check the ones you want to erase and lastly, click on the Erase button at the bottom right of the screen.
This does the magic.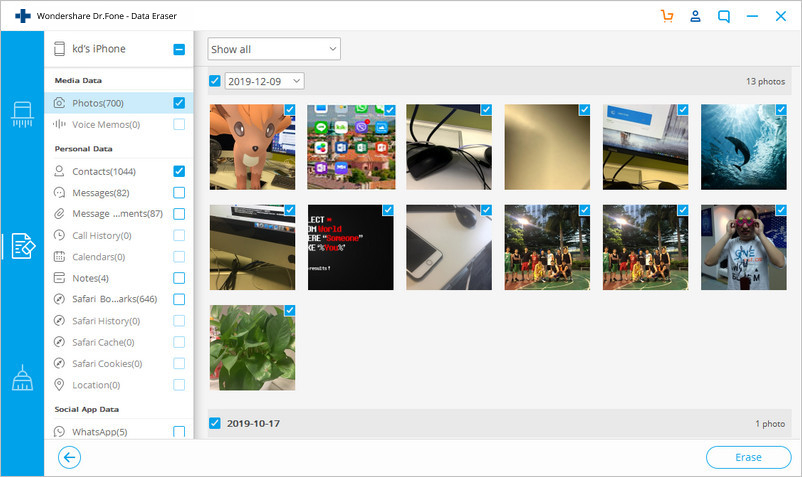 Part 3: Delete music videos from the iPhone/iPad
Music videos, albums, playlists, and songs you download to your phone can be deleted. Otherwise, if you see a cloud with an arrow pointing downwards in the middle alongside a particular item, it means it is stored in the cloud and not on your device. Therefore no space on your iPhone/iPad is used up.
3.1: Delete music videos in Apple Music App
Step 1: Select the item you want to delete, in this case-music videos, from the Apple Music App.
Step 2: Next, tap and hold on the selected item.
Step 3: Now tap Remove in the next window that shows up.
Step 4: Lastly, a confirm window appears where you are required to either Remove Download or Remove Downloads. In case you see Delete from Library it means you added the music video via Apple Music. So click on Delete from Library to remove it from all your devices and iCloud Music Library as well.
Et voila!
Next, we look at how to get rid of music videos in iTunes in three simple steps.
3.2: Delete music videos in iTunes
You can do these steps on a computer.
Step 1: On your Mac in iTunes Control, click the item you want to delete.
Step 2: Now choose Delete from Library then tap on Delete Song.
Step 3: Finally, you can decide to Move to Trash. Or better yet, if you wish to keep the music video on your comp but erase it from iTunes, select Keep File.
If you would like to view duplicates in iTunes, go to your Library and follow this path: File > Library > Show Duplicate Items. So simple, right!
Part 4: Delete TV show videos from the iPhone/ iPad
Just like the music videos discussed above, you can also get rid of TV show videos downloaded on your the iPhone/iPad. Except instead of the Apple Music App, here you use Apple TV App. You can also erase these TV show videos in your phone's Settings. But, if the TV videos are stored in iCloud, there is no need to delete them since they don't use up the iDevice storage space. Let us now look at the simple steps to:
4.1: Delete TV show videos in Apple TV App
The three simple steps are:
Step 1: Launch Apple TV App on your phone. At the bottom of the interface that shows up, click on Library and then select Downloaded.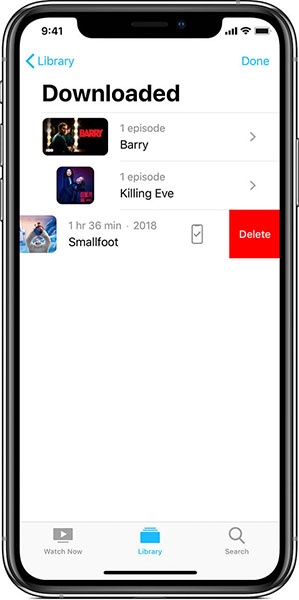 Step 2: Now, swipe to the left on the TV show you wish to get rid of.
Step 3: Lastly click on Delete.
To delete more than one TV show video, click on Edit, then select the items and then tap on Delete in the upper right corner.
4.2: Delete TV show videos in Settings
Step 1: On your iPhone/iPad, follow the following path: Settings > General >the iPhone Storage.
Step 2: Now, tap on the Apple TV App and select Review iTunes Videos.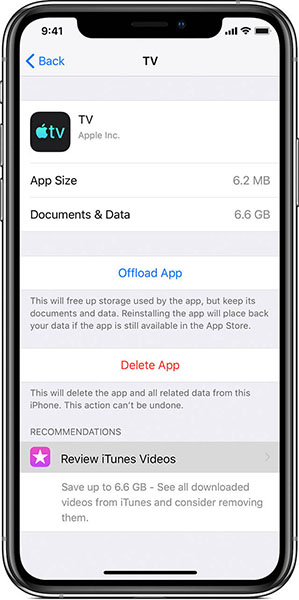 Step 3: Finally, look for the TV show video you need deleted, swipe left and tap on Delete. Kaput!
Conclusion:
I believe you have learned a lot about how to delete videos from the iPhone/iPad. If you already knew how to, now you know better, simpler, and easier ways to use. It is evident that dr.fone - Data Eraser (iOS) is the best data eraser tool, not only for deleting videos from the iPhone but also all other junk files clogging up your phone's storage.
Also, now you know for sure that items stored on iCloud don't use up any space on your device. So unless you want to get rid of the videos, there is no need you should.
To wrap up, we would ask you to tell your friends about how to delete videos from the iPhoneusing easy and efficient methods above. Help them learn how to free up storage on their devices and still get to keep the videos they wouldn't want to lose.
Boost iOS Performance
Clean up iPhone

Clear iOS cache

Delete useless data

Clear history

iPhone safety