How to Empty Trash on iPhone to Release Space
The iPhone device is a robust piece of both hardware and software. Its specifications are in some ways, thought to be unmatched. So, how is it that such a remarkablework of art can succumb to the difficulties of an average phone?
What we don't realize is that the iPhone is just like any other phone out there. In spite of its features and specifications, it also suffers from iPhone trash.
But what is this trash and how does it find its way into our iPhones?
You should note that the use of the term iPhone trash doesn't imply there being a recycle bin as is with Windows and Mac OS, where you can empty your trash. However, there is the delete option on applications such as Contact, Photos, Notes, and Mail with which you can get rid of any extra files.
Therefore, as you interact with your phone every day, you get to discover new content. New content can be sites, applications, movies, images, etc. With websites, extra data accumulates in the form of cookies, browser history, and the bookmarks we keep saving. Applications outlive their usefulness and movies, and images get forgotten. All this is iPhone trash.
So how do you get rid of the junk files in your iPhone? This article offers insight into:
So, shall we start?
Part 1: Empty all trash on iPhone in one click (recommended)
Here, this article discusses dr.fone - Data Eraser (iOS) on how to empty trash on your iPhone. But why should you use dr.fone to clear files off your iPhone? Well, the fact is that dr.fone - Data Eraser (iOS) gives you a comprehensive solution while dealing with emptying all trash on iPhone and that in a single click. Yes! You heard it right. By using this fantastic tool you can comfortably empty the trash files on iPhone. Now, there are specific points that will help you recognize the toolkit in a better way. So let's first know more about dr.fone - Data Eraser (iOS) from the following lines:
Erase all trash files on iPhone in one click
An intuitive interface with commands that is easy to understand.
dr.fone - Data Eraser can wipe data off your iPhone permanently.
The software can wipe out selected data, including contacts, SMS, and third-party app data such as WhatsApp.
It is versatile as it can work on and support a wide variety of file types.
The software can optimize device performance by getting read of unnecessary files, which include temp files and system junk files.
4,683,556 people have downloaded it
So, how can you make use of dr.fone-Data Eraser? Well, below is a step by step guide to direct you.
Step 1: After launching the data eraser toolkit on your comp, connect your phone to it using an Apple USB data cable. Then on the interface that shows select Data Erase to get started.
Step 2: Secondly, tap on the Free Up Space feature at the bottom left. On its interface, choose Erase Junk File.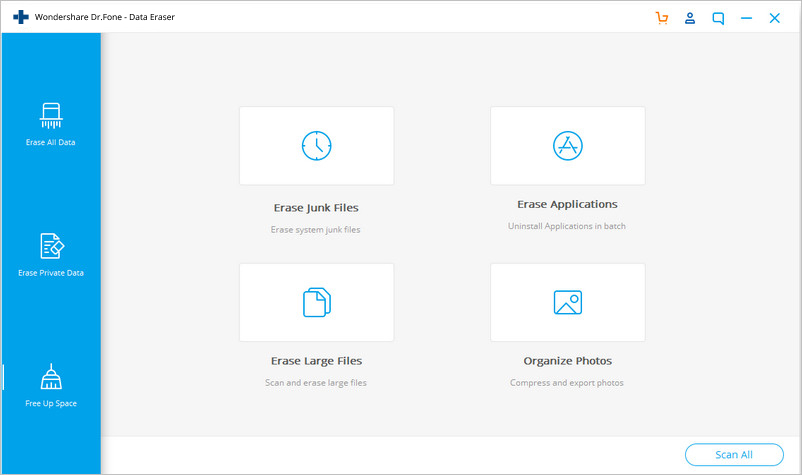 Step 3: Next, the dr.fone scans all the useless files stored up in your phones storage space. The data are then displayed.
Step 4: Now, check all the junk files you want to get rid of and then click on Clean. All the selected files will be removed by dr.fone- Erase (iOS) in a few seconds.
Part 2: Manually empty trash on iPhone from 4 main sectors
2.1 Detect unknown large files to delete
To detect and delete large files from your iPhone, use a dr.fone - Data Eraser feature, 'Erase large files.' It is one of the four sectors and an efficient trash cleaner of large files with no maximum limit. The 'Erase large files' feature meant to wipe out files such as movies and videos which are usually the large ones and also, any other file format. It has got drop-down menus at the top from which you can select the file formats and file size you'd like to get deleted from the system.
So, let's look at the steps on how to empty trash of large files?
Step 1: First of all, using dr.fone - Data Eraser feature, select the 'Free up space' tab on the left and click on 'Erase Large Files on the open panel.
Step 2: The software will perform a scan of the files available in your iOS system, detecting these files.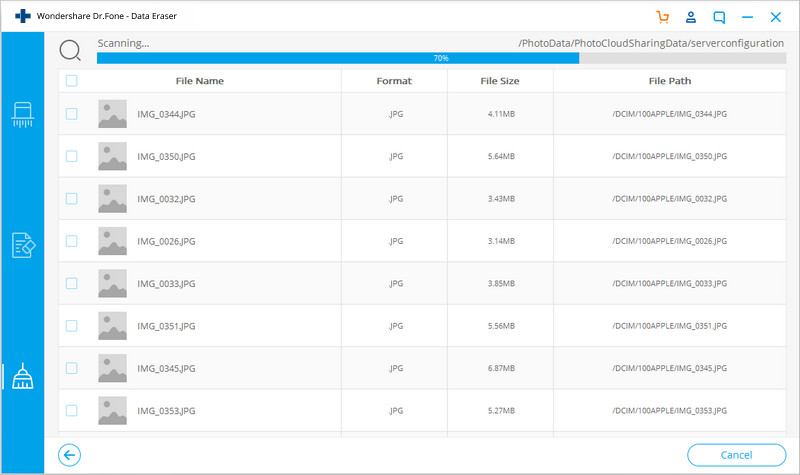 Step 3: Now, at the top of the window, after the scan, you can select various formats and file sizes to sort out the list. The checkbox at the top left allows you to choose them all easily. At the bottom right, you can decide to either export or delete trash.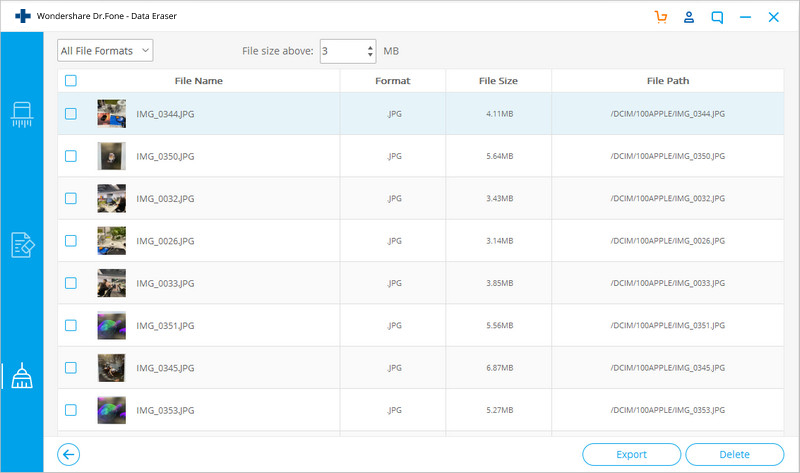 2.2 Empty mail cache trash from iPhone
Before going ahead with emptying the mail cache, first, check how much of your space the email app has consumed. To do so;
Step 1: Go to 'Settings' on the main screen and tap on 'General.'
Step 2: Under 'Storage and iCloud usage,' tap on Manage storage and a list of apps will come up, mail included. On their side is the storage size used by each.
So, there are two ways of deleting mail cache trash from iPhone. You can choose to remove the emails one by one or delete and re-add the account.
To delete emails one by one;
Step 1: Open your mail app.
Step 2: Select the emails you want to get rid of and move them to trash. Thereafter, empty the trash once the process is complete.
To delete and add account;
Step 1: Under settings, click on 'Mail, Contacts, Calendars.'
Step 2: Click on your email account.
Step 3: Select 'Delete' and tap on 'Confirm.'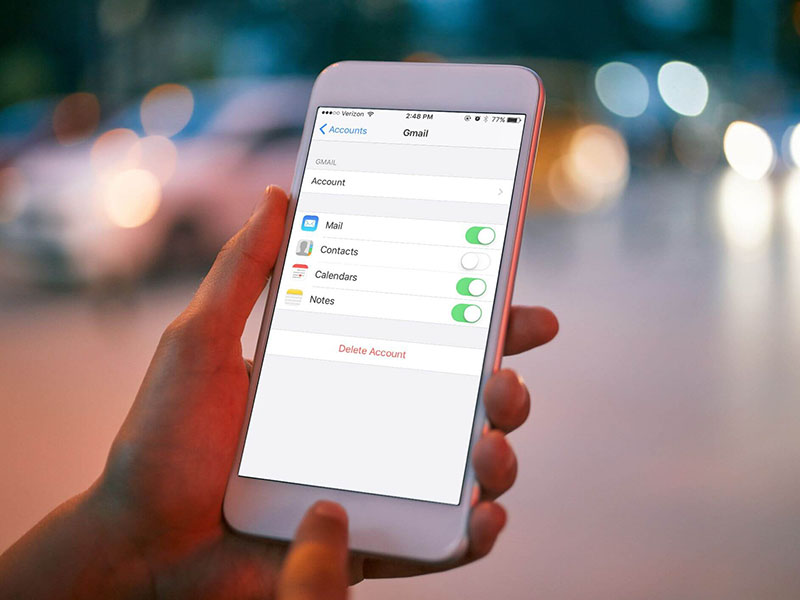 2.3 Empty trash from iPhone apps
Using dr.fone-DataEraser, the only way to get delete trash from the iPhone is to wipe out the application.
Step 1: Under the 'Free up space' tab, select 'Erase application'.
Step 2: The program scans for apps on your iOS. A list of apps comes up with checkboxes on their left and app sizes on the right. Mark the checkboxes and click on uninstall to wipe them out.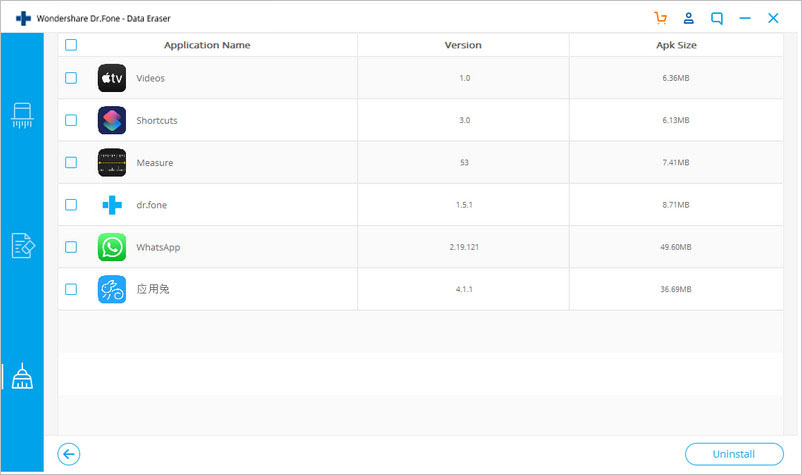 2.4 Empty iMessage/message trash from iPhone
Messages are part of private data on your iPhone. To delete iMessage/message trash;
Step 1: Go to the dr.fone - Data Eraser menu and select 'Erase private data' on the right. On the right panel, you can click on the start button at the bottom right to start a scan for your private data.
Step 2: Scanning will begin, and the scan results will be shown with the categories displayed on the right side of the dr.fone - Data Eraser (iOS) interface.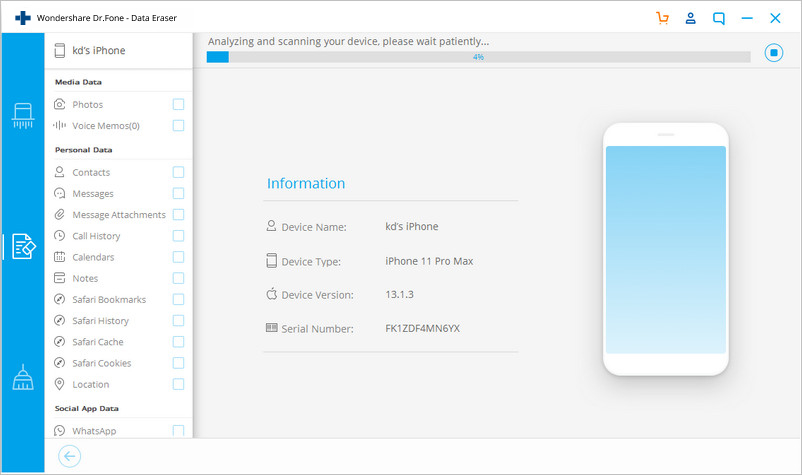 Step 3: To access the iMessage/message trash (deleted messages), choose 'Only show the deleted' on the top drop-down menu of the middle panel. It will show you all the message conversations with various individuals. Select the records and click 'Erase' on the bottom right.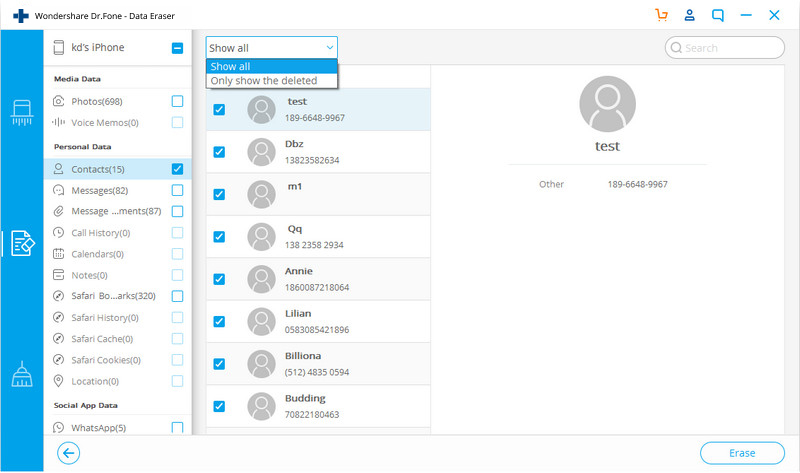 Step 4: To confirm the action, you need to enter "000000" in the box that will appear on the popup menu.Finally, click on Data Eraser now.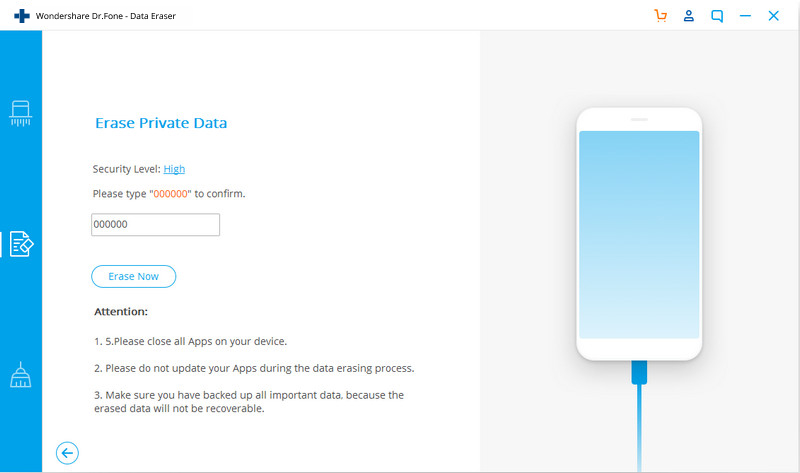 Step 5: Once complete, a message on the window will appear and show 100% of erasure.
So, by following the above step by step method, you can empty the trash on the iPhone device to get more space that you can utilize on other important tasks, like saving important documents, or media files.
Conclusion:
In conclusion, you can see that there are several ways of emptying trash on iPhone to free space. When your iPhone slows down in performing its tasks, usually the accumulation of junk files comes in as the number one reason why. When the trash is wiped out, you will realize that your iPhone will start working as standard with a good speed.
Also, this trash accumulates quickly, and for most of you, there is no time to keep checking on what might be clogging your iPhone. Thus, there are applications that when used once in a while, they can be instrumental in boosting your iPhone's performance. One of such app is dr.fone toolkit.
The dr.fone toolkit features dr.fone - Data Eraser. This feature is useful in wiping off data from your iPhone and leaving the system working in lightning fast conditions. I would, therefore, recommend you to use dr.fone - Data Eraser frequently to check any excess and unnecessary data that we might have on our iPhone.
So, go ahead and be a witness to family and friends. Explain to them how effective ddr.fone - Data Eraser (iOS) is, and advise them to download to delete trash.
Boost iOS Performance
Clean up iPhone

Clear iOS cache

Delete useless data

Clear history

iPhone safety