How Do You Clear All Data from an iPhone
How to permanently delete data from iPhone
When it comes to fully erasing your iPhone data, the only tool that is efficient enough to get the job done with perfection is dr.fone - Data Eraser by Wondershare. In other words, this program allows you to erase all your data from your iPhone, thus enabling you to dispose your phone off without any fear of your sensitive information getting exposed to unauthorized people.
Easily Delete All Data from Your Device
Simple, click-through, process.
Your data is permanently deleted.
Nobody can ever recover and view your private data.
Works greatly for iPhone, iPad and iPod touch, including the latest models.
3981454 people have downloaded it
In order to remove your data from your iPhone permanently, you can follow the instructions given as below:
Use the above links to download the correct version of dr.fone - Data Eraser (iOS) as per your computer.
Install the program on your PC using the regular installation process.
Once done, double-click the shortcut icon to launch it.
Use the USB data cable to connect your iPhone to the PC.
Wait until the program installs the required drivers for your iPhone.
Once everything is complete, from the first interface, click the "More Tools" button.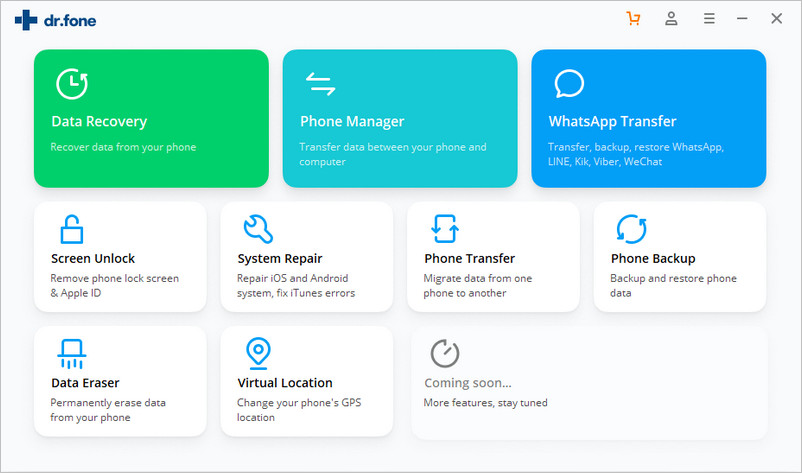 Choose "iOS Full Data Eraser" and connect your iPhone to the computer. Then click "Erase".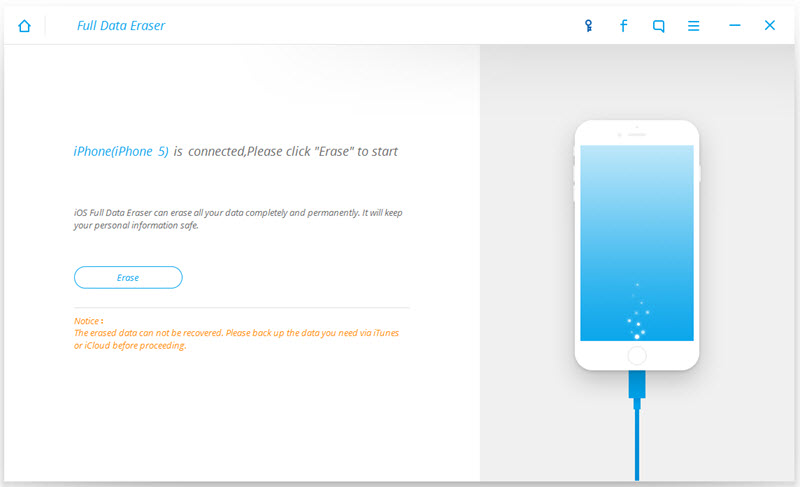 Enter "delete" to confirm your operation, and then click "Erase Now".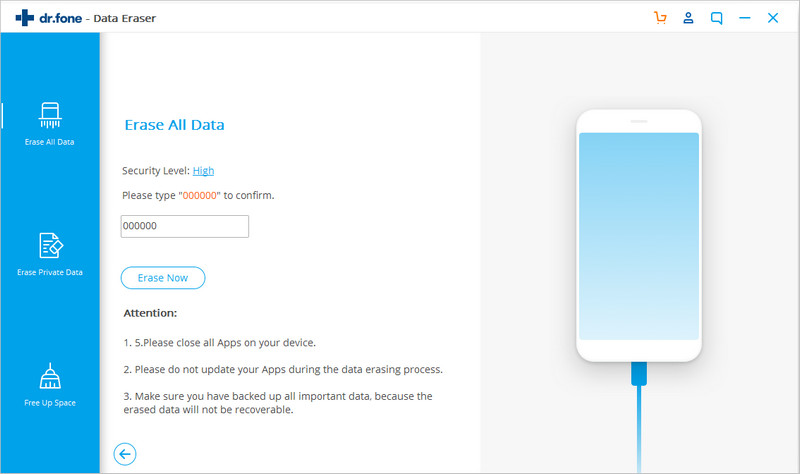 During the process, ensure that your iPhone is connected well.
When it's complete, you will see the window as follows.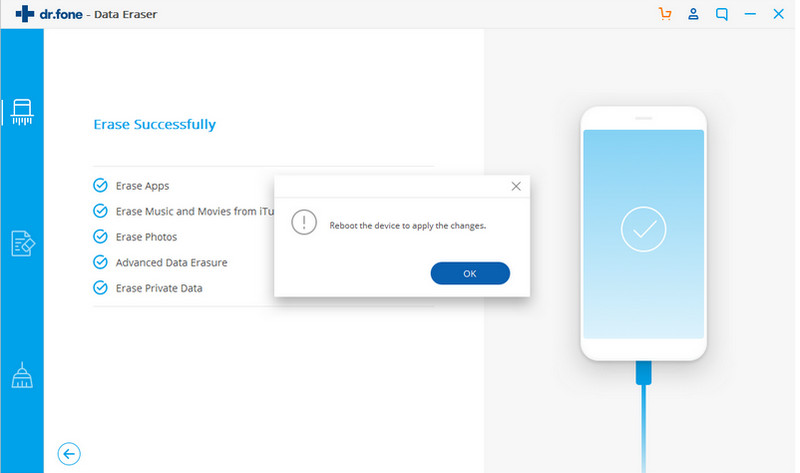 Close dr.fone - Data Eraser (iOS) when done.
Restart your iPhone.
Tips for Keeping Your iPhone Clean
Apart from erasing all data from your iPhone using dr.fone - Data Eraser (iOS), you should also keep your iPhone clean from junk data so that you don't have to wipe all its memory in the first place. A few tips that may help you in this context are:
Closing Opened Apps
If you haven't restarted your iPhone in a while and have opened several apps and games since the last restart, the opened programs consume a considerable amount of memory and generate a lot of junk files when running in the background. Closing such programs improves the performance of your iPhone. You can double-press the Home button, and tap and swipe each of the displayed icons upwards to close its corresponding app running in the background.
Cleaning Browsing History and Website Data
If you use your iPhone extensively for web browsing and doing other online tasks, it is important that you keep cleaning the browsing history and website data from your phone's memory. Assuming that you use only Safari on your iPhone, you can do so by going to Settings > Safari > Clear History and Website Data > Clear History and Data. However, in case any other web browser is installed on your phone and you use it for surfing as well, you may need to follow the appropriate procedure to clear its history and other junk data from your iPhone's memory.
Uninstalling the Apps and Games
Many third-party apps in your iPhone remain unused for long time and some of them are probably never used at all. It would be wise to remove such apps from your phone to free up some storage space. Also, sometimes the installed games and the regularly used apps create junk data on your iPhone's storage. Uninstalling and then reinstalling such apps/games frees up a considerable amount of space on your phone. You can remove apps/games from your iPhone by going to Settings > General > Usage > Manage Storage, and then tapping the unused app and tapping the Delete App button.
Erasing All Contents and Settings
Many times, you may end up having a fully messed up iPhone with huge amount of junk data and unmanageable settings that you cannot revert back to default. Such mess is also responsible for the consumption of large amount of disk space on your iPhone. Resetting all the contents and settings of your iPhone easily frees up the space and allows you to utilize its storage optimally. You can reset the contents and settings of your iPhone from Settings > General > Reset > Erase All Contents and Settings > Erase iPhone.
Using Third-Party Disk Management Tools
You can also use any efficient third-party disk, storage, and battery management tool like dr.fone - Data Eraser (iOS) and Battery Doctor and use the proper procedure to clean up the disk space and optimize the battery consumption of your iPhone.
Conclusion
Although it is easy to do, cleaning all data from your iPhone should be taken as last resort when thinking of improving the phone's performance. Other methods such as cleaning web data and browsing history, compressing the stored data, closing the background apps, or deleting the unused programs from your iPhone should be given priority in order maintain the integrity of your information and to avoid causing accidental data loss. However, if erasing all data from your iPhone becomes essential, relying on a trusted tool such as dr.fone - Data Eraser (iOS) would be your best bet.
Erase Phone
1. Wipe iPhone

2. Delete iPhone

3. Erase iPhone

4. Clear iPhone

5. Clear/Wipe Android