How to Clear Cookies of Safari for Mac/iPhone/iPad/iPod touch
The title of the article 'how to clear cookies of Safari' probably has you wondering. Well, you probably are familiar with cookies the snack, the ones that go well with a warm glass of milk, but there is another kind of cookies that are not known for putting a smile on your face. These are pieces of data that get stored in your device, (Mac, iPhone, iPad, iPod when you visit websites. It is to better your browsing experience.
Cookies are responsible for retaining your credentials when you log in to a site. Hence, you don't need to key in your password again the next time you want to log in. They also keep track of the websites you visit frequently and items that interest you on Amazon. Generally, cookies and their associated data are responsible for making your web experience faster, swifter, and more personal.
However, with time, cookies tend to use most of the storage space on your iDevice, which in turn affects the overall performance of your gadget. It becomes slow at opening and running applications. Typically, you are asked to uninstall some of your apps to free up space for updates on your Mac, iPad, or iPhone.
Hence in this article, we will focus on ways to clear cookies of Safari on your devices. Below is a preview of what we shall dwell on:
Part 1. 4 Ways to Clear Safari Cookies for iPhone/iPad/iPod Touch
In this part, we will look at the four primary ways you can use to clear Safari cookies. These are:
One click to clear Safari cookies permanently
By using dr.fone - Data Eraser(iOS) software, you can permanently erase data and protect your privacy on your device. The software is known for its effectiveness and convenience in:
Clear Cookies of Safari for iPhone/iPad/iPod touch
Clear cookies from Safari App on your iPhone efficiently.
It protects your identity from professional identity thieves as the tool permanently erases your private data from the device.
Helps you permanently erase deleted files emptied from the Trash Can.
You can selectively erase contacts, text messages, pictures, Safari bookmarks, and apps.
Speed up your iPhone by removing junk data files in the system, cookies, etc.
Additionally, dr.fone - Data Eraser(iOS) can effortlessly handle large files and make enough storage available on your device.
4,683,556 people have downloaded it
Now, let us look at the steps taken in clearing Safari cookies on iPhone/iPad using this magical data eraser tool.
Step 1: Download and launch dr.fone on your iPhone/iPad then connect it to a PC. You can use a lightning cable. For a successful connection, touch on Trust on your device.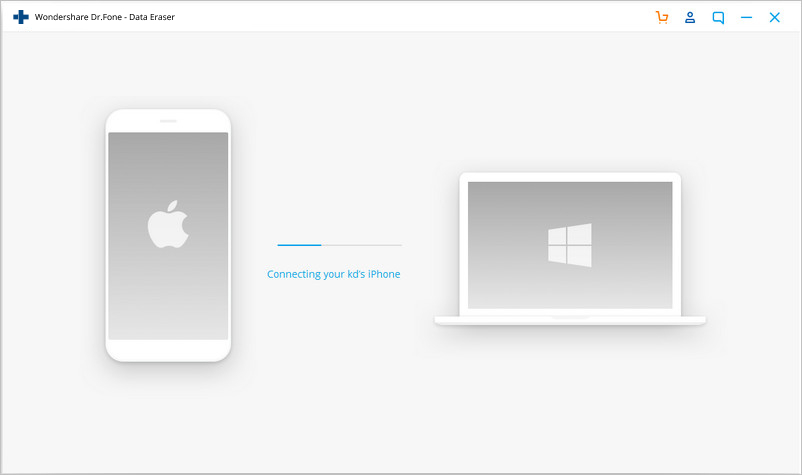 Once the connection is complete, dr.fone recognizes your device and displays three options. Choose Erase Private Data.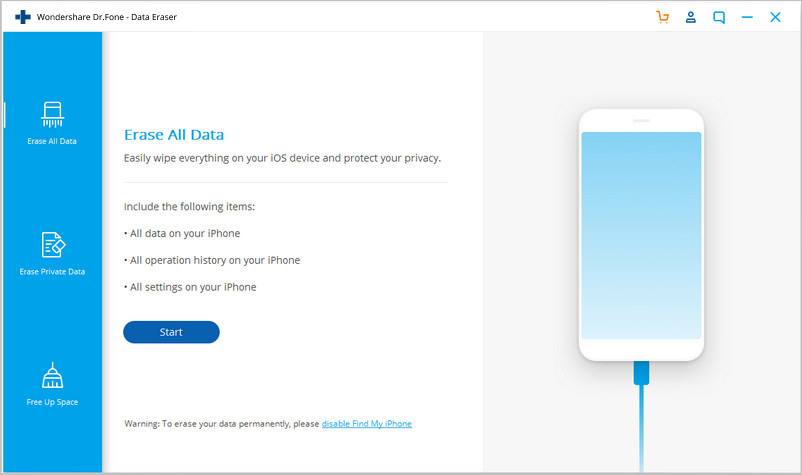 Step 2: Scanning. To erase private data, first, you need to scan it. So, click on the Start button to commence the scanning process.
It will take some time to finish.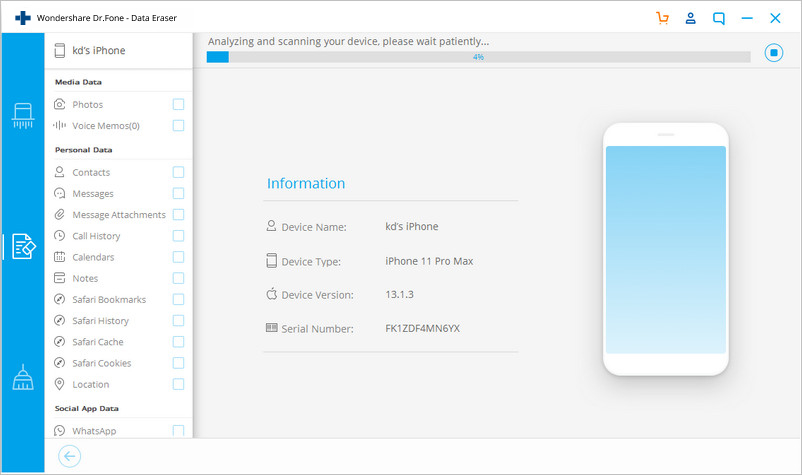 Step 3: Erasing private data. Once you have reviewed all the private data in the scan result, e.g., pics, contacts, texts, etc., choose the particular data files you want to delete.
Next, click on Erase option at the bottom left corner on your screen. The erasing process begins.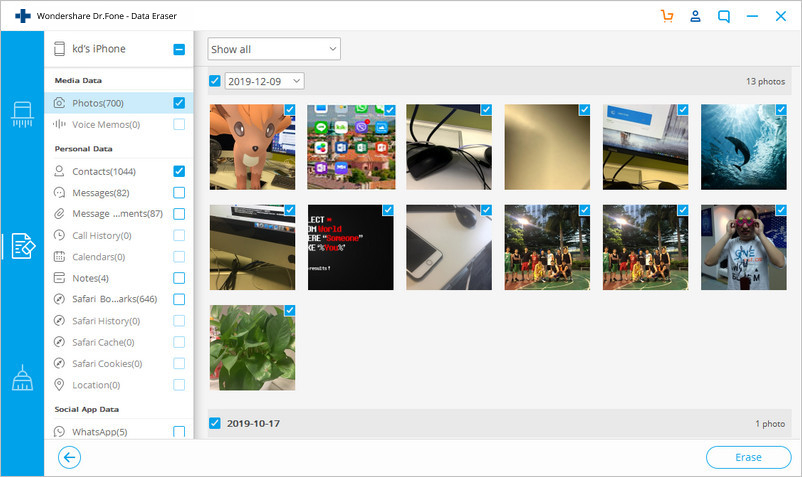 And viola! Just like that, after your iPhone/iPad reboots, it willwipe off all Safari cookies.
Clear Safari cookies from iPhone/iPad/iPod touch from device
Getting rid of cookies on your iPhone/iPad/iPod enhances your device's performance speed. It also helps to secure your online privacy and removes any malware your device might have picked from the Internet.
Note: It is vital to know that when you clear cookies, all your login info is erased as well.
The steps to clear cookies from Safari on your device are:
Step 1: First, go to the Settings app on your device.
Step 2: Next, tap on Safari and select Clear History and Website Data.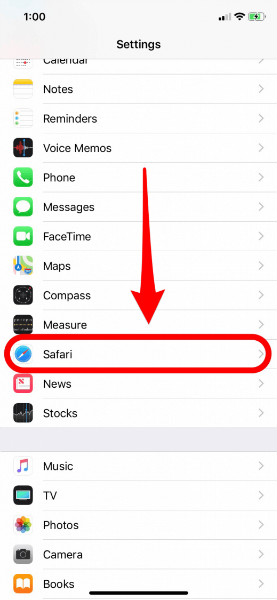 Step 3: Here, in the popup window that shows, select Clear History Data to delete all the cookies.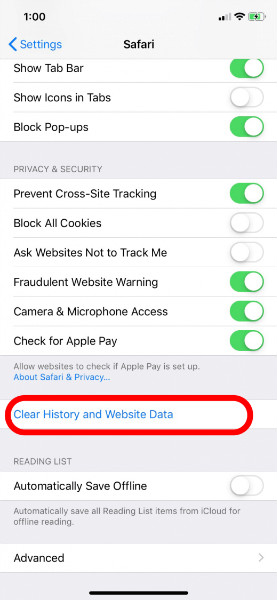 Clear Safari cookies of individual sites on iPhone/iPad/iPod touch
You can also clear cookies from Safari on your iDevice from specific websites, a more straightforward way that gives you a list of all stored up cookies on your gadget. It enables you to edit or remove any cookies from individual sites.
To get rid of cookies and web data for a particular website URL in iOS, follow the steps below:
Step 1: On your device, find the Settings app and then tap on Safari.
Step 2: Next, locate Advanced,at the very bottom and tap on it.
Step 3: Now, you can select Website Data.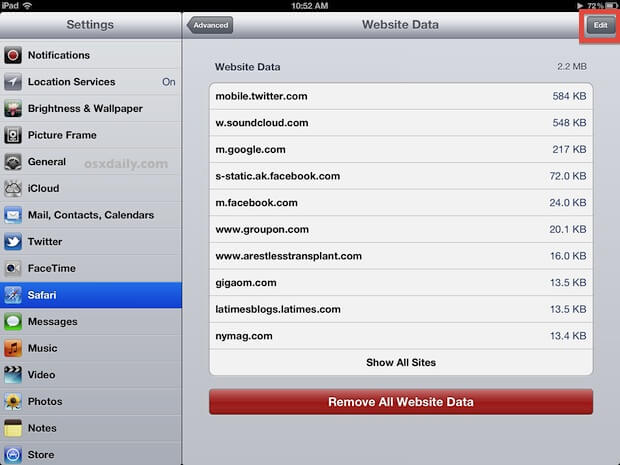 Step 4: Finally, click on Edit. In the upper right corner of the screen, tap on the red minus (-) sign next to the site you want cookies removed. Then click on the Delete button.
Note: You can repeat it for the sites you wish to clear the cookies. Otherwise, select Remove All option to erase the cookies for all the websites you have visited.
Step 5: Lastly, close the Settings and refresh the website, you cleared cookies from to make sure the process was a success.
Block Safari cookies from iPhone/iPad/iPod touch
Cookies on the iPhone/iPad/iPod can be permanently disabled by going to Settings > Safari and choosing Block All Cookies. Doing this prevents some websites from working correctly, hence need for an alternative.
To prevent cookies from using up your storage space, you can turn on Private Browsing in the Safari App.
Start by opening the Safari app and click on the Tab icon on the bottom right corner of the iPhone screen. These two overlapping rectangles are at the top right on the iPad. Next, tap on Private. Simple. There will be no cookies building up when you browse in this mode.

Undoing blocked cookies is as simple too. Just tap on the Tab icon again and undo the selection. Accomplish it by clicking on Private once more. Easy, isn't it?
Now, we will see how to clear Safari cookies on Mac. So, read on.
Part 2. 2 Ways to Clear Safari Cookies for Mac
2.1 Manually clear Safari cookies for Mac
Manually deleting cookies from your browser is also simple. Although, to avoid cookies from accumulating over time, you are required to do this more often. This method enables you to be in charge of your cookies. You have the power to decide which site cookies to keep and which to discard.
Read the steps below to follow toget rid of Safari cookies on Mac manually.
Step 1: First of all, on your Mac, open a Safari window. In the Safari menu, select Preference. If you are feeling techy, you can use the Command+ shortcut.
Step 2: Once the Preference window opens, click on the Privacy tab. Under the Cookies and website data module, select Remove All Website Data.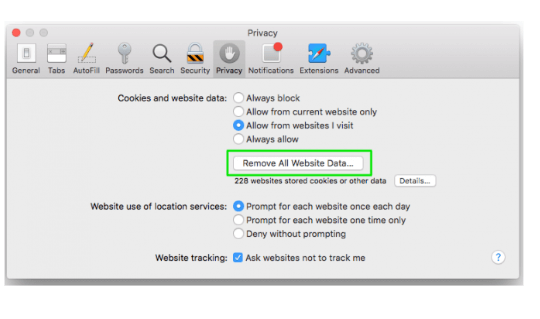 Step 3: Next, a confirmation window will popup. Here, you can click on Remove Now to do away with all your cookie and browser data.
Please note that to clear cookies for a specific website, you can click on Details which is right under the Remove All option.
Step 4: Lastly, to delete site-specific cookies, select the particular site for which you desire to remove their cookies. Then click on Remove.
Note: Despite being simple and straightforward, this is not the best approach to clear cookies on Safaribecause when the amount of cookies is enormous, it gets overwhelming. The PC freezes during the deletion process, hence, not all cookies are deleted when you force restart your computer.
Thus, you are forced to start the process all over again, which can be tedious.
2.2 Reset to clear Safari cookies for Mac
This method is only suitable for old Mac OS X. It involves resetting your Safari browser back to its factory settings. In this method, everything will be deleted, including autofill of username passwords on websites, history, etc. It is like a fresh installation of the browser.
Now, let us look at the simple steps in clearing cookies of Safari on Mac:
Step 1: To begin, on the top left-hand corner, click on Safari menu, then select Reset Safari.
Step 2: Next, check all the appropriate boxes.
Step 3: Lastly, click on Reset. It will change your browser settings to how they were previously.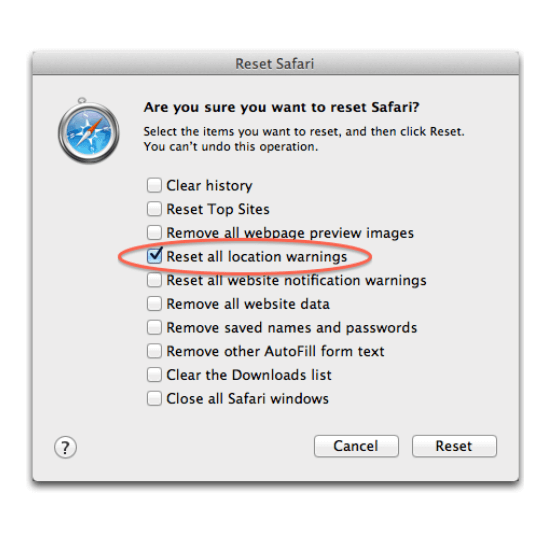 In spite of losing all the details of your browsing history and sites you visited, you will enjoy faster browsing speeds, a great part of clearing Safari cookies.
Conclusion
From this article, you got to understand what cookies are, and when they become errant, how to clear cookies on Safari. We also discussed six precise ways to solve issues such as slow processing speeds on iDevices, and storage loss due to the accumulation of cookies.
To get a better understanding, you can reread the article and make sure to share this article with your friends who are experiencing similar problems with cookies build up. You can help them understand that not all cookies are useless, like those responsible for username password autofill. To avoid losing such cookies, you can implement themethod explained in 1.3.
So, get smarter today and take charge of your website cookies. Lastly, do not forget to try dr.fone - Data Eraser(iOS) to get rid of unwanted deleted files for good.
Boost iOS Performance
Clean up iPhone

Clear iOS cache

Delete useless data

Clear history

iPhone safety