How to Delete Specific or All Emails on iPhone/iPad
Email management is one of the most important aspects of modern life. Everybody has an email address nowadays, and the chances are you use it for everything, whether that's logging into your social media accounts, your favorite shopping websites, your accounts, staying connected with friends and work, and just managing your subscriptions.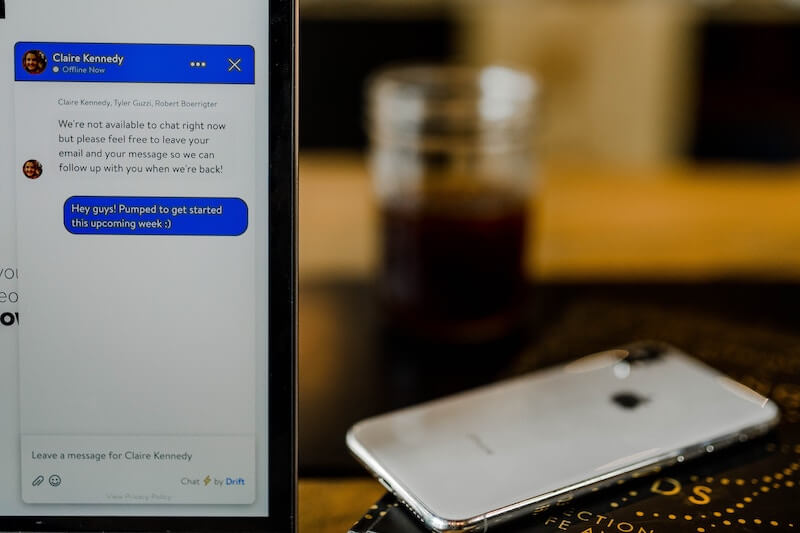 However, it's been highlighted time and time again that having a messy email inbox can be one of the most critical forms of stress. Just opening your inbox or seeing hundreds, if not thousands, of notifications can cause overwhelming amounts of stress, even if you don't realize it.
This is why it's so important to make sure you're keeping a clean and clear inbox as much as possible. Not only does this help ensure you're on top of all your emails, so you don't miss something important, you can also feel relaxed and in control of everything that's going on.
In today's guide, we're going to explore everything you need to know when it comes to managing and deleting emails, as well as some more interesting techniques to help you effectively process that all important email inbox clear out.
Part 1. Delete Specific emails on iPhone/iPad
The first thing you'll need to know is how to delete a specific email. This means you've read it already, processed whatever information you need from an email, and now no longer need it. It's simply taking up unnecessary space in your inbox and, more importantly, on your device.
Here's how you go through and delete specific emails whenever you need to;
Step One – There are two main ways to delete a particular email on your iPhone device. Simply open your email or Mail app on your device and select the email you want to delete.
You can now either swipe the main entry in your list of emails to the right, and you'll see three options; one of which allows you to delete the email. The second is tapping on the email itself (perhaps after you've read it) and then tapping the Trash icon in the top right.
Part 2. Delete emails on iPhone/iPad all at once
Unfortunately, iOS devices don't come with a Trash all/Delete All option to delete all your emails in one go, but that doesn't mean they can't all be deleted. It's just going to take a bit of extra time.
Step One – Open your Mail or Email app and long-press one of the emails at the top of the screen. A little blue tick should appear on the left-hand side of the entry. Now make your way down the list and select every single email you want to delete, so they all have blue ticks.
Step Two – Once you're happy with your selection, tap the Trash option in the bottom right-hand side of the screen and all emails will be deleted.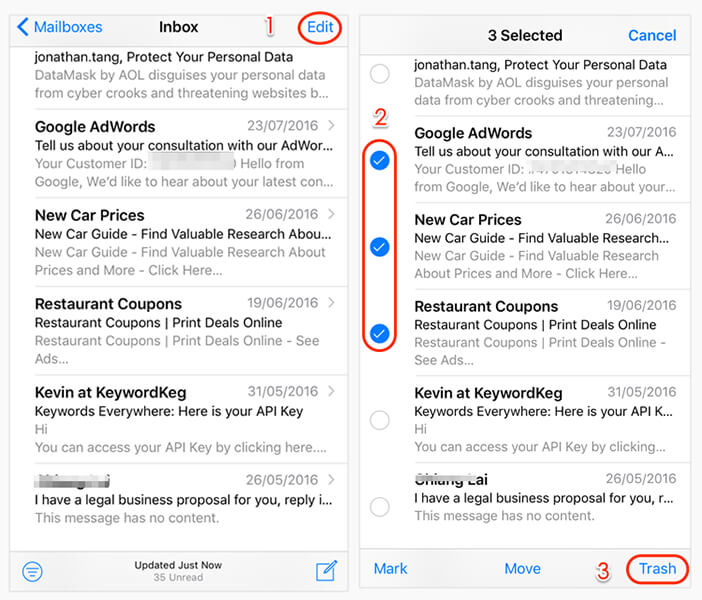 Part 3. Prevent important emails from batch deletion on iPhone/iPad
Of course, there are going to be some emails you'll get that you'll want to keep, or perhaps you need the information at a later date and don't want the emails to be deleted just yet.
This is why it's essential to know how to prevent the emails from being accidentally deleted, especially if you're going down the list and ticking all the boxes to delete them all. Here's how to protect the messages that are still important to you.
The best way to protect your emails is to make a backup of them. This way, if you delete them accidentally, you can then restore them onto your device and start using them again.
For this, simply connect your iPhone or iPad to your computer and open the iTunes software. Then back up everything from your iOS device to your computer, including your email.
If you accidentally delete an email you wanted to keep, simply Restore the backup file and don't delete the email next time!
Part 4. Permanently delete all data on iPhone/iPad (including emails)
In many cases, you'll just want to clear all your emails in one go, especially if you have thousands and thousands you want to get rid of, and you don't want to go through them all individually. The solution for this is using dr.fone - Data Eraser (iOS).
This is a powerful iOS data management tool to help you delete pretty much any data type off your device, including emails. This can help you free up a ton of storage space on your device, which will allow for fewer bugs and a much faster device. You can even then download more apps, play more games, and take more photos!
Radically delete all data and emails from iPhone
Erase everything in an unrecoverable manner
One of the most user-friendly programs in the world
Works with all iOS operating systems and devices
Can delete your entire device, or just specific file types
4,683,556 people have downloaded it
This is an effective solution that really goes out of its way to get the job done. To have the best experience when deleting all your emails, here's the definitive step-by-step guide on how to use it;
Step One – Head over to the dr.fone - Data Eraser (iOS) website and download the software onto your Mac or Windows computer. Double click the downloaded file and install it onto your computer by following the onscreen instructions.
Once installed, connect your iPhone or iPad to your computer using the lightning USB cable and open the software, so you're on the main menu.
Step Two – Click the Data Eraser option, followed by the Start button. For clearing up your device in the most effective way and basically starting again with a fresh storage capability, click the Erase All Data option on the left-hand menu, and then click Start.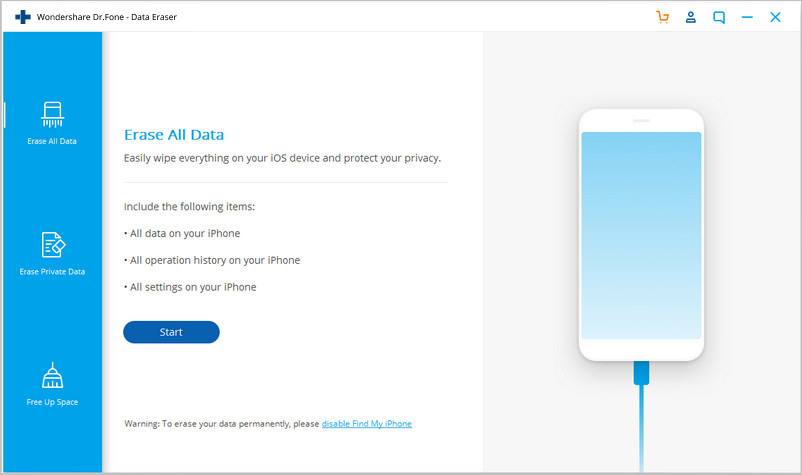 Step Three – You won't need to hard delete everything, or simply click the Medium tier of data removal. This will erase all emails on your device and then click Start.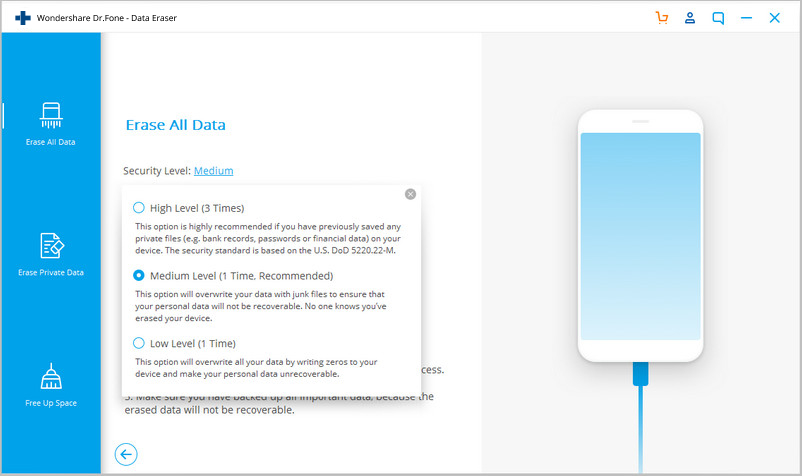 Step Four – Type the '000000' to confirm you're happy to continue with the file deletion process.
Step Five – The software will now clear all the data on your device. Make sure your computer stays on, and your device stays connected throughout this process. Once completed, you'll be told when you can disconnect your device and start using it as normal.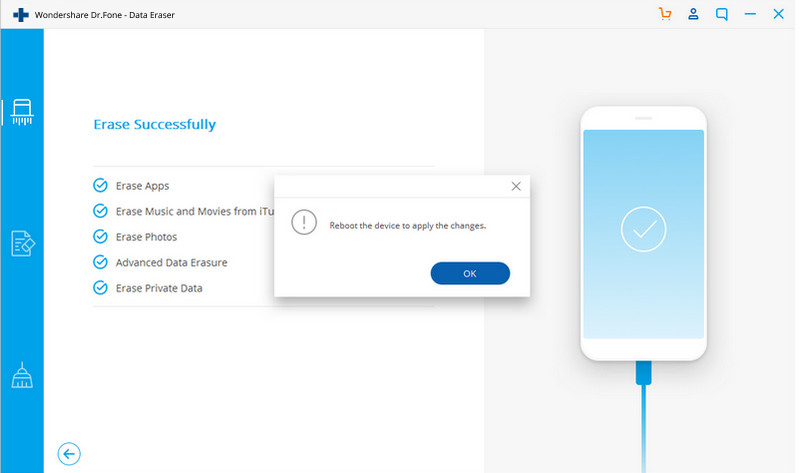 Boost iOS Performance
Clean up iPhone

Clear iOS cache

Delete useless data

Clear history

iPhone safety