How to Delete an Album on iPhone: The Definitive Guide
Everybody loves their photos and videos you included. For you who has large numbers of pictures and videos, finding an individual memory can be tricky, even on your iPhone.
You guessed it. The best way is to sort them into an album.
Albums come with the feature of naming them with different titles. Also, there are instances where your iPhone can by itself create a collection and give it a title or ask you to name it. Either way, they serve to keep everything neat.
As you may have realized, content in an album is usually related. But what if you don't like the collection? At times, the AI capacity on your iPhone goes out of its way in customizing albums for you. When you check the album, you realize it's not satisfactory.
Well, what would you do? At this point deleting the album on the iPhone sounds like the go-to choice, but, then you realize, that you can't remove it!
What if I tell you that there are ways to go around such situations? Sounds interesting, right?
So, read along to find out how to delete an album on iPhone with the following parts;
Part 1: What are the albums on the iPhone?
Albums or collections on the iPhone are storage segments where each one has been organized to suit a particular set of images within the Photos app.
When you take pictures or short clips with your iPhone camera, the resultant images and videos get saved in the All photos album. However, there are other albums in which your iPhone automatically organizes and fits in photos and videos. These include Selfies, Screenshots, People, Places, Slo-mo, Favorites, Time-lapse, and burst.
Also, you can design and create your own iPhone photo albums for organizing your collections. These can include adventures, photos, family photos, etc. and each can have their albums. Such makes it very easy finding them.
Therefore, there are different modes through which photo albums get created.
Photo albums produced in iOS.
As the name suggests, these are the albums manually created by you in the photos app on your iPhone by tapping on the plus sign, naming the album then selecting pictures to add in it.
Photo albums automatically generated in iOS.
The term 'automatically generated' here implies that your iPhone album has been re-designed to suit the photos taken by its camera.
With the most recent versions of iOS, certain types of photos get sorted into albums for you. E.g., panorama shots automatically get saved into panorama album. You usually have no choice over this, and as such, the categories can be disappointing.
Photo albums synced from computer
If you are fond of using iTunes to transfer photos and videos from your iPhone to the computer and back, well, these are the photo albums synced from your computer. Usually, you can't delete such albums on iPhone.
Photo albums created by apps
These are photos and clips that mostly get created from social media platforms such as WhatsApp, Instagram, Snapchat, etc. when you want to share something instantly. They usually are categorized by the application's name at the bottom.
Part 2: How to permanently delete an album with photos in it?
Anytime you are faced with a situation where you need to permanently delete anything on your iPhone, make use of the dr.fone - Data Eraser tool. It is exceptional because;
Effective Tool to Delete an Album on iPhone
The interface is both easy to use and simple to understand.
It has an iOS full data eraser that is compatible with and can wipe out all possible file types available on your iPhone or iPad.
The iOS full data eraser is also able to delete files permanently.
The dr.fone - Data Eraser tool features an iOS Private Data Eraser that allows you to select particular personal data files to delete.
There is also an iOS space saver that can boost your iPhone's functionality by getting rid of unnecessary files
4,683,556 people have downloaded it
So, how can we use dr.fone to erase an album with photos in it permanently?
Step 1: The first step to delete an album on the iPhone is to ensure you have downloaded and installed dr.fone software on your computer.
Then, run it to open the program. At the main interface, you will find the Erase tool on the right, click on it.
Step 2: Now connect your iPhone to your computer using a USB cable compatible with your iPhone. When the program recognizes your iPhone, select the 'Erase Private Data' tab on the left.
On the right pane, you can select the type(s) of files to scan and erase. To delete an album on your iPhone, select 'photos' under 'Media Data.' Choose now Start on the bottom left.
Step 3: When you click the Start button, the program scans for photos on your iPhone.
Step 4: Once complete, you will see the scan results of your private photo data. Using the available checkboxes, mark the files you don't need, in this case, the photos in the album you want to delete. Then click on 'Erase from device' button to permanently wipe them out.
Step 5: Finally, you need to confirm since the data will be irrecoverable. So, enter '000000' on the window pop-up and click on Erase Now.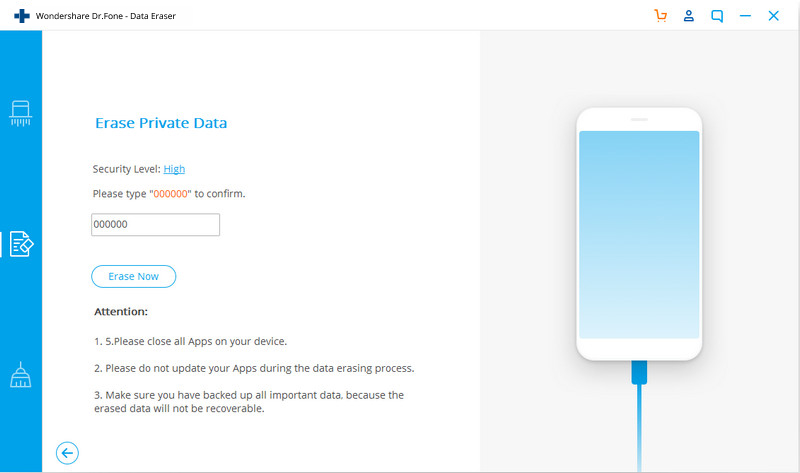 Note: Give it a few minutes after which a pop-up window will notify you that the action is complete.
Part 3: How to delete created albums?
Created albums are those you manually make to sort your photos according to your titles. These can be a landscape album, birthday album, etc. So, how do you delete such albums from your iPhone?
Step 1: First of all, select the Albums tab at the bottom of your photos app.
Step 2: Then, tap on 'See all' at the top right corner, then tap 'Edit.'
Step 3: A red circle appears on the top left corner of each album. Tap to select an album. It will blur it as selected.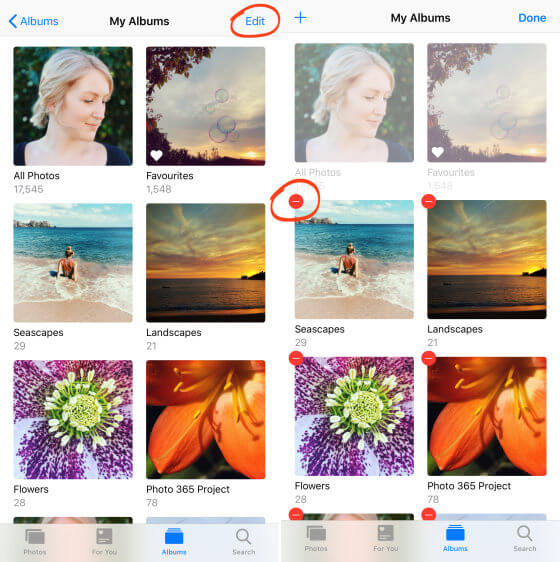 Step 4: A pop-up at the bottom of the photos screen will give you the option to delete the album, and a notification above it will alert you that photos won't delete.
Therefore, only the category will delete.
Part 4: How to make stock albums disappear?
One way of removing stock albums involves multiple manual selections. It follows the same procedure as deleting a single album, only that you instead select numerous albums simultaneously.
Step 1: To begin, deleting stock albums on the iPhone, go to the photos app, and select Edit at the top right of your screen.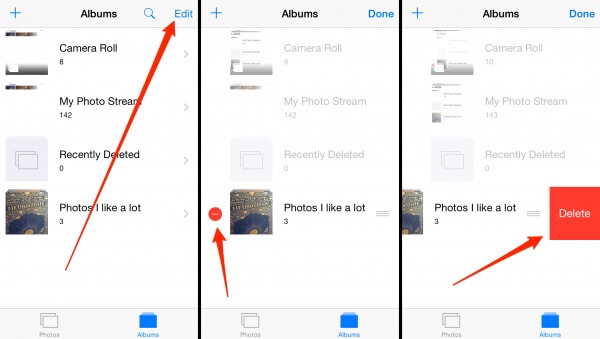 Step 2: Now, tap the red circle that appears on the top left of several tabs you'd like to delete.
Step 3: Lastly, at the bottom of the screen, click on Delete.
Part 5: How to delete synced albums using iTunes?
There are cases where photo albums are synced from your computer. However, you would still like to get rid of them, so, here are the steps to delete the album on iPhone.
Note: You must have iTunes installed on your computer for this process
Step 1: The first step to delete your synced albums with iTunes, is to launch iTunes and connect your iPhone to the computer.
Step 2: Now, tap on the device icon on the top left.

Step 3: Here, tap on photos on the left panel.
Step 4: Click on 'Select Albums' at the top section.
Step 5: At the bottom, deselect 'All albums' and then select those you'd want to keep. Those that are not selected will get removed from your iPhone. Now click on apply.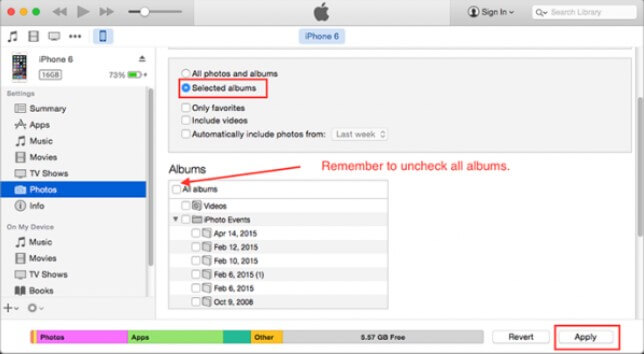 Conclusion:
If you do not sort the photos on your iPhone, they can accumulate and turn into a menace. When they get congested, finding a photo you prefer becomes quite hectic. Hence, to organize pictures on the iPhone, you should make use of albums.
As stated before, you do not always create these albums. Some albums are automatically generated while others synced from the computer, and others created by applications, mostly social media platforms. These are usually the kind of photos or videos one makes in real time to share with various audiences.
Usually, you may not always be satisfied with albums automatically generated. Also, for various reasons, you may want to delete a record. Therefore, there are ways on how to delete an album from iPhone.
However, in the case where you want to delete the album from iPhone permanently, I would recommend using a dr.fone - Data Eraser feature which is efficient in doing permanent wiping out of files.
The article has highlighted these methods, and therefore, I would recommend you share with people around you.
Boost iOS Performance
Clean up iPhone

Clear iOS cache

Delete useless data

Clear history

iPhone safety