3 Workable Ways to Delete Apps on iPhone 7/7 Plus
When you find yourself thinking of uninstalling apps from your iPhone 7, it's because you have too many of them.
In the smartphone world, about every problem, whether virtual or in real life has a solution in the form of an app. It is because the use of applications has made it easy to complete tasks, share ideas, and also have access to numerous sources of entertainment.
Therefore, the overreliance on apps to perform tasks, even as simple as note taking, leads to their accumulation on your iPhone. Increase of apps on your iPhone 7/7 plus usually leads to clogging of your system memory. As a result, the iPhone begins to feel slower than usual, not to mention, most of these apps are usually third-party apps.
Many companies other than Apple make third-party applications for the iPhone. They serve to complement what is already there and, in some cases, offer services not provided by Apple. Although helpful, some of these apps bring about problems such as incompatibility issues with the OS as others come embedded with malicious code.
The only best solution is to remove them. Therefore, in our article today on how to remove apps on iPhone 7, we shall discuss:
Part 1. How to Delete Apps on iPhone 7 / 7 Plus and Erase App Data
Does removing an app from your iPhone 7 means it's completely free of the app? Unfortunately, this is not the case. What happens is that as you use an application, your data gets stored on your device.
Take, for example, a web browser. As your favorite browser on your iPhone 7, say Google Chrome, your browsing data gets stored on your device. This browsing data includes searches, bookmarks, website cookies, etc.
Applications work this way to speed their functionality and make them work seamlessly. The downside to this, as you may have guessed, is that more and more of this app data slows down your phone.
Where is this app data stored you ask? Well, if you could find it manually and clear it, it would cause harm to the app or both the app and the system since there are files that shouldn't be messed with. However, there are ways to safely remove apps from your iPhone 7 without any data loss.
Bulk Delete Unwanted Apps from iPhone 7
The main menu that takes you to a simple UI that's easy to work with for anyone.
An iOS data clearing tool called Space Saver
The capacity to permanently remove private data using the Private Data Eraser.
A junk file removal tool.
It is a full data eraser that permanently deletes your data such that it can never be recovered.
4,683,556 people have downloaded it
So, how do you delete apps on iPhone 7 and erase all app data with the dr.fone - Data Eraser tool?
These are mostly those apps you haven't used in a while or are no longer needed. Please note that you cannot delete all apps on your iPhone. Some preinstalled applications can never be removed no matter what software you use to get rid of them.
Therefore, make sure the app you are trying to delete is genuine. It can be removed using the following steps:
Step 1: Download and launch dr.fone - Data Eraser on your computer. Then connect your iDevice to it using the Apple data cable provided. This process can take a while. Ensure the connection is successful and secure.
After that, click on the Erase option from the interface.
Step 2: Go to the 'Free up space' tab (from the left section) and select 'Erase Application' from the window pane.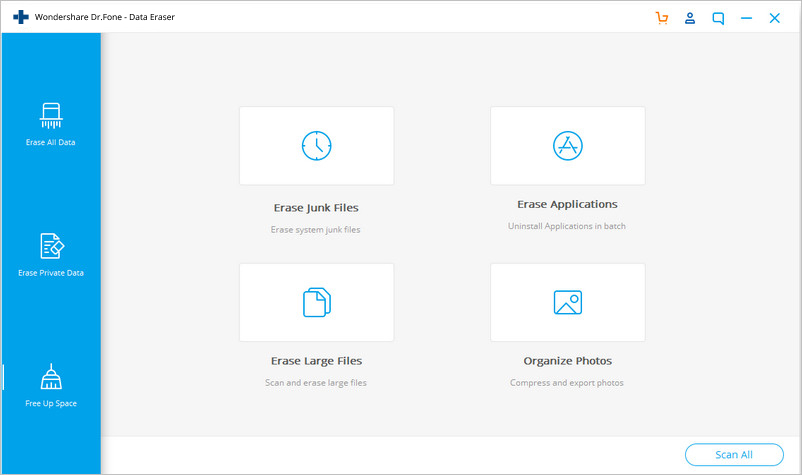 Step 3: A complete list of your apps will be visible on the screen now. Lastly, you need to select those you no longer use or need and press Uninstall.
The chosen apps will disappear in a while, along with their data.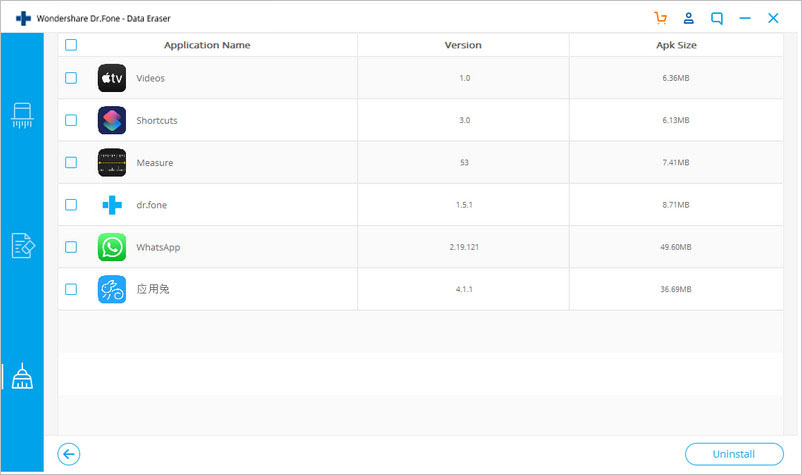 This way, with the help of dr.fone - Data Eraser (iOS) tool, you can delete all of the applications which you no longer want to use or which are not in use for long time.
Just follow the steps mentioned above to understand and compute the process of removing apps from iPhone 7.
Part 2. How to Delete Apps on iPhone 7 / 7 Plus by Touching "X".
For users without an extra computer to install dr.fone in, how can you delete apps on iPhone 7? Well,your iPhone 7 can be used to remove these applications from your UI. On your iPhone 7 with the iOS 10 installed, you can delete by long pressing the app to reveal a tiny "X" icon on the top left. Tapping on this icon removes the app.
To use the "X" icon, you need to be gentle.
Step 1: Tap on the app for about 3 to 5 seconds without pressing hard. It should be able to bring up the "X" icon.
Step 2: Gently tap on this "X" icon to remove the app.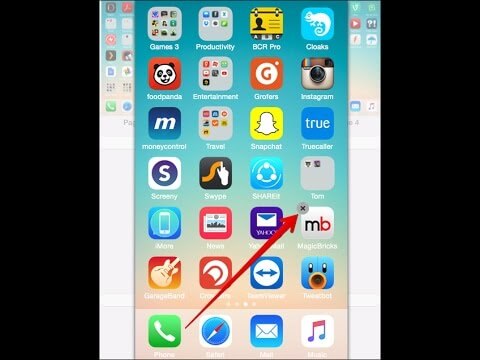 This is one of the easiest ways to deal with deleting apps on iPhone 7 or other devices. It does not require any additional work or technical knowledge base.
By following some simple steps listed above you can delete all the apps you are not using and save your iPhone memory.
Part 3. How to Delete Apps on iPhone 7 / 7 Plus from Settings
The iOS 10 comes with a 3D-touch feature that gets activated when you press on an application. The activated app menu makes deleting cumbersome as you can't access the "X" icon.
It was undoubtedly a ploy by Apple to deter users from removing their apps. Luckily, the Settings menu provides a way out in deleting apps.
Your iPhone 7 has the iOS 10 system that allows you to manage your storage space. Through the Settings app;
Step 1: Under the General tab, find the iPhone Storage tab.
Step 2: On the windows that appears, you can offload the app which deletes app data, or you can get rid of the app itself completely.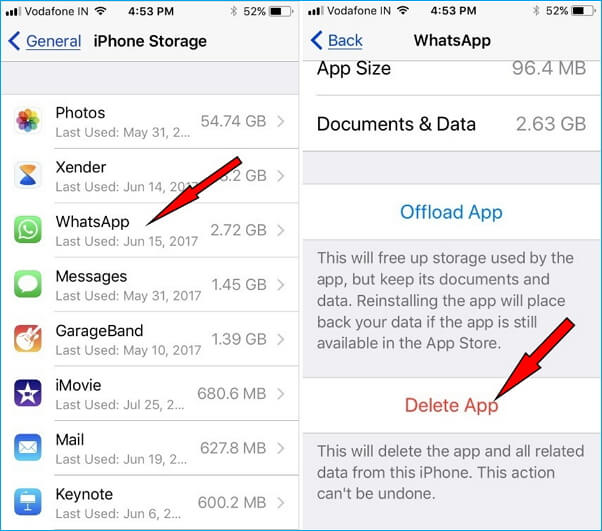 Deleting an app also removes all its data from your system. It is thus an efficient and straightforward way of freeing space on your iPhone 7/7 plus.
The Settings menu, will help you free up more space on the iPhone device by deleting particular apps on iPhone 7 one by one. For that, you have to go through the guided steps given in this part and remove the applications.
Conclusion
To mitigate the hustle of constantly checking on your iPhone 7 to free up space, watch on the number of apps that you keep installing on your iPhone. Also, regularly remove apps that have outlived their use reduces the chances of slowing down your iOS system.
Unfortunately, most of us are too busy to keep tabs on how many apps we have installed. When the iOS system gets too slow, that is when we find ourselves researching on how to uninstall apps on iPhone 7.
However, we fail to realize that removing an app from your user interface doesn't guarantee to free up of space. Uninstalling alone only gets rid of the user data and leaves behind specific system files.
My recommendation would, therefore, be to use the dr.fone - Data Eraser tool inclearing your iOS system. It entails various features that are tailored to suit every aspect of data that you might have on your iPhone 7.
While conventional methods of deleting an app might leave traces behind, dr.fone efficiently wipes out all data. Thus, removing apps from iPhone 7 using dr.fone is safe and helps your iPhone running much faster than before. In light of this, please share this article with your family and friends.
Master iOS Space
Delete iOS apps

Delete/resize iOS photos

Factory reset iOS

Delete iOS social app data