How to Delete Apps on iPhone 8 / 8 Plus Smoothly
iPhones are amazing little devices, and since you have one, you'll know about all the fantastic benefits and features it can bring into your life. However, you need to know how to maintain and look after your device to get enjoy the very best experience.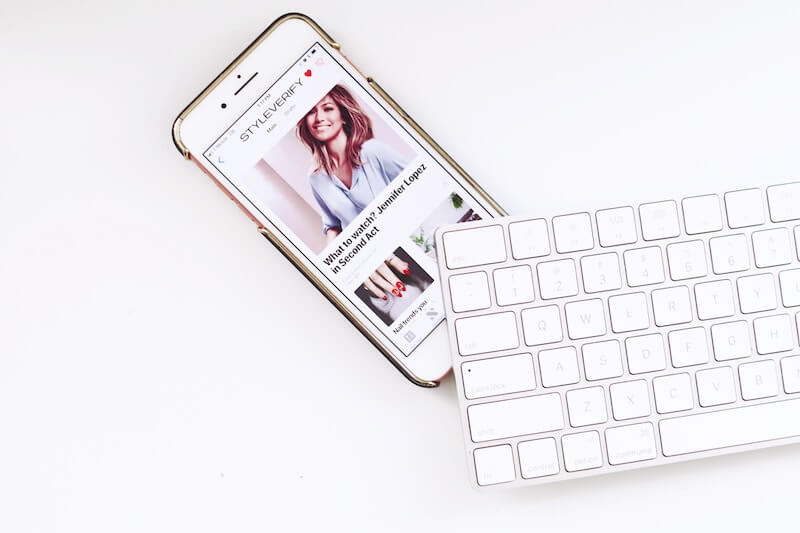 One of the critical processes of maintaining your iPhone 8 or your 8 Plus is to keep only the apps you want on your device and making sure you have enough memory to run your device effectively. Keeping a ton of apps can slow your device down and fill up your memory which can ruin your device's overall performance.
Fortunately, there are plenty of solutions and approaches out there to help you delete your apps and keep your device working in the best possible condition. Today, we're going to share with you the definitive guide to ensure you can get the job done correctly.
Part 1. Why may app deletion be unsuccessful on iPhone 8 / 8 Plus?
Of course, the most common way to delete an app on your device is probably the most traditional and most common way; hold down the app icon from the main menu, wait for the app to wiggle, press the 'x,' and delete the app. Simple, right?
Not always. On iPhone 8 models and more recent models, tapping your app icons in this way will open the Quick Action menu, and not the delete option. If your device is running the 3D Touch feature, this can open the Share menu instead.
While helpful, this can stop you from being able to delete your apps. The method to softly tap the icon to make the delete icon come up can be challenging to master, and if you get it wrong too many times, this can just end up leaving you very frustrated.
Instead, there are plenty of other methods out there that can help, and so for the rest of these guide, we're going to show you how to make things easy.
Part 2. How to delete apps on iPhone 8 / 8 Plus (one by one or in batch)
Whether you're looking to delete a single app or you're looking to delete a collection of apps in a batch format, saving you from having to go through each one individually, the best approach is using a powerful software solution known as dr.fone - Data Eraser (iOS).
This software from Wondershare is one of the most effective and most trusted phone erase tools on the market today and can provide you with a complete app management platform that helps you stay in control. Some of the other amazing benefits you can enjoy include;
Dedicated Tool to Delete Apps on iPhone 8 / 8 Plus
One of the easiest, most user-friendly, yet most powerful applications available
Works with all iOS devices, including iPads and iPhones
Trusted and enjoyed by over 50 million customers around the world
Can fully erase everything on your phone, or just specific files under your control
4,683,556 people have downloaded it
Of course, it's safe to say this is pretty much the only solution you're going to need when it comes to managing apps and any other kind of file on your device; you're in luck seeing as though you can effortlessly use this.
To ensure you have the best experience, here's a step-by-step guide to help you get things done properly the first time.
Step 1 - Make your way over to the Wondershare website and download the dr.fone - Data Eraser (iOS) tool to your computer. Install the downloaded file by following the instructions on the screen. When you're done, connect your iPhone 8 and start the software, so you're on the main menu.
Step 2 - Click the Erase option, followed by the Free Up Space option on the left-hand menu. Then click the Erase Application option.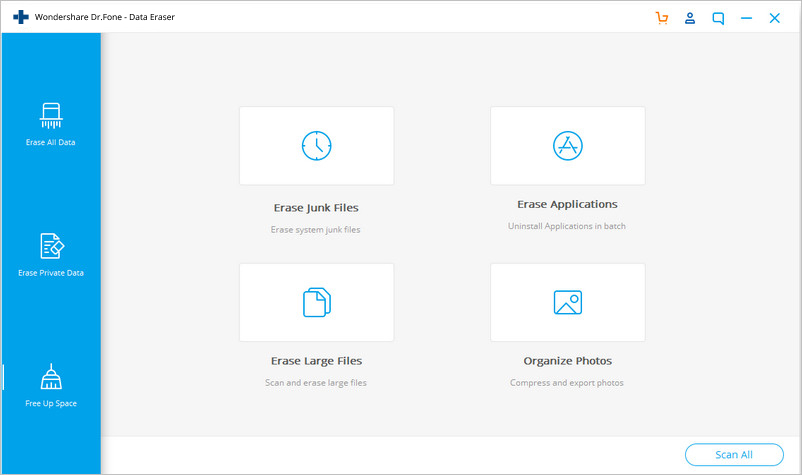 Step 3 - The software will now scan your device and find all the apps installed. It will list them out for you to go through and select which apps you wish to delete using the tick boxes. Select all the apps you want to delete and click the Uninstall button.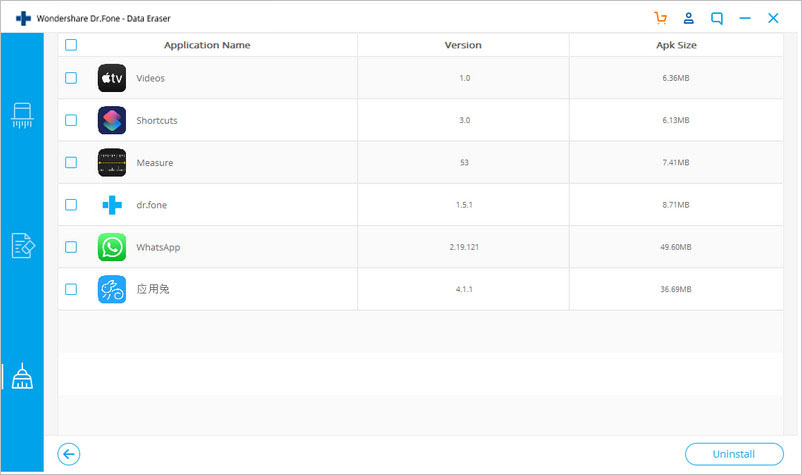 The apps will now be deleted, and you'll be able to use your device as usual with much more free space!
Part 3. How to delete apps on iPhone 8 / 8 Plus from Home
One of the easiest ways to delete an app, as we mentioned in the introduction, is by softly touching the app icon on the home screen of your iPhone 8 or iPhone 8 Plus. You need to press much softer than you would on older devices for the menu to come up.
This can take some practice to get right, but you can get it with enough time. Just hold the icon of the app you want to delete softly, click the 'X' button that pops up when the app is wiggling and then confirm you want to delete the app.
You will then need to repeat this for every app you want to delete individually, and you won't be able to delete apps in a batch way.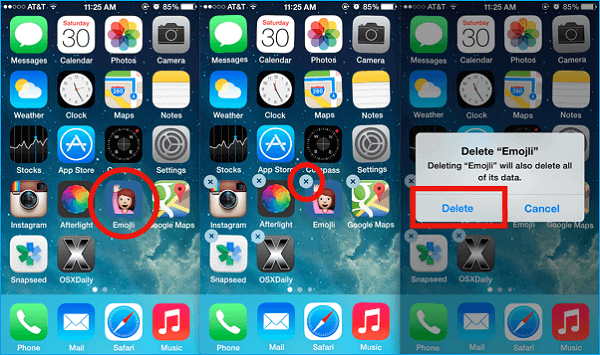 Part 4. How to delete apps on iPhone 8 / 8 Plus from Settings
Many iPhone 8 and iPhone 8 Plus users won't know you can also delete your apps directly from the Settings menu of your device. Since the introduction of 3D Touch and the Quick Action menu, you can also do this on more recent devices. Below, we'll show you how on each device.
This method is the same if you're running a device on iOS 10, iOS 11, iOS 12, or iOS 13.
Step 1 - From the main menu of your device, navigate Settings > General.
Step 2 - Tap the iPhone Storage option and then scroll down the list until you find the app you want to delete.
Step 3 - Tap the app entry, scroll down the app info, and then click the Delete App button. Confirm you want to continue with the process and the app will gone from your phone! Just repeat with all the apps you want to delete individually.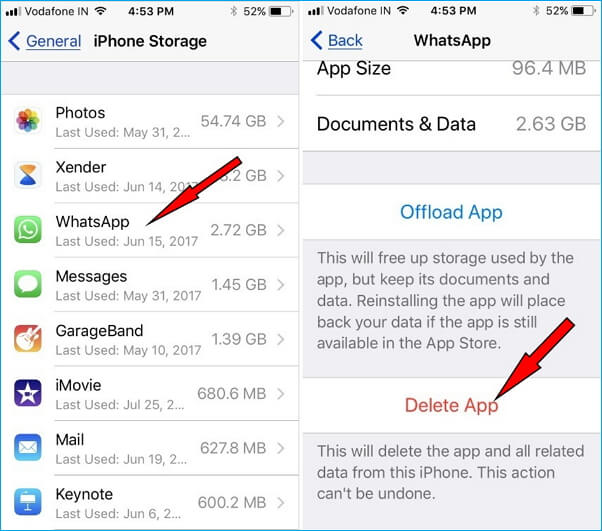 Master iOS Space
Delete iOS apps

Delete/resize iOS photos

Factory reset iOS

Delete iOS social app data