How to Delete Instagram Account on iPhone with Ease
While Instagram is one of the most popular social media apps in the world with literally hundreds of millions of downloads and users all around the world, it's also one of the restrictive, especially when you get to a time where you want to get out.
This, of course, means deleting your Instagram account which is actually a lot harder than you first may think. There's a lot of processes to go through, but it's worth noting this isn't your only option. For example, if you think your Instagram app is using up too much space on your phone, you don't have to delete it entirely. There are other options available.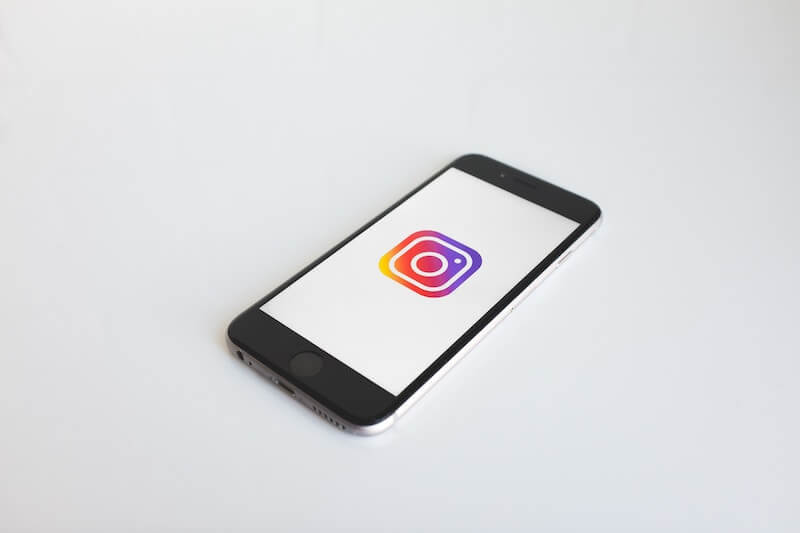 Today, we're going to take you through our step-by-step guide to help you understand and become aware of all of your options and how to effectively carry them out, ensuring you have the best experience when using Instagram or wanting to delete it from your iPhone.
Part 1. How to clear Instagram cache
If you're running out of memory and storage space on your iPhone and you believe Instagram could be the cause, you may want to first try clearing the cache of your app. This is where files are stored on your device, so they don't need to be downloaded over and over again from the internet.
This could include things like icons, profile pictures, your own photos, story archive photos, and so on. Of course, over time, these files can build up and end up taking up a huge amount of room on your device. The idea here is to clear the cache, free up space, and you're able to keep your Instagram account!
Here's how it works;
Step 1 – From the main menu of your iPhone, navigate to the Settings menu, tap General, and then tap iPhone Storage. You'll need to wait for the list of apps to load here.
Step 2 – Scroll down the list and find the Instagram option. Tap it, and then tap Offload Data. You then need to wait until the process has been completed.
If you then refresh the list from the last screen, you should be able to see the cache has been deleted and you'll have a lot more memory to play with.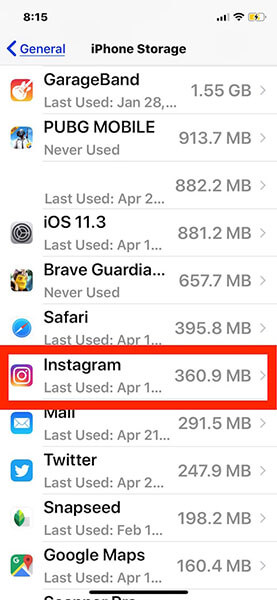 Part 2. How to temporarily delete Instagram Account
Whether you're saving space and storage on your iPhone device, or you simply want to take a break from Instagram but feel like you'll want to return to it in the future, Instagram gives you the option to temporality delete your account. This means the account is basically deleted, but you can restore it at any time.
Here's how you can temporarily delete your Instagram account;
Step 1 – Head over to the Instagram website on your computer. This can be a Mac or Windows computer with any web browser. Basically anything but the app. Log in via the web page using the login details you would use in your app.
Step 2 – On the profile settings part of the website, click the Edit Profile option, followed by Temporarily disable my account.
Step 3 – You'll then need to enter the reason why you feel like temporarily deleting your account. You will then need to enter your password to confirm this process.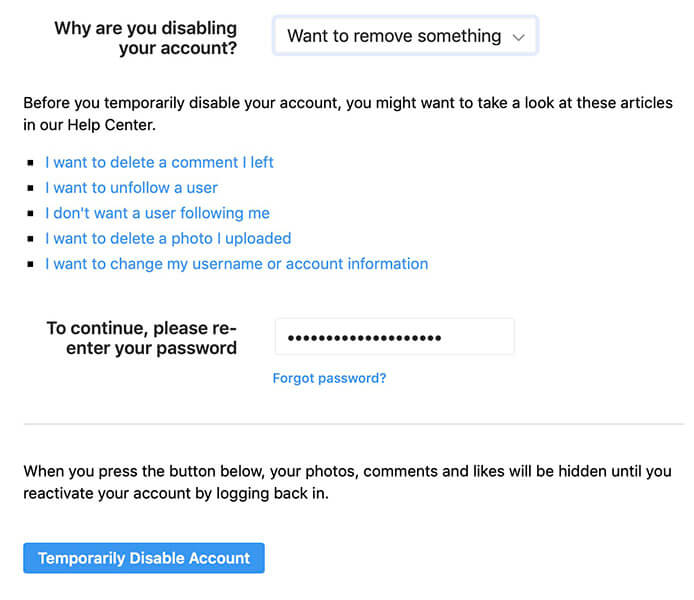 Confirm you want to continue, and your account will be temporarily deleted. The account will then be on hold, invisible, and unused. When you log into your account again via the app, your account will be reinstated, and you'll be able to use it as usual.
Part 3. How to permanently delete Instagram Account
In some cases, perhaps if you're cutting back on your social media usage or you're just bored of using the app, you can permanently delete your account. This means that's once your account is deleted, you won't be able to sign in and use it again.
All your pictures, videos, followers, and settings will be deleted, which is why it's recommended you back up your content before carrying out this process. If this sounds like the permanent fix you want to use, here's the process you need to carry out;
Step 1 – Login into your Instagram account by going to the website on your PC or Mac computer using a web browser. You won't be able to delete your account by using the mobile app.
Step 2 – Once you've signed in, click Edit Profile and then click the Delete Account option. You then need to enter your password and click the big Delete My Account button to confirm the process.
Once you've pressed the button, your account will be deleted, and everything will be cleared.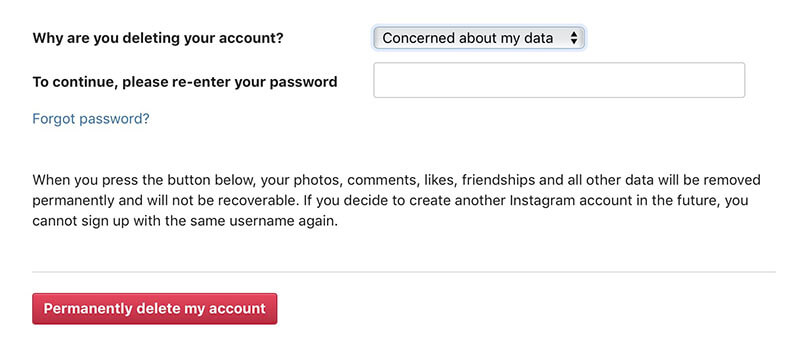 Part 4. How to permanently erase all traces of Instagram
If the main reason you're deleting your Instagram is to save storage and memory space on your device phone, then you'll want to delete all traces of the app. However, deleting the app and deleting your account doesn't do this.
Even after deleting the app, there are still going to be traces on your device, whether that's installation files, part of the cache, or just remnants of code. Instead, to clear these and maximize the space you're getting back, you're going to want to use a third-party erasing tool known as dr.fone - Data Eraser (iOS).
This is a powerful piece of software designed to help you effectively clear and manage files on your phone to ensure you're able to maximize your storage potential. Some of the other amazing benefits this software can provide includes;
Erase All Traces After Instagram Account Deletion
Can delete all content on your phone, or apps and files specifically at your choice
Can dramatically speed up your phone by freeing up space
Works on all iOS devices, including the latest models and iOS 13 operating system
Software is compatible with both Mac and Windows computers
4,683,556 people have downloaded it
Sounds like the software you've been looking for? Here's a complete step-by-step guide on how to get the best experience when using it!
Step 1 – Head over to the Wondershare website and download the dr.fone - Data Eraser (iOS) software. Once downloaded, install the program onto your operating system by following the onscreen instructions. Once installed, open the software, so you're on the main menu.
Step 2 – Connect your iOS device to your computer using the official lightning USB cable and wait for your computer to detect it. Then, click the Erase option, followed by Free Up Space option on the left-hand side. Now click "Erase Junk Files".
Note: you'll want to carry out this process after you have deleted your account and the Instagram app, whether that's using this software, or deleting the app in the normal way for iOS devices.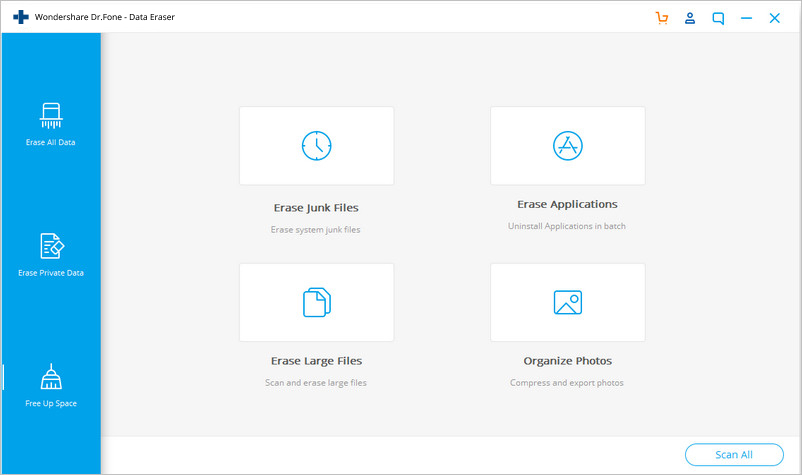 Step 3 – The software will automatically start scanning for junk files, broken app files, and just unnecessary files that exist on your device. This also includes cache files, log files, and temporary files.
You'll now be able to select which files you want to delete and which ones you want to keep using the tick boxes. Click all the boxes for the best results and click the Clean button. After this has completed, you'll be able to disconnect your phone and use it as usual.
Part 5. What if you want to re-activate Instagram Account after deletion
If you've temporarily deleted your Instagram account or you've deleted the app, and you now want to start using the app once again, this is entirely possible using the following steps. For this, we'll assume you've already downloaded and installed the app back into your device.
Note, if you've permanently deleted your Instagram account, you won't be able to get your account back, and you'll need to make a new one.
Step 1 – Reinstating your account is simple. All you need to do is head over to the login page and enter your previous email address, username, or phone number, followed by the password that matches with the account.
If you've forgotten your password, you can simply click the 'Reset Password' option and go through this wizard to set a new password. Then, log into your account with your new password and your Instagram account will be ready to rock and roll!
Summary
As you can see, there are lots of options available to you when it comes to managing your Instagram account and how much access you want to give yourself; especially if you're looking to speed up your iPhone device.
Ensure you follow these step-by-step guides precisely to make sure you're getting the intended result and enjoy your iPhone experience exactly how you want it.
Master iOS Space
Delete iOS apps

Delete/resize iOS photos

Factory reset iOS

Delete iOS social app data