How to Delete Photos From iPhone But Not iCloud
While iPhones are absolutely incredible when it comes to photography, especially with the more modern cameras and devices, it's no mystery that the entire iPhone photography process isn't exactly flawless.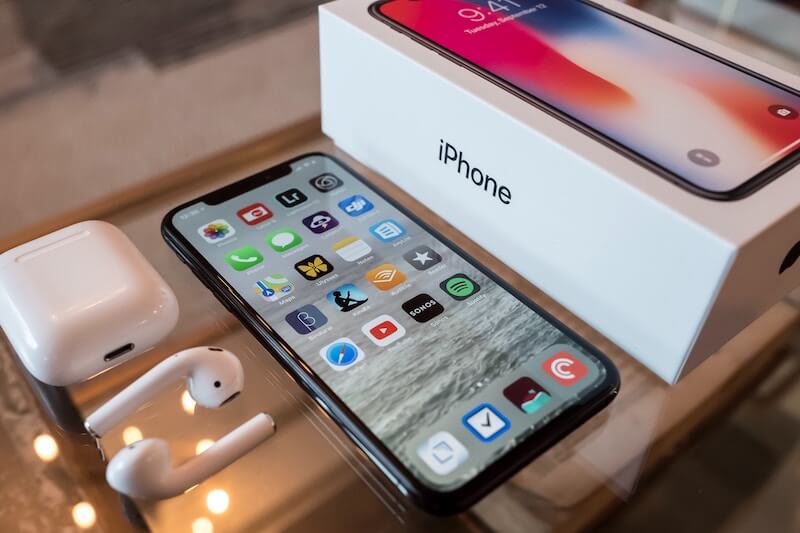 With high-quality photos comes the problem of high storage costs, and the more photos and videos you take, the more you'll realize just how big these files are and how quickly your memory can become full.
This is why iCloud exists, but there's another common problem that when you delete a file on your iPhone to make more space, this can then delete the file on iCloud and you've basically lost it forever. In today's definitive guide, we aim to solve this problem for good with these five solutions you need to know.
Solution 1. Reduce photo size without reducing quality
The first, and perhaps most ingenious way to stop yourself accidentally deleting your files for good is not deleting them at all. Instead, you can use third-party software to compress the files, so they take up less and, thus, have more room for more files.
The best solution for doing this effectively is using software known as dr.fone - Data Eraser. This is a powerful application designed to help you effectively maximize the space on your device but all while making the process as easy as possible. Here's how it works;
Step 1 – Head over to the Dr.Fone website and download the Space Saver toolkit. Download for either your Mac or Windows computer and install by following the onscreen instructions.
When you're done, open the software, so you're on the main menu.
Step 2 – On the main menu, click the Erase setting. (don't worry, this won't erase anything). On the next screen, select the 'Free Up Space' option, followed by the 'Organise Photos' option.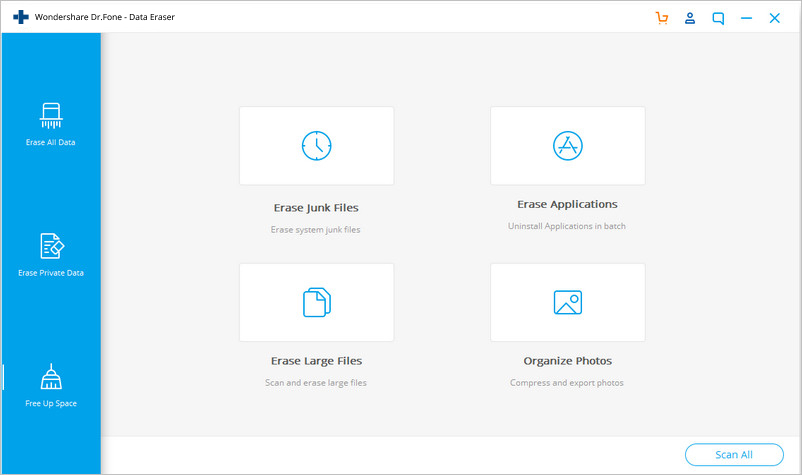 Step 3 – Now click the option that allows you to compress files and save as much as 75% of memory and storage on your iPhone. Click Start.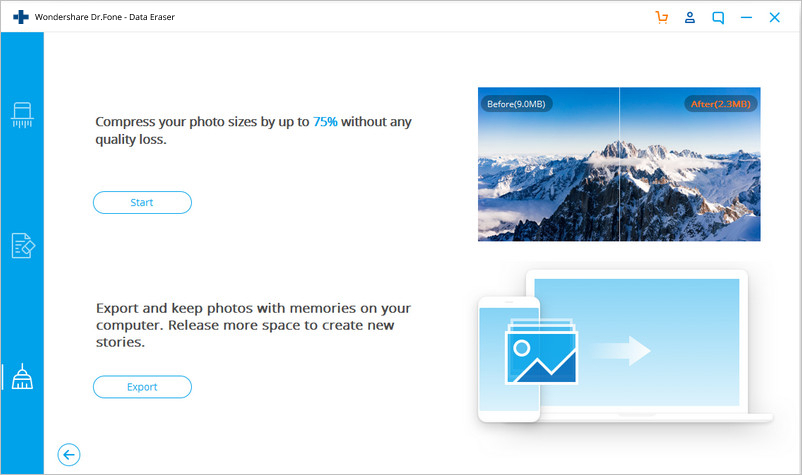 Step 4 – The software will now go through your device and scan for all the photo files it can find. Once displayed and the scan is finished, go through the files and choose which ones you want to compress using the tick boxes.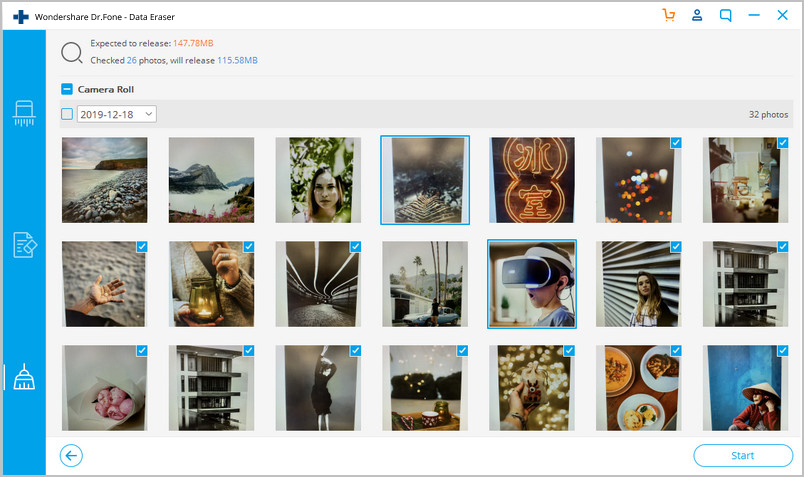 Step 5 – The files will now be compressed on your device, and you'll be notified when everything is complete, and you can safely disconnect your device and start using it with more space!
Solution 2. Delete photos and export to computer for backup
Continuing on with our theme of not actually deleting your files, you can instead move them to another storage location, in this case, onto your computer. This way, there's no chance you'll accidentally delete them from your iPhone or your iCloud account since they'll be safely stored on your PC.
Now, there are multiple ways you can approach this, but the best is to continue using the dr.fone - Data Eraser program. If you can't save enough space by compressing your files, you can then rerun the software to export your files, or you can use it as a standalone solution.
Here's how it works;
Step 1 – Make sure you have dr.fone - Data Eraser installed on either your Mac or Windows computer. You can do this by heading over to the website and downloading the installation file, and then following the onscreen instructions.
Step 2 – Open the program, and you'll find yourself on the main menu. Here, select the Erase option, followed by the Free Up Space option. From the four options here, select 'Organise Photos.' Confirm your selection by tapping 'Scan All.'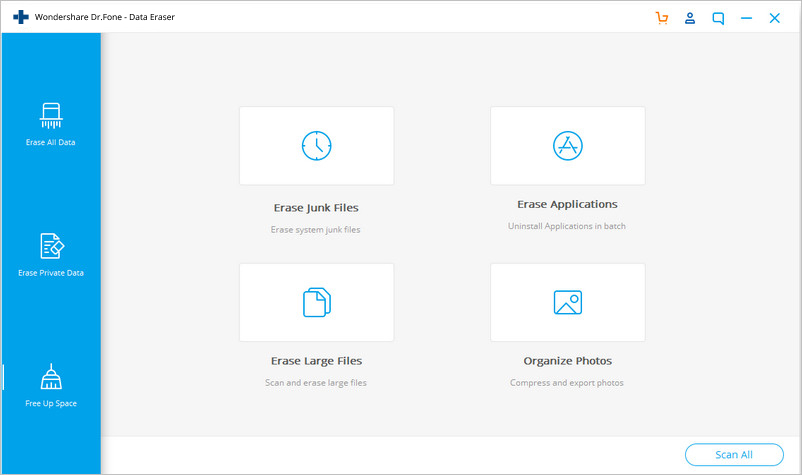 Step 3 – Choose to Export your photos. You could try compressing your photos first using Solution 1 to see if you can save space, and then exporting if you don't have enough space.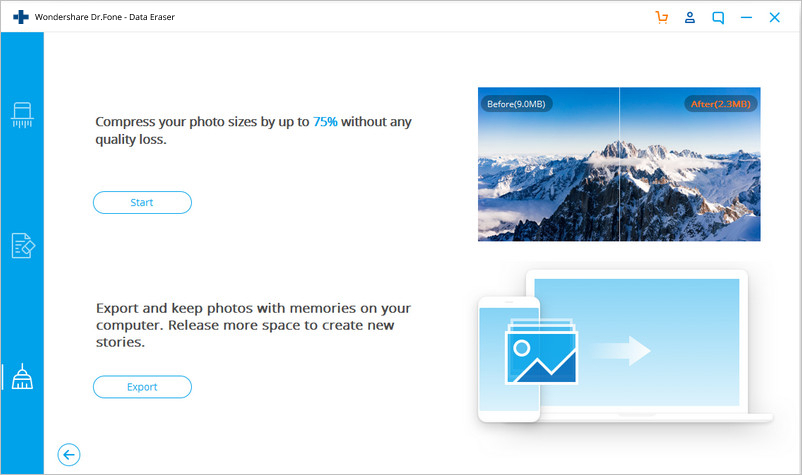 Step 4 – The software will now scan all your files and will display them in the window. Here, you'll be able to select which photos you want to expect using the tick boxes and then select whereabouts you want to export your files to on your computer.
Click 'Export,' and then the process will start. Once completed, you'll be told so and you'll be able to find your files on your computer. You can then disconnect your phone and use it as normal!
Solution 3. Disable iCloud Photo Library before photo deletion
Another fantastic way to stop yourself accidentally deleting is to disconnect the automatic syncing from your iPhone to your iCloud account. With the automatic updates off, any files you delete on your iPhone without the risk of it deleting elsewhere.
This is a simple solution, and while it does work, you might want to stick with the third-party software since this will ensure you can save space. Sometimes, when you reconnect the sync, it can update and delete your photos, although this is rare.
Here's how you can disable it;
Step 1 – From the home screen of your device, navigate to Settings > iCloud > Photos, and then simply hit the toggle switch for iCloud Photo Library.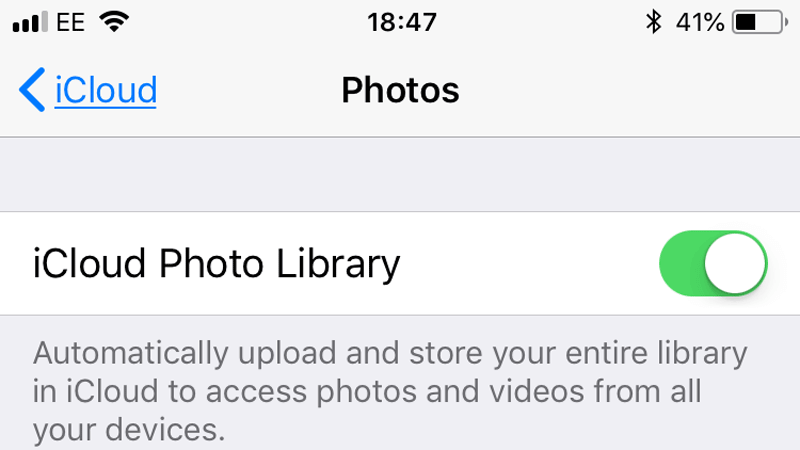 Solution 4. Sign out of iCloud before photo deletion
Similar to the approach above, an effective way to stop accidentally deleting your photos from your iPhone is to simply sign out to your iCloud account. Without your iCloud account connected, it will be impossible to accidentally delete your photos.
As before, the best solution is using third-party software since when you sign back into your account, the settings can resync and delete your photos, but as long as you're careful, this won't be a problem. Here's how you can do it yourself;
Step 1 – From your main menu, navigate to the Settings menu and click on the iCloud menu. Tap 'Sign Out' and then 'Sign Out' again.
Step 2 – Now click the 'Delete from my iPhone,' or your iPad, and then tap your Apple ID and then press 'Turn Off.' You'll now be signed out of your account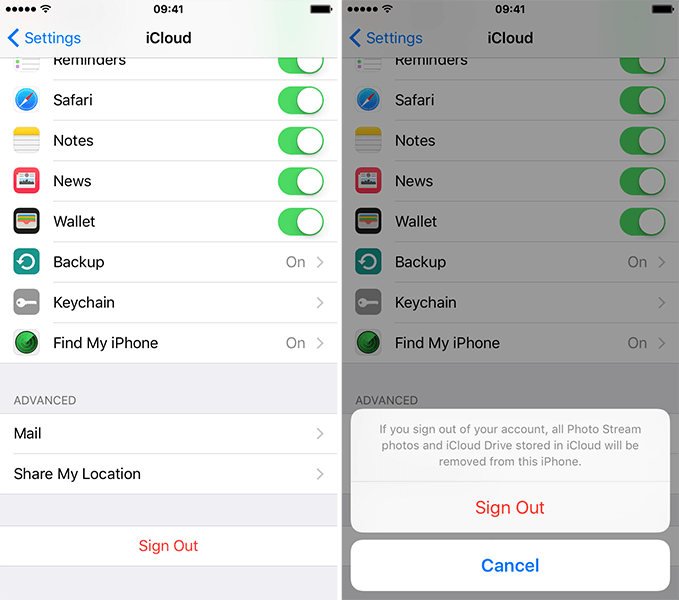 Solution 5. Use iCloud Drive instead of iCloud Photo Library
The final solution involves being made aware of the fact that there are two types of iCloud; there's the iCloud Photo Library where your photos are currently being stored, and then there's the general-purpose iCloud Drive.
By moving your photos and backing them up over iCloud Drive, you know you'll have a copy, and you won't have to worry about iCloud accidentally deleting your photos. Here how it works;
Step 1 – Log into your iCloud account on your computer.
Step 2 – Export your photos and videos to your personal computer using a USB cable and dr.fone - Data Eraser, or by using iTunes. Now upload these files to your iCloud drive account.
Step 3 – Now you can use your iPhone as normal, both taking and deleting files, all without worrying about accidentally deleting them forever.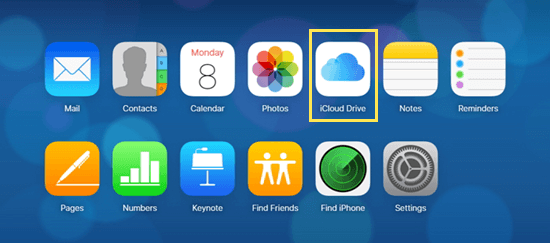 Summary
As you can see, there are plenty of options to think about when it comes to managing your photos on your iPhone, iPad and your iCloud, ensuring you have full control over your photos and don't risk losing any of your precious memories.
Master iOS Space
Delete iOS apps

Delete/resize iOS photos

Factory reset iOS

Delete iOS social app data