How to Clear Memory or RAM on iPhone/iPad
"How to clear memory on iPhone? My iPhone 7 is running extremely slow and I can't seem to find any functional memory cleaner app to make it faster."
This is a query recently posted about iPhone memory by a concerned user. If you are reading this, then chances are that you might be facing a similar situation. Since iPhone has limited storage, its memory gets full quite easily. Hence, this affects the overall processing speed and functioning of the device. To overcome this situation, you can use a dedicated phone memory cleaner solution or follow a native method as well. The guide will teach you how to clean iPad and iPhone memory in every possible way. Let's get it started and clear memory on your iPhone in minutes!
Part 1: Why you Need to Clear Memory/RAM on iPhone?
A lot of users don't know much about iPhone memory usage and management. When we use our iOS device for a while, it stores certain vital information on its RAM. This helps us run certain apps and features on the device faster. Though, if iPhone memory has been consumed a lot, then it can tamper with its processing speed. Therefore, if your iPhone's memory is full, then you should reset its RAM right away. This will improve your iPhone's processing speed and overall efficiency.
Apart from that, iPhone memory usage can contain some crucial data in the form of cookies, temp files, and log files as well. Someone else can access and misuse this information. To avoid this, you should clear memory on iPhone in a timely manner.
Part 2: How to Clear Memory/RAM on iPhone in one click?
Since the native solution to clean iPad/iPhone memory can be complicated, users often look for memory cleaner applications. From the available options, dr.fone - Data Eraser (iOS) is a professionally trusted and 100% secure solution. It can remove all kinds of junk and unwanted files from your iPhone memory without causing any harm to it. In this way, you can get more free space on its memory and fasten its processing at the same time. The application can also be used to get rid of data from your iPhone without any further data recovery scope.
Effective Solution to Clear Memory or RAM on iPhone/iPad
With the help of dr.fone - Data Eraser (iOS), you can get rid of all kinds of junk files, cache, system logs, temp files, etc. in a single click.
The application can also be used to optimize the storage of your iPhone by compressing its photos or removing unwanted files.
There is also an option to permanently remove any file from iPhone storage (for security reasons) with no recovery scope.
The tool is extremely simple and easy to use that features an intuitive interface. You don't need any kind of technical knowledge to use it.
Using its data eraser feature, you can get rid of photos, videos, calls, contacts, and even third-party app content.
There is no need to jailbreak your device to use dr.fone - Data Eraser (iOS). The application is fully compatible with every leading iOS model, including the latest iPhones and iPads.
4,683,556 people have downloaded it
You can install dr.fone - Data Eraser (iOS) on your Windows or Mac by visiting its official website and follow these steps to use this phone memory cleaner.
1. Connect your iOS device to your Windows PC or Mac with a working cable and launch the dr.fone toolkit on it. You need to click on the "Data Eraser" section from its home.
2. You can see different options on the left panel of dr.fone - Data Eraser (iOS). From here, visit the "Free Up Space" feature. Again, from the provided options on the right, select "Erase Junk File" to continue.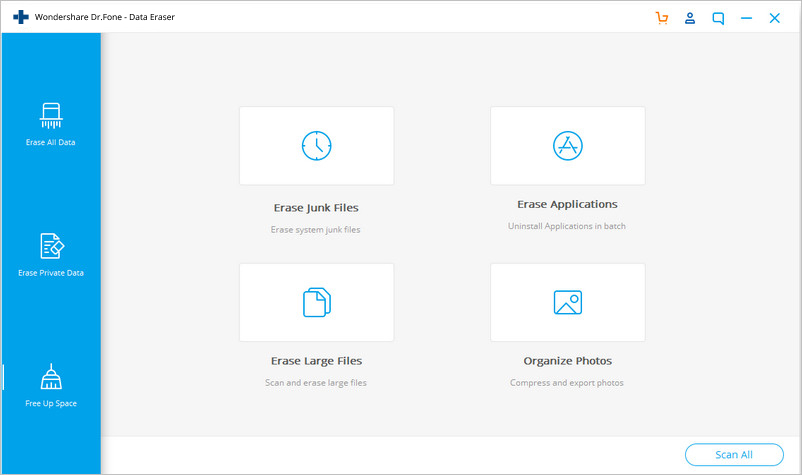 3. The application will quickly scan your iPhone and would extract all kinds of data consuming its memory. This would include its system junk, log files, temp files, and cache.
4. Simply select the type of files that you wish to remove from iPhone memory and click on the "Clean" button.
5. In seconds, the selected data will be wiped off from your iPhone memory and you will be notified.
That's it! Once you have used the phone memory cleaner, you can safely remove your device and see the difference in its processing speed. If you want, you can rescan the device or use the other features of the tool to save more space.
Part 3: 2 Common Solutions to Clear Memory/RAM on iPhone
If you want, you can also follow a simple technique to clear memory on iPhone. This will only reset RAM and might not yield as positive results as dr.fone - Data Eraser (iOS). The method is also a bit different for various iOS models.
3.1 Clear memory/RAM on iPhone 7/7 Plus and earlier models
If you own an iPhone 5, 5s, 6, 6 Plus, or any other previous generation model, then you can easily reset memory on iPhone. The method will work for all previous models up to iPhone 7/7 Plus.
Firstly, press the Power (wake/sleep) button on your iPhone, which is located either on the side or the top.
Release the button as you would get the Power slider option on the screen.
Instead of turning your iPhone off, press and hold the Home button instead. Keep pressing it for a few seconds until your iPhone's RAM would reset. It will launch the Home screen in the end, so that you can let go of the button.
3.2 Clear memory/RAM on iPhone 8/8 Plus and later models
The process to clear memory on the new generation iPhone models is a bit different. In this, we need to enable the Assistive Touch feature on the device beforehand. If you own an iPhone 8, 8 Plus, X, XR, XS, or any newer generation device, then follow these steps.
Make sure that the Assistive Touch feature on your device is turned on. If not, go to its Settings > General > Accessibility > Assistive Touch and turn it on.

Once it is done, go back to your phone's Settings > General and scroll down till the end. Tap on the "Shut Down" button from here.
As the Power slider would appear, tap on the Assistive Touch and hold the "Home" option for a few seconds.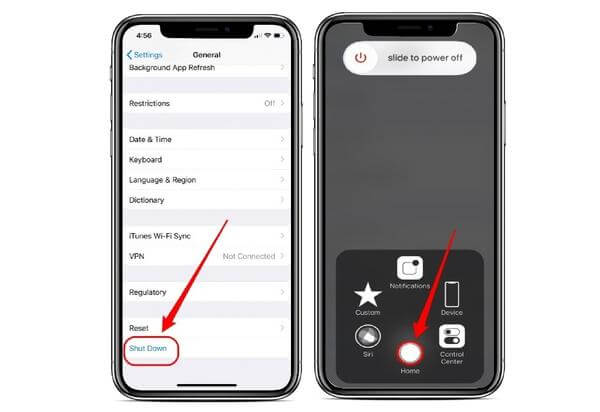 This will automatically clear iPhone memory and open the Home screen of the device.
Part 4: 3 More Memory/RAM Saving Tips
Now when you know how to clear memory on iPhone, you can easily fulfill your requirements. Apart from that, there are numerous other ways to manage iPhone memory storage as well. With the help of dr.fone - Data Eraser (iOS), you can get rid of unwanted apps, minimize photo storage, or delete browsing history. Let's quickly cover these helpful iPhone memory saving tips.
4.1 Get rid of unwanted apps
If you have got too many apps installed on your iPhone, then they can take a large chunk of its memory. By using dr.fone - Data Eraser (iOS), you can easily remove unwanted apps and clear their iPhone memory usage.
1. Simply connect your phone to the system and launch dr.fone - Data Eraser (iOS) on it. Go to the "Free up Space" section from the left and click on the "Erase Application" feature.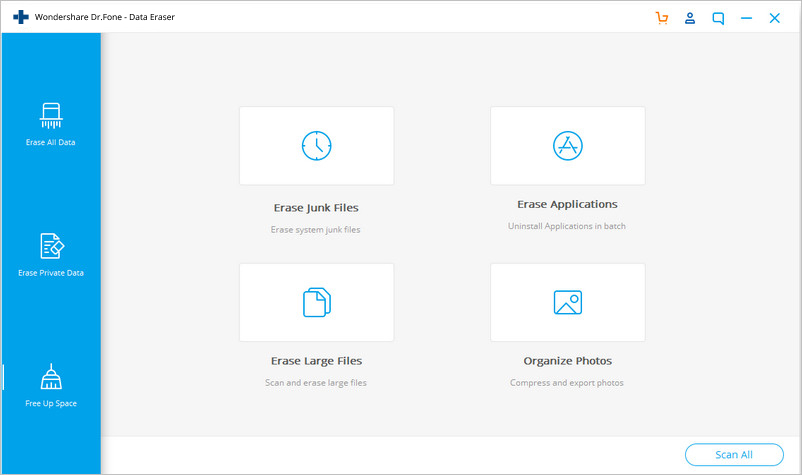 2. The tool will automatically extract all the applications that are installed on your iOS device and provide their list.
3. Just select the apps that you want to get rid of and click on the "Uninstall" button to delete them in one go.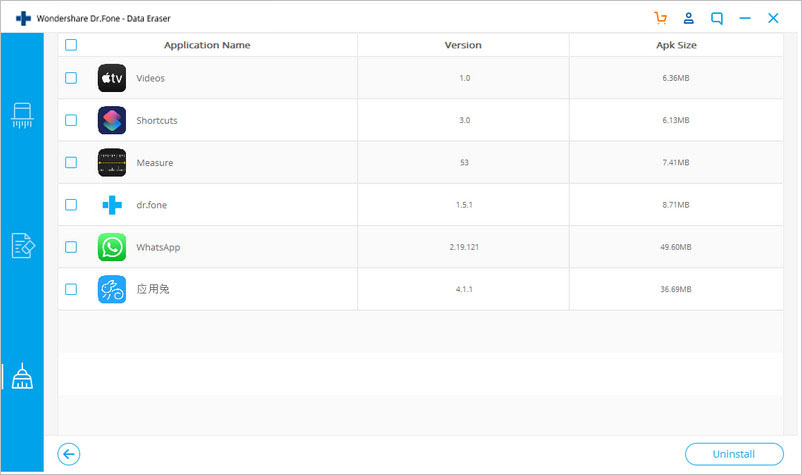 4.2 Frequently clear the history of Safari
It might surprise you, but sometimes Safari browsing history and data can consume a lot of space on your iPhone. This can directly impact the processing speed of Safari and tamper with your browsing experience. To speed-up Safari and clean its memory from iPhone, follow this simple drill.
1. Start by launching dr.fone - Data Eraser (iOS) on your computer and connect your device to it. If you are connecting it for the first time, then you need to trust the computer and wait for it to be detected.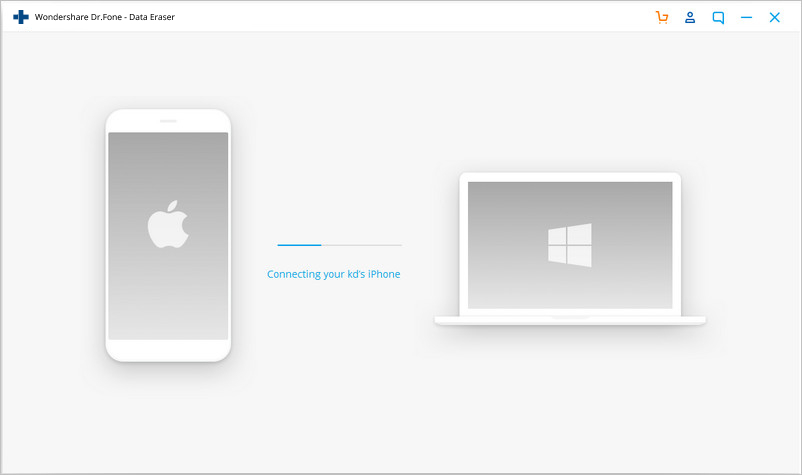 2. Once the device gets detected, go the "Erase Private Data" section of the application and click on the "Start" button to commence the process.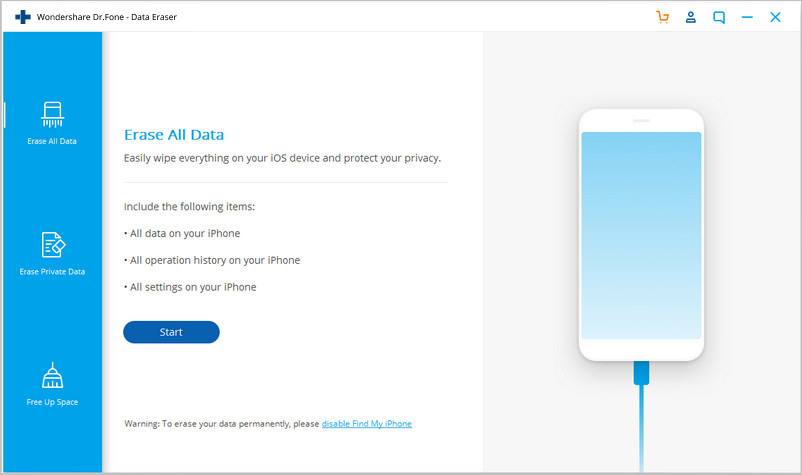 3. The interface will display all sorts of personal and social data that you can erase. From the list, select "Safari Data" and continue. You can pick any other kind of data option from here as well.
4. Sit back and wait for a while as dr.fone - Data Eraser (iOS) will scan your phone and retrieve the selected content.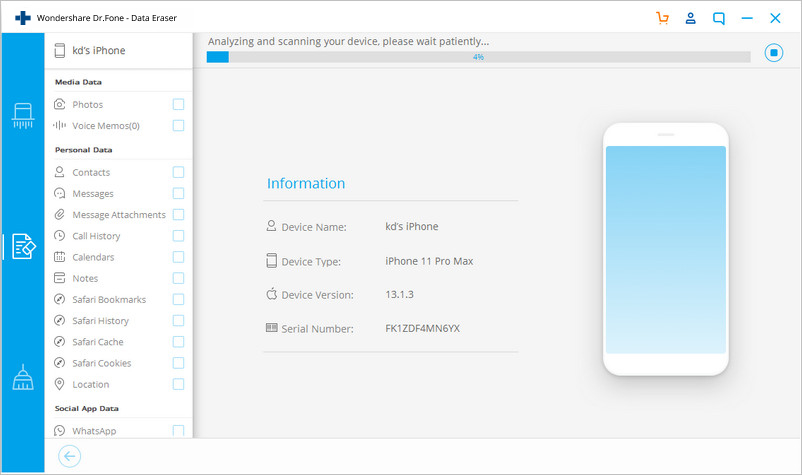 5. In the end, you can preview the extracted data on the interface and make the needed selections. Click on the "Erase" button to get rid of the selected data.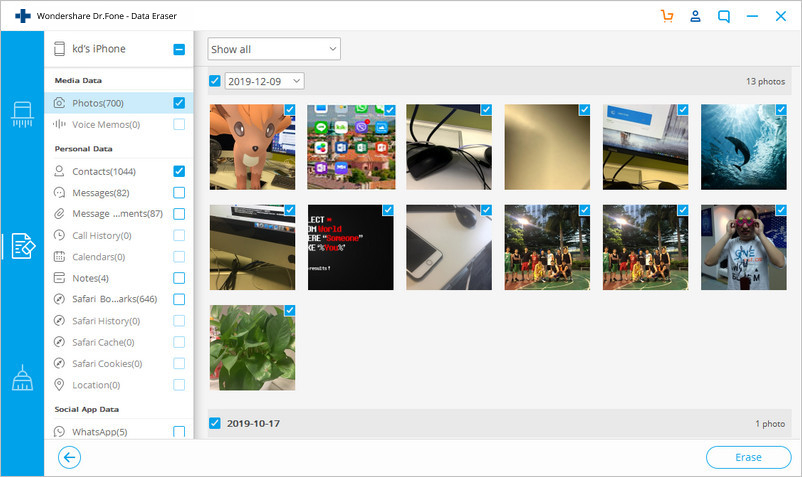 6. Since this content will be erased permanently, you need to confirm your choice by entering the displayed passcode (000000).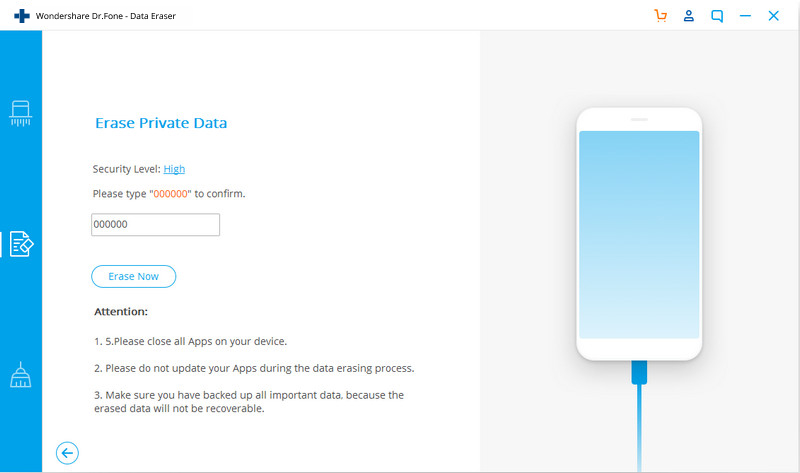 7. That's it! In the end, you will be notified that the selected content (Safari data) has been permanently erased from your iPhone.
4.3 Minimize the size of photos in your iPhone
Too often, our photos end up consuming a large part of our iPhone storage. After all, the camera is one of the major features of iPhone that we all use frequently. Though, after a while, it can become extremely difficult to manage iPhone memory usage consumed by your photos. Luckily, dr.fone - Data Eraser (iOS) provides a seamless solution to compress your photos. It features a lossless compression technique that can save up to 75% of iPhone storage without compromising with the quality of your photos.
1. Once you have connected your iPhone to the system, launch dr.fone - Data Eraser (iOS) on it and visit its "Free Up Space" section. Now, go to the "Organize Photos" feature from here.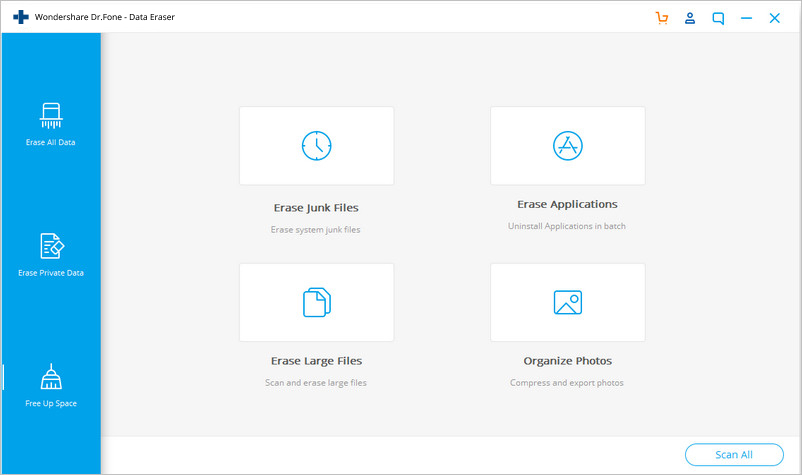 2. The interface will give you an option to compress your photos or export them. Click on the "Start" button corresponding to the photo compress option.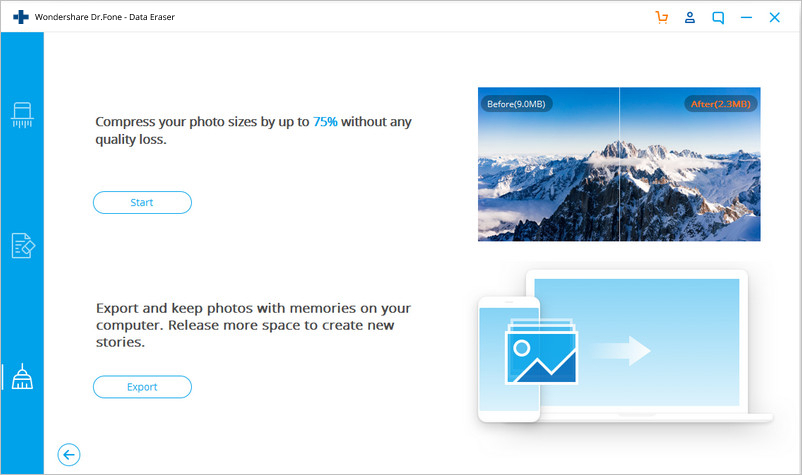 3. In no time, the interface will load all the photos saved on your device in a chronological manner. Simply select the photos you wish to compress and click on the "Start" button.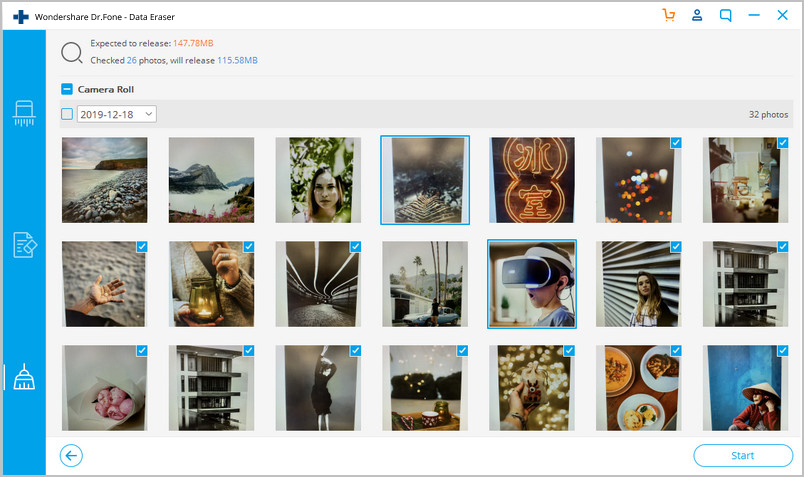 Wait for a while as your photos would be compressed by the application and will replace the existing large files on it.
After reading this guide, you would be able to clear memory on iPhone like a pro. As you can see, the native solution can only yield limited results, it is recommended to use a clear memory app instead. For instance, dr.fone - Data Eraser (iOS) is one of the best memory cleaner solutions for iPhone that you can try. It can wipe all kinds of system junk, log files, cache, and other unimportant content in seconds. The application also features different ways to optimize iPhone storage and get rid of all the unnecessary data from your phone. Give it a try and make the most of your iPhone in no time.
Boost iOS Performance
Clean up iPhone

Clear iOS cache

Delete useless data

Clear history

iPhone safety