Ultimate Guide to Resize Photos on iPhone
There's no denying that photos and videos are a huge part of our day to day lives in the modern era, and if you're using one of the latest iPhone devices, you'll already know how amazing these photos can be. From capturing memories from your life to some people even using their devices for professional uses, the world of photography truly is mobile.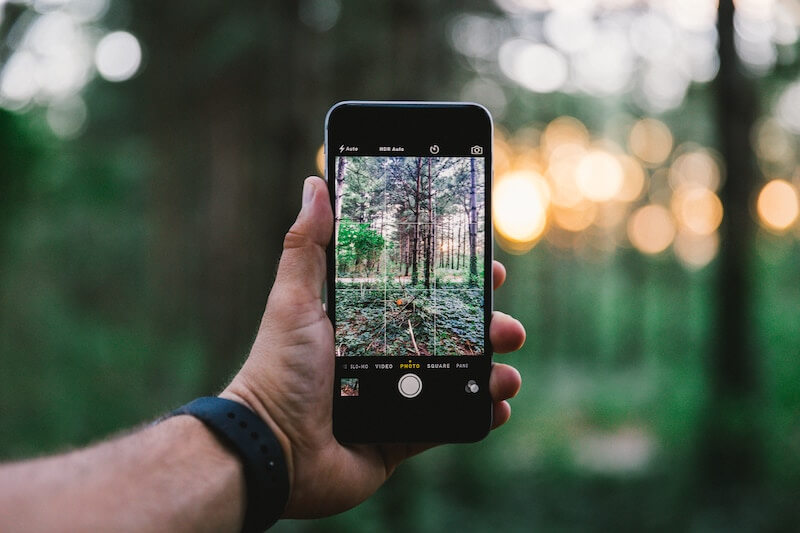 However, while being able to capture and store our photos in such a convenient and accessible way, this doesn't come with its own set of problems; most notably the size of these photos. High definition photos take up a lot of storage space, which means you can't download apps, store more files, and your device slows right down.
These are not good things, and if you're missing out on the best experience possible, what's the point in having one? Fortunately, today we're going to explore everything you need to know when it comes to resizing your photos on your iPhone; ensuring you're about to maximize space.
Part 1. 3 solutions to resize iPhone photos to save storage space
There are three leading solutions you'll want to think about to make sure you're able to resize the photos on your iPhone to create the maximum amount of storage space for you to enjoy. Let's explore them in detail.
1.1 One click to resize all iPhone photos without quality loss
Easily the best way to resize all your iPhone photos without the risk of lowering the quality of your images, but still helping you to save a huge amount of space on your device for more files or for speeding things up is using a software application known as dr.fone - Data Eraser (iOS).
In just one click, you can select every single photo on your iPhone device, compress the size effectively and can even increase the speed of your device by as much as 75%! Of course, you won't lose any of your image quality, and you can also enjoy other benefits, such as;
Resize Photos on iPhone with No Quality Loss
Reduce photo size or export photos to pc
Incredibly easy to set up, install, and use
Works with any iOS model and operating system
Has lots of eraser features to manage your iPhone properly
4,683,556 people have downloaded it
If this sounds like the software you've been looking for, which we're sure it is, here's a step-by-step guide on how to get the best experience out of it.
Step One – Download the dr.fone - Data Eraser (iOS) software from the website and install the file onto your computer by following the onscreen instructions. Once installed, open the software, connect your iOS device using the lightning cable, and find yourself on the main menu.
Step Two – From the main menu, click the Data Eraser option, followed by the Free Up Space option on the bottom left. On this menu, click the Organise Photos option. Then, click Scan All for the software to look for every photo and suitable file on your device.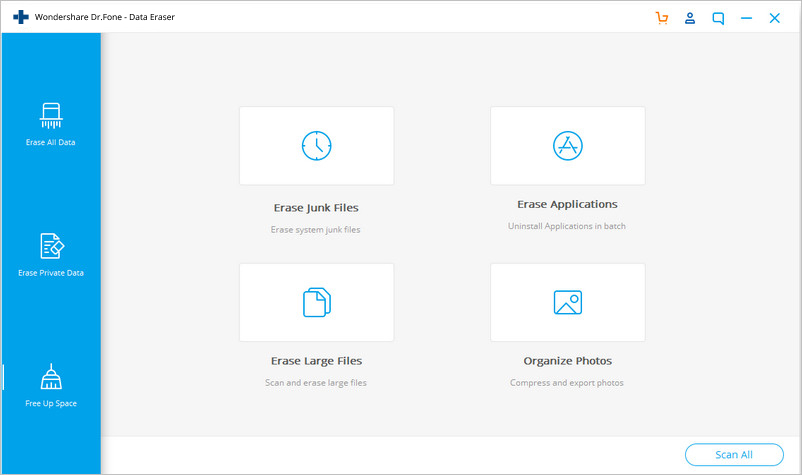 Step Three – Using the new interface, you'll have the ability to professionally compress all your files by as much as 75%, all without losing the quality of your image. With 75% extra space on your device, you can download so many new apps, take more photos, or capture more videos.
Select this option to start the compression wizard.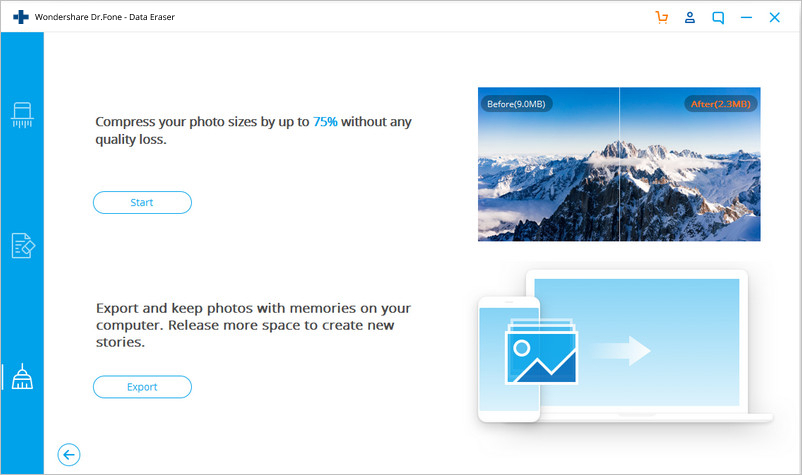 Step Four – After clicking start, you'll have the opportunity to see all the available photos on your device that can be compressed. Simply select which dates and which files you want to be included in the compression process and click start.
The compression will happen automatically, and once it's finished, you'll be able to disconnect your device from your computer and start using it as normal.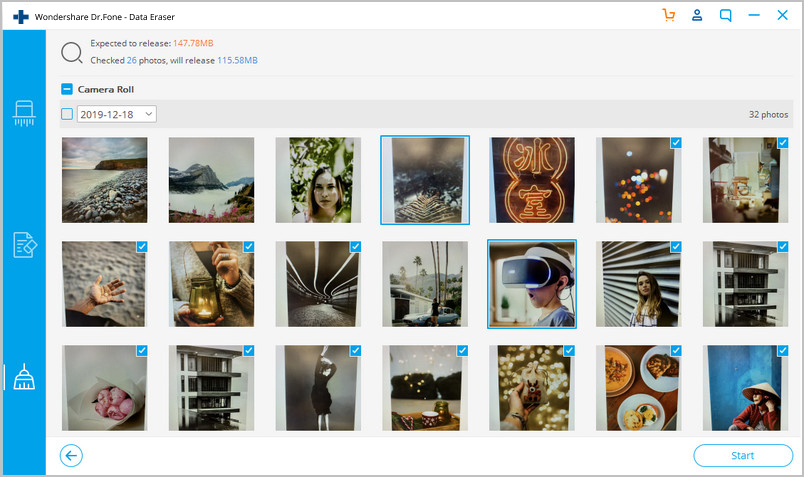 1.2 Resize iPhone photos using email
Another popular technique for compressing and resizing your photos is to do it manually by emailing the specific photos you want to compress to yourself and using your email client's built0in resizing option to make the changes.
Granted, this may seem like a bit of a strange approach, especially where there are plenty of apps and processes out there that do the same thing, but when you need to resize photos quickly, or you genuinely need to move them from your device, this can be a great solution to try.
Here's how it works;
Step One – Open your Photos app on your iPhone and long-press one photo you want to compress, and then select all the photos you want to compress. You can also press the Select option to do the same thing.
Step Two – Click the Share option and then press your preferred email client. Type in your own email address into the recipient box, and then choose the Send option to bring up the image resize options. Choose which image size you want, press Send, and then redownload the photos in their new size.
Note; this solution works best when sending emails with a maximum of 8 photos or less.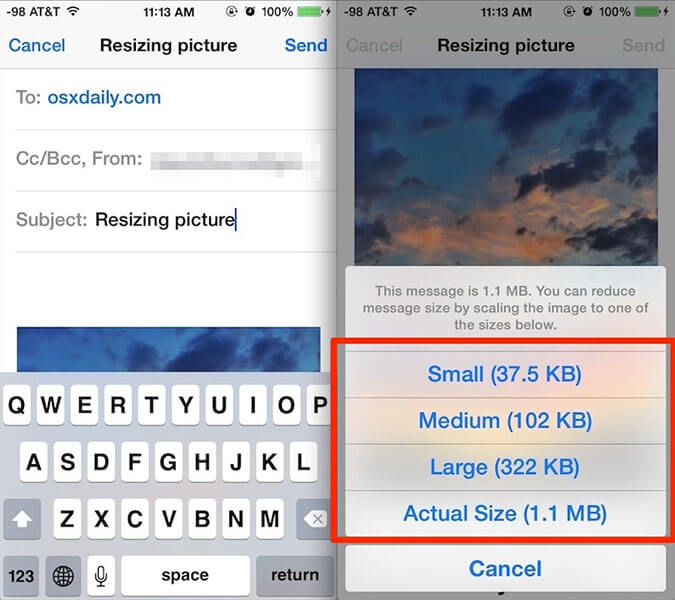 1.3 Resize iPhone photos using iCloud Photo Library
One of the most popular options to optimizing your device space by compressing your photos is using Apple's own iPhone Space Optimiser solution that's built right into the iCloud platform.
This feature works similarly to the others we've mentioned here and will reduce the size of your photos without affecting the quality of the images. Here's how you can enable this automatic setting yourself;
Step One – Connect to a Wi-Fi network with your iPhone device and enable the iCloud Photo Library feature.
Step Two – On your iPhone device, open the Settings menu and click on the Photos & Camera option.
Step Three – Scroll down the Optimise iPhone Storage option and make sure it's checked. Now all your photos in your iCloud library will automatically be compressed so you won't have to worry about limited space on your device being an issue.
Part 2. 3 solutions to resize and crop iPhone photos
The final solution(s) you have when it comes to compressing the size of your images is literally resizing your photos to change the image size manually. This means resizing and cropping the photos to take up less room.
If a photo has a resolution of 1900x900, it's going to take up way more space than an 800x600 photo, which is why changing this resolution and cropping photos can be an effective method of optimizing space.
There are multiple approaches you can take here, so let's explore them all in detail!
2.1 How to automatically crop photos
Using the built-in iPhone settings, you can automatically crop pictures to an appropriate, more space-friendly size that will maximize and enhance your overall iPhone experience. Here's how;
Step One – Open the Photos app on your iPhone and tap on the photo you want to resize and tap the Edit option.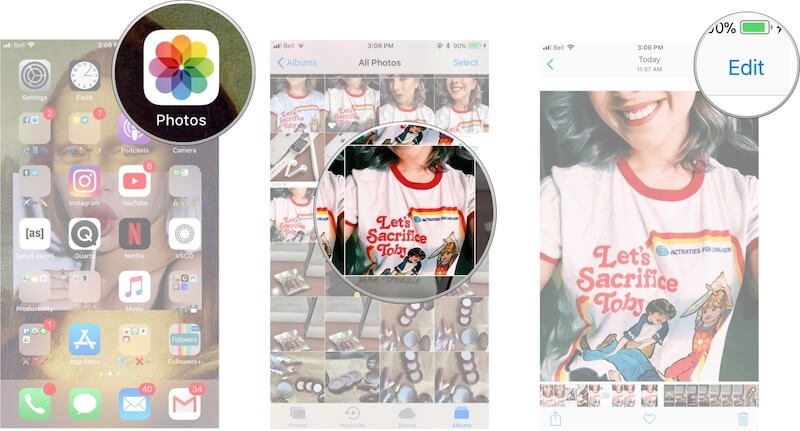 Step Two – Tap the bottom left-hand icon to crop your photos and then the boxes icon on the bottom right. You will then see a list of all available sizes and ratios to crop your photo. Simply tap the one you want, and your photo will be resized. Just repeat for every photo you want to resize.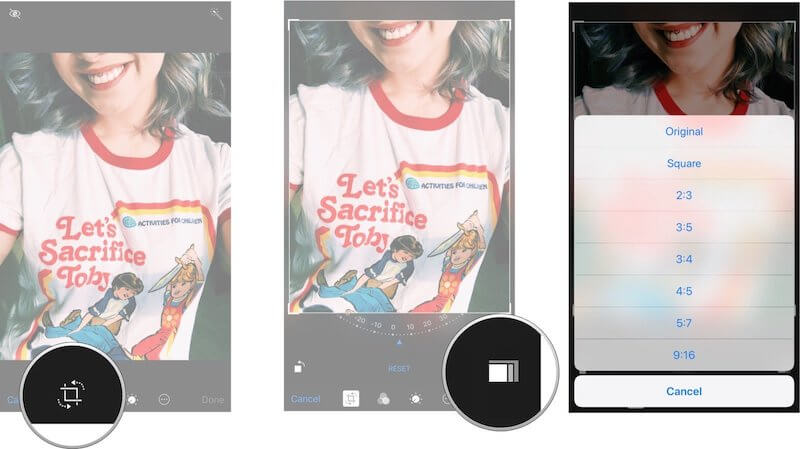 2.2 How to manually crop photos
In some cases, you're probably going to want to crop and resize a photo just how you want it. Perhaps you've got too much background, and you want to get rid of it, or maybe you just want to keep and remember a specific part of the photo.
If this the case, you can manually resize and crop your photos using a similar approach. Here's how it works.
Step One – Just like the method above, open your Photos app and find the photo you want to resize and crop. Select it and tap the Edit option in the top right-hand side.
Step Two – Tap the crop option in the bottom left-hand side of the screen, and you'll see a box appear of your photo. The borderlines represent the edges of your photo; you simply use your fingers to adjust which part of the photo you want to keep.
When you're happy with your selection, click the Done button and your photo will be saved in its new, resized format.
2.3 Resize photos using the app Image Size
The final way you can manually resize and compress an image or photo on your iOS device is using a third-party app known as Image Size. This is a hugely popular app that's free to use, easy to download, and gets the job done. Here's how you can start using it yourself.
Step One – Head over to the App Store and download the Image Size app and then open the app from the home screen of your iPhone.
Step Two – Tap the image icon in the toolbar and then select the image you want to resize.
Step Three – Now, once the image has loaded, you'll be able to select then new sizes for the image based on width and height options, or you can choose a predetermined size such like the automatic sizes in the method above.
When you're happy with your resize, simply select Done, and your image will be saved with all of its changes.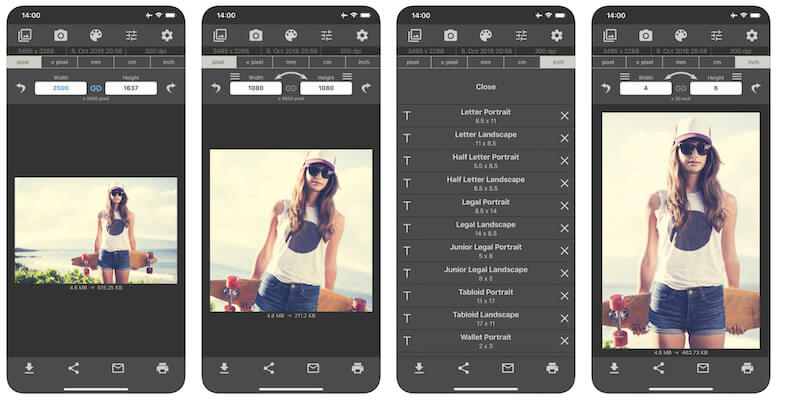 Master iOS Space
Delete iOS apps

Delete/resize iOS photos

Factory reset iOS

Delete iOS social app data