How to Sell Broken/Old iPhone in a Smart Way
"Which is the best place to sell iPhone and what preventive measures should I take before selling my iPhone?"
As a friend of mine recently asked me this question, I realized that a lot of people go through this situation as well. A while back, even I wanted to sell my iPhone and didn't know where to start. After some extensive research, I was also able to sell my broken iPhone in the best way. When you sell an old iPhone, you need to make sure that the other user won't access your existing data. To do this, you need to take care of a handful of things beforehand. Don't worry – in this extensive guide, I have included every essential thing to do to sell an old iPhone in a smart way.
Part 1: Important! Radically Erase Everything on iPhone
A lot of iOS users think that a factory reset is enough to delete the existing data on their phone, which is a common misconception. Even if you have deleted your data from your device, anyone can get it back using a data recovery tool. Therefore, if you don't want to be a victim of identity theft or hand your personal details to someone else, then use a professional data eraser tool. From the provided options, dr.fone - Data Eraser (iOS) is one of the best tools, trusted by leading experts. With just one click, it can wipe iPhone before selling and make sure that the deleted data can't be retrieved afterward.
Radically Erase Data Before You Sell Old iPhone
The application is a part of the dr.fone toolkit and provides a user-friendly one-click solution to erase iPhone data.
It can remove all sorts of saved content on your phone, including its photos, videos, audios, contacts, call logs, messages, notes, and so on.
The tool will even delete the third-party saved data like WhatsApp messages, attachments, Kik or Line messages, and every kind of stored information.
There are different levels of data removal that you can pick from. Afterward, no one can retrieve the deleted data even with a recovery tool.
It comes with tons of other features like a private data eraser that provides a preview of your content beforehand. You can also free-up more space on your iPhone using the application.
4,683,556 people have downloaded it
If you want to wipe iPhone to sell using dr.fone - Data Eraser (iOS), then simply follow this click-through process.
1. Connect your iPhone to the system using a working cable and launch the dr.fone toolkit on it. From its home, visit the "Erase" section.
2. You can view different options on the left panel. Visit the "Erase All Data" option and click on the "Start" button on right.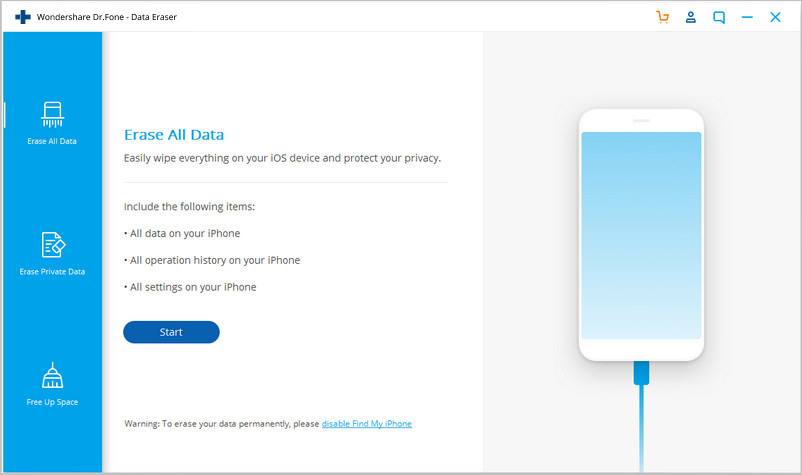 3. Now, you need to select a level to delete data from your iPhone. The high level will have more passes and would be most secure. Though, a lower level will be more time-saving.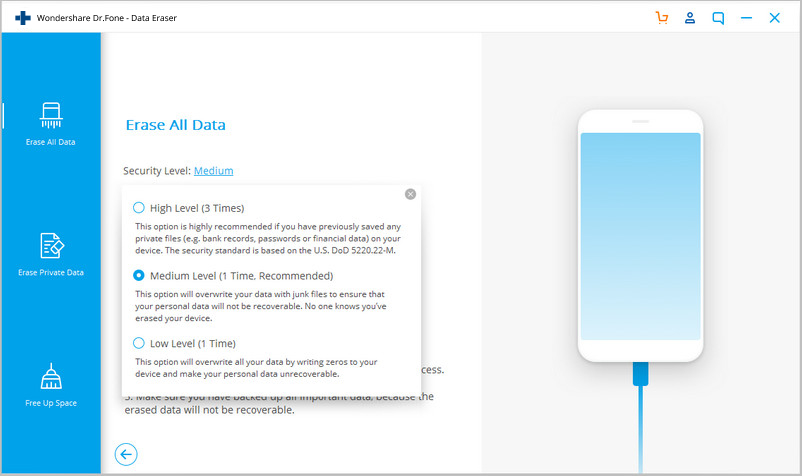 4. Once you have made the appropriate selection, you need to enter a confirmation code on the screen. It is "000000" by default.
5. Click on the "Erase Now" button and wait for a while as the application will get rid of all kinds of stored information on iPhone and wipes it completely. Don't disconnect your device while the application is still running.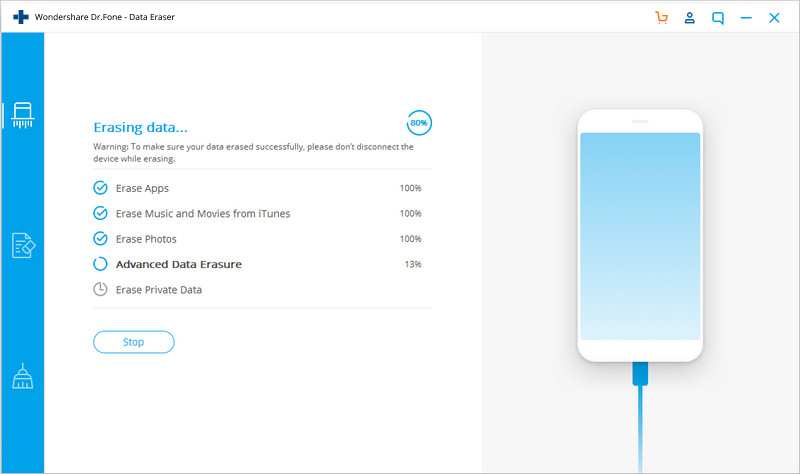 6. When the process is successfully completed, you will be notified. Now you can disconnect your iPhone from the system and turn it on in the normal mode (with factory settings).
Part 2: Preparations to Sell Broken/Old iPhone
Apart from wiping all the saved data on your iPhone, there are a few other things that you should also consider. Here's a quick checklist that you can follow before you sell your broken iPhone.
2.1 Turn off Find My iPhone
Find My iPhone is a native service of Apple that is used to locate a lost device. Though, if it is turned on, then the other user won't be able to overwrite your account. Also, your account would still be linked to the target device. Therefore, you should go to your iPhone's Settings > iCloud to turn it off. Once you visit the iCloud settings, tap on the "Find My iPhone" option and toggle it off. You need to enter your iCloud account details to authenticate the action.
2.2 Remove the passcode
We all use a passcode on our iOS device to keep it safe. Though, if you are selling it to someone else, then they can't access the device without knowing the passcode. The best thing to do is just removing the passcode altogether before you sell an old iPhone. To do this, unlock the phone and go to its Settings > Touch ID & Passcode. Tap on the "Turn Passcode Off" option and confirm your choice to remove the existing passcode from iPhone.
2.3 Remove Apple ID
In order to utilize all the add-on services like iCloud on the device, we take the assistance of our Apple ID. Though, it is recommended not to link an old device to our Apple ID. You should remove your Apple account from your phone so that the other person can sync it with theirs. Just go to your iPhone's Settings > App and iTunes Store and tap on your Apple ID. From the provided options, tap on "Sign Out" to disconnect your Apple ID from the phone.
2.4 Remove SIM card
Last, but most importantly, make sure that you have removed the SIM card from your iOS device. To do this, take the assistance of a SIM ejecting tool or a paper clip. Turn off your iPhone first and eject the SIM tray using a clip. Remove the SIM card from it and insert the tray back to the device. Later, the other user can insert their SIM card to the phone.
Part 3: Where to Sell iPhone Online
Now when you are all prepped up to sell your old iPhone, let's get to know about the online portals that can help you. For your convenience, we have handpicked the 7 best places to sell iPhone online.
eBay
If you are looking for the best place to sell iPad or iPhone for cash, then eBay would be an ideal pick. The online portal has been a reputed platform to sell and buy new/used products for years now. To make it easier for users to sell old iPhone, it has come up with a dedicated page. You can just enter details about your iPhone, post some pictures, and get a value of your iPhone. The process is pretty simple and will let you sell your iPhone instantly.
Pros
Fast and easy solution
Reliable with eBay trust
No need to get involved in the selling process
Genuine evaluation of the product
Cons
Amazon Sell or Trade
Amazon is one of the biggest online shopping platforms in the world and provides a simple solution to sell old iPhones. Though, in order to resell an iPhone, your device should be in an ideal condition. Mostly, Amazon does not accept broken or malfunctioning devices. Though, you can trade it while getting a new iPhone and get a discount on your purchase.
Pros
Direct control over selling
Better prices
Cons
Only well-functioning phones are accepted
Low cost while trading the device
No instant selling option
Gazelle
Gazelle is another trusted online source to buy and sell used iOS devices. Since it accepts almost every iPhone model, you can even sell iPhone 4, 5, 6, or any previous model. You will get an estimated quote for your phone and can get paid instantly after submitting the phone and the bills.
Pros
It is an extremely trusted source to sell and buy used phones
Gives a pre-paid shipping kit as well
Fast payments
Cons
The price offered by Gazelle is often lesser than its competitors.
uSell
If you want to sell your old iPhone without any hassle, then try uSell. You can just upload your device details and uSell will find an appropriate buyer for you. Not just iPhone, it accepts all kinds of Android and other devices as well. The firm is pretty reliable and has been an active player in the market for a while now.
Pros
Simple and transparent process
Fast solution to sell old iPhones
Dedicated customer support
Cons
No instant selling option
Extremely low prices for malfunctioning devices
SellCell
s the name suggests, SellCell is a dedicated online portal to sell broken and old iPhones. The company has been established in 2008 and has sold over 2 million phones ever since. You will get competitive prices with SellCell and it even accepts a broken or malfunctioning device as well.
Pros
Competitive price for old iPhone models
Instantly evaluates the price of your phone
Fast process
Cons
Does not accept old models like iPhone 4 or 4s
Item Cycle
Item Cycle might be a new player in the market, but it has gained a lot of users in the last few years. You simply need to fill a form to get an estimated price for your iPhone. If you are happy with it, you can ship it to the company, and get paid instantly.
Pros
Supports PayPal and various other options
Fast and reliable services
Accepts other Apple products too (like MacBook)
Cons
Lower price than other options
Shipping fee is not compensated
Apple Trade In
If nothing else would work, then you can choose to trade your old phone while upgrading to a new iPhone. Apple allows its users to give their existing iPhone and get a discount on the new model. You can just visit a nearby Apple store to know more about the details of the Trade In scheme.
Pros
Genuine and reliable (Apple guarantee)
Fast and simple process
Cons
Low price for your phone
Does not accept broken devices
There you go! After reading this guide, you would be able to sell old iPhone without any trouble. You can consider either of these options to pick the best place to sell iPhone. Though, make sure that you wipe iPhone before selling it using a reliable tool like dr.fone - Data Eraser (iOS). A dedicated file eraser, it will ensure that your private data won't be accessed by anyone else and that you won't be a victim of identity theft as well.
Boost iOS Performance
Clean up iPhone

Clear iOS cache

Delete useless data

Clear history

iPhone safety