How to use HTC Backup and Its Best Alternative
To have an internal Back up is a necessity for the phone in order to save all your essentials files and information. The built-in back up facility in HTC phone will give the facility to restore home screen settings, application settings, layout and many more. You can also save all your accounts settings and password while backing up your mobile.
Part 1: What is HTC Backup?
Everyone has the fear of loosing their data storage because of some mishap but a back up option can save your phone from losing all the important data. HTC Backup is an easier way to restore all your information instead of saving all the information manually to a hard drive which would be a herculean task. However, keep in mind that the built-in back up facility is not available for the devices running on Android 6.0 and above, although you can still use it to restore any saved backups from your cloud storage data.
What kind of data types does a HTC Backup supports:-
HTC Backup helps in recovering most of the data storage in the mobile in a simpler process. Always back up your data so that in the future there wont be much of a problem.
1. Home screen:-
In HTC Backup you can save the home screen settings which include home screen widgets, home screen layout, wallpaper and feeds.
2. Messages:-
You can save all the messages which are saved on your Phone Storage and also in the SIM card through HTC Backup.
3. Account settings and passwords:-
To configure all the account settings is a lengthy process but to loose that in a jiffy is really disappointing. HTC Backup can help you in saving even all your account settings and passwords such as Face book password, Google Play settings and etc.
4. Contacts:-
You can sync the HTC mobile and save all your contacts to the online data storage accounts.
5. Applications:-
All your application with its original settings can be saved on the online Google drive or cloud. For example, you save your wifi settings, bookmarks and etc via HTC Backup.
6. Files and other data:-
The files can be saved on to the Hard disk manually by copy paste. You can also save other apps and data by exporting them to the Hard disk.
Part 2: How to use HTC Backup
HTC smartphones have developed their own application called the HTC app which saves more than 150 settings in your HTC phone like contacts, dictionary, applications, accounts, and etc.
Whenever you reset, replace or even upgrade your phone, you can easily restore everything based on your last backup. The good part of HTC backup app is that your HTC will automatically backup all data when connected to Wi-Fi and you can also choose to backup your data anytime you want. What HTC backup app does is that, it saves all your data in your cloud storage account thus protecting it and keeping it safe. However, HTC backup app does not support backup of photos, videos, music or documents. This app also can only restore data on phones with Android version 6.0.
Now let us look at the steps to use HTC backup:
First install HTC backup app in your phone.
Once installed, open the app and turn on the automatic back up
Ensure that, backup phone daily is selected and thereafter click next.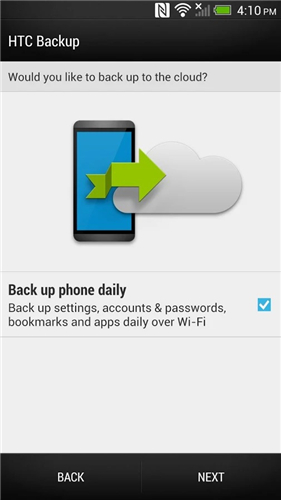 Now to proceed, set a backup account and sign in with your google or HTC account.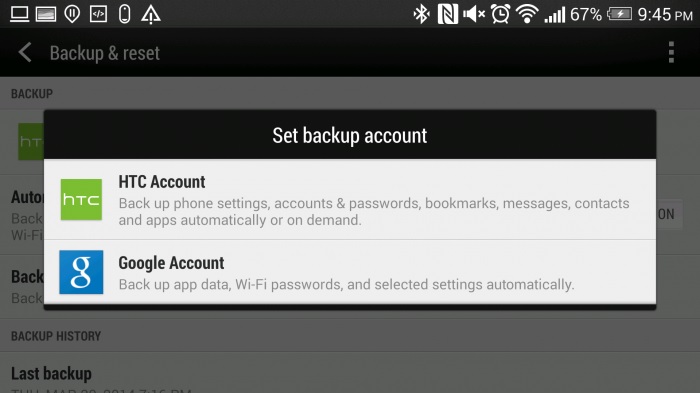 Now you reach the backup and reset screen as shown below. Make sure that you keep the backup settings on, and check the automatic restore option. You can also view the backup now option on the screen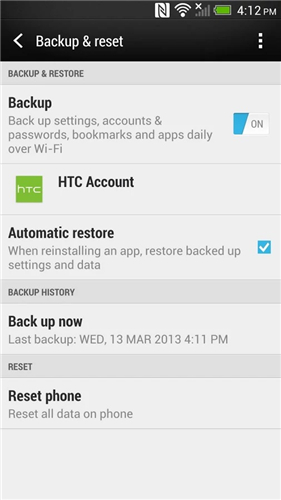 Then choose a cloud backup to restore the data as shown in the picture below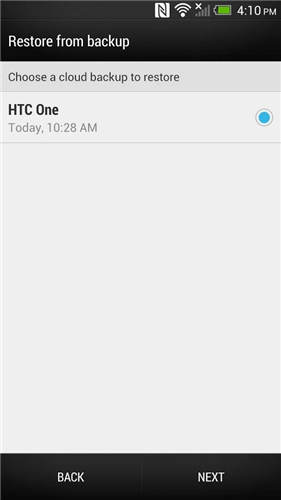 Click next to restore settings, you may need to wait for sometime till all the settings are restore.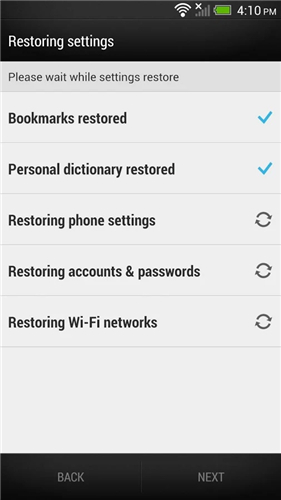 Click next, and here you go, the settings in your phone like bookmarks, dictionary, Wi-Fi settings, accounts and passwords are easily and effectively restored using the HTC back up app.
Although HTC backup app is a great tool while restoring data for an HTC user, but it has certain limitations as described above, which makes it not the best way to backup your data as there are greater chances of losing data and also you are unable to backup all the data you need.
Hence, we will also explain you today, the best alternative to backup your data on HTC, which is by using Dr Fone Android Data Backup and Restore.
Part 3: HTC Backup Best Alternative - Android Data Backup & Restore
The Wondershare Android Data backup and restore is an excellent tool to recover all types of data from your Android, or rather HTC phone. It enables you to backup and restore all the data even directly from your SD card files.
Dr Fone Android Data Backup and Restore gives you many options to backup data like photos, videos, etc and does not limit itself unlike the HTC backup app. Now let us understand the method of Data backup and restore with the help of this Dr Fone tool.
The following are steps to the guide which points on the ways to backup an HTC mobile using Dr Fone tooklit for Android Data Backup and Restore.
1. Connect your device to the PC:-
Install the Dr. fone toolkit for your android to the computer. After installing launch the application and select the data backup and restore from the list of other option listed. Connect your android phone to the computer via USB cord.
2. Choose the files that you want to restore:-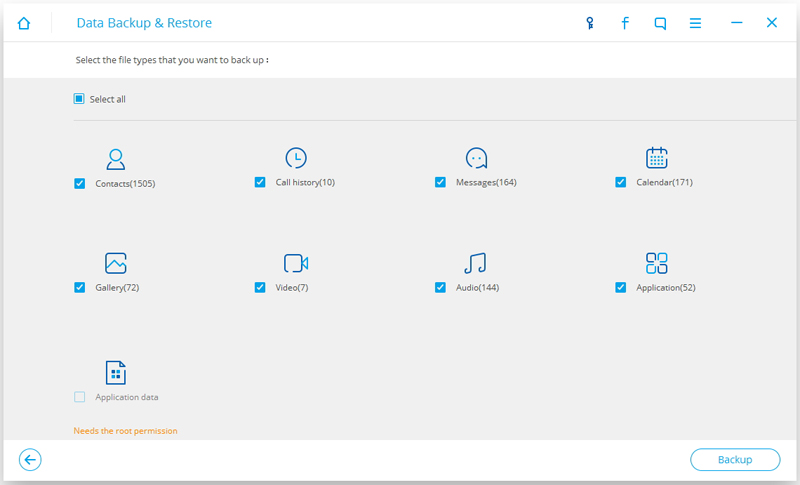 When you connect your android phone to the computer via USB cord select all the files that you want to back up. After selecting the desired files you wish to back up you can then tap on the backup option shown below. It will take some time to back up all the desired selected files and while that ongoing process don't disconnect the HTC phone from the computer.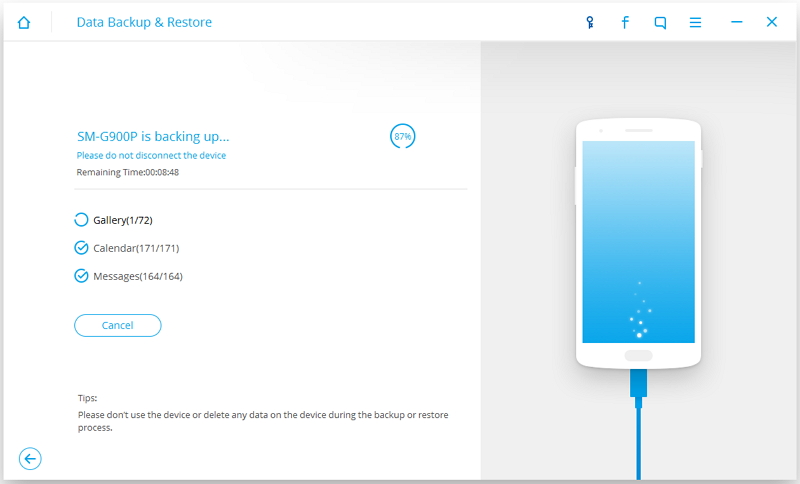 Its better you don't use that device or delete anything while backing up your data. After all the back up process is been completed you can then see the backup history on your mobile to see what has been data has been store or retrieved.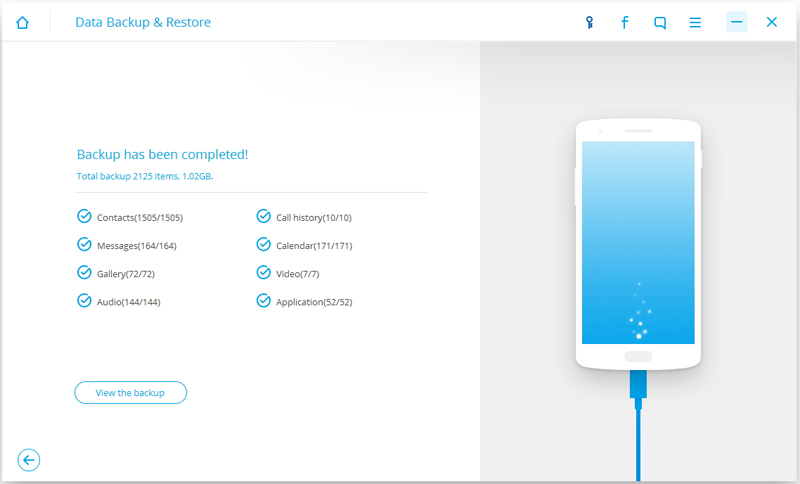 When all the files and data has been back up then you can even restore them in the future if you want to in your HTC phone back again.
You can also back up your data everyday with option of Back up phone daily. If you have the fear of loosing your phone or want to access your phone storage anywhere and anytime then back up phone daily is highly recommendable for you.
Back up data was a serious problem before but with the advancement of technology and software now you can live without any worries of data getting lost forever. With daily back up option the data will be saved everyday. The procedure of backing up the data has become simpler with built in back up option and because of online data storage back up option.
HTC Management

HTC Tips and Tricks