5 Effective Ways to Export iCloud Contacts
I am sure all you iOS users are well aware of iCloud. You must be a daily user of this cloud storage platform that was designed by Apple Inc. It virtually acts as a storehouse for iOS devices and is quite popular.
However, you cannot ignore the fact that there is a lack of sense of security when you talk about the cyber/online world and contacts being one of the main sources of communication need special care. Thus, we have listed a few reasons that make it impertinent to look for exporting iCloud contacts using some other sources:
To create a backup
Sometimes the need to take a printout (for offline storage)
To have ease of access (say on PC, or another device)
To double ensure the safety
Lastly, to be able to check contacts anytime around
Now, if you are confused on how to export all your iCloud contacts, then read the subsequent sections that will cover various processes to export iCloud contacts to different mediums. We have listed 5 best ways to export iCloud contacts.
Part 1: Export iCloud contacts to computer selectively
Now, the most important phase to start with is to learn how to export iCloud contacts to computer selectively and with ease. Hence we need an expert tool, which is safe, secure and provides an easy to use guide. Well, it is none other than dr.fone – Recover (iOS). This tool will help you download the iCloud contacts and you can then safely export them to PC.
dr.fone-DataRecovery (iOS) is recognized as one of the best iOS applications to extrac data from iCloud backup. It is an effective tool that is used to export iCloud contacts to a computer and it also helps to save contacts in VCF, HTML and CSV format. Thus we highly recommend dr.fone-DataRecovery (iOS) for this purpose.
World's 1st iPhone and iPad data recovery software
Provide with three ways to recover iPhone data.
Scan iOS devices to recover photos, video, contacts, messages, notes, etc.
Extract and preview all content in iCloud/iTunes backup files.
Selectively restore what you want from iCloud/iTunes backup to your device or computer.
Compatible with latest iPhone models.
3981454 people have downloaded it
Follow these steps to export iCloud contacts to computer:
Step 1: The initial step is to download and install dr.fone software. Launch the software whenever you wish to export the contacts from iCloud. To start with, click on the "Recover" option.
Step 2: With the help of a USB or any other authentic cable, connect your iCloud device (iPhone) to the computer. The application will prepare itself for further steps once the device is detected. Now, choose "Recover from Backup file" option for iOS and you will be directed to the portal of the login page.
Step 3: Sign in with your Apple id and password credentials to proceed further.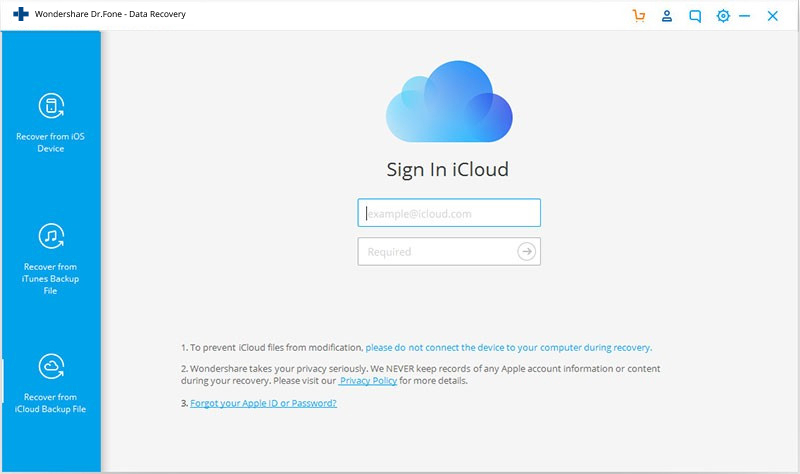 Step 4: Find the backup files from your iCloud account once you are logged in. Now, you will see various files that you have stored in the backup folder. Click on "Download" option once you decide the files to be recovered.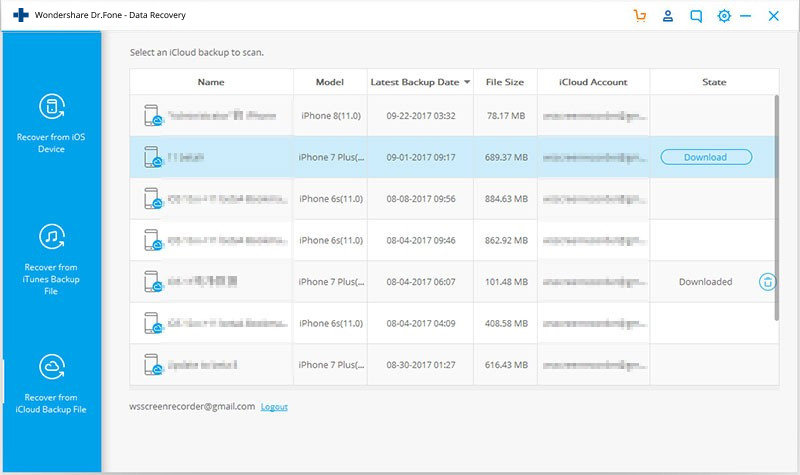 Step 5: In the next pop-up window, you can select a category from which you have to download the files. Besides contacts, you can also download images, videos, messages, chats from which the data can be recovered and exported. Click on "next" option once you have selected the files.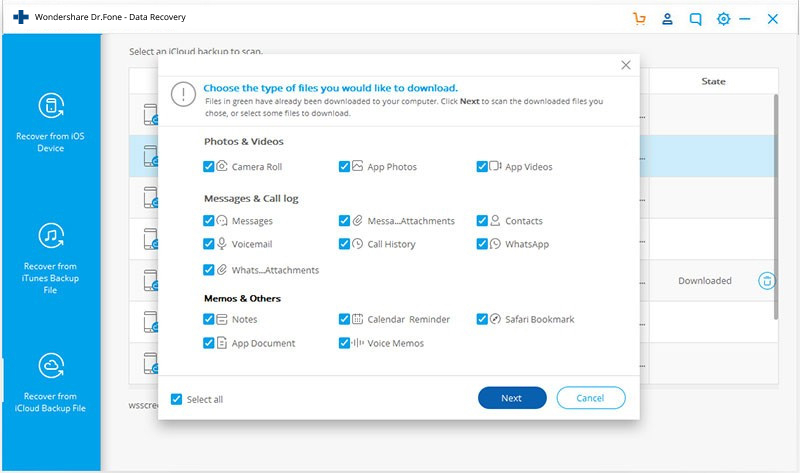 Step 6: You can choose to view or preview the files once the scanning process is completed. If you have verified the files, click on "Recover to computer" option that will directly export files to your computer.
At last, you have successfully recovered the data/contacts from iCloud and it gets stored in the separate folder on your computer. It can now be transferred or reviewed in other devices also.
More articles about iCloud contacts:
Part 2: Export iCloud contacts to the computer manually
If you wish to export your iCloud contacts to your computer with a browser instead of a software, then iCloud.com is the best option for you. Once you have synchronized the contacts in your iPhone or iCloud, you can follow the steps below to export iCloud contacts to PC.
Before you move to start the process, you need to change certain settings to the iPhone device
First, go to the Settings Menu> Tap on your Apple IDgt; select iCloud> Then Turn On the Contacts (To sync the contacts with an iCloud account).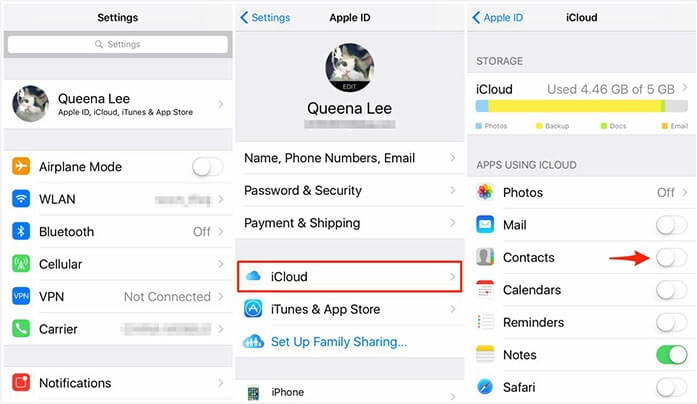 Step 1: Now on your PC, launch a browser and visit iCloud.com website. Sign in with the iCloud portal with the help of Apple ID and its password.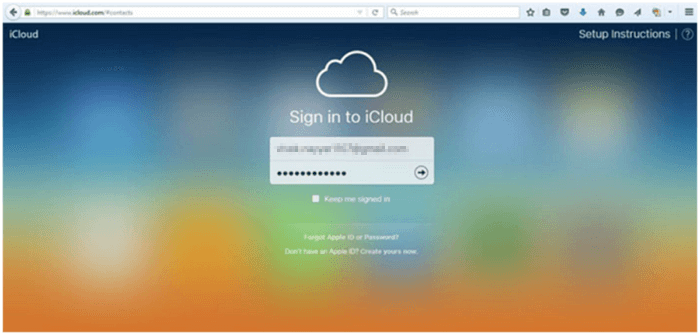 Step 2: Next you must choose the "Contacts" option.
Step 3: On the left panel, you will be able to see all the contacts that you have saved in the cloud. Now, you can click on "Select all" option if all the contacts are to be exported to computer from the gear icon. Once, the selection is complete, Click on "Export vCard" option and the contacts are now exported to your PC.
This way your iCloud contacts will get exported to the PC in vCard format.
Part 3: Export iCloud contacts to Excel
With iCloud.com, you can not only export the contacts to your PC, you can also export iCloud contacts to Excel. Let's follow the steps below to export contacts from iCloud to Excel.
Step 1: With the help of settings option in iPhone, synchronize all your contacts with iCloud.
Step 2: Now, fill in the ID and password credentials.
Step 3: You will be directed to welcome page, where you can select the contact option.
Step 4: Select the contacts that you wish to export from iCloud and "Select All" option if all contacts needed to be selected.
Step 5: After the selection process, click on "Export vCard" option in the gear icon.
Step 6: The resultant vCard file is stored automatically in the download folder and with the help of vCard to CSV converter, your contacts are now exported from iPhone to Excel.
You just need to open the CSV file using Excel on your system, the file will get opened up and you can see all the exported contacts. If the contacts are on your iPhone/iPad, actually you can export contacts from iPhone to Excel without iCloud too.
Part 4: Export iCloud contacts to Outlook
In order to export iCloud contacts to Outlook, you first need to export the contacts from iCloud storage to system or PC. It is possible with the help of software or iCloud.com site. To complete the exporting process, you will have to follow the below step implementations. To start with steps, initially, you will need a licensed version of MS Outlook.
Step 1: Once you have exported your iCloud contacts from iCloud.com site, save a copy of the exported file on your computer.
Step 2: Now, launch "MS Outlook" application in your system and log in the portal with preferred email.
Step 3: Select "Folders" option from more icon button that is available on the bottom of the window.

Step 4: In the left pane, you can see the option "Contacts (this computer only)" that will help you further.

Step 5: From the toolbar, click on "File" menu.
Step 6: From the left pane, select the "Open & export" button available on Outlook window.
Step 7: Once you reach the window, click on "Import/Export" option.

Step 8: With various option available in the wizard box, you will have to select on "import from another program or file" option and click "next" button.
Step 9: In the next window, select file type you need to import from such as "comma separated values" or "Outlook data file".
Step 10: Browse the file from which the contacts are to be imported and choose the "allow duplicates to be created" option.
Step 11: Select "Contacts (this computer only)" from the drop-down list and click on "next" button.
Step 12: You can now preview once all the steps are covered and make necessary changes if required. Click on "finish" button and proceed further.
Step 13: Now, your contacts will get synchronized to MS Outlook.
Part 5. Export iCloud contacts to Gmail
In the first two parts you learned how to export contacts from iCloud to the computer, now the next thing to know is how you can upload the VCF contacts file to the Gmail. This is so you can see and get access to your contacts from anywhere using your Gmail account.
You know, the process is simple and in this quick guide, you would be able to perform the task quite fast. So, without any further delay, let's move on to understand the process of exporting iCloud contacts to Google in following steps:
Step 1: Sign in to Gmail account
First, you need to login to Gmail account on your system.
Step 2: Choose Import Contacts under Gmail contacts
After that click on mail drop-down menu from top left side,>then click on contacts> There under the More button go for "Import Contacts"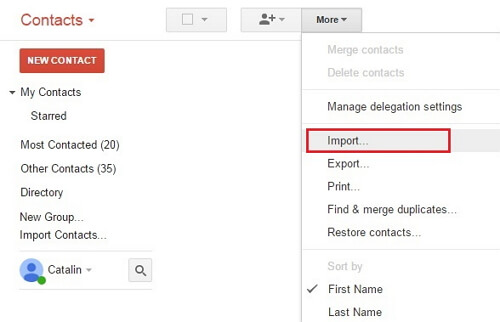 Step 3: Select the.VCF file or vCard
After choosing the import contacts option> a dialog box will appear, you need to click on choose file option to import.VCF or vCard saved into your system. Then press OK.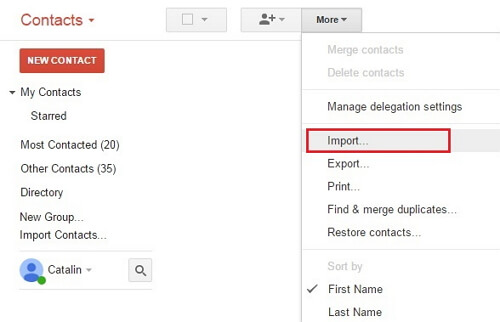 Once you are done with above steps, all the contacts that were saved in .VCF format get exported to the Gmail. You can check and use them from your Gmail account. This way you learn how to export iPhone contacts to and from the iCloud account. You can also check this post to learn how to export contacts from iPhone to Gmail directly.
As you have reached the end of the article, let's have a quick view of what you have grabbed from the article. At first, you got a wide view of various ways with which you can export contacts from iCloud to various platforms such as PC, to Excel, or directly syncing with Outlook. Besides that, you also learned the steps on how to export the iCloud contacts in .VCF form from your PC to Gmail account directly.
Lastly, we would like to say that we hope that you understood the methods mentioned above well. So be ready and follow the steps to export all your contacts from iCloud as soon as possible.
iCloud Backup
Backup Contacts to iCloud

Extract iCloud Backup

Restore from iCloud

iCloud Backup Issues