10 Common Image File Formats and Their Differences
Have you noticed that graphics files such as images come with a specific format? Some of the images are accepted by your favorite social media channels, while others are not. For example, Facebook only accepts PNG, JPEG, and GIF formats. But then there are other formats as such TIFF and BMP, which you might have come across, but do not understand their importance or use.
Irrespective of the number of image formats present today; it is important to choose the right type for the exact purpose. If you do not, the wrong format will lead to a poor quality image or bad print.
Part 1 - What is an Image File?
Image file is a standardized means of storing and organizing digital images. Most of the image files store this information in the form of two general categories- raster and vector files, and each category has its specific uses.
The raster file, known as a bitmap image represents a rectangular grid of pixels that is viewable on paper, by a monitor or through any other display medium. These files consist of JPEG, JPEG 2000, JPEG, GIF, PNG, BMP, RAW, PSD, TIFF, and CR2.
On the other hand, the vector files are computer graphics based on mathematic formulas and 2D points. For display, they need to be rasterized or need to be displayed with analog CRT technology. These files include PDF, APS, and Al.
So, in this article, we will talk about 10 common image file formats, their features, and differences between them.
Part 2 - JPG v/s JPEG
JPG and JPEG stand for the image formats and are supported by the Joint Photographic Experts Group. In general, there are no major differences between the two image formats. In fact, these two are used interchangeably as well.
Further, they both are used for photographs and apply lossy compression.
What Is JPEG?
JPEG stands for Joint Photographic Experts Group. Almost all the digital cameras use this format for their images as its 16-bit format can easily handle several colors and reduces file sizes. Other advantages of JPEG include:
It has a small size.
It is recognized easily by any search engine.
This format supports 24-bit color grade.
What Is JPG?
JPEG also stands for Joint Photographic Experts Group. This image format is used, when the digital camera captures the image but does not has the option to store it. Other uses include displaying pictures on websites or sending the image as email attachments.
However, it is not preferred for documents as it fails to display lines and letters.
What Is JPEG 2000?
JPEG2000 is an image compression standard that enables both lossy and lossless storage. Based on wavelet technology, this format can be coded once at any quality and then a large number of other image resolutions can be decoded from it.
This image format is also known to add the features that are missing in JPEG. Although it is not as common as JPEG, some of its uses include professional movie editing, distribution, and individual movie frames.
Difference between JPG and JPEG
Although both the image formats are same, the only difference was the inability of older versions of Windows/DOS to support the file extensions that were different from a three-letter format. While Mac used to support JPEG files easily.
Difference between JPEG and JPEG 2000
alt: jpeg vs. jpeg2000
JPEG 2000 has a lot better image resolution than the original JPEG file format. It does compress the files, but it does it with a less loss of visual performance.
Other differences between both the file formats include:
JPEG 2000 can deliver smaller image files that have the same level of detail as the original JPEG files.
This image format can handle 256 channels of information, while the current JPEG standard is limited to RGB (red, green, and blue) format.
JPG VS JPEG 2000
The JPEG 2000 is an updated version of JPEG format to 16-bit, from the original JPG, 8-bit standard. When compared, JPEG 2000 has a slight edge over JPEG due to the following differences:
It offers better efficiency in compression.
JPEG 2000 provides an improvement in noise resilience.
Has more flexibility as it offers better performance in both coding and decoding through different cycles.
JPEG 2000 is not backward compatible as it is not able to read JPEG files while JPG format has this compatibility and can read JPEG files easily.
Part 3 - What Is a GIF File?
A GIF, Graphics Interchange Format is an animated file that has multiple frames encoded into a single image file. This format reduces the graphic to 256 unique colors and makes a very small and fast loading, animated graphics for the web.
GIFs are lossless and usable with various highly customizable settings that reduce the amount of image and color information.
What Is a GIF Image?
GIF image is a lossless graphic that is limited to 256 colors, 8-bit palette. For a full colored image, it may lose up to 99.998% of its colors. These images are often linked together to create animated graphics.
The images are transparent and do not support any shadow effects. Further, they come with the ability to load in segments on web pages.
What Is GIF Used For?
Simple images like icons that require fewer colors.
For creating animated images for blogs and websites.
Web buttons, diagrams, charts, banners, and text headings.
Making short web animations with proper timing in one single file.
Difference Between GIF and JPEG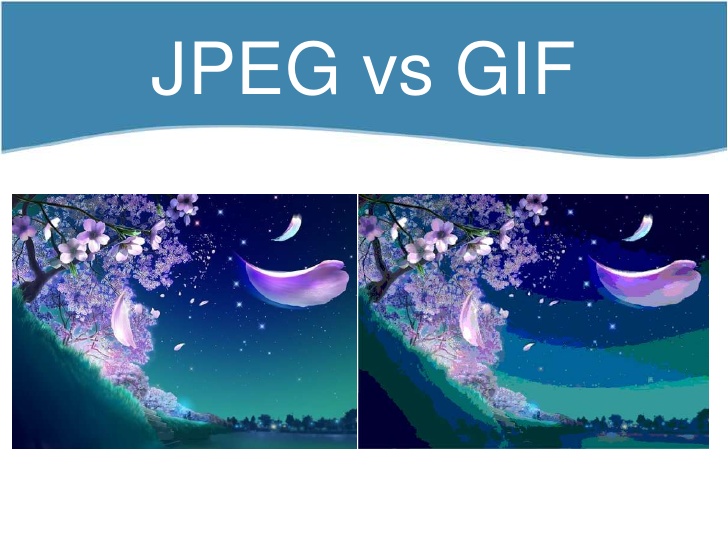 GIF format compresses images, but it is different from JPEG as the compression is lossless. None of the image details get lost in the compression, and the files are not as small as JPEG.
GIF also has an extremely limited color range and is not suitable for printing, or photography.
However, one edge of this image format is its interlacing feature that gives the illusion of fast loading graphics.
Part 4 - What Is a PNG File?
Created as an alternative to the GIF file format, PNG is a raster graphics file that supports lossless data compression. This file consists of a single image in the form of chunks that comes with encoding the basic pixels and other data such as textual comments, and more.
It can display transparent backgrounds and contains 24-bit RGB or 32-but RGBA color palettes. PNG also allows a full range of colors, and better compression making it ideal for logos and overlays.
PNG files are assigned MIME media type and use the file extension .png.
What Is PNG?
Portable Network Graphics (PNG) is an image format that is compressed in a lossless format. It is designed to work well in viewing applications such as browsers. PNG also supports streaming with a progressive display option.
This image format comes in use, when you want to retain the quality of image, regardless of the size and for images with transparent background. But it is well-suited to store images during the editing process because of its lossless compression.
Is PNG Lossless?
Yes.
Due to its lossless compression format, the files are larger, have a high color depth, and can easily handle high- resolution photos.
JPEG VS PNG
As compared to JPEG, PNG file has large and uniformly colored areas. The compression is lossless, which means there is no loss in quality each time, the file is used all over again.
PNG works as a good choice for storing text, line drawings, and iconic graphics at a small size. While JPEG image format is a common choice for use on the web.
PNG VS JPG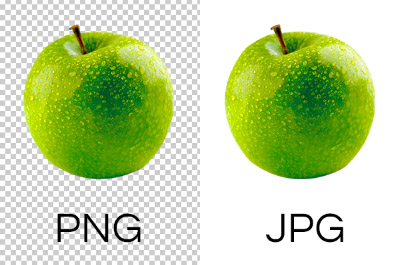 The main difference between JPG and PNG is the compression algorithms used by them. JPG uses a lossy compression that discards some of the information to reduce the size of the file, while PNG uses lossless compression, due to which the sizes of files will be larger. Other difference worth mentioning is that unlike JPG, PNG supports transparency.
Part 5 - What Is A BMP File?
BMP file format is a raster graphics used to store bitmap digital images. These image files are device independent and require no graphics adapter to display them.
Further, this format is capable of storing two-dimensional monochrome and colored images along with varied color depths.
What Is BMP?
Bitmap Image File (BMP) is a format that contains a bitmap-file header, color table, an array of bytes that defines bitmap, and a bitmap information header.
It is widely used on Windows OS and always contains the RGB data. The Windows Metafile (WMF) specification covers this image file format, and wingdi.h defines BMP structure.
BMP is also compatible with some of the image editing applications like CorelDRAW.
The default extension is .BMP.
BMP VS PNG
BMP image format is both lossless and uncompressed. But on the other hand, PNG is compressed and lossless. Bitmap images take up more space and cannot be used on the web. While PNG file format is used for transferring images on the web.
Also, a Bitmap image is a pixel by pixel image; if one tries to zoom in, the image will look pixilated. In the case of PNG, there is no change in resolution.
BMP VS JPG
BMP file formats are uncompressed images, while the JPG formats are compressed digital images. BMP files have a higher resolution and are of larger sizes when compared to JPG images.
But JPG images are easily downloadable and are preferred over BMP images for web usage.
BMP VS JPEG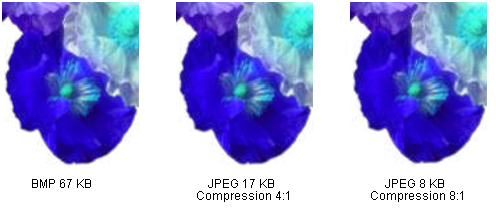 In BMP files, each pixel has its color, but JPEG file format comes with compressed pixels. The Bitmap images are well-suited for images with limited colors, while JPEG format files come with support for up to 16 million colors.
When it comes to image processing, BMP is preferred over JPEG as it contains all the image formation in a simple format. The BMP images are easy to edit as JPEG images easily lose their quality when they are edited.
Part 6 - What Is RAW Image?
A RAW image format contains minimally processed data from the image sensor of a digital device. They are known by the name of 'RAW' as these files are not processed, and not ready to be edited or printed.
These files are also known as digital negatives, as negative is not usable as an image. But they have all the data needed to create an image.

What Does RAW Mean in Photography
When you use a camera, the two main available formats include JPEG and RAW. Now, when you capture, the default setting is to save the images in your camera's memory card in a format, known as JPEG.
When the camera saves the file in JPEG format, it applies several tweaks to it including saturation, contrast, and sharpness. But on the other hand, there is a RAW file, an uncompressed version of an image file. It takes up a lot of space on your memory card.
But you can't take RAW files and edit or print them.

RAW VS JPEG
Although both RAW and JPEG are photography image files, some of the differences include:
JPEG has smaller size as compared to the RAW images.
RAW is unique to each camera, but JPEG is a universal file format.
RAW requires edits; while JPEG can be shared without any edits.
Part 7 - What Is a TIFF File?
TIFF is a file format to store raster graphics. In the beginning, it was just a binary image format, but as scanners became popular, this image format started to accommodate both grayscale and then colored images.
What Is TIFF
Developed by Aldus in 1986, Tagged Image File Format (TIFF) is a bitmapped image format that is used for transporting images into page layout apps such as Adobe InDesign, Scribus, and more. These files are large and have high-quality.
TIFF VS JPEG
TIFF files are larger than JPEG's that makes them difficult to mail and upload. But JPEG images used a lossy compression, which reduces the size, making them ideal for web use and sharing.
TIFF images are of the best quality. JPEG images are of high quality, but not the best.
TIFF files do not support compression and retain all the data captured during the scan.
JPG VS TIFF
JPG file format supports lossy compression, which means data loss. Based on the amount of compression, it discards the image data accordingly.
JPG files are not a good choice for editing as it loses quality every time you edit it. But TIFF does not use compression, and there is no quality loss while editing.
Part 8 - What is Photoshop?
Developed by Adobe for both Mac and Windows, Photoshop is an image editing software (raster graphics editor) that allows the users to crop, re-size, or color correct the digital photos. In addition to editing raster graphics, the software also has limited abilities to edit text and raster graphics.
Further, this software uses a layer-based editing system enabling image creation; and editing it with overlays that support transparency. The layers act as filters or masks and can alter the image completely.
However, the two formats that can Photoshop opens include PSD and CR2 file.
What Is PSD?
PSD (Photoshop document) is the default format that Photoshop uses for saving its data, by default. The PSD format supports CMYK, RGB, monochrome, grayscale, lab color, indexed, and multichannel color modes. It may include images, layers, masks, file information, annotation, and keywords.
This image format allows the user to work with the layers of the image even after the file is saved.
But once it is flattened by conversion; it cannot be converted back to its original format. So, if you work with Photoshop, save it as .psd and do not overwrite it during conversion.
What Is a CR2 File?
CR2, Canon Raw Version 2 image file is a format that is usually large, uncompressed, and high-quality. They are usually based on TIFF file specification and are created by Canon Digital Camera.
To open the CR2 file, you need to have the latest version of Adobe Camera Raw plugin installed in the system.
But in case, if you are using an older version of Photoshop, consider converting it to a DNG format first.
Part 9 - How To Get Back Deleted Images?
There is no denying that taking photos is one of the most common ways to keep memories for special occasions such as birthdays, weddings, and more. Once captured, it is a convenient way to save all the photos in one place on a personal computer. But there are times when you click "Shift+Delete" button and accidentally delete all the images.
What if this happens to you? Do not panic as there are photo recovery software's such as Recoverit that will help you recover them.
Recoverit Photo Recovery Supports All Photos Recovery
Overview
Recoverit is one of the best image recovery software's that can help you recover the files from trash or recycle bin with a recovery rate of more than 96%. It supports over 1000 data formats and offers full data recovery for devices including FAT 16, FAT 32, NTFS, HFS+, and APFS.
This recovery software also retrieves the lost or deleted files regardless of the operating system you use, Mac or Windows.
Features:
It is driven by a powerful built-in data analyzer engine and has a fast scan speed.
This software supports the lost image or data from crash or virus attacks with a bootable media solution.
Lets you can scan and preview the lost file before you even pay for it.
How to Restore Images from Computer
Irrespective of how you have deleted the files from your computer, you can always recover them. You might have thought that the files are permanently deleted, but in reality, they only appear as deleted. The data exist in your system as long as you don't reuse the space or put other files in place of them.
So if you have deleted the files, free download Recoverit on our computer and follow the step-by-step guide to recover the files.
Step 1 - Select Data Recovery Mode
Launch Recoverit and select the option of 'Deleted Files Recovery' mode to get started. You can also select the 'All-Around Recovery' option to search for all the files.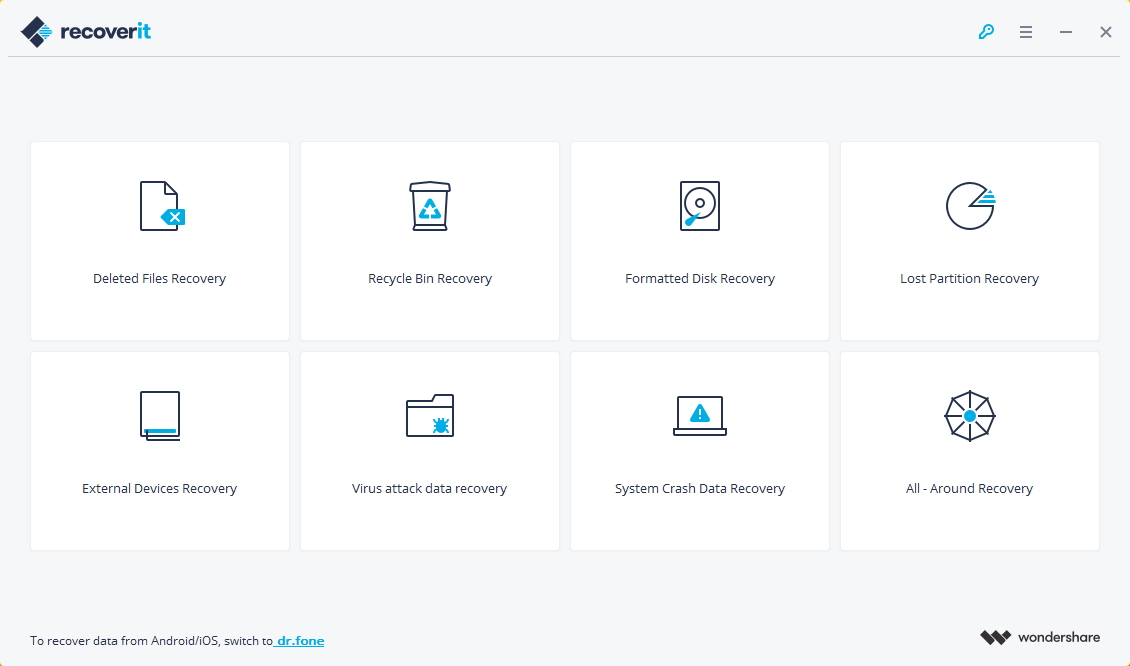 Step 2 - Select the Drive
Select the hard disk drive from the image files got deleted. In most of the cases, it is C drive. Select it and click 'Start' to go on.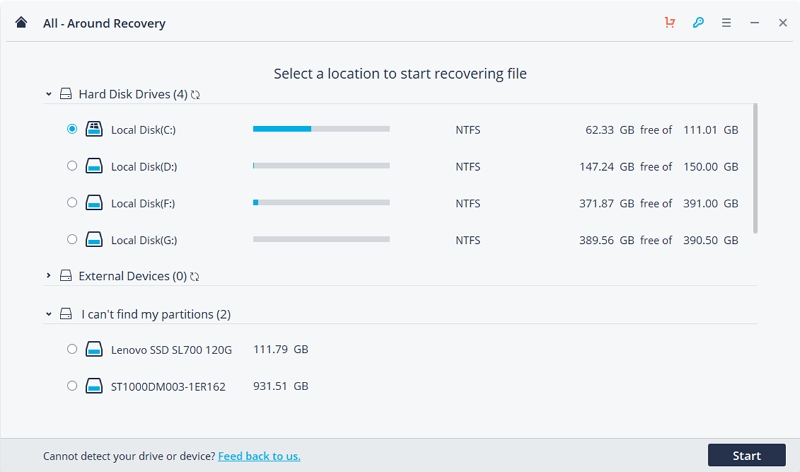 Step 3 - Scan the Drive
The location will be set for your drive, and the all-around scan will get started automatically. During the scan, you can look for the files as per their size, data, and file types.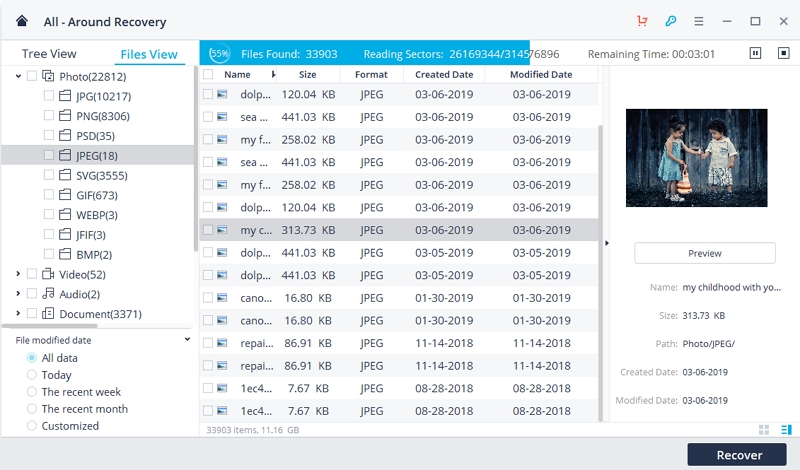 Step 4 - Preview and Recover your Deleted Photos
After the scan, all the recoverable files are displayed in the scanning result. You can preview the files and make sure, whether the files you want are recovered or not.
Then select the required files and click on 'Recover' to get the files back.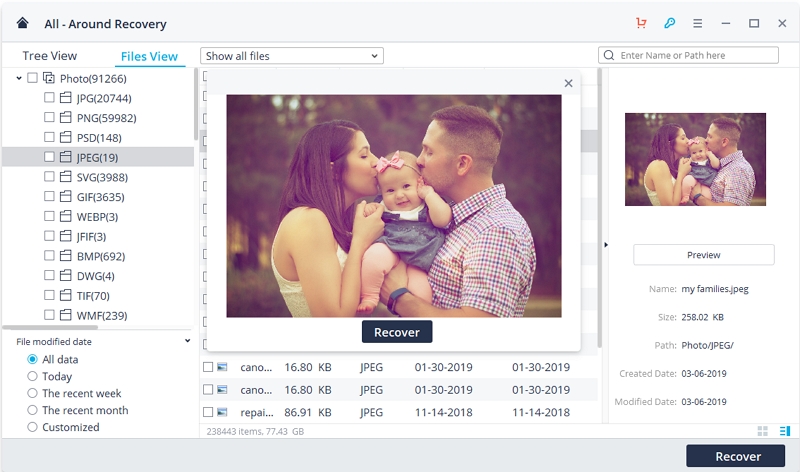 How to define

When to use

Photo Recovery

JPG

Lossy compression method for digital images.

Can be used on the web or in photographic equipment.

Yes

JPEG

A lossy compression method for digital images.

For storing or transmitting images on the web.

Yes

JPEG 2000

Image compression standard created by Joint Photographic Experts Group 2000.

To implement lossless compressions.

Yes

GIF

Format that supports both animated and static images.

For animations or to show multiple frames in one.

Yes

PNG

Format that supports lossless data compression.

To store text, graphics, and line drawings.

Yes

BMP

Raster graphics file used to store bitmap digital images.

Can be used for printable images.

Yes

RAW

Format for uncompressed images clicked by digital cameras.

When you want the final image, as per your needs.

Yes

TIFF

The image format for storing

Raster graphics images.

To maintain clarity and integrity in photographed images.

Yes

PSD

Format to store images in Photoshop.

To work with images individual layers in Photoshop.

Yes

CR2

The file format used to store the uncompressed image taken by Canon Digital Camera.

To hold details like bones and joints of a human.

Yes
Final Thought:
Whether you use JPG, JPEG 2000, JPEG, GIF, PNG, BMP image format or RAW, PSD, TIFF, CR2, it is always possible to recover the lost or deleted files. Recoverit is one of the best recovery software's that not only recovers your files but also lets you preview them. In case, if the files got deleted by mistake, just turn to this recovery program and you are good to go.
However, make sure that you don't save files on the location from where they got lost or deleted previously.
Moreover, in this article, we have compiled a complete guide for image file recovery. You can follow the steps, and recover the deleted files seamlessly.
Photo Recovery
Recover Photos from Camera

Recover Photo from SD Card