Best Software for Android Photo Recovery from SD Card
Smartphones- the device is a part of every celebration, trip, parties, get-together and even an option for office work. The whole modern life revolves around this small device. People use it to record videos, take photographs, and listen to music and what not.
Surprisingly, even these advanced devices are prone to some data loss. Imagine you have captured some of your precious moments, but a technical fault deletes those images! Are you wondering how to recover deleted pics from android?
To deal with the problem, there is android photo recovery software. Here we will discuss the 5 best android photo recovery software's.
Part 1 - What Can Android Photo Recovery APP Do?
The photographs and video on your smartphones are like a precious collection that you would never want to lose. You can keep an SD card, store them online and even encrypt them, but they are still not safe. There are factors like a virus, data corruption, jailbreak, error in copying, and a lot more that can destroy your data. It is also possible that by mistake you format the SD card or factory reset the Android device. You can also lose data due to an error in updating or due to ROM flashing.
Now if you have a backup for all this data, its great, but if not, you will have to suffer losses. But is that loss recoverable? Yes!
There is an image of your data, scattered somewhere in your storage device's memory. You can get all your photos, videos, documents and other files by accessing these hidden memory fragments. However, you will need a powerful algorithm to access these data structures.
At this point, Android recovery software will come in handy for your work. The software scans the storage for the fragments of your data, collect them all and convert them in a form that you want. Some advanced software can also repair the corrupted part of the data file.
They are so efficient that if you use them immediately after the data loss, you can restore 100% of the lost data.
On the other hand, they are quick and easy to use. You don't have to rush to a service expert for help or go through a long coding-decoding process to recover the data. Find quality recovery software, install it and click a few options for deep recovery.
Part 2 - Best 5 Photo Recovery Software for Android SD Card
Due to the frequent deletion of pictures on android phone, we are clubbing here android photo recovery software's to help you restore deleted images from Android SD card. These best 5 android photo recovery software's are known for their highest success rates in the industry.
Recoverit Photo Recovery - Best Recovery APP for Android
Recoverit is the ultimate android picture recovery software with all-around restoration feature. It can help you to deal with the recovery of photographs of major file formats that got lost under various scenarios. The software provides hassle-free photo recovery without loss of photo quality for Android phone models Nokia, Samsung, Windows phone, Blackberry, HTC, Nexus, Motorola, and many more.
Features:
The highest data recovery rate of 96% for Android photo recovery.
Retrieves content widely with its two scanning approaches- regular and deep scan
Gives you a preview of the data before restoring it to your selected place.
Recovers lost images in various scenarios- virus attack, formatting, lost partition, accidental deletion and many other.
Supported Data Types
Recoverit software works well with JPG, TIFF/TIF, PNG, BMP, GIF, PSD, CRW, CR2, NEF, ORF, RAF, SR2, MRW, DCR , WMF, DNG, ERF, RAW formats of photographs for memory cards SD, SDHC, micro SD, mini SD, CF, Smart Media, MMC, XD and many other.
Along with SD cards the software can also recover data from Memory stick, Windows and Mac hard drives, camera, recycle bin, USB drive, etc.
Pros
More than 5,000,000 users
Simple and user-friendly interface for image recovery
Available for both Windows and iOS
Faster speed for device scanning
Reliable software
Cons
The free version of the software recovers limited data
Recover lost or deleted photos, audios, music, videos and movies in all formats effectively, safely and completely.
Support deleted photo recovery from memory card, flash drive, SD card, Android cell phone, digital camera and camcorders.
Recover pictures under different situations, like sudden deletion, formatting, hard drive corruption, virus attack, system crash, etc.
Support to create a WinPE bootable media and recover inaccessible data from a crashed or unbootable system on Windows computers.
4,027,239 people have downloaded it
Regain access of your deleted images from SD card with these easy steps:
Step 1: Select SD Card
Download to install Recoverit on your computer. Remove SD card from Android phone to connect it with laptop or computer.
Launch Android photo recovery software and select "External Devices Recovery" to begin the process.
Ensure the SD card is in connection with the computer and is detectable. Select the Android SD card, click on the start link to proceed.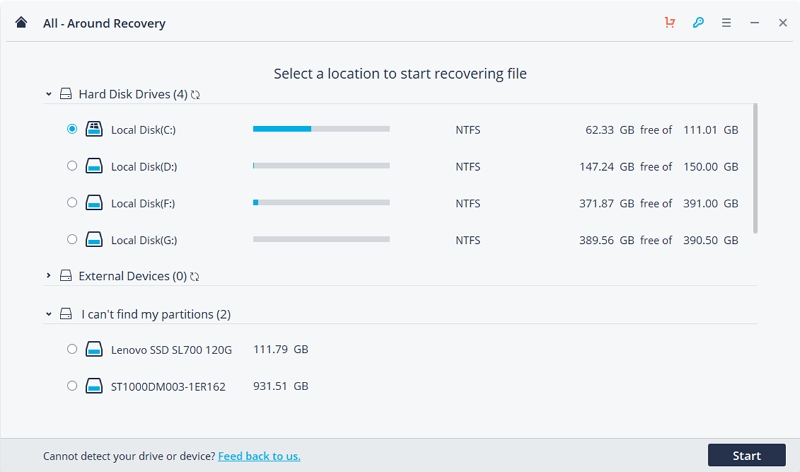 Step 2: Scan Android SD Card
The photo recovery software starts with a quick scan to begin the search of deleted photos of the SD card. Preview the recovered files. You can even go with all-around recovery scanning mode if the software doesn't gain success in retrieving your required image.
During all-around recovery, a deep scan undergoes on SD card which usually takes longer duration.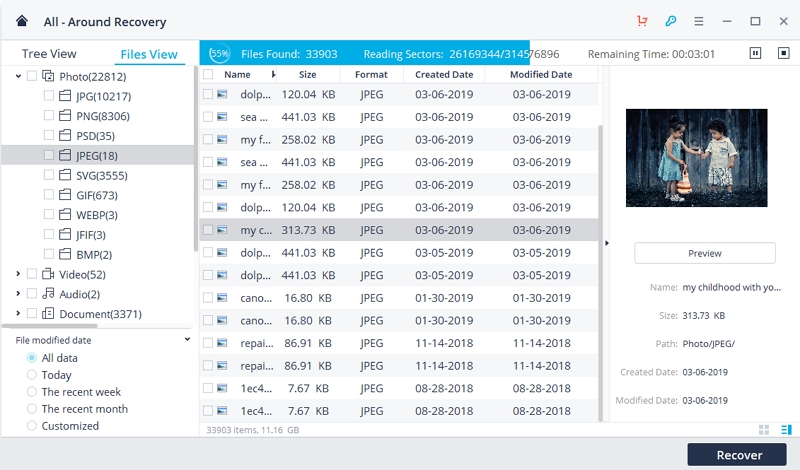 Step 3: Preview to Recover Your Deleted Photos
Check your recovered files, after scanning gets complete. The software allows you to preview the deleted images before saving them to your preferred location.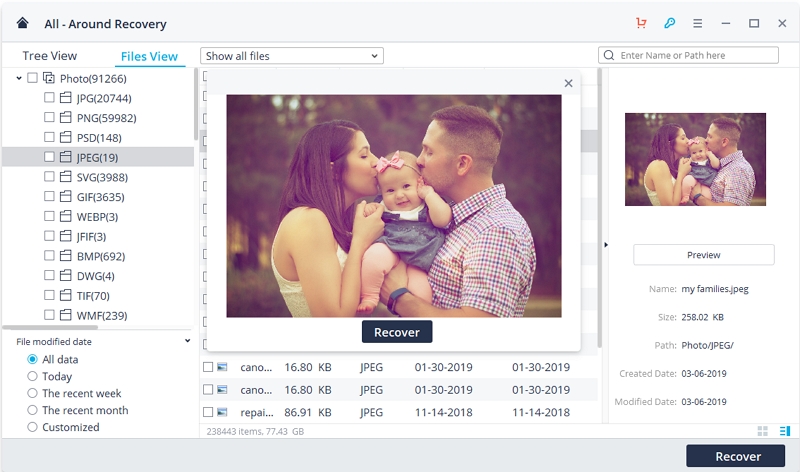 Follow these simple steps and find your deleted images of SD card easily and quickly.
Mac users can follow the same steps for Android photo recovery from SD card.
Disk Drill
If you are looking for advanced and free android photo recovery software, then you must try Disk Drill. The quick and efficient software can recover data even after a factory reset. Another thing which makes this software an excellent option for data recovery is its compatibility with both internal and external memory of the Android system. However, you have to root your device.
Features
Data recovery can be made under various scenarios- corrupt partition, virus attack and many more.
Enables users to review data before restoring selective images.
Supports basic image formats like PNG, JPG, and TIFF and even advanced formats like PSD, DNG, and RAW.
Runs on operating systems- Windows XP+ and macOS 10.8.5+
Supported Data Types
The Android picture recovery software supports over 300 kinds of file format. You can use it for FAT12, FAT16, FAT 32, ExFAT, ext2, ext3, HFS+, and NTFS file systems. However, you have to get a pro version for advanced options.
It is available for any device with Android 2.3 or more. The recovery software works with the latest smartphone devices including Samsung S7, Samsung Edge, HTC 10, HTC One M9, LG G5, Flex, Sony Experia, Moto X, Moto G, Huawei Nexus 6P, Lenovo Vibe, Lenovo Phab, ZTE Axon, ZTE grand and more. Although, rooting these devices is a bit complex.
Pros
Fast scanning
Supports Multiplatform recovery- Windows, Mac, iOS and Android operating systems
Supports numerous file types and systems even the obscure files
Impressive Scanning Speed
User-friendly interface
Pause/Resume support
Cons
Low success rate
Paid versions are expensive
Free version with limited features
Product Image
Disk Doctor –
Disk Doctor Photo Recovery is a smart photo recovery solution for retrieving lost images from SD card. Unmount your SD card and connect with your computer to perform recovery. Stop using your device from the moment you lost your data to avoid overwriting the deleted content. This ensures recoverability as data remains intact.
Features
Easy three step recovery wizard.
The advanced algorithm identifies actual file size even in severely corrupted drives.
Recover files from SD cards, XD cards, CF cards, hard disk drives, USB hard drives, memory sticks, external zip drives, iPod, and other multimedia devices that use memory cards to store files.
Save recovery session feature that helps in reloading recovered data from the previous scan.
Recover data from drives with bad sectors by creating disk image files.
Supports Windows 7 & Mac OS
Supported Data Types
The software is capable of performing data recovery on major file formats like JPG, GIF, PNG, BMP and many more. It can also recover RAW photos, videos of format AVI, MP4, MOV, MPEG, MPG, M4V, 3G2, 3GP, RM and music with file types MP3, MP4, WAV, MIDI, M4B, M4A, AIFF, AIF, AIFC, RA, AMR.
Pros
Recovers all JPG files and other raster images GIF, PNG, TIG and BMP
Cons
Incompatible with latest versions of Windows and Mac OS
Lower success rate
Fails to recover vector files
Product Image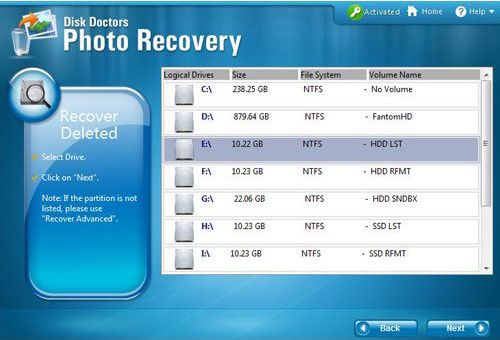 GetData Recover My Photos
The GetData series of Recover my Files presents one of the most versatile software to restore pictures of Android devices. Its photo recovery software is known as GetData recover my photos.
Features
Runs on major window versions
Enables you to restore photos on your desired location
Preview recovered photos
Recover popular photo formats
Supported Data Types
The software supports NEF, NRW, CGM, CR2, RAW, RW2, SR2, ARW, X3F, SRW, ORF, DCR, KDC, ERF, RAF GIF, BMP, JPG, TIG, PNG, and a lot of other formats.
This software can retrieve deleted pics of Android devices, hard drives, memory sticks, USB, SmartMedia and a lot of other devices. It is also an ideal tool for dealing with formatted cards, DSLR cameras, emptied recycle bin and lost partition.
Pros
Works with all digital camera formats
Cons
Low recovery rates for some formats
Not available for Mac
Product Image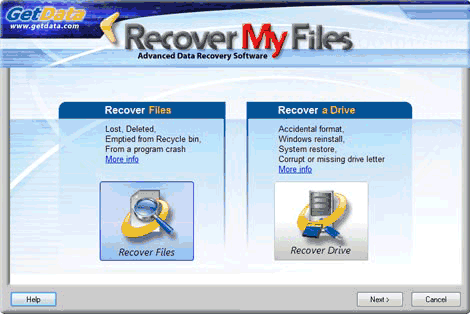 Stellar Phoenix Photo Recovery
Speed, high power and features are what make stellar phoenix one of the most successful photo recovery software for Android devices. This all-rounder software combines reliability with features and provides a perfect blend for all kind of recovery for every device. Whether you want to recover, permanently deleted data, missing files, lost partition, corrupted hard drives, virus attacked system, crashed system, raw partition or a completely wiped android smartphone, this software is the best option.
Features
Gives you a preview of all the scanned files to select the ones you want to recover.
Choose a particular file format for recovering.
Supports five different languages- English, German, French, Italian, and Spanish.
A deep scan feature to scan the hidden or corrupted part of your drives and find data from it.
Collects all the fragment of data and convert it into form.
Facilitate the RAW recovery from several corrupted drives including your SD card.
Supported Data Types
Stellar support almost all the standard file system and storage devices. You can use it with SD cards, eMMC, USB drives, SSD or hard disk. Moreover, it is compatible with NTFS, FAT 16, FAT32 and exFAT file. So you are not limited on options.
As for the format, the stellar phoenix can recover most files extensions including the common formats like jpeg or PNG and the rare once like NEF and ORF. It can also help you with videos, audio, email, documents and more.
Pros
Can recover missing partition
ON/OFF for preview
Selective File Recovery
Multi-Language support
Cons
Does not support Polaroid raw files
Product Image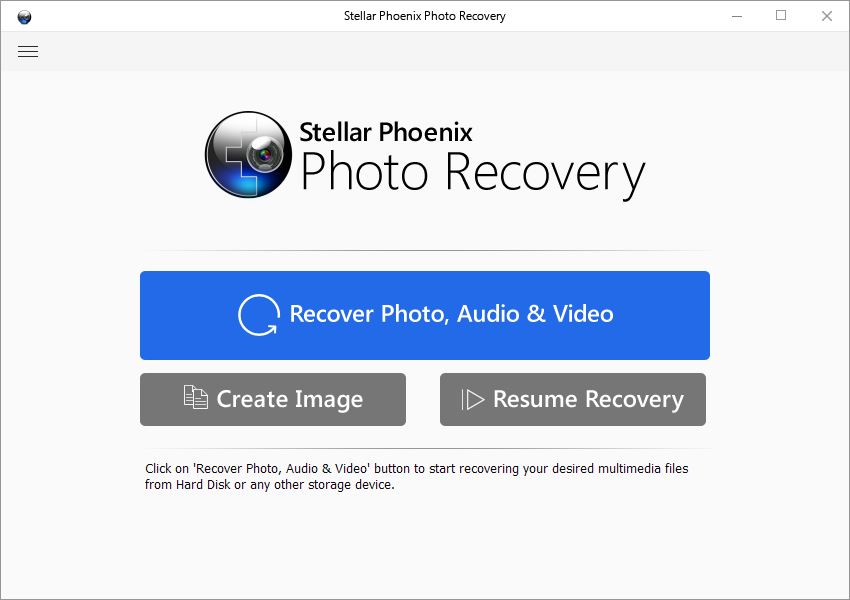 Part 3 - Factors in Picking Android Photo Recovery Software
There are lots of Android picture recovery software's available in the market along with the mentioned best recovery software's. While proceeding for downloading specific software, it would be wise to make your selection based on the specified criteria.
Recovery Rate
Why are you looking for photo recovery software? To regain access to your lost data! While looking for recovery software, recovery rate plays a vital role in selection. Get the best software as all tools are not capable of recovering lost or damaged files.
Recovery rate provides you the ability of the software and ensures how much user will get benefited from the software. Here Recoverit photo recovery has the best recovery rate of 96% for all types of file formats. This is the highest in the industry.
Photo Formats
There are wide ranges of photo formats, so you will definitely need the one that supports major file formats. Like if you are capturing images from phone, your file format will be jpg or jpeg but if you are a graphic designer you require software that recovers PSD and RAW files.
So look for the software that supports JPG/JPEG, PNG, BMP, TIFF, and other formats that gets widely used.
Supported Devices
The software would be useful to you only if it supports the device that you own; else it won't be worth for you to download it. As you are going to recover photos from SD card ensure that your selected recovery software supports all kinds of SD cards.
Ease of Use
Recovering photos with recovery software won't demand any technical experience. While selecting the best data recovery software, it is vital to go with the software that is user-friendly and makes restoring process hassle-free for you. From the mentioned software's, Recoverit Photo Recovery and Stellar Pheonix are very easy to use.
Price
Price plays an important factor while selecting the software. Usually, all software provides trial versions but only with limited features.
You can buy the full versions of software based on your experience with the trial versions. Select the one that fits your requirements and budget. Try the free version of Recoverit Photo recovery and upgrade to its premium version at a later stage.
Comparison Chart
Features

Recoverit

Disk Drill

Disk Doctor

GetData

Stellar Pheonix

Rating

9.5

7.5

7.0

6.5

9.0

Price

Basic version: Free

Pro version: $39.95

Ultimate version: $59.95

Basic version: Free

Pro version: $99

Enterprise version: $399

Full Version Win: $49.97

Full Version Mac:$69.97

Basic version: Free

Pro version: $39.95

Technician version: $249.90

Basic version: Free

Standard Version: $49.99

Professional Version: $79.99

Recovery Rate

More Than 96%

99% for lost data and reformatted drives

70%

100% for JPG, 84% for Raster images, 82% for camera Raw images

100% for JPG and Raster images, 60% for production images and 45% for RAW

Supported Photo Format

JPG, TIFF/TIF, PNG, BMP, GIF, PSD, CRW, CR2, NEF, ORF, RAF, SR2, MRW, DCR, WMF, DNG, ERF, RAW, etc.

3FR, AEP, AI, ARW, BMP, BPN, C4D, CDR, CR2

CRM, DJVU, DNG, DPX, DXF, NEF, ORF, PEF,

PNG, PS, PSB, PSD, SRW, SVG, TIFF, etc

BMP, PNG, TIF, TIFF, JPEG, JPG, GIF, PSD, CRW, CR2, NEF, ORF, RAF, SR2, MRW, DCR, DNG, RAW, KDC, K25etc.

NEF, NRW, CGM, CR2, RAW, RW2, SR2, ARW, X3F, SRW, ORF, DCR, KDC, ERF, RAF, GIF, BMP, JPG, TIG, PNG, etc.

NEF, CRW, CR2, ORF, SR2, SRF, K25, KDC, DCR, RAF, MRW, PEF, X3F, JPEG, JPG, TIFF, BMP, GIF, PNG, XCF, PAT, WPG, EMF, ANI, etc.

Supported Devices

SD, SDHC, micro SD, CF, Smart Media, MMC, XD, Removable Drives, Digital Cameras, Hard Drives, Flash Drives

SD, SDHC, micro SD, MMC, XD, Digital Cameras, Hard Drives, Pen drives

Hard Drives, SD Cards, CF Cards, XD Cards, Memory Sticks, External Zip Drives, iPod, Mp3 Players, Camcorders

Smart Media, Compact Flash, Memory Stick, USB, hard drive, SD, Micro SD

Hard Drives, Solid-State Drives, SD Cards, USB Thumb Drives, eMMC

Ease of Use

Auto Choose the Recovery Method

Two kinds of scanning

Three Step Recovery Wizard

Wizard with two recovery options: Recover files or Recover Drive

Auto Mode selection
Part 4 - How We Tested Android Photo Recovery APPs
While reading you must be wondering how we tested all photo recovery apps that are listed here?
To provide you with the best photo recovery software for android we collected 5 identical Android devices with the same features. 50 photos were added in each device and then same numbers of photos were deleted from all. Once deletion gets completed for all SD cards, all the five Android devices were restarted.
Recovery apps launched on computers after removing SD cards from all the Android devices. As the conditions were same, so comparison became easier after we have the recovery results. Among all the mentioned tools, Recoverit retrieved maximum lost images from SD card.
All the tools are compared on- recovery rate, compatibility, photo formats, price, ease of use, supported devices. Based on all the parameters rating was allocated to all the Android image recovery tools. Recoverit emerged as the best recovery app for Android among all.
Conclusion:
Losing vital data is a matter of stress. When a photo gets accidentally deleted or lost from the SD card, don't panic!
No matter how you lost your valuable images, an Android photo recovery app comes as a defense and helps you to retrieve deleted pics android. After our serious and careful tests, Recoverit Photo Recovery proves to be the best photo recovery app for Android SD card.
Although finding the best recovery app for Android is not easy. But with Recoverit you will experience exceptional photo recovery. The fast and reliable software that is compatible with the Android SD card comes with the highest success rate and experts widely use it.
So, ever lost images during an emergency make a wise investment by quickly downloading free Recoverit photo recovery for Android picture recovery.
Photo Recovery
Recover Photos from Camera

Recover Photo from SD Card