Disk Photo Recovery: Easiest Way to Get Photos Back from Hard Drive
Have you lost your memorable pictures from your hard drive? Are you regretting and thinking you have lost your beautiful memories forever? What if we would tell you that disk photo recovery is possible!
A hard disk is the primary storage medium of the computer. A virus attack, damage, or a little carelessness- the reason can be any to lose photos from your hard drive. Ideally, you always need to have a backup of your essential data, but if you don't have still there are methods to retrieve your lost hard drive data successfully.
Part 1:Recoverit Photo Recovery - Reliable Disk Photo Recovery Software
While searching for the best disk photo recovery tool, consider Recoverit Photo Recovery.
With this software, data recovery is easier, reliable and faster than before with this best tool. Further, it is secure software that provides a complete recovery solution without any loss of quality and at high recovery rate.
Features and Functions
It performs lost image recovery under a virus attack, lost partition, inaccessible data, corrupt hard drive, resized partition, accidental deletion, unexpected hard drive formatting and many others.
Recover photos of format JPG, PNG, GIF, TIF, BMP, DCR, WMF, RAW, etc.
Either lost data from a hard disk drive or an external storage drive, it performs photo recovery on both.
Supports lost image recovery on various file systems- FAT, HFS, NTFS, etc.
Fast application features normal and deep scan recovery modes with a built-in data-analyzer engine that brings a record 96% data recovery rate.
It provides a preview of recovered photos for restoring them at a preferred place.
Saves results of the previous scan to resume recovery without the need of repeating scan as it imports previous results.
Filter your search with date, size and file name for the quick results.
Compatible with Windows10/8/7/Vista/XP and for Mac OS 10.14, 10.13, macOS 10.12, OS X 10.11, 10.10, 10.9 and 10.8.
Recoverit guarantees you 100% secure virus free service and it extends you 24 x 7 free technical support.
Using the software will give you the following advantages:
Fastest device scanning speed
Supports numerous file formats
Suitable for all computer users as it consists easy lost image recovery steps- Select, Scan and Recover
Reliable software
Along with its vast advantages there a few drawbacks:
The free subscription recovers only data upto100MB.
Its free version provides only limited recovery.
Part 2: How to Restore Photos from Computer Hard Drive
Recoverit Photo recovery software restores deleted or lost images and other data. The software works like a pro and restores 10 media files for free. It also supports 550 file types of both Windows and as well as Mac computers.
Whether you have lost your files through accidental deletion, or formatting, or system crash, or virus attack, or due to a lost partition, or any other scenario, lost image recovery is easier with Recoverit.
Undelete data from the hard drive or external storage device with a deep scanning method that allows you to have access to all the useful data that got deleted.
The three-step process of this recovery tool makes the recovery process easier and faster. Each step is important, so don't skip them while retrieving deleted files.
Download the trial version and experience the outstanding working of the tool by below steps.
Step1: Select the scenario for data recovery
Free download Recoverit and launch the recovery software. Choose the scenario based on your need for lost image recovery.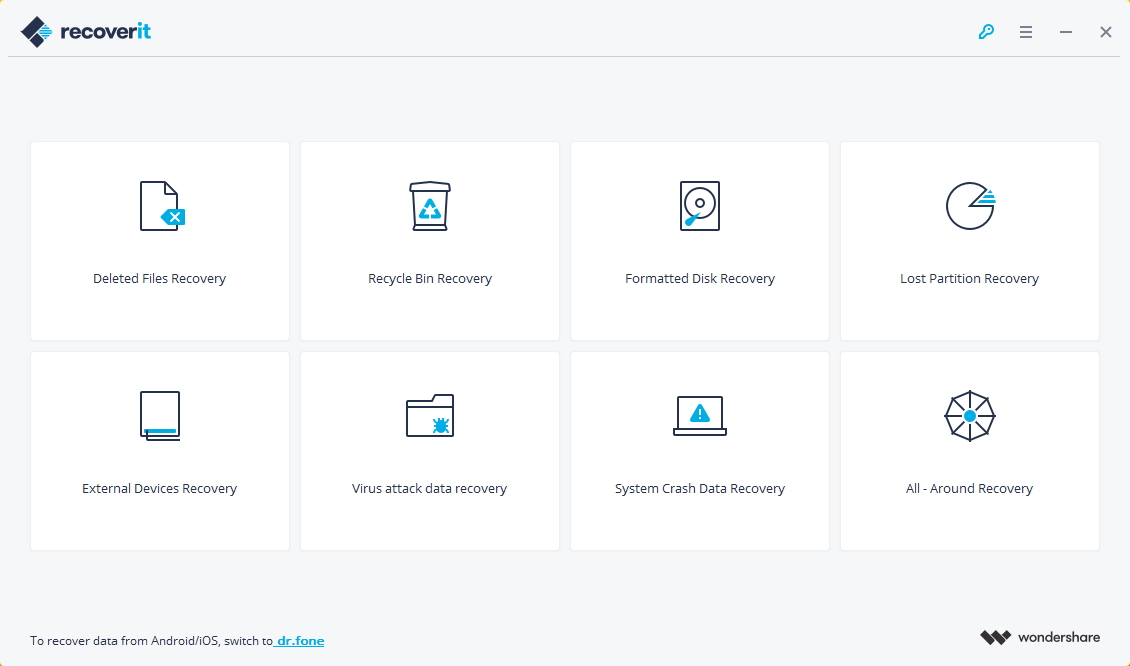 Step2: Select the location for performing data recovery
Select hard disk and click at the start to begin the recovery procedure.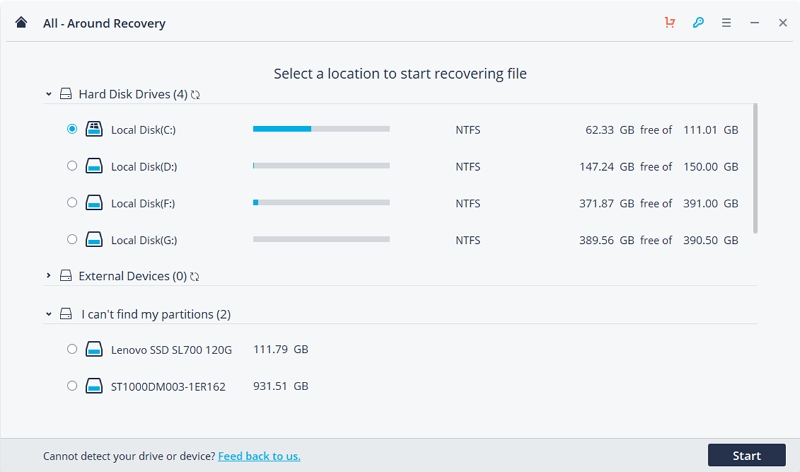 Step3: Scan the disk
Wait till the disk photo recovery software begins to scan the selected location. Ensure application does not close during the operation.
Once the normal scan completes, proceed with All-around recovery for better results. It can take some time; don't interrupt the software operation in between.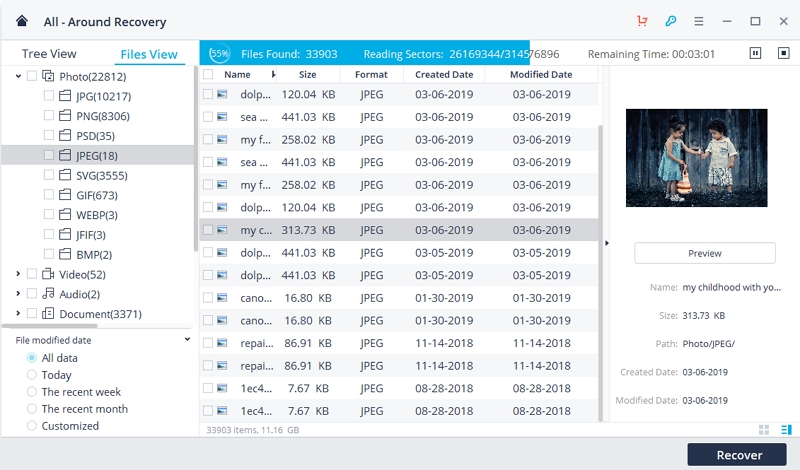 Step4: Restore lost images
You will get notified when the scanning process completes. Preview the recovered images and select the ones that you are looking for. Once you finished the selection process, click on the recover button to retrieve your deleted pictures.
Select a safe location to restore your recovered images.
Recover your lost images with these steps of Recoverit data recovery software.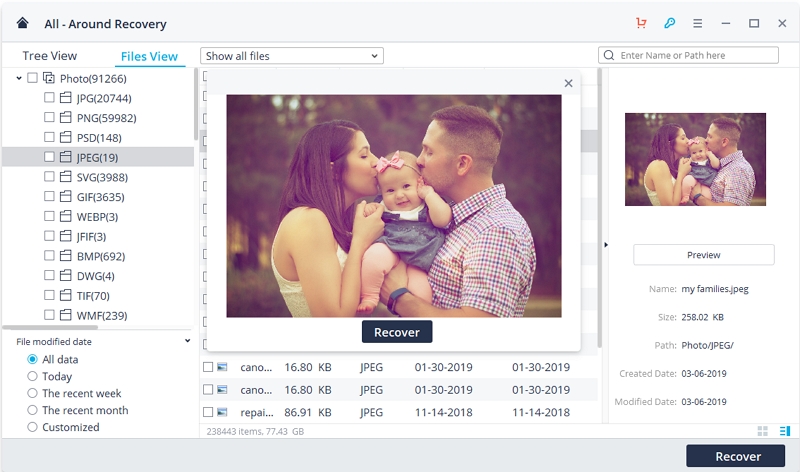 Part 3: How Are Photos Stored on Hard Disk
A hard disk is an electromechanical storage device that has avast storage capacity. It stores all digital content. The storage drives can be internal as well as external. Everything that gets stored on the drive is measured as file size in megabytes (MB), gigabytes (GB), and terabytes (TB)
Common Types of Hard Drives
Hard drives get distinguished in a number of ways based on their connectivity to the system or the way they are encoded.
Based On Connectivity
Internal Hard Disks: It is primary storage that is connected internally to the system.
External Hard Disks: These are connected externally to the system most of the times via USB cable. It is used to expand the storage memory and for taking a backup at a safer place.
Based On Construction
Hard Disk Drives (HDD): Magnetic disks mounted one above other with reading/writing head in HDD. These are cheaper and also process slowly.
Solid State Drives (SDD): Here magnetic disks are replaced with flash chips like pen drive that makes processing faster. These are expensive in comparison to hard disk drives.
Based On Encoding
Hard drives mostly depend on RLL i.e., Run Length Limited, but encoding method varies. The technique can be any from – Serial ATA, RAID, Serial Attached SCSI, PATA, etc.
Based On File System
Hard drives stores data in different ways. It mostly depends on the operating system. Most common file systems are FAT, exFAT, HFS, NTFS, APFS, etc.
How Hard Disk Works
Have you ever thought what happens while double-clicking an icon to open it? During this duration flickering of light that associates with hard disk can be seen. At times you even listen to the churning sound in the hard disk. What is it? Your guess is right if you are thinking that data is being accessed.
Let's understand how hard disk works:
Working principle of hard drive or external hard disk varies according to its construction. As SSD consists of flash drive storage units, it allocates a particular location when you are writing data. It can be extracted from their later.
While HDD consists of magnetic disks, data here stores in a properly arranged manner. As HDD are reasonably priced, they are preferable as primary storage in computers.
How Photos Are Stored
A hard disk consists of reading and writing heads. When you store a photo on the hard drive, it encodes with the writing head. It gets stored in the memory table in the form of zeros and ones which is an understandable computer language. The header reads back those zeros and ones when you access it.
HDD stores pictures in data clusters whereas SDD stores them in a basic linear format. Pulling information from SDD is faster, but storing information is costly on SDD.
Part 4: How Do Photos Get Lost From Hard Disk
As you are performing disk recovery, you need to understand the various factors that cause photo loss from the hard drive. This makes the lost image recovery process easier if you can diagnose how you lost your valuable data.
Accidental Deletion
Updating photos and deleting them unexpectedly is an everyday activity that we often face it. Windows prevent you from losing your images by providing recycle bin. Sometimes it offers a safety net, but there are scenarios where you can't count on recycle bin. Some of them are like:
Files deleted from the drive
Permanent deletion using Shift + Delete
File deletion using Command Prompt
It is wise to take regular backupsof the important images. Regular backups save your time and data during such scenarios.
Computer Virus or Damage by Malware
Numerous viruses are rounding the internet world every day. Connecting your computer to a worldwide network makes your computer prone to viruses. Damages differ, but most of the times the damaged part is your stored data. It affects the operation of software which in turn results in data loss.
Can you afford the frequent loss of data due to virus attack? It is recommended to use antivirus or anti-malware tool to avoid such risks.
Hard Drive Failure
Hard drives are the most fragile parts than any other device that is connected to the computer. The smallest imprecision can affect the working of the hard drive. These drives become worn out with time, but certain factors lead to premature failure like:
Overheating
Water or fire damage
Power outage
Impact of being dropped
Exposure to magnetic fields
Corrupt Partition
Sometimes a particular portion of the hard drive gets corrupted. Under such circumstances either the whole partition loses or data stored becomes inaccessible. Force restart or abrupt shutdown of the computer because of power failure can make hard drive inaccessible. Third party applications also lead to corruption.
A proper shutdown lets computer close all programs properly. It is also recommended to close all running applications before shutting down your system.
Repartitioning Issues
Repartitioning hard drives leads to loss of data due to various unexpected factors:
Accidental formatting: While resizing a drive, often people select or delete wrong drive partitions or format incorrect partitions.
Interruptions while repartitioning: Hard drive is considered sensitive during the repartitioning procedure. A sudden disruption like lack of memory or power outage leads to loss of partition as well as the loss of data.
Third Party Tool: While selecting an unreliable third party tool you need to be very careful as tools from unreliable sources can cause loss of data.
Part 5: Why Can Disk Photo Recovery Be Done
After understanding about hard disks and possible causes of data loss are you wondering how
disk photo recovery
works for
lost image recovery
?
When data gets lost, deleted, corrupted or become inaccessible because of any reason, do you think it gets permanently deleted? No! During such course only a specific disk space is freed, if not acted on time there are chances that your deleted data gets overwritten.
So, whenever you come across such a situation take a quick step for lost image recovery, Recoverit Photo Recovery tool can retrieve your lost images.
Recoverit Photo Recovery can make disk photo recovery for internal hard disks, external hard disks, hard disk drives, solid state drives, USB flash drive. It restores photos from file systems FAT (FAT32, FAT16, FAT12) exFAT, APFS, HFS, NTFS, NTFS5, ReFS, ext3/ext2.
It performs disk photo recovery on SanDisk, Toshiba, WD, LaCie, Seagate, Buffalo, Samsung, etc.
SanDisk: It provides an extreme portable SSD, with high-speed storage for high-resolution photos. It transfers up to 550MB/s read speed and has up to 2TB storage capacity and is designed to work with Windows and MAC.
Toshiba: It is a leader in high-capacity CMR HDD with storage capacity up to 16TB. Enterprise HDD is optimized for server and storage systems, and Client HDD is the best choice for desktop and notebook PCs.
WD: Built with NASware technology, WD Red NAS hard drives is the right solution for NAS storage with an internal storage capacity of 10TB
LaCie: It is a French computer hardware company which is specialized in external hard drives. Rugged Raid Shuttle is the best way of transporting 8TB. LaCie's portable SSD lets you capture the vision in a flash.
Seagate: The external hard disk with up to 10TB storage capacity can be connected to your computer via USB connection or wirelessly
Buffalo: It provides easy and quick storage expansion that let you expand the storage capacity of your computer's internal hard disk.
Samsung: The solid state drive by Samsung lets you boost the performance of your computer with its 560MB/s sequential and random read speed
Deleted photos are no more pain with Recoverit. Free up 56MB of space to install the software fordisk photo recovery.
Final Thought:
Data loss can occur anytime. But you can regain your lost images with powerful photo recovery software. Try disk photo recovery with free download Recoverit Data recovery software. The risk-free tool can recover lost images without hampering the quality. Experience its trial version and go for purchasing the license according to your requirements.
The photo restoration software restores photos of all file systems and disk types with its quick and all-around recovery scan models.
So, the next time you when you come across a scenario with lost images, consider Recoverit that will help you in recovering data without any hassle.
Photo Recovery
Recover Photos from Camera

Recover Photo from SD Card
>
How-to
>
Data Recovery Solutions
> Disk Photo Recovery: Easiest Way to Get Photos Back from Hard Drive