Fixes and Tips on GoPro SD Card Errors
SD card is a favorite storage device used in Android devices and digital cameras (DSLR). Although GoPro is the world most reliable camera manufacturing company, we found many cases of GoPro SD card error with users. There is no doubt that the camera quality of GoPro is top-notch, but SD Cards of this company has many SD card problems which a customer has to face.
To fix GoPro SD card error, you can perform GoPro SD card format; however, you may lose all data stored in it which isn't a comfortable situation.
Hence with this article, we will help you to answer, how to fix an SD card error. Read on to explore all about GoPro SD card.
Part 1. Causes and Symptoms of GoPro SD Card Errors
Now, before you jump into the solutions for GoPro SD card error, you should be well aware of the causes and symptoms for a better approach. Therefore we have listed seven reasons you may face SD card error.
SD Card is blank or has an unsupported file system
Your SD Card shows empty or unsupported file status due to following reasons-
When your SD card is removed from the camera without switching it off.
When the camera is connected to an unauthorized machine or device.
When your SD card is removed from the computer without selecting the option called "Safety remove hardware"
Dust interference with the connection
SD cards working for months or years with same GoPro have a chance to stop working suddenly. The SD ERR pops up on the top of your camera screen. This issue will develop due to dust or fog film build up on your SD Card due to prolonged use.
Cards read and write speeds aren't fast enough
As we know, SD Cards have two types of ratings, the first rating is for reading or accessing the data and the second rating is for writing or recording the data. So if you are facing the problem of speed isn't fast when you are using SD Card with low ratings.
Card not properly formatted
Memory card not formatted error occurs due to improper formatting or if you use the same SD Card in another camera. Hence it shows "SD ERR" issue in your device. This
Firmware update needed
Sometimes, you face "NO SD" issue in your device while using the SD Card. This issue arises if you use a newer SD Card with an older GoPro, variant. If your firmware is not updated regularly, then you can face this issue in your SD Card.
Low-quality SD Card
If you buy a low-quality SD Card for your GoPro, then it can create an SD card problem. So always purchase good quality SD Cards for your GoPro devices.
Incompatible error
Due to lack of knowledge, people buy SD Card which will not support their GoPro device, and hence suffer incompatibility issues.
Part 2. General Fixes on GoPro SD Card Errors
As we can see from the above, many GoPro SD card errors occur due to various causes. Some causes are unintentional, but some are common human mistakes.
Now, let's talk about the manual methods through which you can fix the SD Card. You can set your GoPro SD Card error in many ways some are as follows:
Connect SD Card to another Camera
You can connect your SD Card with any other device, if your luck is with you, then that device will be able to read your card, and your blank card error will be solved.
Format GoPro SD Card
You can also fix the GoPro SD card error by formatting it. Formatting the SD Card will repair all the issues which cause the error in the SD Card.
You can follow these steps to execute the format process in GoPro-
Firstly, insert the SD Card in your GoPro camera.
You will see a menu option on the back screen of the camera as you turn it on.
Select the preferred option
Then, you have scroll down to Format SD Card option and select the Delete option.
Note- The above format is only applicable to some GoPro devices like HERO 7, HERO 6 or HERO 5. But if you have any other variant of GoPro, then you have found memory card not formatted solution, by formatting your SD Card using GoPro app.
You can follow these steps to format the SD card using the GoPro app
First, insert the SD Card in your GoPro camera and turn it on.
Ensure that your camera is connected to your phone via Wi-Fi or Bluetooth.
Then open the GoPro app in your phone and go to the Settings.
Scroll down to the Delete section.
Select the Delete all files from SD card option.
Your SD Card will format now. You can go through your freshly formatted SD Card after this.
3. Scan SD Card Errors with CHKDSK
By running CHKDSK command in cmd prompt of computer you can rectify your SD Card issue. Follow the steps below to run CHKDSK command, and resolve SD error-
Go to the Start menu of computer
Type cmd in the search bar.
Run cmd as Administrator and type CHKDSK C:/f
Project-recovery-1.jpg
Note- If you assign C drive to your SD Card, before running the CHKDSK command in cmd, ensure that your SD Card is connected to your computer and it shows in the assigned drive.
It will solve your GoPro SD card error and you will get your SD Card in the previous condition.
Reinstall the Driver
Another method to fix the GoPro SD card error is reinstalling the driver. When your driver is not identified correctly by the system, then you will not be able to access the data.
To reinstall the driver, you can follow these steps-
Go to the Start menu on your computer
Search for Control Panel.
Open the Device Manager.
Double click on the Disk drives option and then right click on the Removable Drive option.
Then, click on the Uninstall option.
After this, disconnect your SD card from the device and restart your computer.
Once your computer restarts, it will detect your SD card.
Use another SD Card (if write and read speed is not fast enough)
If you have write and read speed issue in your SD Card then it is better to replace your old card and use a new SD Card.
You can follow the steps under if you are facing this problem:
Step 1: You should first check that your SD card should be a recommended card for your device by GoPro as given on the website of GoPro. If you do not find your SD card in the recommendation list provided by GoPro, then proceed to Step 2.
If you find your SD card in the given list, then this is not the cause of the error in your SD card.
Step 2: Purchase a new SD Card as per the recommendation of GoPro. The new card will be compatible with your device and hence resolve the errors in the SD card.
Clean GoPro SD Card
If the GoPro SD card error is due to dust accumulation on the surface of the card, then you should clean the SD Card using Isopropyl alcohol and a soft brush. This cleaning will help you to fix the error in your SD Card.
Step 1: Start by cleaning the contacts, or the metal pieces of the micro SD card. Take a toothbrush (an old one that is washed or a new one) and wet the bristles with Isopropyl alcohol then, use the wet brush to scrub off the contacts. Wipe dry with a towel. If you still see the dust of film on the metal contacts, repeat the process.
Step 2: Once your SD card is dry, insert it back into your camera. If the card error is gone, you don't need to continue with the following steps.
Step 3: After cleaning the SD card, if still you get the SD error, then there is a chance that the dust has accumulated in the SD Card slot in the camera.
So, use a can of compressed air to remove any dust or dirt that may have gotten inside. Don't blow inside as the moisture from your breath can cause more harm than good.
Step 4: If the can of the compressed air and the memory card cleaning didn't work, you could use a few dedicated tools designed to clean the tiny space of an SD card slot.
Part 3. Specific Fixes on GoPro SD Card Errors
You can also try two more methods that can help you fix the GoPro SD Card Errors. The above-stated methods are not suitable for every condition but below two ways are applicable in every scenario.
Lost GoPro photos and videos
If you have many pictures and videos in your SD Card, you need to recover them anyhow. So, you can use good photo recovery software like Recoverit Photo recovery tool. The steps required to execute the software are stated in Part-4 of this tutorial.
Unreadable GoPro SD Card
When your SD Card is unable to read in your computer, then you can assign a new drive like D, E OR F, to the SD Card so that you can view the content in it. This issue happens due to incompatibility of the SD Card.
To assign a new drive to your SD Card follow the steps below:
First of all, remove the SD Card from your GoPro camera and connect it to your computer.
Then, double-click or right-click on the My Computer option and then click on Manage.
Now, open the Disk Management menu and load Disk service.
You will see that your SD card is loaded there. You have to right-click on it and select the change Drive letter and Paths option.
Lastly, select the drive which you wish to assign for your card from the drop-down list and change it.
Once the new Drive letter is assigned to your SD Card, the computer will be able to read the card properly. However, if your computer is unable to read your card after this also then you have to resort to using a recovery tool.
Part 4. How to Recover Lost photos from the GoPro SD Card
When we apply any method to fix the SD Card errors, then there is a chance of losing some files also. Approximately, a maximum number of ways results into deletion or loss of data from your SD card because those files create disturbance and hence the system deletes them to fix your card.
Now, fortunately, you have Recoverit Photo Recovery software that will help to recover your lost photos from SD Card.
Recovering the files from this software is very easy and reliable. Anyone can run this software to access their deleted files. The software is suitable to restore photos, videos, and audio files from your SD card.
Features
You can efficiently recover your photos, videos, audios, music, and emails from any storage device wholly and safely.
The software supports the photo recovery from Recycle bin, Hard drive, SD Card, Flash drive, Digital camera, etc.
You can recover files deleted due to reasons like accidental deletion, formatting, hard drive corruption, virus attack or system crash, etc.
How to retrieve photos from SD Card?
Before you begin, download the photo recovery software by Recoverit and install it in your computer, then follow the steps below to restore photos from SD Card.
Step 1- Choose the storage for scan
When you open this software, you will see a pop-up to choose the location which you want to scan to retrieve your lost files.
Select the External drive option under your desired SD Card option. Then click on the "Start" option to begin your scanning process.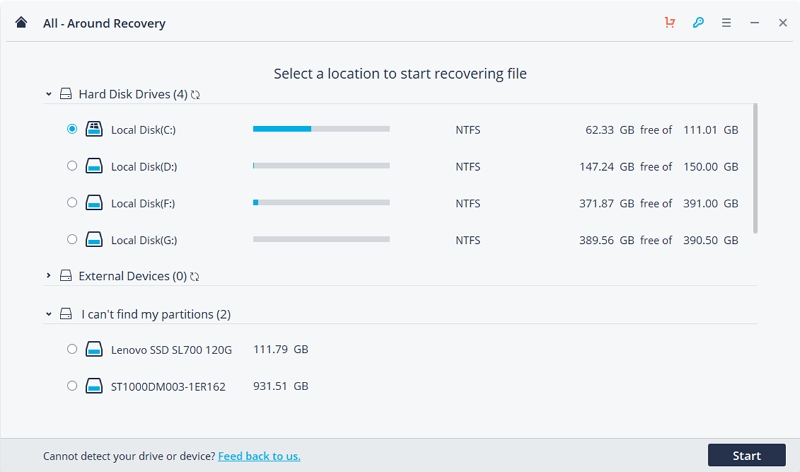 Step 2- Select the lost files as scanning completed
As the scanning process is complete, you will get a list of files which are lost from your SD Card. You can go through all the files and select those, which you need to recover.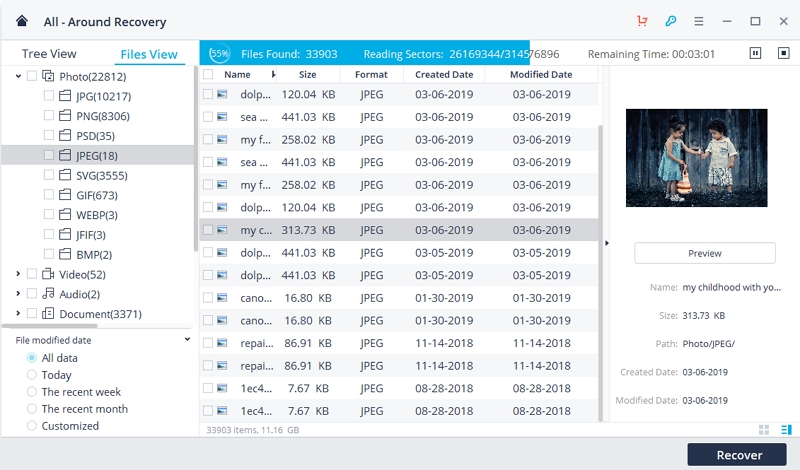 Step 3- Preview and Recover
You can mark the box in front of the lost file which you want to recover or select multiple files for recovery.
The software will now give a preview of your selected files. Finally, you can click on the "Recover" option at the bottom of the software.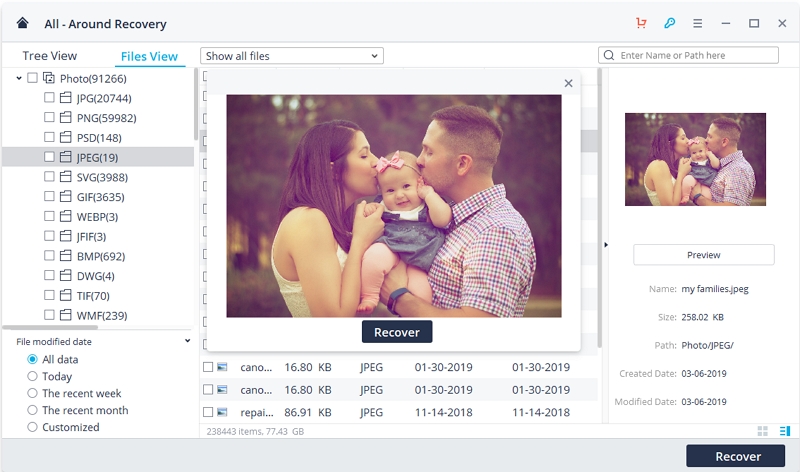 Note: Relocate the recovered files in a different location so that they are not lost again.
Part 5. Tips against GoPro SD Card Errors
SD Card plays a vital role in saving your beautiful pictures and records a lifetime of memories in your device. It is, however, your responsibility to take care of everything and protect your photos or videos from the deletion or loss.
By following these tips, you can save yourself from the data loss due to GoPro SD card error:
Always format the New SD Card before use
Every time, when you start using a new SD Card or before inserting it in the camera, it is better to format it properly so that if there is any bug in the card that will be removed by the system. Also, the formatting process will delete all the old files from your card if it has any preinstall files.
Use a hardware safety removal option
Whenever you have to eject your SD Card from the system, always use the hardware safely removal option. This option will save your card from unwanted corruption. When you use this option, it will stop all the processes which are running inside the card and will be ready to eject it.
Try to maintain extra space in your SD Card
You should always track the left area in your SD Card because if you are using a memory full or low memory SD card it will not be able to store any more shots.
Optimum storage capacity cards are better than large ones
When you increase the storage capacity of SD Card, you are making your SD Card more favorable for Data loss.
When SD Card has vast space to carry files, it all gets mixed up and becomes hard for you to track the photos, videos, and audio files.
One more pressing concern is, if any error happens it will result in the loss of all files stored in the SD card. Hence, it's better to use optimum storage capacity for your SD Card.
Take care of card from dust, oil or water
You should always place your card at a dry and clean place so that foreign elements do not get any chance to accumulate on the surface of the card which can result in SD error and also damages the card.
Conclusion:
SD card problem is a standard error, but you can reduce the frequency of the error by following the tips as mentioned earlier, to identify the error by its symptoms, and take preventive action. To fix GoPro SD card error then you can apply any of the stated methods in this tutorial and use Recoverit Photo Recovery software to recover your lost or deleted photos and videos from the SD Card.
Photo Recovery
Recover Photos from Camera

Recover Photo from SD Card