How to Get Back the Deleted Photos from PC, SD Card or External Devices
With improved camera features, it is abnormal to find someone with no pictures at all in their gadgets. Whether it is a phone, laptop or memory card, we all keep our photos stored. Unfortunately all devices, however advanced might suffer data loss, and hence the stored photos might get deleted.
Also, accidents happen, and it could be that you deleted your photos by mistake from the external storage devices or your PC. This situation can be frustrating because it is impossible to go back in time, to that day when you had the best family trip to Hawaii, to retake those lovely photos. Luckily, these deleted pictures do not get lost as fast from storage media. There is an excellent to get some, or even all, of them before they are overwritten.
Since these pictures mean a lot to you, you should also know the safest methods to solve the question, how to get back my deleted photos.
Part 1: Can I get Deleted Photos Back
If you have a routine that you follow religiously like me, then let us say it is Sunday. Sundays are basically for decluttering your environment and gadgets.
So you, fast forward to cleaning up your PC or phone or camera. You get so engrossed in deleting WhatsApp images (especially those from group chats) and bum! You remove the photo you took on a girls' night out with your best friend! You scream, 'I have deleted my photos by mistake."
The worst part is that it was the only copy remaining since your friend's phone fell in the bathtub and the photos on it got lost! Neither of you had backed them up.
You freak out and start wondering can I get deleted photos back?
Well, freak no more. Deleted pictures can be restored from storage devices. There are various ways of getting back lost photos, thanks to ever-evolving technology. There are software and applications available on the Internet with clear guidelines on retrieving deleted photos. Also operating systems like Windows and iOS try to minimize the accidental data losses with their Recycle Bin, and Trash feature. These two folders can be the PCs own the first line of backup and defense against data loss as they temporarily store deleted files until you get rid of them by using the Delete button on your keyboard.
In our second section, we will look at the best third party software to help you get all deleted photos back.
So, if you are someone who is still wondering how to take back deleted photos, then read on.
Part 2: How to Get Back the Deleted Photos
When you take pictures, you mostly stored them in one file on the computer since it is a very convenient way of finding the photos when you want. Losing these photos is as easy by mistaken deletion or formatting.
Sad, right?
When it happens, be advised to get a deleted photos recovery program to help you restore them.
Lucky enough, there is just the best software to get deleted pics back called Recoverit Photo Recovery. Check out its honest user review below:
Introduction - Recoverit Photo Recovery
Recoverit Photo Recovery is a software that gives you the power to get back photos, movies, and music from all kinds of storage media. It enables you to recover deleted images from computer hard drives, digital cameras, Android phones, SD cards, etc.
The supported photo and video formats that can be recovered using the software are as follows:
List of photo formats: JPG, TIFF (TIF), PNG, BMP, GIF, PSD, CRW, CR2, NEF, ORF, RAF, SR2, MRW, DCR, WMF, DNG, ERF, RAW.
List of video formats: AVI, MOV, MKV, MP4, M4V, 3GP, 3G2, WMV, ASF, FLV, SWF, MPG, RM/RMVB, etc.
Now, let us delve deep into the processing of the Recoverit Photo Recovery tool to get back photos you deleted.
To use the software to recover your deleted photos in the laptop, you need to get Recoverit Photo Recovery downloaded and installed on the device. The software works excellent in both Windows and Mac operating systems.
Note: The steps taken to recover the photos, either permanently or recently deleted, are simple and straightforward.
We have outlined them below to make you understand its function better:
Launch Recoverit Photo Recovery and Select a location
Once you have launched the software, and securely installed on the PC, select the location from where you lost your photos, i.e., select the drive and then click on the Start button below.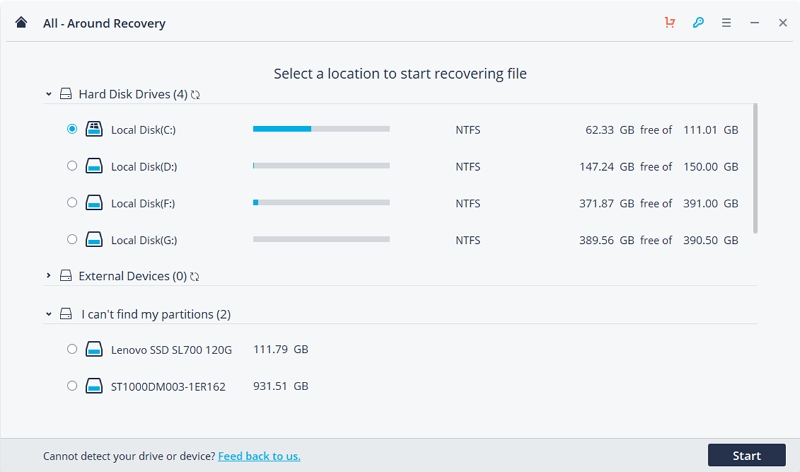 Wait for the software to scan
Now, Recoverit Photo Recovery toolkit will initiate a scan of the selected drive to find all the media files including the deleted photos. You can also browse through the archives on your own during the scanning process.
Note: Please ensure there is no power or battery disturbance during the process.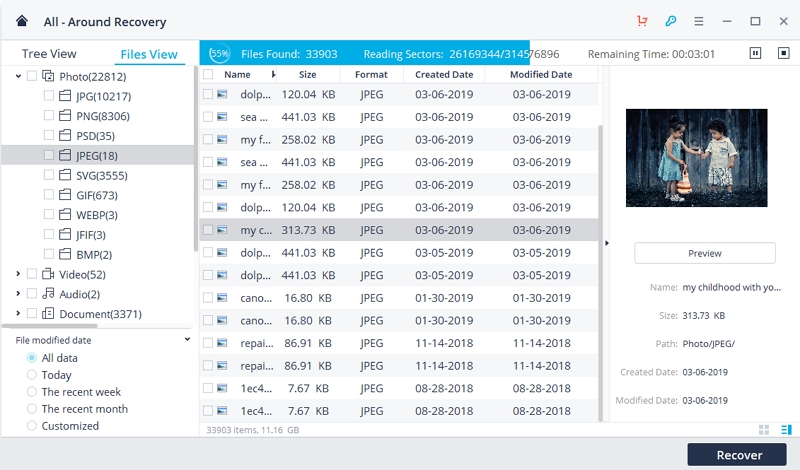 Preview photos to get them back
In the final step, once you see all the deleted photos listed on the screen, you can preview each file and select the ones you want to get back. Lastly, hit the Recover button to get deleted pics back.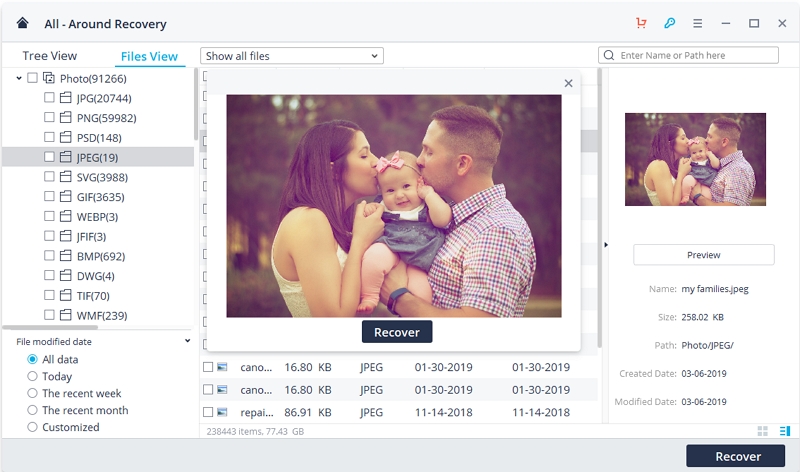 Note: To avoid duplication or the recovered photos being overwritten, avoid saving the above images in the same folder.
Also, make sure that you need them on a safer device or back them up, to avoid losing them again.
From the above steps, it is evident that using the photo recovery toolkit from Wondershare Technologies to get the deleted photos back is fast and straightforward. Recoverit Photo Recovery is the safest and most secure software to use since it doesn't mess up with your computer system and keeps your privacy intact. Plus it has a free trial period.
You can find the software on:
Recover lost or deleted photos, audios, music, videos and movies in all formats effectively, safely and completely.
Support deleted photo recovery from memory card, flash drive, SD card, Android cell phone, digital camera and camcorders.
Recover pictures under different situations, like sudden deletion, formatting, hard drive corruption, virus attack, system crash, etc.
Support to create a WinPE bootable media and recover inaccessible data from a crashed or unbootable system on Windows computers.
4,027,239 people have downloaded it
In our next section, we shall look at some common ways you can try to take back deleted photos from your device.
Part 3: How to Get Back Photos You Deleted on a PC
If you want to know how to get back photos you deleted from the computer, then you should have a look at the following methods:
For Windows operating system, there are two ways:
How to Get Deleted Images from Recycle Bin
When you delete photos in your PC using the DELETE function, they go to the Recycle Bin. Here they are stored until the next cause of action. So, if you have deleted the data in the Recycle Bin unknowingly and happen to look for answers to how to get to recently deleted photos, below are steps you should look at:
First of all, double click on the Recycle Bin icon to open it.
Now, go ahead to choose the images you wish to restore.
For the last step, do a right click, and tap on "Restore" to undo the deletion and get back the deleted images from Recycle Bin.
There you go, you can now go back to the storage location of the pics before the loss to confirm complete retrieval.
Note: However, if you delete images using "Shift + Delete" keys or you empty your Recycle Bin, you permanently lose your pictures. This feature is void in such a case.
You have to resort the Recoverit Photo Recovery software mentioned in the previous section to get back deleted pictures.
How to Get the Deleted Photos Back from File History
Now, those of you who have a good habit of taking a backup of your data can quickly get back your deleted photos from the backup. This backup can be a Cloud storage backup, an External Hard Drive backup or File History.
File History is a vital tool present in both Windows 8 and Windows 10 version. It backs up your computer data (photos, videos, documents, etc.) automatically. It makes backup and restoration of lost data as easy as a piece of cake.
Here is how you go about recovering deleted photos;
Your first step must be to visit the folder from where your images were removed by typing "File History" in your computer's search box. When you find it, choose to "Restore your Files with File History."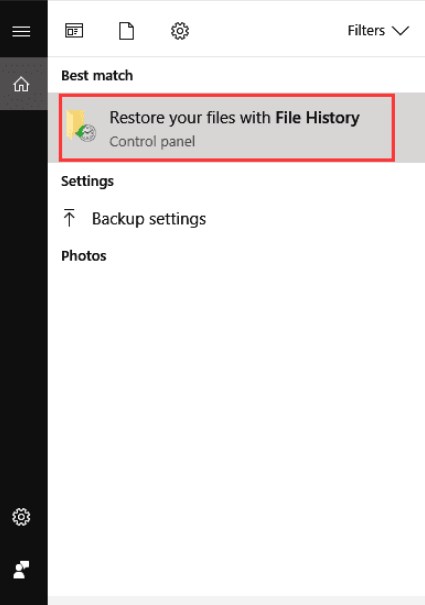 Now, search for the photos you would like to recover. You can also choose to view all the folder backup versions. When you find your lost photos that you are looking for, select them all, and then click on the "Green" button for restoring.
A dialog box is supposed to appear after executing the above step. When it does, select "Replace the file in the destination" option to recover your deleted pictures.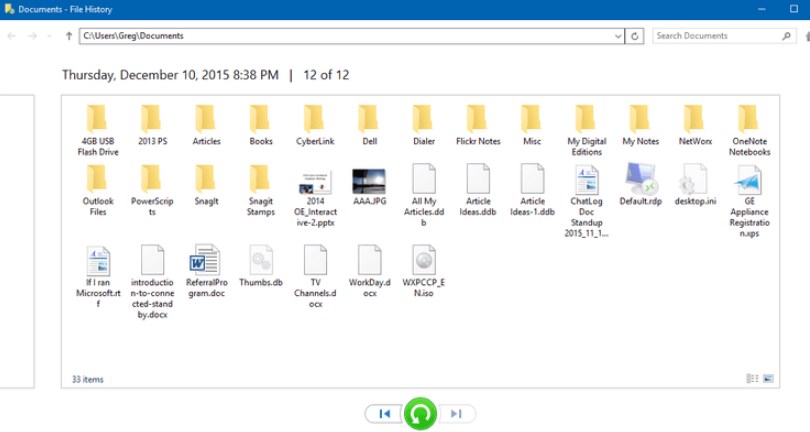 It is important to note that this feature is only available in the Windows 8 and Windows 10 versions. Therefore, those with Windows versions below 8 are at a significant disadvantage. Such owners can use the Recoverit Photo Recovery software which is not limited to a particular Windows version.
Now, let us move on to how to get back deleted images from Mac operating system:
How to Get Back Deleted Photos from Mac Trash
To recover deleted photos from Mac Trash, you need to download Recoverit photo recovery software on your Mac system.
After downloading the software, follow the steps below:
Select the Trash recovery mode to start.
Recoverit Mac data recovery will start a quick scan automatically to search for your lost pics.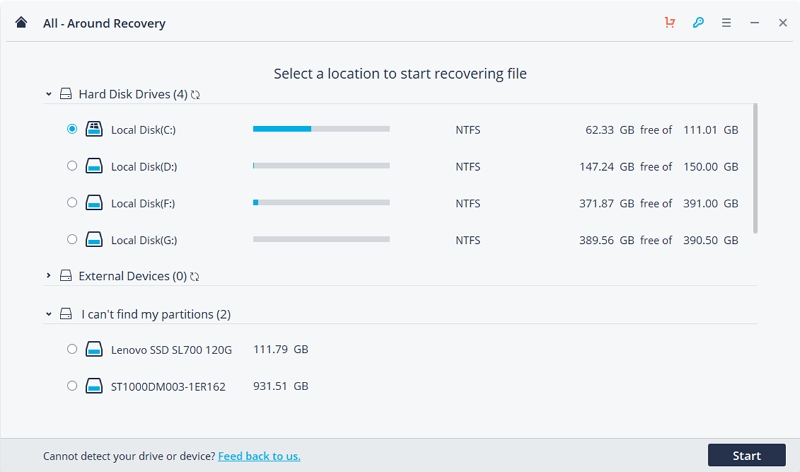 Now, preview and recover deleted pictures from Mac Trash. Once the scan is over, the found files will display in folders.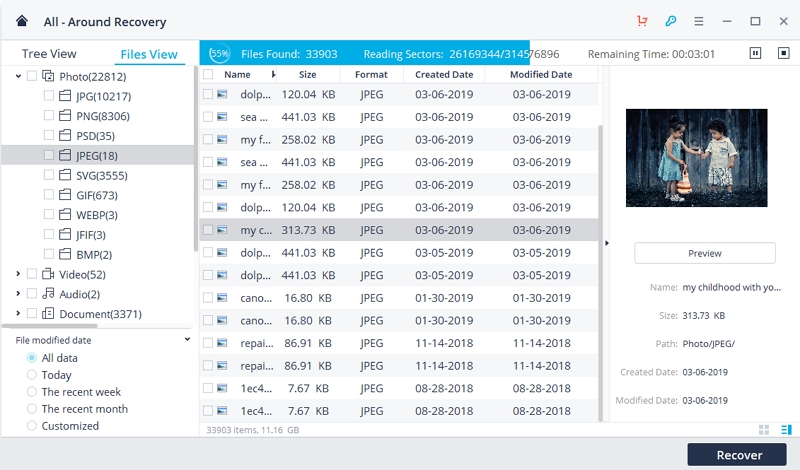 Lastly, click on "Recover" to get your deleted photos back with Recoverit photo recovery tool.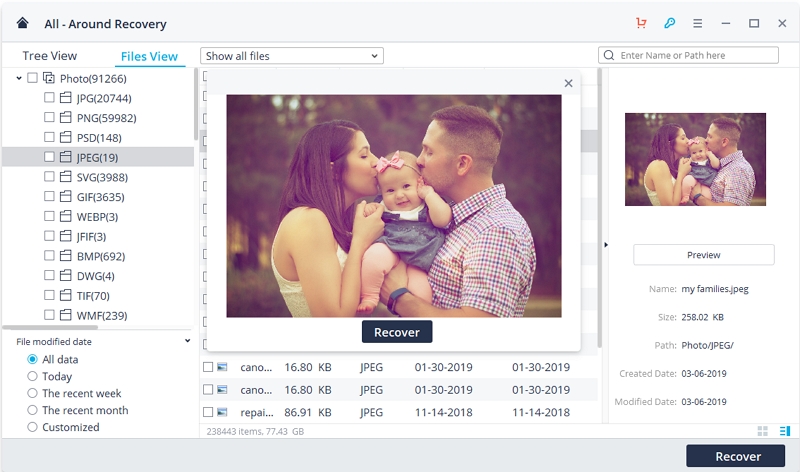 Note: Please take care to restore the retrieved photos to another partition on your Mac to avoid them from being overwritten.
How to Get Recently Deleted Photos on Mac
When you delete a photo on Mac, you get a 30-day grace period which gives you a chance to get back the pics before 30 days lapse. You can quickly go to the Recently Deleted album and recover the pics. Here are the steps:
First, you need to open Photos, then select Albums from the column on the left, and double click on the Recently Deleted option.
You will see thumbnails of photos and videos you deleted recently and a caption under each one of them showing how much time is left. Select the pics you wish to retrieve.
Next, click Recover at the top right.
That's how you can get back recently deleted photos from Mac.
Part 4: Common Causes of Your Deleted Photos
As you all must be aware, several reasons can cause loss of media files stored in memory card ranging from improper handling to technical glitches. Here are a few common reasons for photo loss on a PC, SD card or External Devices, we have listed below:
Accidental deletion.
Formatting of storage devices.
Virus infection in the storage device.
Improper insertion or removal of the memory card from/in the camera, computer, etc.
Removing the memory card from the computer while its contents are open or in the process of transfer.
Clicking photos when the camera is low on battery interferes with the photo writing process.
Pulling out the memory card when the camera is still on.
Clicking pictures rapidly without giving sufficient time to the camera to write over the memory card.
Ignoring warnings, like 'memory full.'
Sudden power cut while transferring files to a computer.
Using the same camera in different devices without formatting it first.
In the event, you end up losing your photos in one way or the other, once in a while, do not get stressed at any cost. You have Recoverit Photo Recovery software to cover you when the worst happens, and you have permanently deleted photos by mistake.
Conclusion:
Each one of us takes photos every day of our lives. These pictures are our way of keeping memories of happy moments (birthdays, graduations, weddings, trips, family times) alive, and for some of you, it may be ways to track your daily progress.
Please remember, the most convenient way of safely storing all these photos is to save all in one single folder on your computer or storage device. However, no place can be considered 100% safe, and pictures can get lost for any rhyme or reason.
Luckily, we have Recoverit Photo Recovery software which is the best, and the fastest way to get back the deleted photos even the ones you have lost recovering permanently.
Photo Recovery
Recover Photos from Camera

Recover Photo from SD Card
>
How-to
>
Data Recovery Solutions
> How to Get Back the Deleted Photos from PC, SD Card or External Devices