How to Get Deleted Photos from Mobile
While freeing up the memory from your phone, have you accidently deleted some of your valuable pictures? Wondering how to get deleted photos from mobile? Worry not! You have reached the right place. Whether you are an Android phone user or iPhone we will guide you how can recover deleted photos from mobile.
The mobile phone has become a vital part of our life. We make sweet memories by capturing the enjoyable moments in mobiles. Sometimes while clearing some of the vague or not required pictures, our precious captured moments are also deleted in the motion.
A deleted picture never gets deleted permanently; it just frees up some space in your mobile. With emerging technologies, there is always a better way to retrieve photos from the phone.
Part 1:How to Recover Deleted Photos from Android Mobile
The internal storage of our phones is restricted. To expand the memory, we use SD cards. But SD card can develop some faults at a time, or you can unintentionally delete some of your pictures.
Pictures are the most valuable assets of life. Whether they are deleted through carelessness or due to some internal phone issue; you have lost your precious moments. You must be desperate to know a way about how to recover deleted camera photos from android phone?
Few things to remember for recovering lost files:
The moment you lose pictures from your Android phone, keep your device idle as there is a possibility that your lost data gets overwritten with new files. If this happens, it decreases the data recovery rate.
Turn off mobile data and Wi-Fi. It can also save new data on your device.
Powerful Photo recovery software can retrieve all your deleted photographs.
There are many ways of recovering lost photos on Android:
Recover Photos from Cloud
Cloud and photo apps backup your phone's pictures in the background. Having them on your phone, saves you from facing the trauma of lost photos. If you accidently delete a photo from your gallery, it gets stored in the backup with cloud service.
Recover Photos Using Recovery Software
Connect your SD card with your desktop computer and recover your lost photos by installing photo recovery software on to your laptop or desktop.
Recover on Rooted Phone
Try recovering your lost data by rooting your phone. But this step requires wiping your device that increases the risk of deleted data being overwritten and lost forever.
Recoverit Photo Recovery - Best Android Picture Recovery Software
When you are wondering "how can I recover my deleted photos from android" Recoverit is your savior. Recoverit is the app to recover deleted photos from android phone. It is the most reliable software that makes data recovery easier and faster.
Photo recovery from your Android phone is done hassle free for Android phone models Samsung, Nokia, Blackberry, Windows phone, Nexus, Motorola, HTC and many more.
Features and functions of the software:
Recover photos of formats JPG, JPEG, BMP, PNG, GIF, PSD, CRW, WMF, DNG, RAW, TIF, etc.
Uses regular and deep scanning to ensure recovery of photos from all sources.
Supports photo recovery from SD card.
Recovered content is provided to let users preview it and restore lost photos on android to their selected location
Advanced data analyzer supports virus attack, lost partition, formatted disk, and other major scenarios.
Restores 10 free media files without the limit of file size.
Recover lost or deleted photos, audios, music, videos and movies in all formats effectively, safely and completely.
Support deleted photo recovery from memory card, flash drive, SD card, Android cell phone, digital camera and camcorders.
Recover pictures under different situations, like sudden deletion, formatting, hard drive corruption, virus attack, system crash, etc.
Support to create a WinPE bootable media and recover inaccessible data from a crashed or unbootable system on Windows computers.
4,027,239 people have downloaded it
Doesn't matter how you lost your important pictures, the comprehensive and professional software, is par above your expectations while recovering lost photos.
How to Recover Deleted Pics from Android SD Card
Get the deleted or lost pictures from android SD card easily with Recoverit free download and by following the following these steps.
Step 1: Select Data Recovery Mode
Download and install Recoverit on to your computer. Remove SD card from the phone and connect it with a laptop or computer. Launch data recovery software to recover pictures from android phone. Start by selecting "External Devices Recovery."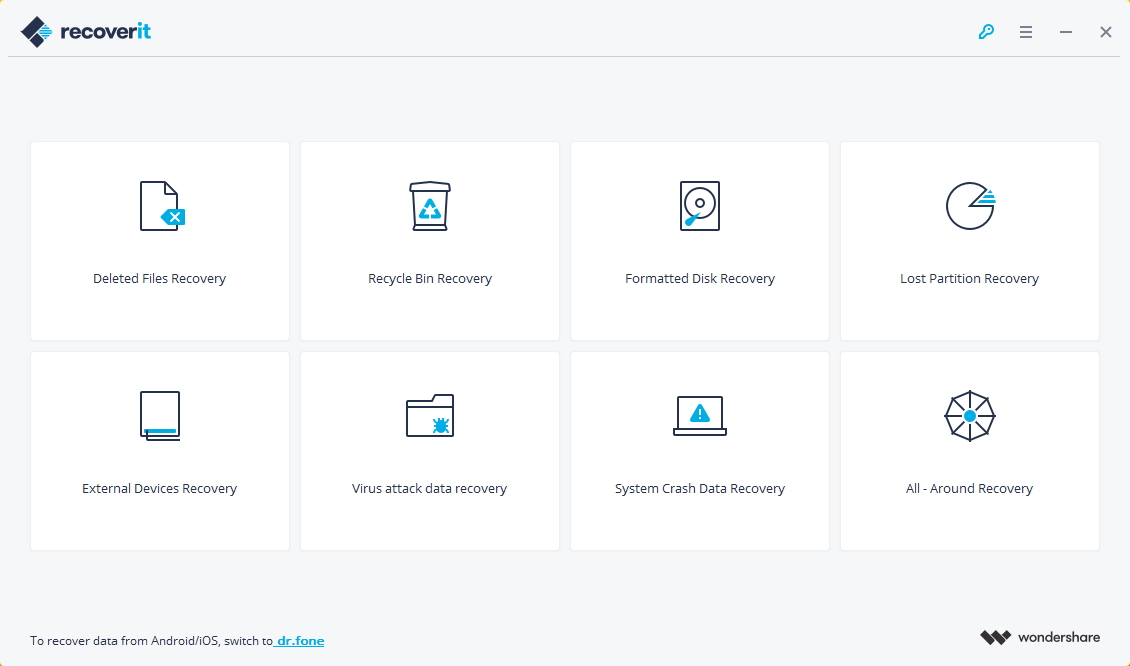 Step 2: Select Micro SD Card
Ensure the connection of SD card with the computer. After selecting the Micro SD card, click on the recover icon to process recovery of your deleted pictures from SD card.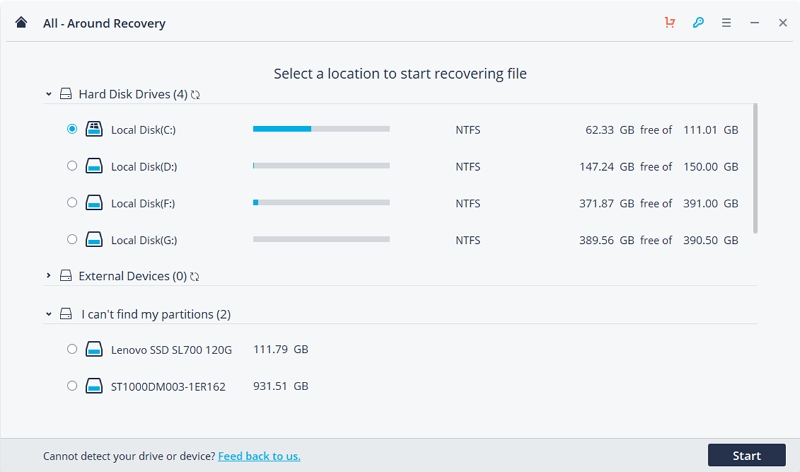 Step 3: Scan Android Phone SD Card
Start scanning of your SD card with the Recoverit data recovery software. After performing the first scan, scan again for searching more files from your SD card with "All-Around Recovery." It will take some time to search for the remaining files.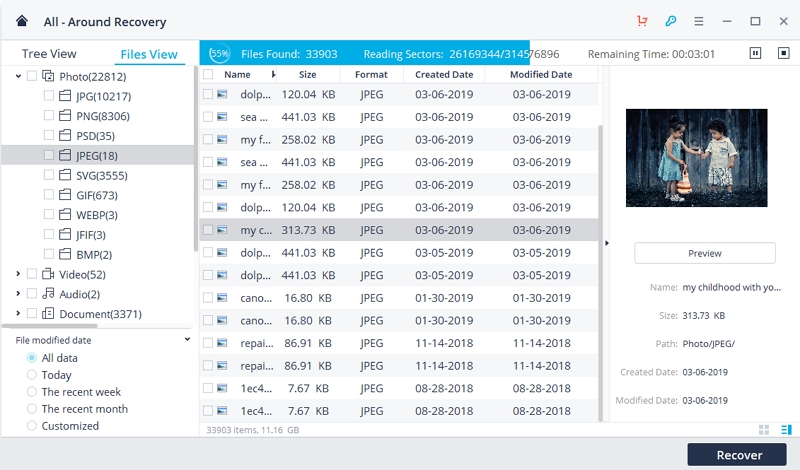 Step 4: Preview and Recover Your Deleted Photos
Once the scanning gets complete, check all the recovered files. Recoverit gives the option of previewing retrieved deleted photos from mobile. Select the images by clicking on the recover button and save them to a safe device.
Micro SD card is a popular medium used in Android phones for an external storage medium. Immediately download Recoverit for retrieving data.
This program is designed only to recover files from SD card.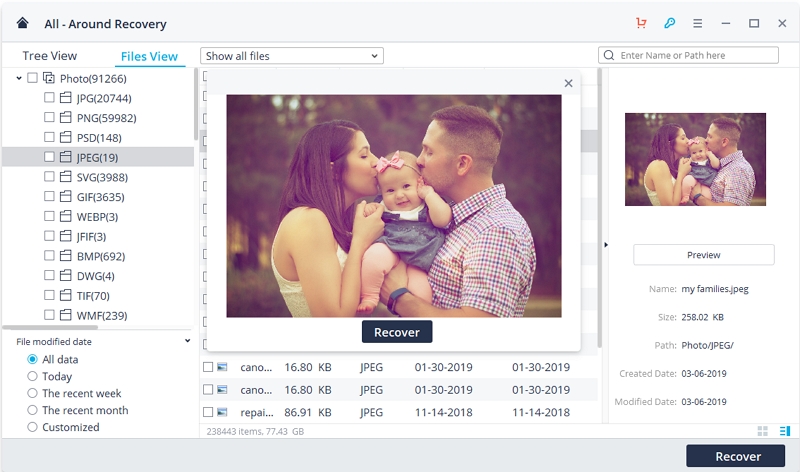 Part 2: How to Recover Deleted Photos from iPhone
You were about to save and share a number of high-definition photos that you just clicked with your iPhone, but you accidently clicked on the delete button. Now, what to do? It's like a big disaster to you when you lose your memorable pictures. Don't lose hope; your iPhone deleted photos are recoverable.
Recover Deleted photos from iCloud
iOS users backup pictures to iCloud. If you have selected the auto backup, iCloud automatically backup pictures when iPhone is on the power source and connected to Wi-Fi. You can easily recover pictures from iCloud without fully restoring your device.
Recover from iTunes
If the clicked images are backed up on iTunes, these can be recovered from with Enigma data recovery tool. Scan the backup to find your lost pictures. The software can also be used to transfer and save your photos from iPhone to Mac or PC to keep them safe.
How to Retrieve Deleted Photos on iPhone
Apple has introduced a new Recently Deleted Feature in iPhone to recover deleted photos. If your iPhone is running iOS 8 or higher you can see Recently Deleted Album in the Photos App. It stores your deleted pictures for 30 days period.
So, you have enough time to retrieve iPhone deleted photos if you have unknowingly deleted any of the photographs.
Various things needed to be taken care of while retrieving deleted photos through Recently Deleted Feature.
It recovers only those pictures that are removed from camera roll and not from Recently Deleted Album.
The feature stores photos only for 30 days. Pictures get automatically deleted permanently when the set deadline completes.
It applies only to a single or a small number of deleted pictures. If your entire camera roll is lost while restoring iCloud, iDevice or iOS update, photos can't be restored in this case.
Recover iPhone deleted photos with Recently Deleted Album by following these steps:
Step 1:
Click on photos from your home screen and switch to albums tab. Scroll down to reach till the end album icons; you will see a square-shaped trash icon there. It is above the "My Album" tab. Select on 'Recently Deleted'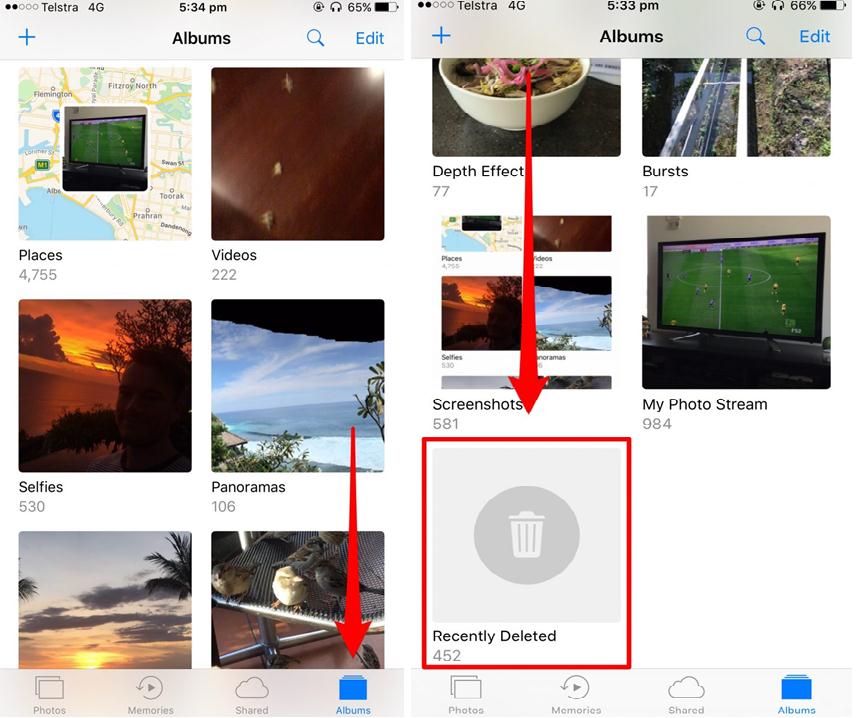 Step 2
All your deleted photos are saved here to get permanently deleted after a grace period of 30 days. Your pictures are in descending order- starting from most recent deletion to ending with the picture whose period is getting close to 30 days.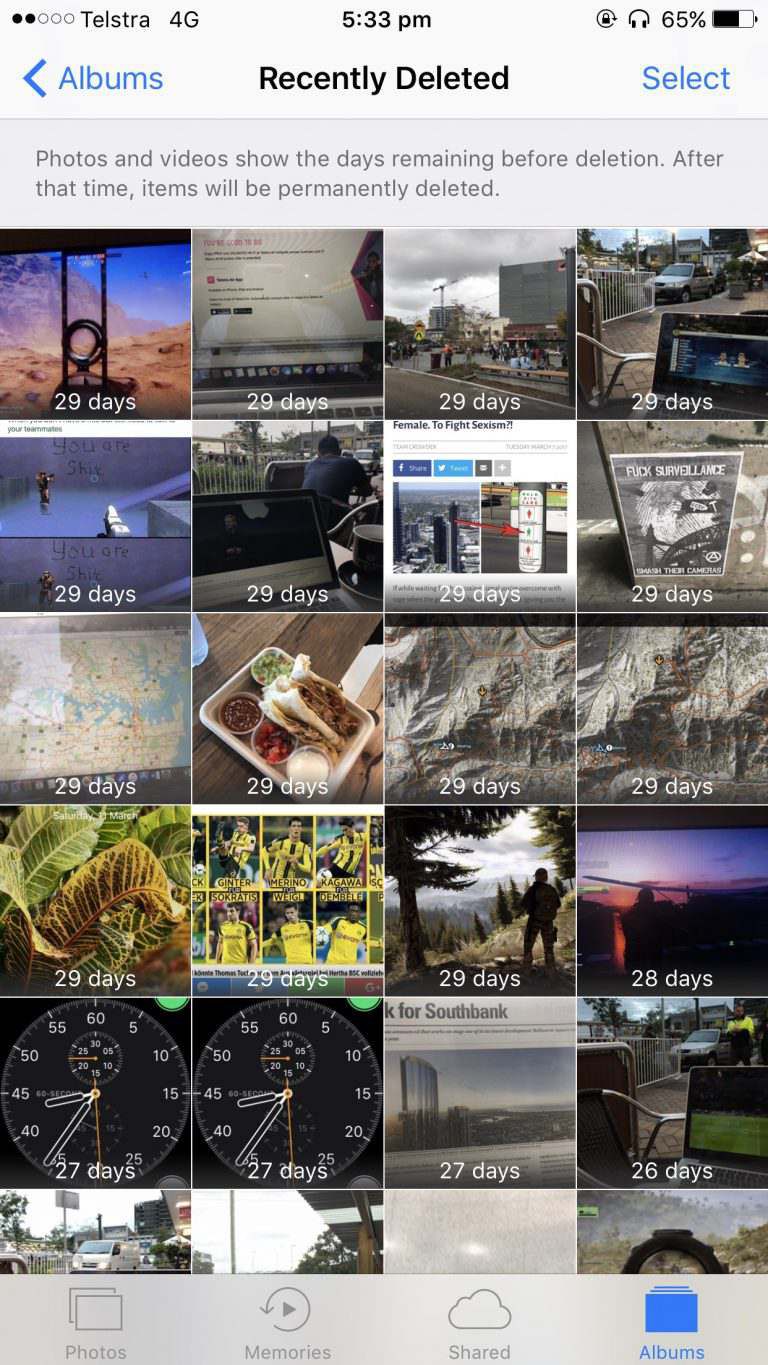 Step 3
After tracking your deleted photo you can click on a single picture to recover it. Or restore multiple photos by marking them all together.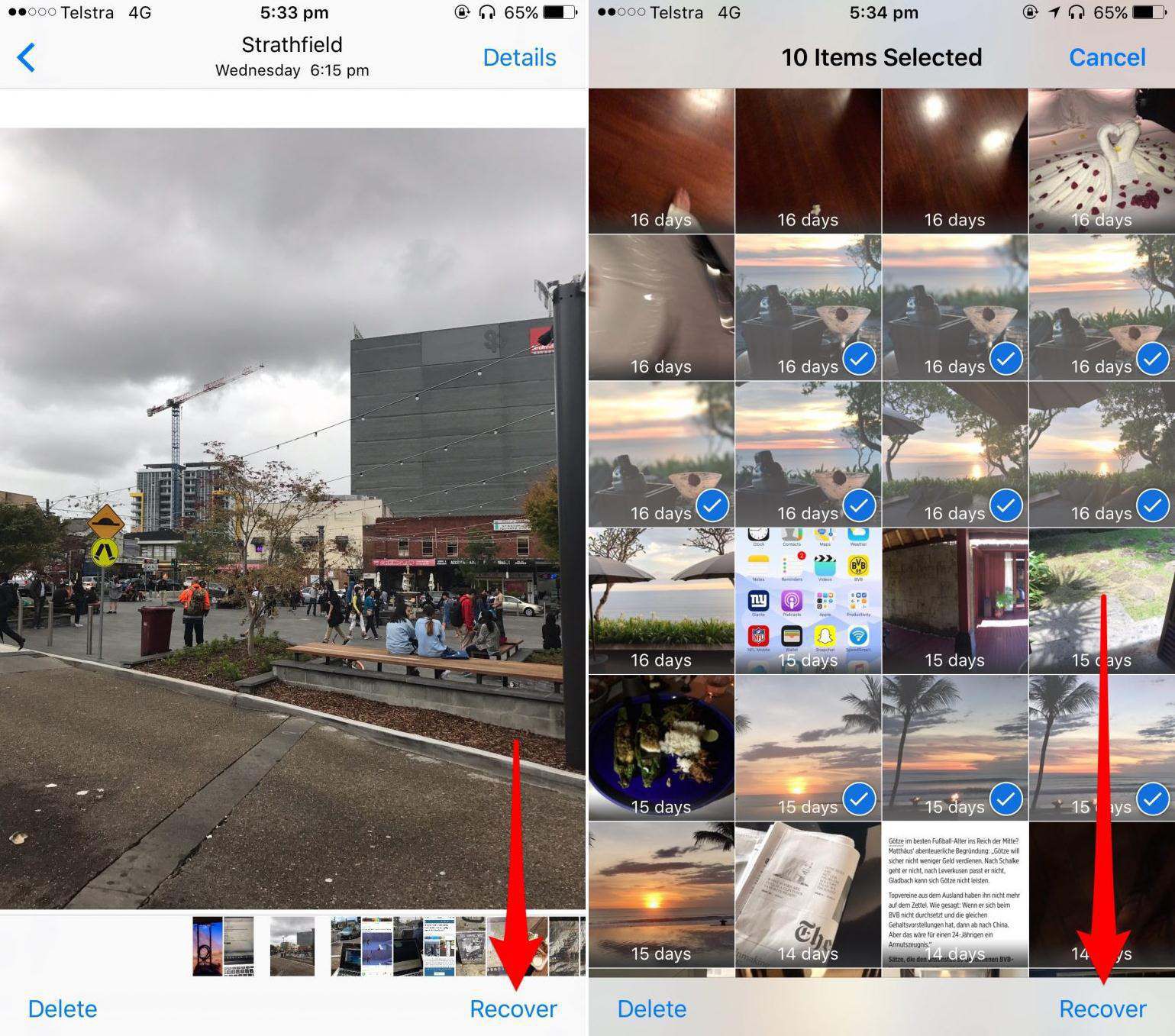 Step 5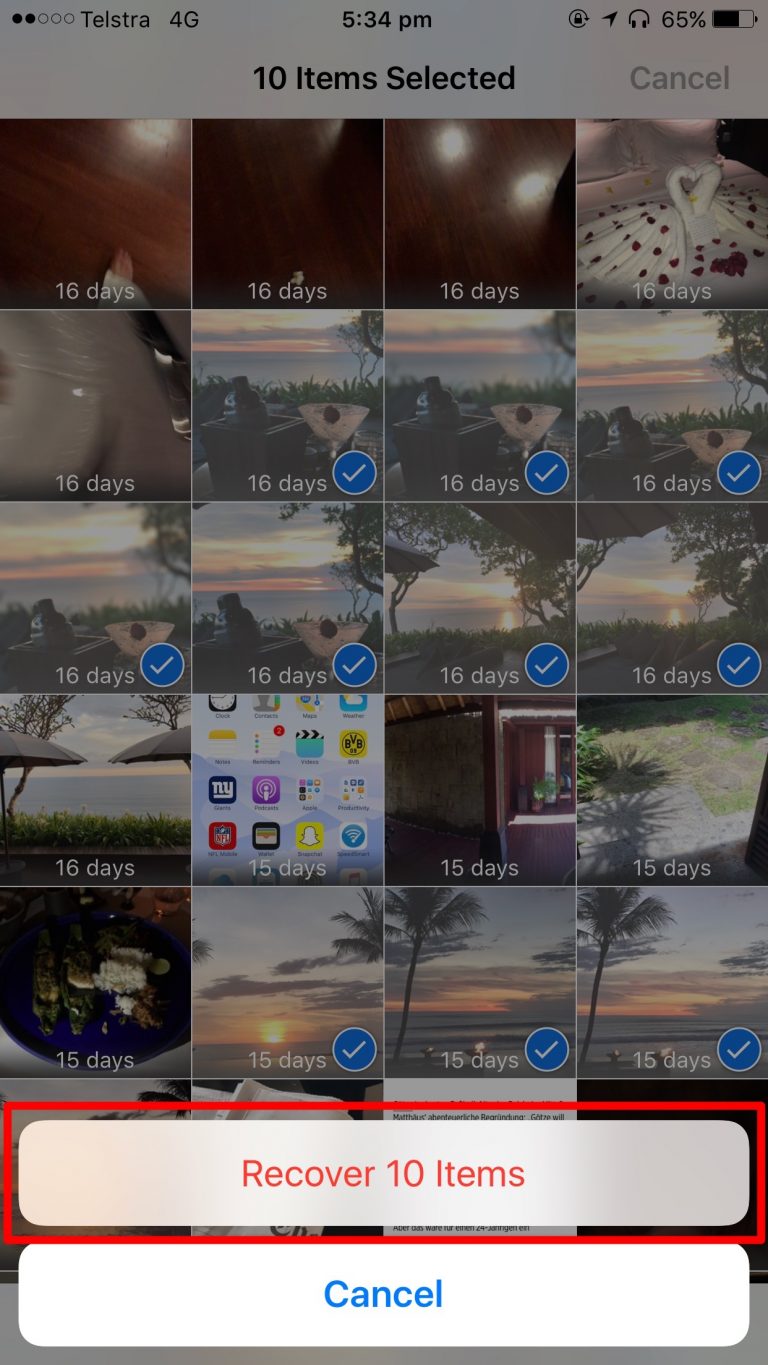 Heaved a sigh of relief! Now you have all your pictures in your camera roll.
How to Restore Photos from iCloud
iCloud a cloud computing service that stores and shares your devices photos and other documents. It can even be used to find your lost device and is an ideal repository for Apple users to restore deleted photos from iPhone.
iPhone deleted photos are recoverable from iCloud in different ways.
Option1: Recover iPhone deleted photos from iCloud with Full Restore
While restoring with iCloud backup, all the data and settings of your iPhone get erased. You need to be entirely sure that your selected backup contains your deleted photos else you may end up losing more photographs.
To proceed with this option go on the following path:
Settings -> General -> Reset -> Erase All Content and Settings -> Erase iPhone -> Select Restore from iCloud Backup -> select the iCloud backup that consists of your required images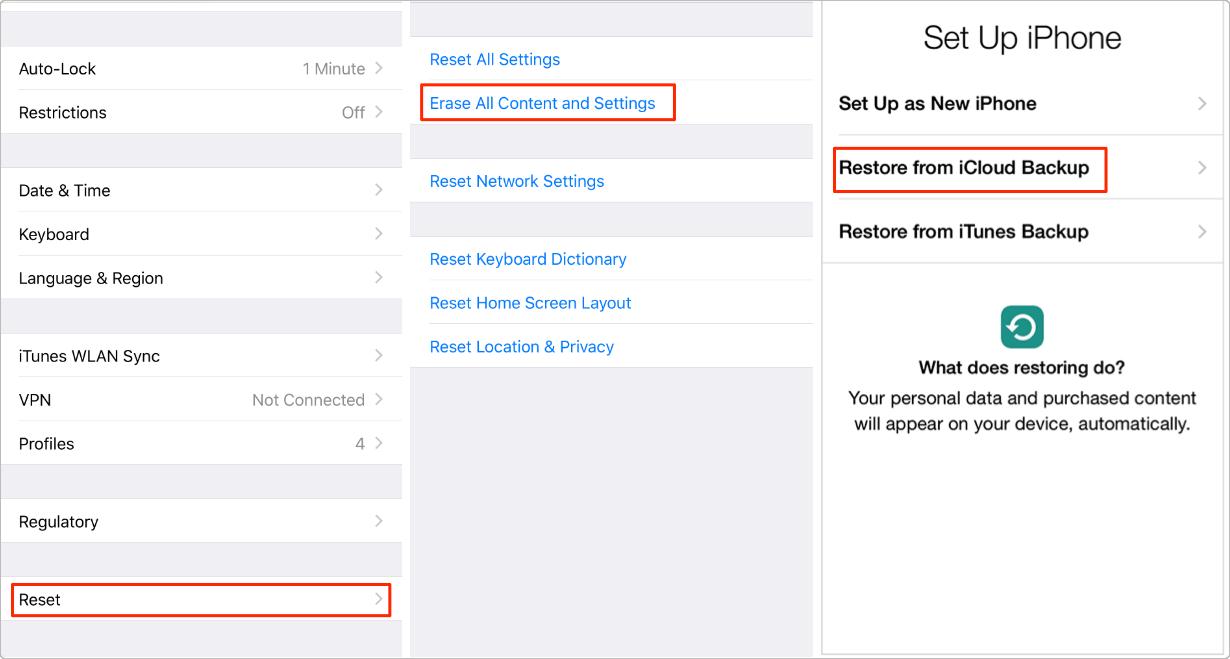 Option2: Recover iPhone deleted photos from iCloud drive
If you are uploading your pictures on iCloud drive, you can retrieve by signing into icloud.com and clicking on iCloud Drive. Select your images and download them.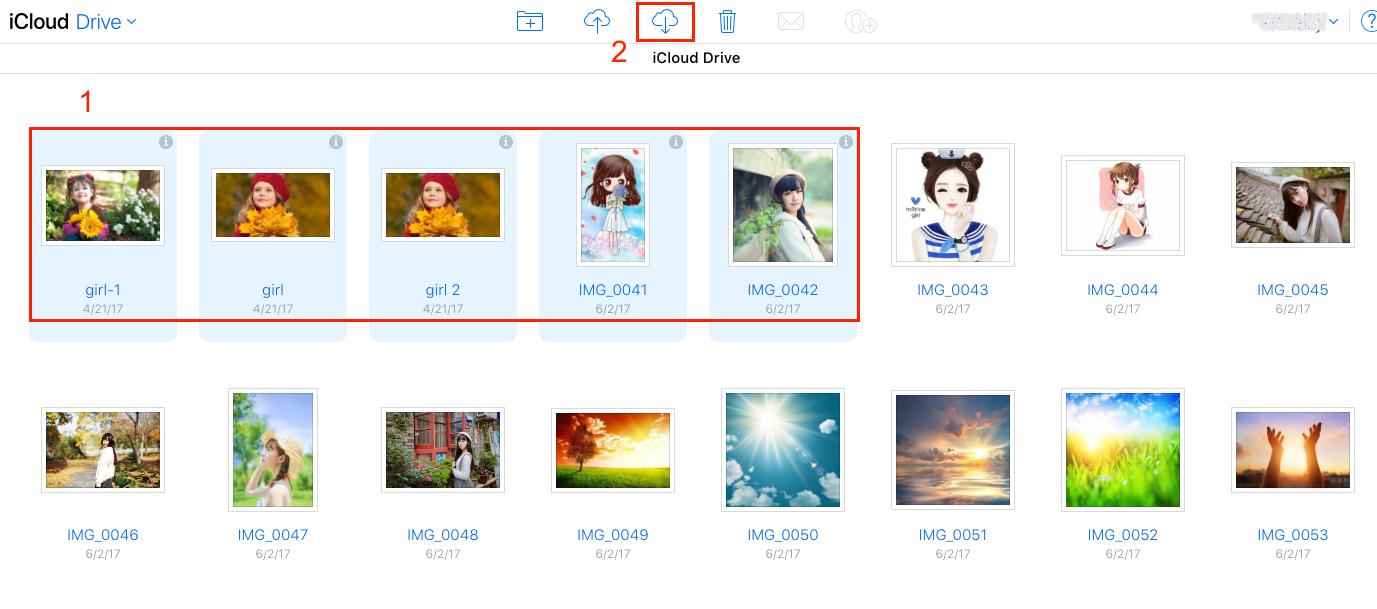 Part 3: Scenarios of Lost Photos from Mobile Phone
Everyone likes to capture precious moments in the form of images or videos. You won't be able to endure the loss of those priceless images. But there are instances when unintentionally or due to some malfunction you lose your captured memories:
Formatting
Formatting is done to erase data and make your device fresh. Sometimes while formatting your device, you accidently select to format your memory card as well. This results in loss of your treasured captured images.
Auto Ejection and Forced Ejection of SD Card
SD card in mobile phones is present in a separate slot. Sometimes SD card unmounts accidentally, and they corrupt stored photographs if not installed correctly.
A little carelessness and improper or forced ejection of SD card from the mobile phone can corrupt your SD card. It would be better to eject the SD card by selecting it from phone to safely unmount it.
Camera Roll Crash
Either accidently or sometimes due to some technical issue, iPhone users face a camera roll crash. When this unexpected situation strikes, you are left with the deletion of your cherished memories. Camera roll crashes usually happen during jailbreak to download and install programs from unauthorized places.
iOS updation also leads to crash of camera roll, because of non-compatible iOS or failure of iOS updation.
Virus Attack
SD cards have a limited memory. During an attempt to free up memory by transferring your images to your laptop, you may get your SD infected if your laptop or computer contains the virus. This can corrupt your SD card which will result in loss of data.
Synchronization Error
iPhone syncs your captured images to iCloud, but you need to connect your device to iCloud. Ensure your Apple ID has enabled this feature and iCloud has enough storage space, else you lose your pictures that are not backed up.
Part 4: Tips on Phone Photo Recovery
Whenever you face a photo loss scenario, you need to deal with it immediately and find ways to retrieve photos from the phone. Digital images are recoverable if timely action is taken. Make sure you don't use your device, once a file loses till the time it's not recovered. Else data can be overwritten, and this will lose all chances of photo recovery.
Tips Against Photo Loss
Whenever you click a photograph, it's always recommended to often take backups. A digital device can in-occur malfunction anytime. A scheduled backup can save you from losing your important data.
A cloud storage service is vital to back up data of the device which avoids relying on hard drives. You need to have reliable internet to allow uninterrupted backup for cloud service.
Never Click Photos On Low Battery
Most of the memory loss occurs during the interrupted read/write process. This happens when the camera was not shut down properly especially during low batteries. When your device flashes low battery, it's advisable to avoid clicking photographs at that duration to save your data card from getting corrupted or losing your important pictures.
Tips for Phone Photo Recovery
Ever lost your photos from your mobile don't panic. While you are wondering about how to restore deleted photos in mobile, considers these important tips for achieving the best results:
Stop using your data card the moment you witness an unusual behavior of SD card.
Using a card reader device for recovering images would be a better choice than a cord and direct camera connection.
While formatting, camera by-default chooses "complete format," change it to "quick format." This way if your card is accidentally formatted you can still recover files, but during complete format, the data gets overwritten and becomes unrecoverable.
Closing Words:
Losing photos from gallery happens frequently. Till the time your pictures are stored on a removable media like SD card, these are easily recoverable.
Deleted photos are recoverable with the best photo recovery software's; it is also preferable to use secondary storage media like cloud services for backups. This ensures a safe and smooth recovery medium for deleted images. Saving data on the same media minimizes recovery chances because of overwriting of sectors.
So, the next time you face with an unintentional deletion of your favorite pictures, consider free downloading Recoverit that gives you a chance to recover back your deleted images.
Photo Recovery
Recover Photos from Camera

Recover Photo from SD Card