Memory Card Errors and Solutions on Canon Camera
Whether you are a new canon camera user or have been using it since a long time, you might have come across error codes appearing on the camera's screen. The error codes include Err 01, Err 02, Err 03, Err 04, and more. However, these error code issues include battery issues, play back image display error, full card message, and a number of memory card errors.
Although canon cameras are quite reliable, the memory card errors are known to cause many performance issues.
If you have also been facing memory card error canon lately, you have landed at the right page. We have compiled all the canon camera card errors and solutions to resolve them.
Read here:
Part 1: How to Fix Canon Memory Card Errors
There is no denying that having a memory card with your canon camera serves as a great storage option. But did you know that the card is also prone to several errors? There are instances when it is not recognized or found. However, at other times, it shows the card's capacity as full and does not let you shoot.
Further, there are many other canon memory card errors that may face. Here are some of them with their quick solutions.
• Err 02
Message:
You get Err 02 message when the camera is unable to read or access the memory card.
During this issue, the camera is unable to access the information or read the card. But here is how can fix it.
Solution
Check the SD card you are using is compatible with your canon camera.
Eject and re-insert the memory card.
Format the memory card by using the process mentioned in the camera's manual.
If formatting does not work, try replacing the card with a new one.
• Err 03
Message: Lots of folders saved on the memory card.
This error occurs when numerous folders are on the card, and the camera is unable to access the default folders to save the new photos.
During this issue, the camera is unable to access the information or read the card. But here is how can fix it.
Solution
To reduce the folders, move the folders from your memory card to PC and then delete them from the card.
If you do not want to delete the folder from the card, you can replace it with a formatted card in your Canon camera.
• Err 04
Message: Memory card storage is full.
This error means that your canon is unable to save new photos as the memory card is full.
Solution
Delete unwanted or badly clicked photos and videos from the camera and free up space. Canon also gives you an option to delete all the photos at once.
Move photos on an external storage device and then format the card.
• Err 10
Message: A file system malfunction is detected.
The Err 10 occurs if there is an issue with the file system or software of the camera. However, the solutions related to this error are quite simple.
Solution
Switch off the camera, remove the battery, wait for 15-20 seconds, and then re-install the battery in it. Now, switch on the camera again.
Follow the above process. But instead of removing the battery, eject memory card and then reinsert it. Switch on the camera again after a while.
• Err 99
Message:
This is a general canon camera error and can occur due to different causes. However, the message displayed is that shooting is not possible.
Solution
Switch off the camera, remove the battery, wait for 15-20 seconds, and then re-install the battery in it. Now, switch on the camera again.
Try cleaning the camera lens, flash or another electrical contact gently with the use of dry and clean cloth. But as you clean the lens, make sure you do not damage the lens surface.
Part 2: How to Fix Specific Memory Card Problems on Canon Camera
Now that you understand the Canon camera error codes and solution associated with it, here are some specific memory card problems that you may encounter.
The memory card issues include no access to photos and videos, memory card goes unreadable, the card gets locked, or photos and videos are lost. So, if you face any of them, here are their easy fixes:
Problem 1: Photos & Videos Are Inaccessible
As you go through your photos and videos, there are times when you are unable to access them. In case, if you ignore the error, there is a chance that it might lead to a permanent loss.
Cause
The photos and videos go inaccessible due to various issues. There is a chance that the file system is not working, the card is not functional due to a virus attack, or memory card is physically damaged.
But the solution to this problem is easy to perform.
Solution
Eject the SD card from the camera. Attach it to your computer, and check if you can access photos or not.
If the above solution does not work, use recovery software such as Recoverit that will help you retrieve photos and videos of almost every format.
Problem 2: Memory Card Can't Be Read
At times, you accidentally attach a corrupt memory card to your camera due to which it goes unreadable. If the memory card can't be read by the camera, the camera will not be able to store new photos or videos.
Cause
There are two main causes of this problem including:
The memory card is not compatible with your canon.
The card runs a file system that is not supported by your camera.
It is infected with malware or virus.
Solution
Check that the memory card is properly in the canon device.
Make sure that card is compatible with your camera.
You can also eject it and try inserting it again.
If none of the above solution works; insert the card in your computer, format it, and then attach it to your camera again.
Problem 3: Slow Speed to Transfer Data
While you transfer your media files from the camera to computer or other external storage devices, the transfer speed gets slow. It takes a longer time than usual durations, and sometimes the delay is more than expected.
Cause
The slow transfer speed is due to a number of files present in the card.
Solution
Transfer some of the files to any external storage and make space for new data.
Check the compatibility of your memory card with the Canon camera.
Delete all the unwanted photos and video from SD card.
At last, format the memory card to solve the issue. You can also try resetting the camera.
Problem 4: Memory Card Is Locked
You might have seen it or not, but almost every memory card comes with a protection switch at the top left corner. If the lock switch is up, which is the unlock position, it will not let you modify content on the memory card.
On the other hand, if the lock switch is slid down, it means the card is in a locked position. When the locked situation occurs, you will not be able to modify or delete the content.
Cause
This problem occurs when the protection/lock switch gets slid down.
Solution
Unmount the memory card from your camera. Check the position of the protection switch. If the switch is down then probably your memory card is locked. You can slide it up, and then connect to your camera again.
Problem 5: Photos & Videos Are Lost
Canon digital camera captures best quality photos and videos. But there are unfortunate cases, due to which the photos get deleted or lost.
Cause
The causes include deleting them while organizing them or losing them due to the insufficient memory space, while you are trying to capture the new ones.
Solution
Whether your photos are deleted or lost, turn to recovery software such as Recoverit. Eject the memory card, connect it to your computer, run a scan using Recoverit, and it will retrieve your lost data with a recovery rate of more than 96%.
Part 3: How to Recover Inaccessible or Lost Data from Canon Camera
Introduction
When it comes to the top digital cameras, Canon camera grabs its position as one of them. But as you save or filter them, you accidentally hit the delete button or format the memory card, only to know that the data is permanently lost.
If you have been through this situation, here is how to recover lost or inaccessible data from Canon camera.
Recoverit Photo Recovery Software - Pick It for effective Canon Photo Recovery
Although there are a number of recovery software's available for data recovery, but we recommend Recoverit for Canon Photo Recovery.
This software recovers lost or deleted data with a high recovery rate. With advanced algorithm support and powerful data recovery solutions, it supports full and effective data recovery for all devices. The interface is easy to use and is suitable for the individual who has less or no technical experience.
This software supports the recovery of 550+ data formats, which includes images, emails, documents, multimedia files, and archives. Moreover, it can also recover lost or deleted data that get lost or deleted due to virus attacks, computer crash, and other file system issues.
Recover lost or deleted photos, audios, music, videos and movies in all formats effectively, safely and completely.
Support deleted photo recovery from memory card, flash drive, SD card, Android cell phone, digital camera and camcorders.
Recover pictures under different situations, like sudden deletion, formatting, hard drive corruption, virus attack, system crash, etc.
Support to create a WinPE bootable media and recover inaccessible data from a crashed or unbootable system on Windows computers.
4,027,239 people have downloaded it
How to Recover Camera Photos
Recoverit recovery software also retrieves the lost or deleted files from Canon camera's SD card. Whether you use a Windows system or Mac, it supports data recovery on both the OS.
Here is a comprehensive step by step guide that will help you recover camera photos seamlessly.
To start, unmount memory card from your canon camera and connect it to your computer. Download and install free Recoverit software and follow the below mentioned steps:
Step 1: Select a location
As the software lists all the detected data storage devices, choose the location from where the files got deleted.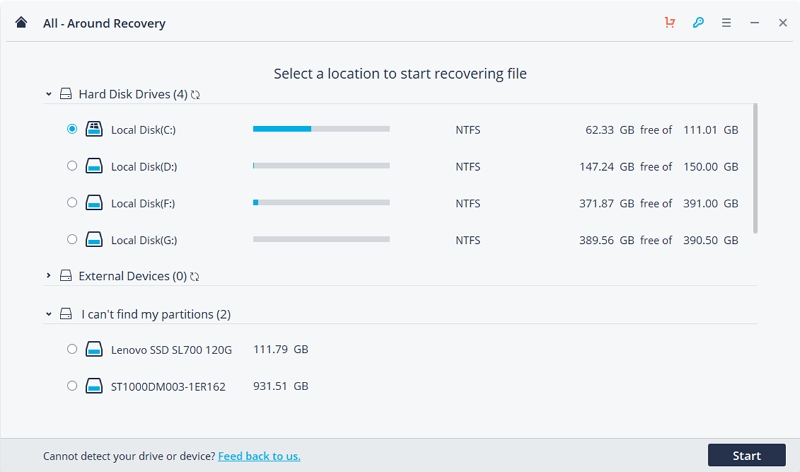 Step 2: Scan the camera SD card
As you start the process, Recoverit runs a deep scan and check the selected location thoroughly for the lost photos and videos.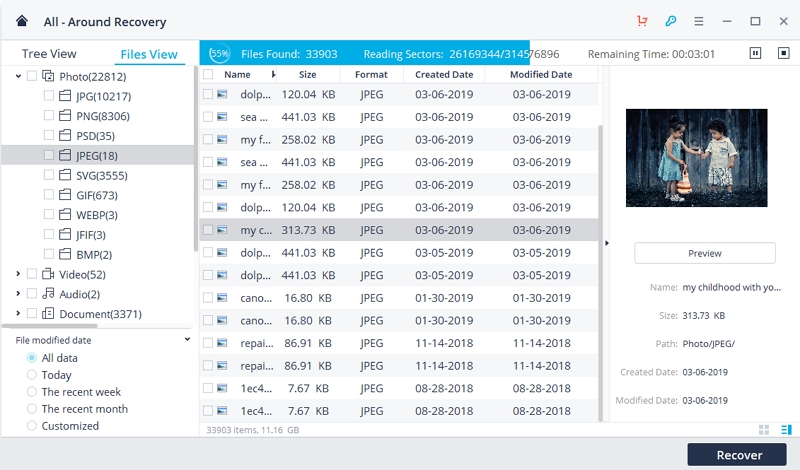 Step 3: Preview and recover lost data
After the completion of scan, you can preview all the retrieved photos in the left pane of the software. Now, select the photos you want to recover, and click on 'Recover' button to save them.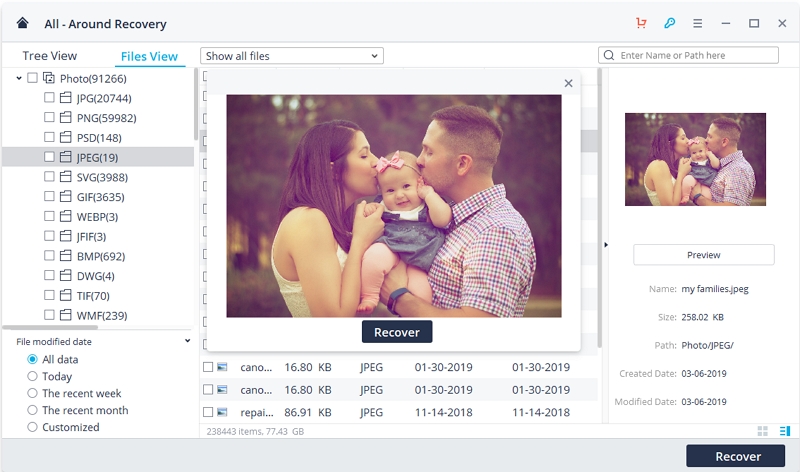 Note: Make sure that you don't save the files on the same location from where you lost them before.
Part 4: How to Maintain Your Canon Camera Memory Card
Many canon camera users think that photo loss is unavoidable. But do you know if you maintain your memory card, you can prevent photo loss cases?
Read here for five effective measures that can help you maintain your canon camera memory card:
1. Use a high-quality memory card and card reader
While all the card reader does is read the card, there is a chance that a low-quality one might damage it. Make sure that you choose a premium card reader as it allows accelerated work flow with fast image transfer speeds.
It reads your files fast and prevents the loss of your precious data.
2. Remove cards safely after connecting it to the computer
Whether you are transferring the files from memory card to the computer or uploading them to the system, make sure you follow the proper procedure to eject the card. Along with this, make sure that you turn off the camera before you take out the memory card from the device.
3. Format the memory card on regular intervals
Whenever you are inserting a memory card in the camera, be sure to format the card in your camera so that it is all set to work with the hardware. Moreover, take a regular backup of all your data, and do not forget to format the card properly once in a while.
4. Do not use the same card in multiple cameras
We often tend to use the same SD card in multiple cameras. But we don't recommend using one memory card in different cameras until you have removed all the important data from your card and saved them as a backup.
In case, if you switch the cards, it will corrupt all the data on your card and may also cause it to malfunction.
Regardless of the number of devices you use, use a dedicated card for each one of them to increase its lifespan.
5. Keep an eye on memory card's storage
Sometimes unknowingly we keep on shooting from our camera, even after the storage this full. If this case occurs, the memory card keeps on deleting the previous file and starts to add new. Moreover, this process also affects the performance of the card.
So, it is important to take the images off the camera, rather than doing it when it is full.
The Bottom Line:
We hope that by going through this article, you are well-versed on how you can solve memory card canon issues, and prevent photo loss, due to them. Irrespective of which error code you get, we have compiled all of them in the article along with their solutions.
But still, if you have lost or deleted the data, due to some unavoidable circumstances, give Recoverit a try. It works as one of the most reliable photo recovery solutions that help you retrieve data from any device in no time.
At last, make sure you prevent the photo loss by following the memory card maintenance tips.
Photo Recovery
Recover Photos from Camera

Recover Photo from SD Card