Photo Retriever Supports All Photos Recovery
Whether you have deleted all the images accidentally or lost all the edited photos when formatting the hard drive. Panic not! The good news is you can bring back all your gone photo files including RAW, PSD, or Adobe Illustrator graphics files.
Many people try to perform photo recovery and get their all deleted photos back in a few minutes. But are you wondering how? Here is the complete guide that will provide you a solution for photo recovery for all the type of image formats.
Part 1: What Is Photo Retriever?
Lost photos are too common, not just on a personal level but in a professional environment too. There are instances, when you lose your important photos due to accidental deletion or a virus or malware attack causes the same. Fortunately, even when you have lost all photos and the backup solution was not there, you can still recover all your lost, deleted or damaged files.
No matter how you lost your precious edited photos, video or audio files, photo retriever tools like Recoverit will surely recover all photos for you! Based on excellent deep scanning techniques, these tools have powerful recovery ability.
How Photo Retriever Help You?
After the photos are corrupt due to a malware attack or virus in your system, photo recovery software will retrieve all photos.
Recovers the files such as photo, videos, and audio that are lost due to of accidental deletion.
Recover images easily from all storage devices such as Flash Cards, Floppy disk, SD Cards, Hard Disks, Zip Disks, Mini Disks and many more.
Photo retriever software supports almost every image format.
The deleted files which your operating system is unable to find can be recovered with various image retriever tools. The data recovery software's restores lost or deleted files and makes them accessible to you within minutes. Moreover, the advanced picture retriever software like Recoverit scan your entire storage location and retrieve even those photos that are shown in the memory. Therefore the user can extract lost, inaccessible, or deleted photos.
Are you thinking of installing advanced picture recovery software?
If yes, then before picking up any photo recovery tool, ensure its reliability as well as security. The software should have high data recovery rate. For instance, Recoverit Photo Recovery has an easy-to-use interface, higher efficiency that can bring back all kind of lost photos, audios, videos, and more.
Part 2: Recoverit Photo Recovery - All Photos Recovery Software
1. Overview of the All Photos Recovery Software
Did you accidentally delete your photo files and looking for an all photos recovery software?
If yes, then give Recoverit Photo Recovery a try. Being an advanced photo recovery tool, it is compatible with every version of Windows and Mac. Having it in your system makes you stress-free from the fear of losing edited image files.
Further, it offers a success rate of 96%, which makes it reliable in the other available recovery tools.
2. Unique Features of the Best Photo Retriever
It has a powerful built-in data analyzer engine that gives it fast scanning speed.
It has easy to understand user interface. Thus, any beginner can also use it easily.
The advanced scan algorithm offers 96% data recovery rate, which is pretty high in the software industry.
It supports all type of photo formats such as JPEG, JPG, PNG, PSD, CRW, BMP, GIF, and many more.
It allows the user to preview files before recovering it from the searched location.
The search algorithm of this advance recovery tool allows the user to search their unsaved or lost file by file name, date and size.
3. Powerful Functions of Recoverit Photo Recovery
It supports over 550 different file formats for video, documents, audio, image, emails, graphics, and more.
It can recover data from formatted hard drive, external devices, Recycle Bin, crashed system, etc.
It allows the user to save the retrieved files in any location of their choice.
Part 3: Support Various Formats of Photos Recovery
Do you know that Recoverit Photo Recovery software supports all formats of photos?
Yes, you are right, here are some popular photo formats that Recoverit supports JPEG, TIFF, GIF, RAF, DCR, SR2, BMP, PNG, PPM, BPG, CGM, PSD and more.
It also supports very famous RAW, PSD and JPEG image formats. You can retrieve the lost images you worked on with it. Therefore, its feature of retrieving any format image makes it a perfect tool for image-editors, graphic designers and photographers.
Recover lost or deleted photos, audios, music, videos and movies in all formats effectively, safely and completely.
Support deleted photo recovery from memory card, flash drive, SD card, Android cell phone, digital camera and camcorders.
Recover pictures under different situations, like sudden deletion, formatting, hard drive corruption, virus attack, system crash, etc.
Support to create a WinPE bootable media and recover inaccessible data from a crashed or unbootable system on Windows computers.
4,027,239 people have downloaded it
Let's explore some of the famous image formats in detail.
1. What Is Photoshop
Photoshop is software that helps in image editing and photo retouching. It supports Windows or Mac OS computers. With Adobe Photoshop you can change image backgrounds, simulate a real-life painting, or can create an attractive view of the universe. The versions of Photoshop are Photoshop CC, Photoshop Elements, and Photoshop Lightroom.
Photoshop saves image in the form of PSD file which is a layered image file. PSD stands for Photoshop Document. The user can work with the individual layer's images even after the file gets saved.
Once the image is complete, the user can flatten the layers, and Photoshop converts the flat image into a.JPG, GIF or another non-proprietary file format.
Note: User can't make changes in PSD file thus do not overwrite it at the time of conversion.
2. What Is a PNG File
PNG stands for Portable Network Graphics and features a transparent background. With this user cannot only make one background color transparent but also control the degree of transparency. It also supports 24 bit and 32-bit colors.
Availability of a full range of color and better compression makes its best image format to use effectively. Most users use it for web images rather than print images.
Also, for images with text, it's a better choice because it makes images look less "bitmapped."
3. What Is a GIF File
GIF stands for Graphics Interchange Format originally developed CompuServe in 1985. But, it gained popularity from the last few years. Some of its unique key features make it a valuable format for internet users.
Ranging from online publishing to social media, GIF is extensively used by people worldwide. GIF files are moving images which are based on 24-bit color schemes. The other features include file compression; interlacing and storage of multiple images within a single file make it a primitive form of animation.
4. What Is JPEG File
The full form of JPEG is Joint Photographic Experts Group; it is one of the most commonly used image formats. Most digital cameras and Smart phones use this format to store photos. It supports many levels of compression. Thus it is ideal for web graphics. The JPEG algorithm can reduce the size of a bitmap image by ten times with any degradation in its quality.
JPEG files also include metadata including the image dimensions, color profile and color space, information.
5. What Is JPG File
JPEG compression technique has a number of extensions like JPEG, JPG, JIF, etc. but JPG files are bit different from it. The file extension of JPG is JFIF.
It is widely used as a compression technique that stores digital images. It is one of the most common image formats used in operating systems, digital cameras, and on the Internet too. It can compress the image in the compression ratio of 10:1 without deteriorating the quality of an image. Thus, the user can easily share the small file with client or business partners. However, you can adjust the degree of compression of JPG file according to your need.
6. What Is a BMP File
BMP stands for Bitmap Image Format which is also known as just Bitmap. This image format allows the user to create and store computer graphics. It creates a dots pattern of an image, when viewed from a distance looks like a complete image. Thus, BMP image is a grid of rows and columns.
The best part is that the BMP file format can store 2-dimensional images in different color depths. Due to this, users use it in color profiling.
7. What Is a CR2 File
A file that has CR2 file extension is a version of Canon Raw image files developed by Cannon. It stores Raw files that user can edit easily. 3D modeling program uses these files effectively.
Further, user can access it on Windows after its inclusion with Microsoft Codec camera pack. Tools like Photoshop, UF Raw, CR2 Image Viewer, Irfan View, and more also support this image format.
Part 4: How to Undo Deleted Photos
When you accidentally delete a group of photos or single image without saving them, you often get worried about how to get it back. They were your best-edited images, and now you just deleted them, but don't worry, today technology advancement allow you to recover photos.
There are some practical ways to recover your deleted images. Here's the guide for you.
1. Guide on Undoing Deleted Photos
There are advance picture retriever tools like Recoverit that help you with undoing deleted photos. It is easy to use anyone can recover the photos easily yet quickly.
You just need to install this tool in your system whether it is Windows or Mac. Here is the stepwise guide for you to retrieve deleted photos with image retriever software.
Step 1: Select a location
Select the hard drive location or partition where you want to perform the advanced photo recovery or want to save the recovered image. Then, click on the "Start" button once selected the partition.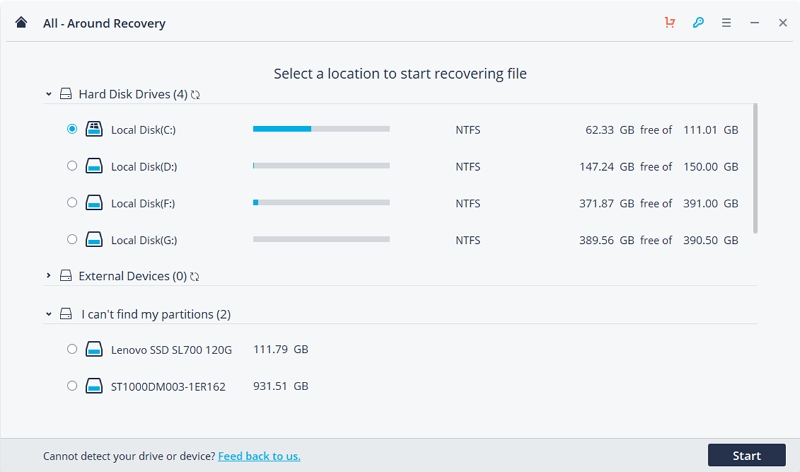 Step 2: Perform the Scan on Selected Location
Now, image retriever tool, Recoverit will scan your selected location and try to retrieve any deleted content from your system.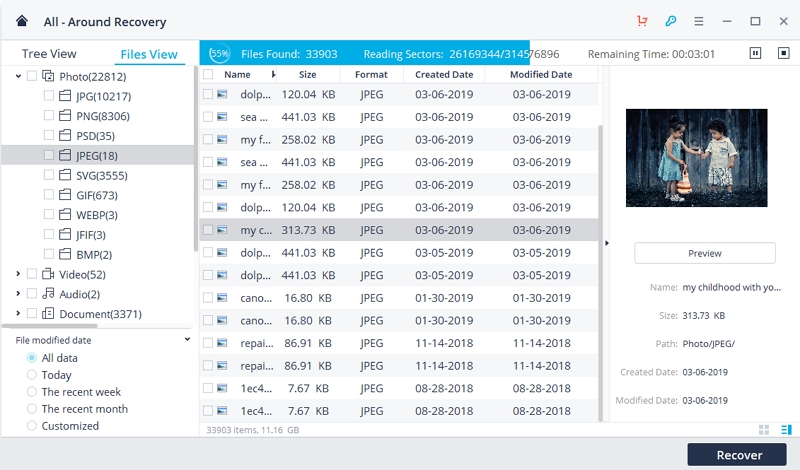 Step 3: Preview and recover lost data
After completing the scanning process the Recoverit notify you about the recovered image. You can now preview the undo content on its interface. Then, select the desired photos you want back and click on "Recover" button; it will save the photo at your desired location.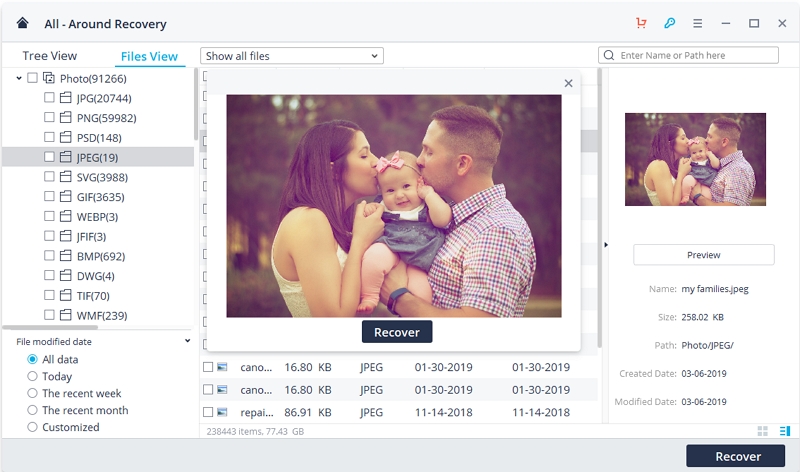 Note: Make sure that you don't save the files on the same location from where you lost them before.
2. Tips on All Photos Recovery
It is very painful for someone when they lost all their selfies, memory pictures, and edited photos. But with all photos recovery tips you can save your photos from getting lost forever.
Use Best Photo Retriever Tool
There are many photo retriever tools to choose from, that can fix image corruption, but pick the one which has an effective recovery rate. Check for reviews as well as data recovery rate of the tool before installing it on your system. For instance, there is Recoverit Photo Recovery software which can recover all type of images from Windows and Mac.
Save Photos at a Safe Location
Now, after retrieving the deleted images from the recovery tool, save them as soon as possible in safe hard drive location. Don't save them at the previous location as you may lose them again.
Keep Your Anti-Virus Updated
People often face issues like system crash which happens due to a malware attack or virus in the system. When window crash you may lose your unsaved images, so keep your anti-virus updated.
Maintain Backup of Photos
Always maintain a backup of your image files so that when you lose it from your saved location, you can easily retrieve them from the backup.
Enable Autosave Option
Enable autosave feature of Photoshop to get safe from losing images that you edited after spend hours. The autosave allows you to select the recovery time that will automatically save your content in your system.
The Bottom Line:
Now, when you know about all the effective and secure ways to recover all your deleted photos, you need not worry anymore. Just go ahead with undo deleted photos steps with Recoverit and recover all your lost images in minutes.
Recoverit is one of the best image retriever tools that has around 96% recovery rate which is the highest in the industry. It is best for windows as well as Mac.
Photo Recovery
Recover Photos from Camera

Recover Photo from SD Card