How to Recover Deleted Photos from Samsung Phone
Have you ever ask yourself if it is at all possible to retrieve deleted photos from my Samsung phone? Well, the answer is a resounding YES and that's not all, the process is fairly easy and simple to follow through.
If you are a Samsung user, chances are you like to record every aspect of your life, taking full advantage of the powerful hardware the smartphones come with. You probably take pictures of just about everything, your precious latte, your favorite spot on the park, and about a million selfies with your friends. It is safe to assume most of the storage capacity is divided between photos and videos.
Losing them represents losing years' worth of memories, holidays, and precious moments with people who possibly aren't around anymore. If you think just because you owned the latest version of a Samsung smartphone you are safe from a sudden loss of photos or videos, you will be mistaken. Just like any other handheld device, your phone is prone to data loss.
Part 1: Samsung Phone Photo Storage Location
Samsung's phones are widely known to be efficient, fast, and durable. The Korean manufacturer went above and beyond when developing their brand of smartphones, aiming at a top quality product for a reasonable price. It doesn't matter if you are getting the newest Galaxy series or the J series, you'll be getting the full power of Samsung on both cellphone.
The truth of the matter is, Samsung smartphones are well known for their massive storage capacity. Newer models have up to 64 GB of storage space, even though for most people, this is enough, for other more seasoned users, programmers, developers, and photographers it isn't, their jobs required a lot more of storing room.
To resolve the issue, these devices support additional SD storage capacity. This allows users to save their most sensitive data in removable SD cards, as they come with better chances to retrieve photos from Samsung.
There is a sad reality everyone has to face, despite their massive storage capacity, Samsung smartphones are still prone to common system errors, some of which may lead to massive data loss. But, before you start searching how to restore photos on Samsung, there a few things you should know beforehand.
To recover accidentally deleted photos on Samsung, you first have to analyze the file storage location, meaning, either the ROM (Read-Only Memory) or the SD card. Only after you've done with that, you may continue with the steps listed below.
Part 2: How to Recover Deleted Photos from Samsung SD Card
The first step you need to make before attempting to restore lost photos on Samsung is to find the best method that suits your current needs, especially if what you are about to do is an SD Samsung phone photo recovery. You're gonna need an awesome software which can easily retrieve lost data to make your life easier. The next few steps you'll read will take you through a journey of discovery of an amazing tool called Recoverit Photo Recovery.
However, do bear in mind that this method is only going to work is you are attempting to find deleted photos on Samsung.
Recoverit Photo Recovery, secure Samsung recovery software
Earlier you read about needing the best recovery software to attempt to restore deleted photos Samsung. One of the best and highly regarded method to accomplish this goal is by using Recoverit Photo Recovery. The software developers have done an amazing job at making the tool as perfect as possible, a true wonder of engineering. If you want to understand how to retrieve deleted pictures on Samsung using this software, first you need to become acquainted with some of its best features.
Advanced scanning engine
The developers engineer a nearly-perfect software with incredible attention to detail. The reason behind this is the algorithm used to create the program.
The algorithm is the reason the software is capable of executing and performing deep scans to find deleted pictures on Samsung in a matter of seconds. It is also the reasons behind the 96% rate of success on lost data recovery the software brags about.
Thorough Execution
Recoverit Photo Recovery was designed to scan large storage spaces like a computer's hard drive. Also, many companies use the software to handle their lost data recovery. Thanks to its powerful scanning engine, it performs the task in a matter of seconds, you'll literally be able to retrieve photos from Samsung phone in the blink of an eye.
Amazingly Versatile
When attempting to recover lost data using this tool, you need to consider a few things first:
Recoverit Photo Recovery supports all image file formats like WMF, BMP, TIFF, CR2, SR2, DCR, RAW, DNG, RAF, ERF, PSD, GIF, PNG, JPG, ORF, MRW, NEF, and JPEG to name a few.
The program also supports SD data recovery from any Android smartphone, including Samsung models, Galaxy S series, Samsung Note series, Samsung Galaxy A series, Samsung Galaxy J series, among others.
Recoverit doesn't only help you to find deleted photos on Samsung, you can also use it to find lost audios, videos, and other files from any external storage source, like hard drives, flash drives, SD cards, etc.
Recover lost or deleted photos, audios, music, videos and movies in all formats effectively, safely and completely.
Support deleted photo recovery from memory card, flash drive, SD card, Android cell phone, digital camera and camcorders.
Recover pictures under different situations, like sudden deletion, formatting, hard drive corruption, virus attack, system crash, etc.
Support to create a WinPE bootable media and recover inaccessible data from a crashed or unbootable system on Windows computers.
4,027,239 people have downloaded it
How to Recover Deleted Photos from Samsung Phone SD Card
Recoverit Samsung Recovery Tool supports Windows and Mac OS versions. The steps you'll read below will show you how to recover deleted pictures on Samsung using the program on the Windows-supported version.
Step 1: Picking the Location
If you have used recovery programs before. Then you know you have to make sure the Samsung SD card is connected to the computer, before making your selection. A list displaying all the hard drives and other external storage units will pop-up, make sure you pick your phone's SD card before clicking the start button, and the recovery process begins.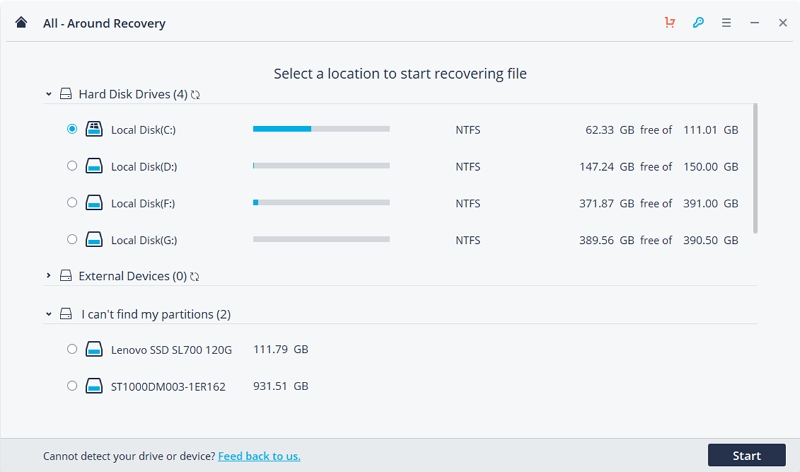 Step 2: Scanning location
Once you've initiated the recovery process, and selected the SD card, the next step is a thorough scan of the unit in search of your accidentally deleted photos on Samsung. This is how you're gonna get back most of the data you've lost, the program will through the entire SD in search of all the deleted files it can find.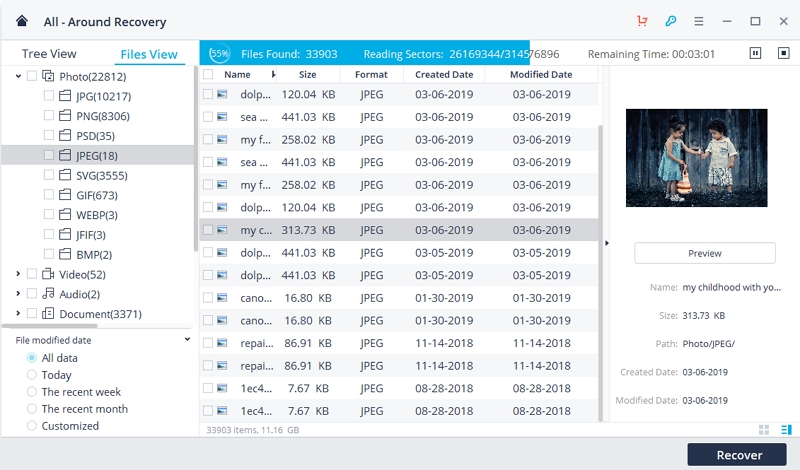 Step 3: Recovering the files
Once the program has concluded the scan, a list of all the recovered files will appear onscreen. All you have to do next is pick those you want to salvage, the software allows you to preview each file individually. Once you have selected those you want to bring back click on the recover button and save the retrieved files on your computer.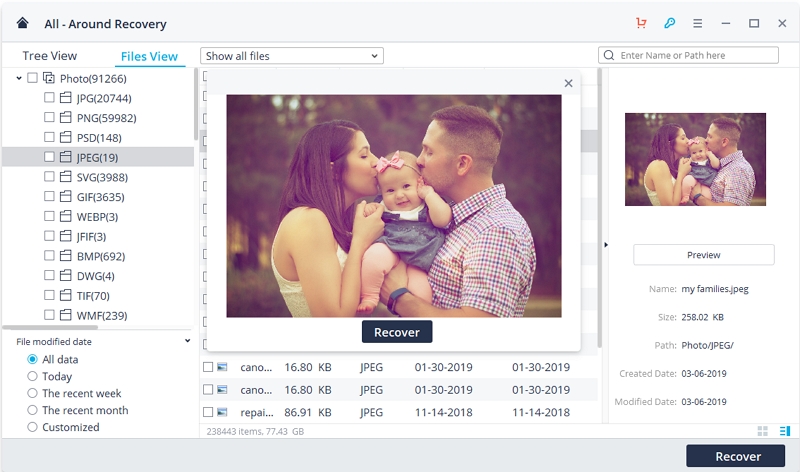 Part 3: How to Retrieve Deleted Photos on Samsung
As good as Recoverit Photo Recovery is when you want to recover deleted photos on Samsung, it isn't the only viable method you can use. There are actually other ones out there just as good, although not as efficient, they will yield decent results. They can also be done in a pretty decent amount of time, and the interfaces are very intuitive and easy to use.
Now, you should bear in mind that before you start making any attempts at recovering lost data from your phone and following the steps listed below, you'll need to take some precautions first which you'll read all about further down the article.
The following methods listed below on how to restore photos on Samsung are meant to recover recent files.
How to Restore Deleted Photos on Samsung via Samsung Cloud
The very first method you should try when you are attempting to recover recently deleted pictures Samsung is using the app Samsung Cloud. This is actually one of the easiest ways, just launch the app and go through the backed up data to find the pictures you were looking for and restore them back into your phone's memory. Follow these simple steps: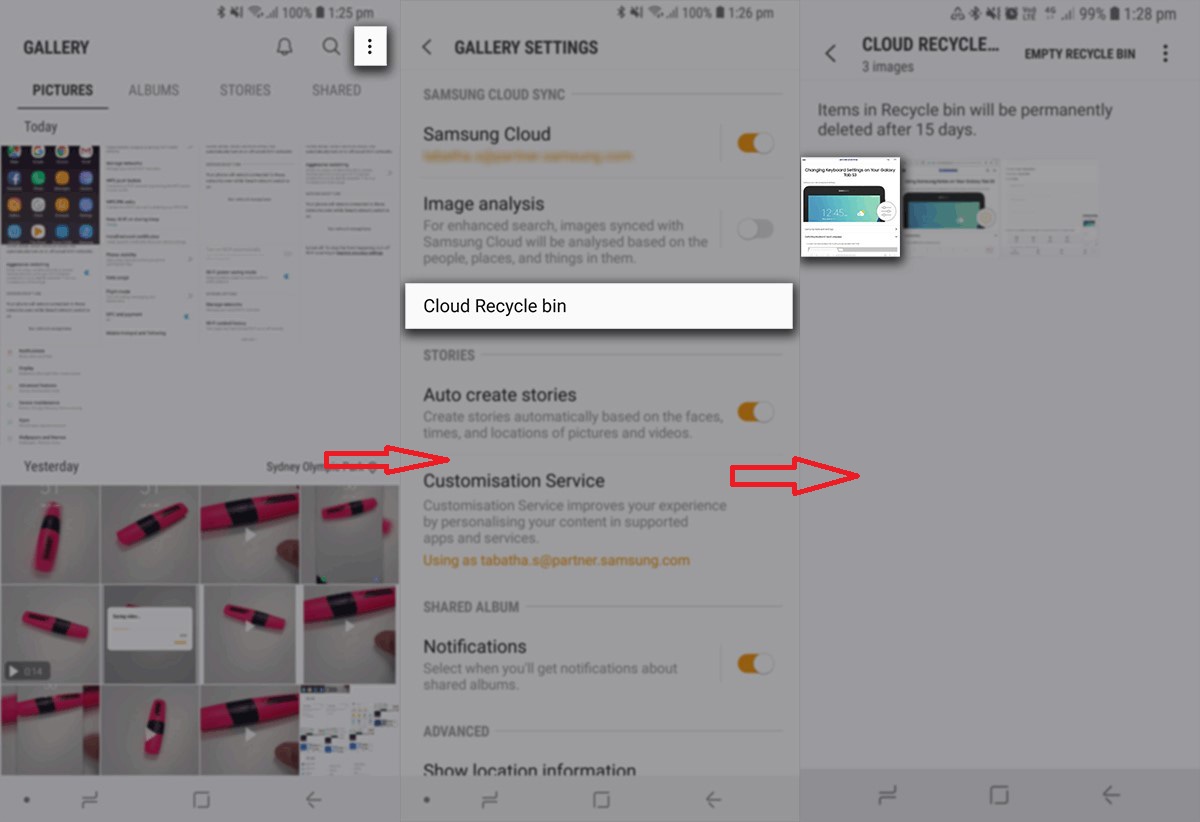 Go to your phone's Gallery.
Tap on the three dotted menu and then hit settings.
Once inside Settings, tap on Cloud Recycle Bin.
All your recently deleted photos will appear onscreen, all you have to do now is select those you want to restore, and then tap on Restore to get them back into your phone's memory.
For this method to function in the right way, you have the enable the sync option between your gallery and Samsung Cloud, this way, all your multimedia files will get backed-up on the cloud. Under normal circumstances recovering deleted pictures on Samsung using this method is easy and hassle-free.
The only problem with this method is when you are attempting to recover lost photos on Samsung older than fifteen days. That is because the Cloud Recycle Bin only keeps the files for fifteen days before deleting them from your device and the cloud.
How to Get Deleted Photos Back on Samsung via Google Photo
This is another great method to find deleted photos on Samsung, although not as effective as using recovery software, it does work in the same way as Samsung Cloud. However, for this method work, you need to take into account a few things. For example, you're gonna need to have a backup of the photos in question stored on Google Drive.
If you haven't done it, then you should follow these steps first before attempting to recover them.
The first step is to configure Google Photos to back up your multimedia. Log into your Google account, go to account settings, tap on Google, and then tap Back Up and Sync hit done, and that's it. All your multimedia files on your Samsung phone will be backed-up on your Google Drive account.
This method has the same downside as the Samsung Cloud storing, with the sole exception that instead of fifteen days, you have up to sixty days to recover your files before they are permanently deleted from your phone.
Now, down to business, once you have finished with the steps above, follow the next guidelines to retrieve deleted photos on Samsung.

Open the Google Photos App.
Tap on the drawer icon on the top left corner.
In here you can view all the deleted files.
Finally, pick the ones you want to recover and tap on restore.
Part 4: Feasibility of Samsung Photo Recovery
The question on everyone's mind when they are attempting to recover deleted photos from Samsung. The answer will depend on what method you've chosen to work with. Some people find using recovery software easy while others preferred to go with the cloud methods, all you need to know is that both methods will yield positive results, you will be able to recover your photos. So far you've seen step by step instructions on how to recover pictures from Samsung.
However, if you need further reassurance, then read this:
The reason why the process is going to be effective is that there is an external storage unit involved.
Google Photos, Samsung Cloud, and other cloud services allow you to store the files on there when you delete them from the memory phone.
Part 5: Tips on Samsung Deleted Photos
All you need now are a few tips on how to act when encountering Photo loss.
Pictures can get deleted by accident, when it happens, be careful about what you do next.
Do not overwrite an SD card if you suspect data loss.
As a precaution, you may want to scan your SD for corrupted files.
Make sure the method you've chosen to work with does not end up erasing the photos permanently.
Finally, a nice precautionary measure will be to take good care of your SD cards.
There are also these simple steps to avoid photo loss in the future:
When you are attempting to recover lost data, make sure you only use one method at a time.
Always backup your data.
It is helpful to do regular virus scans on your SD card.
If you feel like you can handle the recovery process, you can always call an expert.
And lastly, keeping your SD card is of the utmost importance.
The Bottom Line:
On a final note, if you have accidentally deleted photos on Samsung phone, you really don't have to panic, the good thing about the virtual World is that almost anything can be recovered. You have just seen the many effective ways you can get your precious photos and videos back on your phone.
Retrieving your deleted multimedia files has never been easy, technology has come a long way in this regard. The only thing you need to be is careful when following the many steps and tips you've read so far.
While you have seen many methods, one stands on top of all the rest, Recoverit Photo Recovery. This software is highly regarded by professionals as the best tool when attempting to restore deleted pictures.
Photo Recovery
Recover Photos from Camera

Recover Photo from SD Card