How do I Recover Permanently Deleted Pictures from My PC
Now and then we tend to lose documents stored on our PC which is normal. It is a concern however when we end up with permanently deleted photos among those documents. It would usually happen when the images are accidentally deleted using 'Shift + Del' that bypasses the Recycle Bin, or you forget to review your Recycle Bin before emptying it. Other reasons that may permanently delete photos include the sudden crashing of your operating system, not having a backup of your PC, etc.
In this article, we will look at two significant ways used to recover permanently deleted photos from your PC, and they are:
The easiest way to get lost pics using Recoverit Photo Recovery.
Uncertain ways such as to get photos back from File History and to recover permanently deleted pictures from the previous versions of the OS.
Part 1. Easiest Way: How to Get Photos Back With Recoverit
In this digital era with enhanced cameras on you at all times in the form of your smartphone, you are taking more and more pictures. We mostly store these photos on the computer since it is very convenient. Losing them can be as easy as mistaken deletion or formatting. Sad, right?
If this has happened to you too, then you must get a deleted photos recovery program to help you restore them. Lucky enough, we just know the best software to get lost pics, and it is called Recoverit Photo Recovery. Check it out!
1.About Recoverit Photo Recovery
Recoverit Photo Recovery is a software that gives you the power to get back photos, movies and music among other files from all kinds of storage media. It enables you to recover deleted photos and videos from computer hard drives, digital cameras, smartphones, SD cards, etc.
Recover lost or deleted photos, audios, music, videos and movies in all formats effectively, safely and completely.
Support deleted photo recovery from memory card, flash drive, SD card, Android cell phone, digital camera and camcorders.
Recover pictures under different situations, like sudden deletion, formatting, hard drive corruption, virus attack, system crash, etc.
Support to create a WinPE bootable media and recover inaccessible data from a crashed or unbootable system on Windows computers.
4,027,239 people have downloaded it
Its functions and features are as given below.
Recover photos and videos from camera memory card – Recoverit Photo Recovery assists you to get lost pics back from digital cameras of different kinds, such as DSLRs, Drones and instant cameras with memory cards, and Polaroid cameras, etc.
Recover photos, videos, and audios from SD memory card – SD Cards have been universal in many electronic gadgets such as cameras and smartphones. Recoverit Photo Recovery enables you to get back permanently deleted photos on these gadgets with 100% effectiveness and efficiency.
Recover lost media files from the computer – Permanently deleted photos, photoshop files, video files and audio files from computer hard drives can be retrieved using Recoverit Photo Recovery software. The photo and video recovery software are compatible with both Windows and Mac computers.
Recover deleted files from external hard drive – For your deleted, lost or formatted media files, Recoverit Photo Recovery is a vital recovery tool especially for an external hard drive of any kind. Be it SSDs or USB flash drives; it will do the magic. Recoverit Photo Recovery also supports digital images, movies and songs recovery from all external hard drives.
Now let us look at the steps involved in how to get your pictures back.
2.How Do I Get My Pictures Back
To recover your permanently deleted photos on PC, you need to get Recoverit Photo Recovery downloaded and installed on it first. The steps to recover the images after that, either permanently or recently deleted, are simple and straightforward.
Step 1. Select a Computer Hard Disk Drive
Now, you are required to select the specific location on your hard drive where your permanently deleted photos were stored initially. Once selected, press the 'Start' button.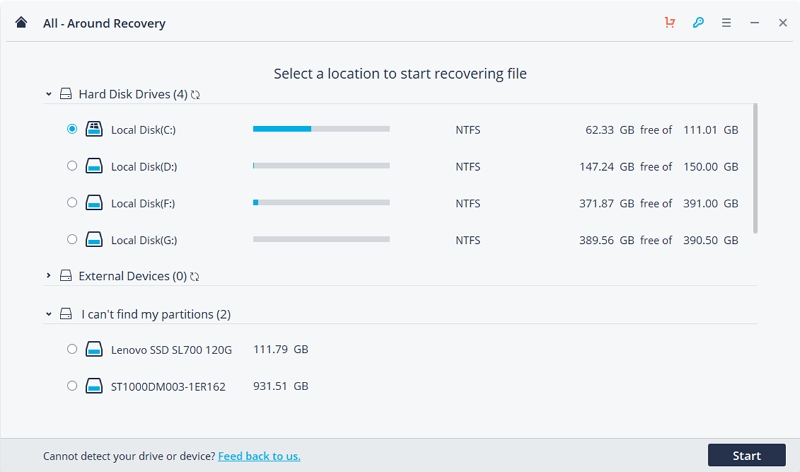 Step 2. Let the Hard Drive Be Scanned
Recoverit Photo Recovery will now begin scanning the hard drive of your PC. It may take some time for the scan to finish depending on the size of the disk and the number of files etc. Once done, you will see a list of what you had thought were permanently deleted photos that you can recover now. If you think that the list is missing some photos, then you can choose the option of 'All - Around Recovery' as shown in the image below.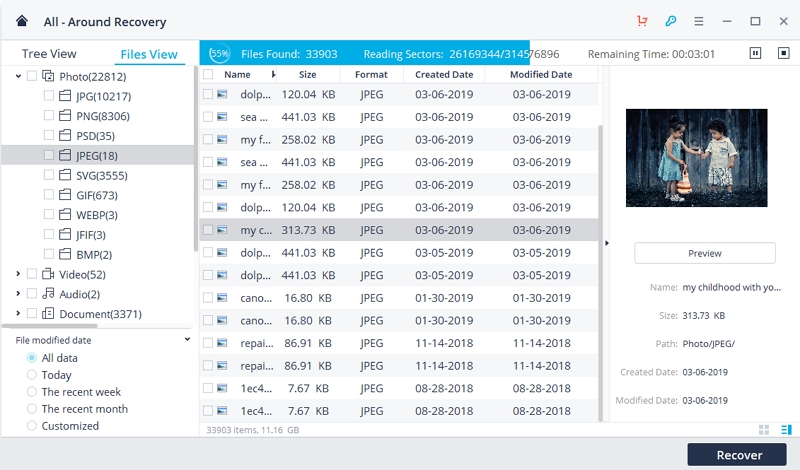 Step 3. Preview and Get Your Pictures Back
Once the scan is complete and you have the list of all the permanently deleted photos, select all of them and hit 'Recover' on the bottom right-hand corner of the program window to get the photos back.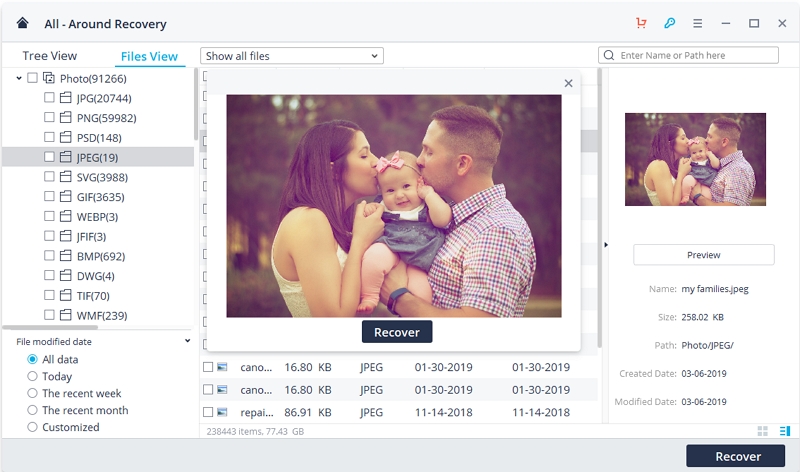 There you go, in just these 5 easy steps, Recoverit Photo Recovery will help you recover permanently deleted pictures on your PC. Recoverit Photo Recovery is the safest and the most secure software to use also as it does not mess up your computer system during the process of getting back photos.
Tips on Permanently Deleted Photos Recovery
Getting back your permanently deleted photos can be a bit unnerving as you would not want to lose them at the first place to begin with. Here are a few handy tips on how to better manage your photos so as to not end up losing them.
Take Regular Backup of Photos – It is a good idea to regularly back up your photos on an external hard drive so that you can always retrieve them when needed.
Save Photos on a Safe Location – When recovering photos, you should save them on a different location that is safer. Otherwise, you risk losing them again when you store them in the same location they were when they got deleted or lost.
Keep Recoverit Photo Recovery Always Handy – Want to be carefree when it comes to getting your photos back no matter what, then download Recoverit Photo Recovery on your computer today!
Part 2. Uncertain Ways to Get Lost Pics From Computer
Besides using Recoverit Photo Recovery, there are a few other ways as well you can recover your permanently deleted photos on your PC. Though not as effective as Recoverit, these methods are nonetheless good to know.
Method 1 - How to Take Deleted Photos From File History
File History is a useful tool present in Windows 8 and above. It backs up the files on your computer (photos, videos, documents, etc.) automatically giving you a chance to restore any permanently deleted photos.
Here is how you go about recovering deleted photos using File History:
Step 1 – Go to the folder from where your pictures were deleted and then in the search box type "File History". When you find it, choose the option "Restore your files with File History".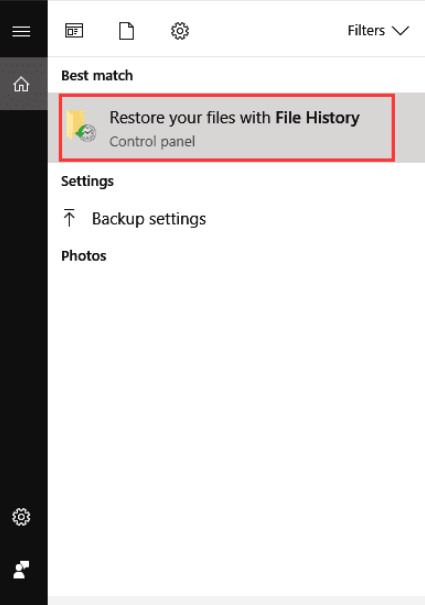 Step 2 – Search for the permanently deleted photos that you would like to recover. Once you have found them all, click on the green colored 'Restore' button shown in the image below.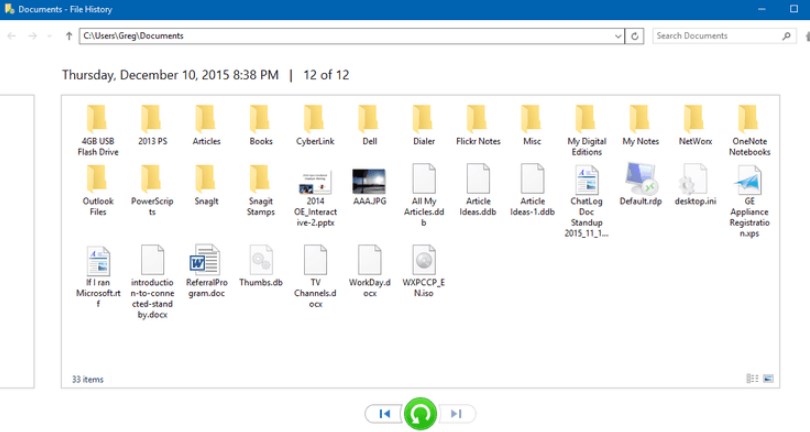 Step 3 – From the next dialogue box, select the option of 'Replace the file in the destination' to get your pictures back.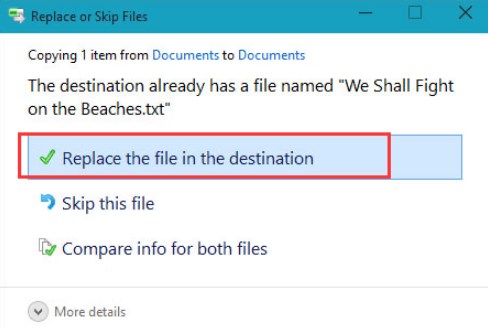 It is important to note that this feature is available in the Windows 8 and Windows 10 versions only. This puts those of you with a lower Windows version at a great disadvantage. In that case, Recoverit Photo Recovery would be the best option for you.
Method 2 - How Do I Recover My Deleted Photos From Previous Versions
If the above methods of getting photos back do not excite you, there is yet another way. You can always restore your permanently deleted photos from the previous versions on your PC. These are copies of your files that Windows automatically creates as a part of the backup of your PC.
Here is how to do it:
To start, right click on the folder where the permanently deleted photos were last stored. Then, got to properties and select the option of 'Restore Previous Versions.'
A 'Recover folder' option should pop up now. If this does not happen, go to the Control Panel and enable "System Protection".
Next, go to 'System & Security' > 'System' > 'System Protection'. After that, select the drive of your liking and click on 'Configure'.
Now click on "Restore system settings and Previous Versions of files" and then tap 'Ok'. This enables you the 'Recover file' option that you can then use.
Simple and convenient, huh? The downside to this, however, is that you will seldom find any files with these methods. If you want to be sure not to lose any of the permanently deleted photos of yours then Recoverit Photo Recovery is the way to go.
Part 3. Extra Information About Permanently Deleted Photos
To get to the point where you start searching for "how do I recover permanently deleted pictures", you must have lost them first. How does this happen though? Here are the common causes behind deleted photos that you ought to know and look out for so as to prevent it altogether.
Common Causes of Permanently Deleted Photos
Delete Photos and Empty the Recycle Bin – This is one of the most common causes of permanently deleted photos because you would always be emptying your Recycle Bin in order to save some storage space on your PC. This happens especially when you think you don't need the photos anymore and that they are of no use stored on your PC taking all that space. But you never really know when you will be in need of these photos, therefore it is wise not to empty the Recycle Bin in haste and take some time to review each and every file before hitting that 'Empty Recycle Bin' button.
Use of 'Shift + Delete' Command – This shortcut key is used to permanently delete items, bypassing the Recycle Bin folder completely. So, now that you know it, refrain from using the 'Shift + Delete' command so often and stick to reviewing all your photos before even moving them to the Recycle Bin.
Virus Attack – Computer viruses can cause a lot of damage to your files as well, in most cases by simply deleting your files permanently. One of the ways a computer virus can gain access to your PC is when you download content from malicious sites or click on random adverts online. These viruses once on your PC start corrupting your computer system which in most cases can lead to permanently deleted photos among other important files. Prevent this by using only safe websites and avoid clicking on online ads unless you are absolutely sure of their origin.
How to Tell IF My Pictures Are Permanently Deleted
Can't Find Deleted Photos on the Recycle Bin – If the pictures you deleted from your PC are nowhere in the Recycle Bin, then they are gone forever. Why? Because you most likely have also deleted them from the Recycle Bin using 'Empty Recycle Bin'.
Search on the File Explorer and Find Nothing – If you search for the photos using File Explorer and the image names, and you find nothing, then also the photos must most likely be deleted permanently. To recover them, however, all you need is Recoverit Photo Recovery.
Conclusion:
We take photos everyday of our lives nowadays. These pictures are our way of keeping happy memories of our lives such as birthdays, graduations, weddings, trips, fun times with our family, etc. The most convenient way of safely storing all these photos is to keep them all in one folder on your computer. Still, you can never be really a 100% sure about not ending up with permanently deleted photos at the end of the day. Luckily, we have an option in Recoverit Photo Recovery as an easy and fast way of recovering all our permanently lost pictures. It is the safest, free photo recovery tool that you can get today!
Photo Recovery
Recover Photos from Camera

Recover Photo from SD Card