How to Recover Photos and Videos from Drone Camera
Drone camera, also known as an unmanned aerial vehicle (UAV) is a device that can fly independently if supported by a pre-programmed flight plan. It allows you to capture photos and videos from a birds-eye view that is not otherwise possible by basic photography equipment. Moreover, this is highly advanced equipment and is now widely used in all the areas including electronics, aeronautics, and robotics.
Further, the pictures taken by drone are breathtaking, and let you witness the objects from a new perspective. But what if the media gets deleted from your device? Don't panic as it is easy to recover photos and video from the drone camera.
Here we will take you through everything you need to know about drone camera, its storage and recovering lost or deleted media from it.
Part 1: Where Are Photos and Videos Stored?
With the availability of a wide range of drones, there are a lot of different ways through which you can store your photos and videos. However, the type of storage depends on how long you want to keep them for and the type of drone used by you.
Here are different storage options available for drone camera:
• Internal Storage
There are drones such as Mavic Air that come with internal storage along with a standard micro SD card slot. The internal storage is used by the photographers who want to store media files on drone camera for shorter durations. As they start to shoot, the files are stored on internal storage automatically.
Later on, they are required to transfer photos and video to a secure location such as a computer for further processing.
• SD Cards
Although there are drone cameras that come with both internal and SD card storage, majority of them use SD card as their standard storage option. The SD card lets the photographer or videographer store unedited media for a long duration such as up to three months. You can later connect it to the computer and work on them for final results.
However, another best thing about using SD card recovery is the ease of data recovery.
Whether you have accidentally deleted the media or it got lost due to SD crash or partition issues, you can easily perform data recovery on SD cards.
Part 2: Recoverit Photo Recovery- Fast and Reliable Drone Recovery Software
Overview
Recoverit is an advanced data recovery tool that recovers your lost or deleted data with a recovery rate of 96%. Regardless of the reason, you have lost and videos from a drone camera, give Recoverit Photo Recovery a try.
With an easy to use interface and faster processing speed, it helps you retrieve all the media files in no time.
Further, this data recovery software comes with any three-step click-through the process, which makes it ideal for the users with no or little technical experience. You can run this software easily on Windows XP, 7, 8, 10, macOS X 10.8, and its later versions.
Functions
Recoverit comes with powerful data recovery solutions that support lost data recovery from lost or resized partitions, formatted and raw hard drives.
It also retrieves lost data from virus attacks or crashes with bootable media solution.
The software lets you preview the scanned content so that you can check the media you want back.
Supported File Formats
Recoverit supports 550+ data formats including the files such as images, archives, email, multimedia files, videos, documents, and more.
The supported image formats include JPEG, BMP, PNG PSD, RAW, CRW, DNG, RAW, CR2, GIF, and many more. However, the video formats that can be recovered by Recoverit include MOV, AVI, MP4, M4V, MKV, WMV, 3G2, 3GP, SWF, FLV, MPG, etc.
Recover lost or deleted photos, audios, music, videos and movies in all formats effectively, safely and completely.
Support deleted photo recovery from memory card, flash drive, SD card, Android cell phone, digital camera and camcorders.
Recover pictures under different situations, like sudden deletion, formatting, hard drive corruption, virus attack, system crash, etc.
Support to create a WinPE bootable media and recover inaccessible data from a crashed or unbootable system on Windows computers.
4,027,239 people have downloaded it
Supported Drone Camera Brands
Recoverit supports all the major drone camera brands such as DJI Mavic Air, DJI Mavic Pro, DJI Mavic 2 Pro, DJI Spark, DJI Phantom 4 Pro, DJI Spark, DJI INSPIRE 2, and lot more.
Other drone cameras from which it can recover data include: Parrot Bepop Drone, Magicwand Drone, DJI Inspire, GoPro Karma Drone, Red Heron Quadcopter.
It can also retrieve data from leading cards such as SD, SDHC, micro SD, mini SD, CF, Smart Media, MMC, and XD, etc.
Part 3: How to Perform Drone Recovery from SD Card?
There is no denying that losing HD images and videos from the drone cameras are one of the stressful experiences. You end up looking for a myriad of recovery options, but Recoverit Photo Recovery software is one of the reliable recovery software's that provide a high recovery rate for your pictures and videos.
With multi-device and OS compatibility, it lets you perform drone data recovery from SD card easily.
To recover data thorough Recoverit, you will have to unmount SD card from your drone, connect it to your computer, and follow the below steps to recover your photos and videos.
Step 1: Choose the location
To perform the data recovery process, select the location from where you want to perform data recovery. From the dialog box, select the drone camera's SD card and click on 'Start' to proceed. But before you choose, ensure that the SD card is connected to your system.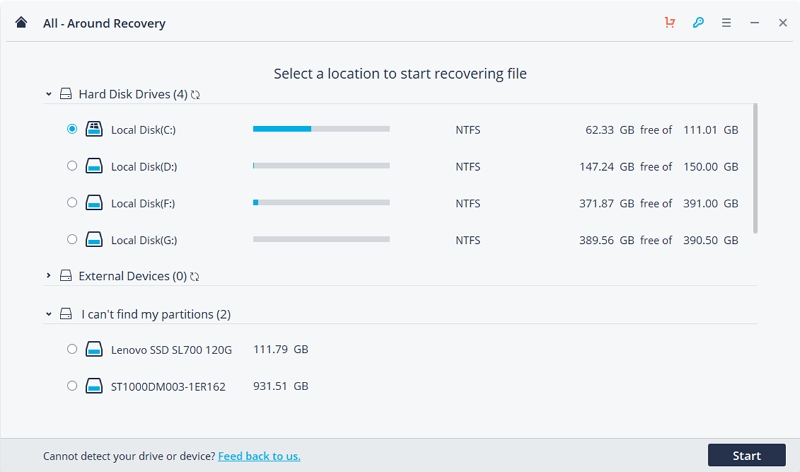 Step 2: Scan the Drone's SD Card
As you click on Start, Recoverit Photo Recovery will start an all-around scan of the SD card. The scan will search and look for the lost, deleted, or inaccessible data on the location. However, the scanning speed will depend on the size of the lost files. While the scanning process is on, make sure that you don't unmount the SD card or close the application.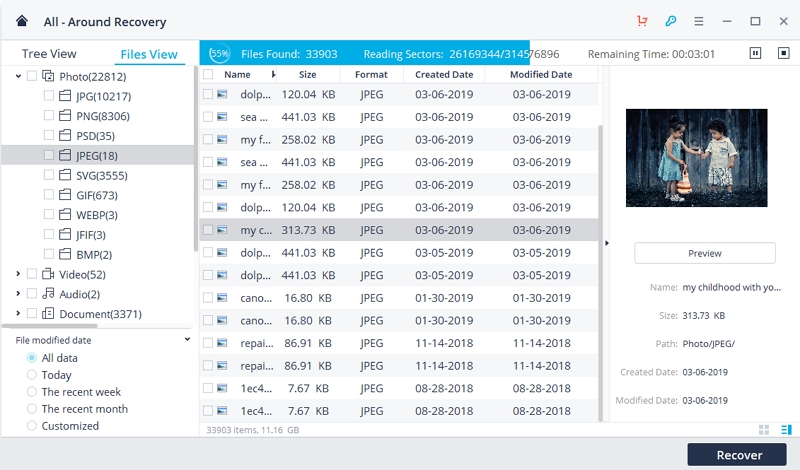 Step 3: Preview and Recover Photos and Videos
After the scan, you can preview the media files that are recovered. Now, select the preferred media files and save them in a safe location. Make sure that you don't keep the files in the same location from where they got lost before.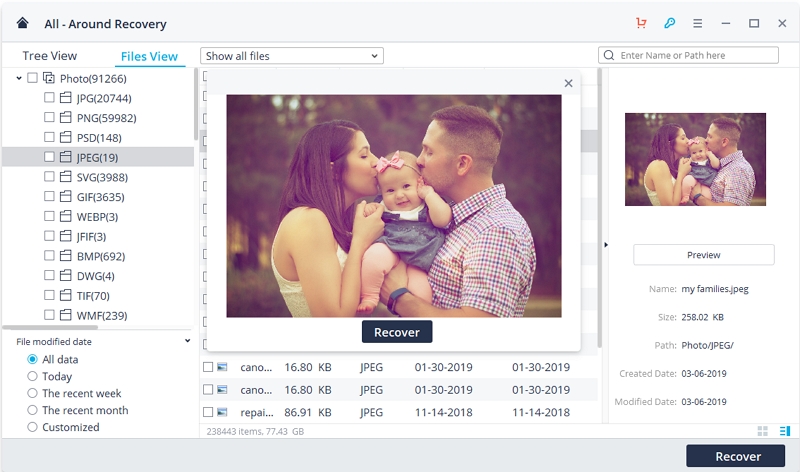 Part 4: Causes of Lost Photos & Videos on Drone Camera
Although you can use Recoverit to retrieve photos and videos on a drone camera, but to avoid another photo loss scenario, you need to be aware of some common causes.
Accidental Deletion: With the increase in the use of drone cameras for photography and personal use, the data is becoming more prone to loss and deletion. The situation occurs when the user is trying to save the special moments, but end up deleting them.
Unreliable SD Card: A non-functional or corrupt SD card is one of the major reasons for the data loss on drones. To avoid this, check that the SD card you are using is reliable for the device. However, to save your SD card, switch off the drone before extracting your SD card.
Software Issues: There is a chance that software issues might have incurred in the drone or SD card. In case, if you have lost data due to the software issue, try using recovery software. Make sure you do not tamper drone's firmware as it may lead to further issues.
Virus or Malware Infection: When you share photos or video through your drone with other devices, your SD card is at the risk of getting corrupt. The virus can spread in the entire device, and may also infect your other files leading to deletion.
No matter the cause of loss, all of them can be resolved by using data recovery software such as Recoverit.
Part 5: How to Select an SD Card for Drone
Well, selecting the SD card for a drone is not as easy as it looks like. There are a number of parameters you need to consider to ensure that you select a reliable SD card.
But before you choose the SD card, here are some of the benefits that you need to consider:
1. Benefits of SD Card for Drone
SD card helps you to expand the data storage of drone.
You can transfer the data easily to other devices with the help of the SD card.
Applying data recovery methods on SD card is easy as compared to internal storage.
If your drone has hardware issues, the SD card lets you retrieve the data easily.
2. Requirements of Drone SD Card
There are some basic parameters that you need to consider while picking SD card for a drone.
Speed Class: The speed class of SD card restricts the bit rate and resolution of videos that you can record. If the speed class is slow to keep up with the video recording, it will drop the frames and distort the footage. So, make sure you check the speed of an SD card before you consider it for the drone.
Storage: A non-functional or corrupt SD card is one of the major reasons for the data loss on drones. To avoid this, check that the SD card you are using is reliable for the device. However, to save your SD card, switch off the drone before extracting your SD card.
Compatibility: There are a number of SD cards available in the market. So, make sure that the SD card you choose should be compatible with your drone camera.
3. Best Brands of SD Card for Drone
Here are the top five brands of SD cards for a drone that you can consider:
SanDisk Extreme Pro 64GB micro SDXC card: With the read speed of 90 Mb/s, it lets you capture fast-action pictures and shoot 4K UHD videos.
SanDisk 400GB micro SDXC card: With a transfer speed of 100 Mb/s, it lets you move 1200 photos in a minute. Moreover, it has Class 10 specification that allows full HD recording and playback.
Strontium Nitro A1 128 GB: With class 10 specification and 100 Mb/s speed, it allows high-resolution photo capturing, and full HD recording and playback.
SanDisk 128 GB Extreme: The capacity is less as compared to other SD cards, but its transfer speed makes it worth considering.
Samsung Pro UHS-1 16 GB: With a read speed of up to 90 Mb/s and write speed up to 50 Mb/s, it maximizes the storage capacity of drones.
Part 6: Extra Information about Camera Drone
While you know how to recover lost or deleted media from a camera drone, but have you ever wondered, what is a drone, and how do they work.
1. What Is a Drone
Known as an unmanned aerial vehicle, it is a flying aircraft without a human pilot. They are also popular by the name of flying robots that are controlled by remote or come with software controlled flight plans in their systems.
However, to use them in photography, videography or security, they are attached with a camera.
2. How Do Drones Work
Made up of light and composite materials, almost every drone comes with a state of the art technology such as laser, GPS, infrared cameras, and more. Some of them are also equipped with UAV technology, which helps them to aviate.
The tip of the drone is where all the navigational systems and sensors are present. A remote ground control system completely controls them, and there is no need for human operation.
3. Types of Drones
Based on the type of platform used, there are four different types of drones:
• Multi Rotor Drones
This drone comes with more than two rotors and is used in UAV projects and radio control aircraft.
• Fixed Wing Drones
These drones come with a single wing and are used to build multi-rotor type drones. Their flying time is a couple of hours and is ideal for usage in military and security fields.
• Single Motor Drones
They have the same size and structure as that of an actual helicopter. These drones have a stronger structure, long flight times, but the operation is quite complex.
• Hybrid VTOL
These drones are the combinations of fixed wing and rotor based models. Remote based manual control is required to operate this drone.
The Bottom Line:
Whether you are a regular drone user or want to start using one, we hope that this article has answered all your queries on drone cameras and its storage.
Although internal storage is available in drone camera, make sure you follow the guide and choose the right SD card for the device.
Along with this, in case if you have lost or accidentally deleted photos from drone's SD card, you can recover them by installing Recoverit Photo Recovery Software. The software is easy to use, fast, reliable and helps you retrieve photos and videos with a high recovery rate.
Photo Recovery
Recover Photos from Camera

Recover Photo from SD Card