How to Recover Snapchat Photos on Computer or Phone
If at some point in your snapping career you've asked your friend "Hey, bestie, can snapchats be recovered? If the answer is yes, then this might have happened to you.
"Can you imagine taking the best selfies ever in that awesome party you been waiting forever to go to, coming up with some of the best captions to accompany your photos, uploading them to snapchat, you even got that picture with your celebrity crush. You wake up the next morning and go straight to your Snapchat to see how many of your followers watched your incredible snapshots, and realize in horror that they were erased from the App."
Don't worry, you aren't the first snapper to go through this nightmarish situation, there are actually many ways to recover deleted snapchat photos floating around in the World Wide Web. Keep on reading carefully, and you'll find the perfect way to learn how to recover snapchat photos.
Part 1: Can Snapchats Be Recovered on Computer?
Any seasoned snapper knows precisely what is snapshot and how does snapshot work, and yet they still want to recover erased snapchat stories simply because it is important to them. There are mainly two reasons why you would lose your favorite photos, videos, and snaps, the first one is the nature of the app, and Snapchat deletes the stories after a while. The second reason is due to accidental deletion from your computer, corrupted files, and software upgrades.
1. What is Snapchat?
Snapchat is one of the most recent social media apps to hit the market. Is a texting app, and it can be used to share photos, videos, messages, etc. It is available to download for free, and since it's released became an instant success among millennials. What makes Snapchat different from other social media platforms, is that the messages are automatically erased a few seconds after they are sent.
2. Chance of Snapchat Recovery
It doesn't matter if you aren't a computer whiz, there always exists the possibility to recover deleted snapchat photos. Even after Snapchat deletes the photo or video, they don't vanish completely. They just hide away in your phone under a ".nomedia" extension. That means it's not difficult to retrieve snapchat photos.
Part 2: Recoverit Photo Recovery - Best Snapchat Recovery APP for PC
As mentioned at the beginning there are many websites, blogs, and video tutorials explaining to people how to get snaps back. But if you want to work with the best snapchat photo recovery app, then you need to know about Recoverit Photo Recovery. This is by far the best recovery software out there and the simplest to use. Getting your snapchat deleted photos back has never been easier thanks to this software. With just a few clicks you will be able to recover lost photos, videos, and audio files from your Windows or Mac OS computer. The developers worked hard to make the interface as friendlier as possible for users ranging for experts to novices. They also make sure you wouldn't come across any complication during the process of snapchat picture recovery.
If you google "how to recover snapchat pictures?" the number of results can be overwhelming. A lot of software companies have developed their own photo recovery apps, and while some of them are good, none of them can match the benefits of using Recoverit Photo Recovery.
Functions
Recoverit comes with powerful data recovery solutions that support lost data recovery from lost or resized partitions, formatted and raw hard drives.
It also retrieves lost data from virus attacks or crashes with bootable media solution.
The software lets you preview the scanned content so that you can check the media you want back.
Supported File Formats
Recoverit supports 550+ data formats including the files such as images, archives, email, multimedia files, videos, documents, and more.
The supported image formats include JPEG, BMP, PNG PSD, RAW, CRW, DNG, RAW, CR2, GIF, and many more. However, the video formats that can be recovered by Recoverit include MOV, AVI, MP4, M4V, MKV, WMV, 3G2, 3GP, SWF, FLV, MPG, etc.
Recover lost or deleted photos, audios, music, videos and movies in all formats effectively, safely and completely.
Support deleted photo recovery from memory card, flash drive, SD card, Android cell phone, digital camera and camcorders.
Recover pictures under different situations, like sudden deletion, formatting, hard drive corruption, virus attack, system crash, etc.
Support to create a WinPE bootable media and recover inaccessible data from a crashed or unbootable system on Windows computers.
4,027,239 people have downloaded it
Part 3: How to Recover Snapchat Pictures
Even though recovering snapchat deleted photos can be a somewhat easy task, most people just don't know how to get snaps back. There really isn't much prep to do beforehand, because, at this point, you know already you'll need to use the best snapchat recovery app to ensure a successful result, which means, the first thing you need to do before continuing reading is, download a photo recovery app, it could be one you read about in here or another one if you preferred it. Do you want to recover deleted snapchat photos, but you aren't sure how to do it? Well, if you have accidentally erased your pictures, here is what you can do to get them back.
1. How to Find Deleted Snaps on Computer
Alright, the next step after installing a photo recovery software will be to find the deleted snaps on your computer, don't worry, this doesn't mean you're gonna have to turn it upside down to find them, all you have to do is run the program and follow the instructions as they appear on your screen.
To find these deleted snaps, all you have to do is select the hard drive or hard drives where you last saw them from the list the program has compiled for you. Let the software work its magic, and scan the locations you've picked in search of your precious snaps. Once it's done, a list of files will appear in front of you.
2. How to Recover Snapchat Photos
To simplify everything you've read so far, let's make it easier, and view the process steps by steps.
Step 1: Locating the missing snaps
When you run the recovery software, it will show you all the locations it has access to, all your hard drives, partitions, and external storage units connected to the computer. Select the local disk (C, D, or E) you want to be scan, and press the start button.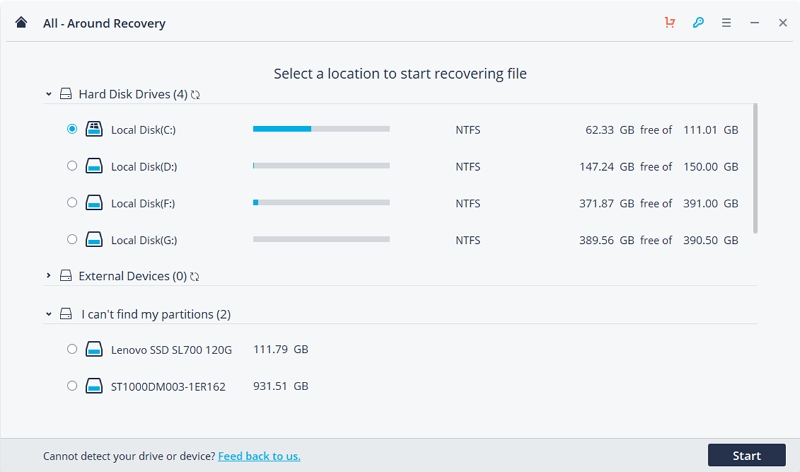 Step 2: Scanning location
After pressing the start button, the program will do what it's supposed and began to search for your missing photos, videos, audios, etc. Bear in mind, this is a thorough inspection so it may take a while.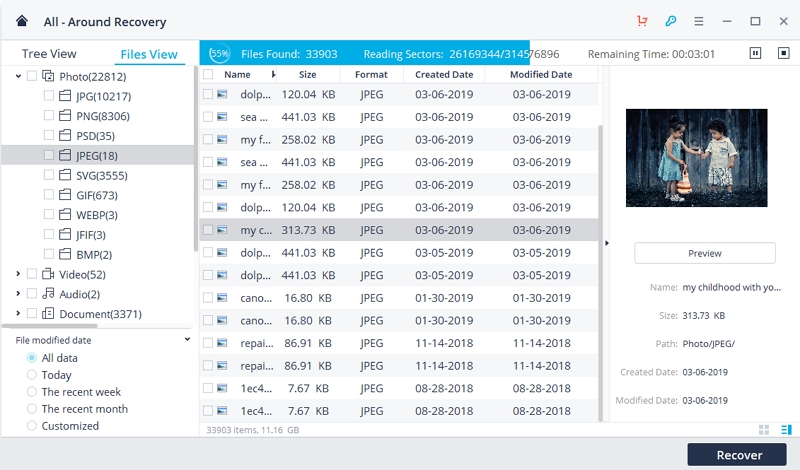 Step 3: Recovering the snapchat deleted photos
Once the program has completed the scan, all the recovered files will appear in front of your eyes. Most programs like Recoverit Photo Recovery allow you to preview these files before restoring them. Select the ones you want to bring back and hit the recover button.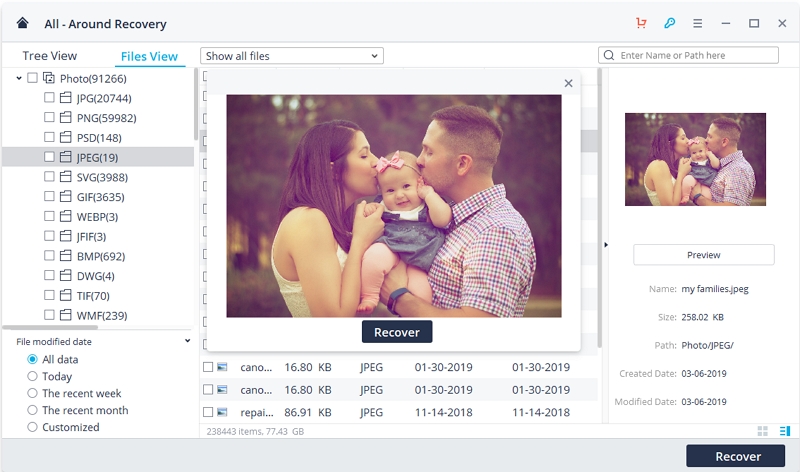 3. Some Tips during Snapchat Recovery
As you can see learning about how to get back deleted snaps is simple, but you can make it even simpler by following these tips:
Be patient. Several factors determine how long the recovering process lasts, none of which are under your control.
Follow the program's instructions.
Choose the right hard drive (C, for example).
To save time, recover only the photos you want.
Don't save pictures in the same location or you run the risk of losing them again.
You can also use Recoverit Photo Recovery to help you recover snapchat photos android and iOS.
Part 4: How to Recover Deleted Snapchat Photos on Phone
If you want to recover snapchat photos on your phone, but you aren't sure about how to do it, the guidelines below will be of tremendous help to you and your quest to recover snapchat memories, you thought were gone forever.
1. How to Recover Snapchat Photos on Android Phone
One of the best features of any Android Device is how they keep cache memory of pretty much everything (including apps) in the phone storage or SD card. Which means you can easily use these cache files to recover deleted snaps.
Recover Snapchat from Cache Files
Go to the File Manager app on your android, look for a folder named Android, and then, get into the Data folder.
A list containing all the apps existing on your Phone will appear. Find the one named "com.snapchat.android" and press to enter.
In the "received_image_snaps" folder you'll find all your deleted snapchat photos.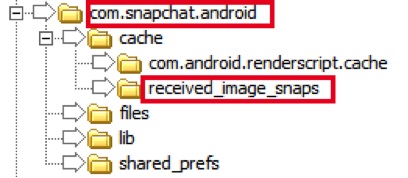 2. How to Perform Snapchat Picture Recovery on iPhone
As you saw, retrieving deleted snaps from Android was simple. But the good folks of Apple have simplified matters even further. If you have synced your phone with your iCloud account, you can get your snapchats back by restoring your iPhone, but before you do, make a backup and follow these instructions:
Go to Settings>General>Reset>Erase All Content and Settings.
Tap on Restore from iCloud.
Select the backup file from iCloud containing all your snapchat pictures.
3. Some Tips during Snapchat Snap Recovery
Make sure to follow the instructions carefully.
Read all the options before pressing any buttons.
Make sure to back up your iPhone regularly.
Be patient, this process can take several minutes.
The Bottom Line:
On a final note, now that you have reached the end, it is safe to assume you just acquired a brand new skill, how to retrieve snapchat photos in an easy and quick way. Additionally, you've also learned how to use the best recovery tool available on the Internet, Recoverit Photo Recovery. The step by step guide taught you everything you needed to know about the program, including how user-friendly the interface really is.
Photo Recovery
Recover Photos from Camera

Recover Photo from SD Card