How to Perform Photoshop Recovery
Are you a regular user of Photoshop? If yes, then you may face a software crash due to accidental human error, malware or virus. Losing an important PSD file can be frustrating especially when you've been working on it for weeks. If you have just met with the same issue, no matter whether your Photoshop crashed or window crashed, you can still recover the Photoshop files.
Fortunately, there are effective ways that will help you in Photoshop recovery. Scroll down to know how to perform the recovery for PSD files.
Part 1: How to Perform Photoshop Recovery for Lost Photos
There are many different ways to recover lost photos from Photoshop. One of the best methods is to leverage Recoverit Photo Recovery software. This tool is best known for its functionality and efficiency.
It supports over 550 data formats, including images, documents, multimedia files, emails, etc. Some of the formats Recoverit supports are as follows:
Documents: PPT/PPTX, XLS/XLSX, PDF, DOC/DOCX,HTML/HTM, etc.
Image: JPG, RAW, TIFF/TIF, PNG, GIF, PSD, CRW, CR2, NEF, SR2, MRW, DCR, ERF, etc.
Video: AVI, MOV, MP4, M4V, 3GP, 3G2, WMV, ASF, FLV, etc.
Audio: AIF/AIFF, M4A, MP3, WAV, WMA, OGG, AAC, etc.
Recoverit tool uses deep search algorithms to help you search both recent and old deleted files to retrieve lost data. You can recover data from any type of storage media including music player, pen drive, hard drive, floppy disc, USB drive, iPod, etc.
It also has powerful built-in-Data Analyzer Engine that increases scan speed.
Moreover, the advanced deep-scan algorithm of Recoverit finds the data from depth with a data recovery rate of more than 96%. Thus, its fast recovery rate allows you to restore huge files in no time.
Free Download Recoverit Photo Recovery
Recoverit is a free application that recovers all major file types, including photos, documents and many more.
Recovers lost data from corrupt drives due to reasons like power failure, malware attack, etc.
Restore deleted files from the recycle bin.
Recovers data lost due to emptying the Recycle Bin or accidental deletion.
Recover lost or deleted photos, audios, music, videos and movies in all formats effectively, safely and completely.
Support deleted photo recovery from memory card, flash drive, SD card, Android cell phone, digital camera and camcorders.
Recover pictures under different situations, like sudden deletion, formatting, hard drive corruption, virus attack, system crash, etc.
Support to create a WinPE bootable media and recover inaccessible data from a crashed or unbootable system on Windows computers.
4,027,239 people have downloaded it
Supports lost Photoshop file recovery from formatted hard drives, raw hard drives, lost or resized partitions.
How to Recover Photoshop File on Windows/Mac
To recover the Photoshop files, you can use Recoverit data recovery tool. It is easy to use and reliable data recovery tool which can promptly recover deleted, formatted, and lost files on Windows/Mac.
The Recoverit software helps you recover almost all the data types from any storage device. Also, it can retrieve permanently deleted file from recycle bin.
To start with the recovery process, download and install free Recoverit recovery tool in your system and then follow these steps to retrieve the required data.
Step 1: Select a location for lost files
First, you need to select the partition in the drive where you saved the lost Photoshop data.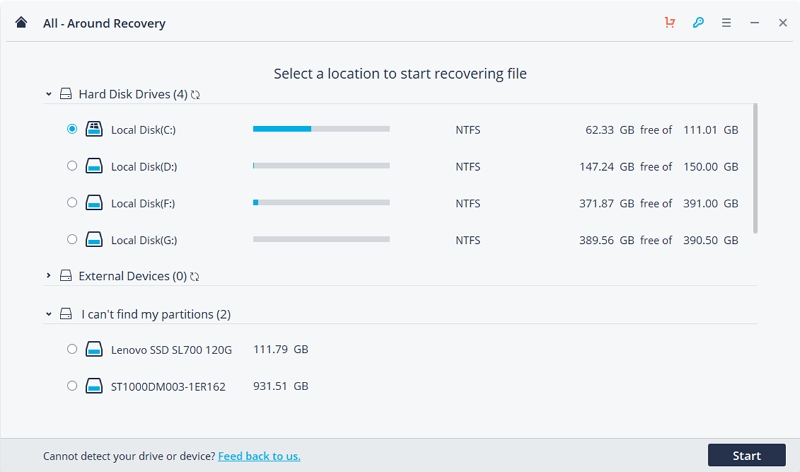 Step 2: Scan the selected location
After selecting the partition, click on start scan, and Recoverit will scan the drive thoroughly. The scan will help you find the lost data within a few seconds.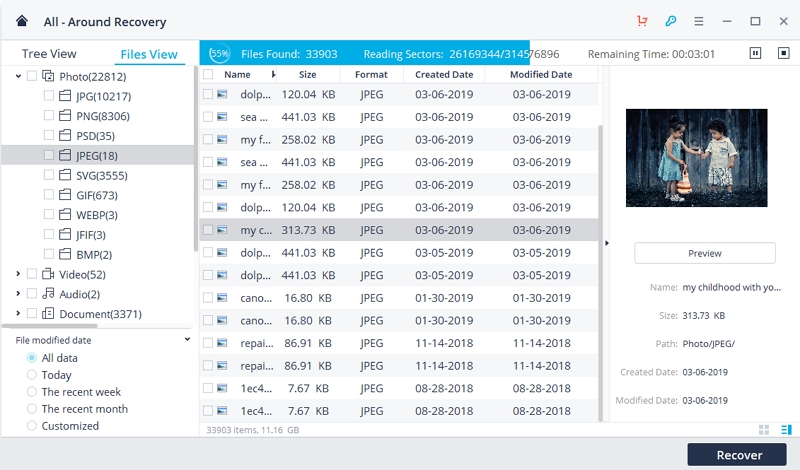 Step 3: Preview and recover Photoshop files
After scanning, check the recovered files on preview panel of the screen.
To see all your past photos, expand the photo or image file.
Choose your file, hit on the "Recover" button and select your preferred location for saving the file.
Note: Don't save the file in the previous location as it you may lose it again from there.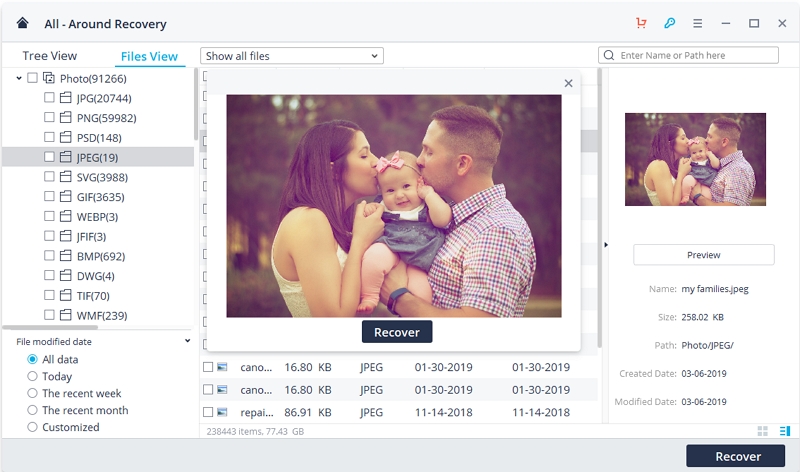 Tips on Photoshop Recovery
If you're keen to restore lost photos, videos and music then use Right Photoshop recovery software according to your system and window in your PC.
Also, set Auto-Save interval in your Photoshop. Photoshop auto-save feature save your file automatically once completed.
Part 2: How to Recover Unsaved Photoshop File on Windows
You may close your Photoshop file, document on your PC without saving it. Now, you might be worried about losing the data on which you spend weeks and hours. Worry not! You can recover the unsaved file with Recoverit in no time.
But are you wondering how you can get back unsaved PSD files?
Firstly search for Autosave option on your Adobe Photoshop. This function allows you to back up your files when the system gets crashed or shutdown.
Autosave Function In Photoshop
Autosave is a new feature of Photoshop CS6 that helps in recovery of the unsaved files. If your system's window crashes before you save the file, you can recover that file quickly with this feature.
It automatically saves the files after a certain period. With this, you do not have to stress on saving file or document in Photoshop.
How to Recover Unsaved File from Photoshop
To recover an unsaved file from Photoshop, ensure that auto-save function is enabled in your Adobe Photoshop. You need to set the time limit after which the autosave feature automatically will save your file.
When you have autosave enabled on your PC, but still you not able to see your file, you can use auto recover to find unsaved files.
Go to the folder in your hard drive where Photoshop keeps autosave files. You can find this folder by following the path below.
Go to C drive>Users>User Name>App Data>Roaming>Adobe Photoshop CS6 > Auto Recover
There, you will see your PSD file. Now, rights click on it and to get your required file.
How to Enable the Photoshop Autosave Function
It's more than a worst situation when you have to edit the photos again on which you have already spent hours.
It is one thing you never want to experience. But what if you forget to save your file or your system got crashed all of a sudden? Further, the autosave function is also not enabled.
Now, with Adobe Photoshop's autosave feature, you don't have to write the files again. But, for this, you need to enable Photoshop Autosave function on your system.
Enable autosave by the follow the following steps.
Launch the Photoshop autosave application by double click on it.
Now, click on the file on the toolbar.
Select Preferences go to File Handling then choose autosave recovery time.
Where Is the Photoshop Recovery File Location
Like other applications, Adobe Photoshop autosaves a copy of the file you are working on in a temporary folder with a .tmp extension.
In the case you lose your Photoshop file, you can recover it from temp files of Photoshop.
Part 3: How to Recover Unsaved Photoshop File on Mac
Usually, things such as closing Photoshop without saving, system crash or other reasons can cause Photoshop file loss easily.
However, a Photoshop file loss is not only limited to Windows; the same effect also applies to Mac OS. Luckily, you have a chance to recover the unsaved Photoshop file on Mac.
How to Recover Unsaved File from Photoshop on Mac
There is an autosave option in Adobe Photoshop that makes the recovery of an unsaved file very easy on Mac.
To use the autosave feature to recover unsaved Photoshop files on Mac, follow the following steps.
Go to the homepage of the software
Select the "Go" option
Now, click on "Go to Folder."
Type: ~/Library/Application Support/Adobe/Adobe Photoshop CC 2017/AutoRecover under "Go to the folder:" and select "Go."
Now, open "AutoRecover" folder.
This process will give you access to unsaved and lost files.
How to Enable the Photoshop Autosave Function on Mac
Enable or activate the autosave option in Mac by clicking on Photoshop CC. Scroll down the mouse and select Preferences. Now access the autosave by click on the File Handling.
Finally, to enable autosave option on your Mac, go to automatically save and recovery options.
Furthermore, choose the autosave interval option from the drop-down menu. The time duration of autosave ranges from every five minutes to hours, so choose according to your preference.
Where Is the Photoshop Recovery File Location on Mac
Like other applications, Adobe Photoshop autosaves a copy of the file you are working on in a temporary folder with a .tmp extension.
In the case, when you have lost your Photoshop file, you can recover it from temp files of Photoshop.
Part 4: Extra Information about Photoshop Recovery
Photoshop recovery stands for recovery of lost files and unsaved or deleted work from Photoshop. There are many ways to recover the unsaved data or lost files from the operating system.
There is a Photoshop autosave feature that saves your file on which you are working by itself without your command. Also, there is effective software like Recoverit that will help you recover any lost data, regardless of the reason.
What is Photoshop?
Photoshop is a full-featured software or application designed especially for editing photo, images, and videos. It edits a single image or can modify a batch of photos. It is widely used by graphic designers, photographers, and individuals to create the high-quality best image.
What Causes Unsaved Photoshop Files
Adobe software is heavy and requires more RAM and high processor speed to run or work efficiently. Therefore, sometimes this leads to a software crash which is the reason behind unsaved Photoshop files.
Suddenly shut down the system
Sometimes PC users shut off their system forgetting that they haven't saved the data. They do so in case of an emergency, hurry. Also, many times due to weak power system the PC gets sudden shutdown, which results in unsaved files.
The virus in system or malware attack
After hours of working on Photoshop, lost a file due to virus attack is frustrating. To avoid this occurrence of unsaved Photoshop files update your malware detection system.
Non-working of the autosave feature
The autosave is an important feature whose failure leads to unsaved Photoshop file.
What Causes Lost Photoshop Photos
Photoshop file loss may seem unavoidable to you, but with proper precautions and measure, you can prevent it. First, understand the primary causes of lost Photoshop photos.
Deleting Photoshop Files Accidentally
The top reason for losing Photoshop images is deleting files accidentally without having any backups. People often lose data because they do not have proper workflow procedures and backup.
Hard Drive Failures
Hard drives may fail or crash for a variety of reasons. While some failures occur due to worn out hardware, others due to factors like:
Overheating
Water or fire damage
Exposure to magnetic fields
Power outages
Power Failures
Power outages are bad for PC and Photoshop files. Power surge results in an unexpected shutdown of your computer that takes its toll on the running Photoshop photos and they get lost from the system.
Shutting down before saving
Shutting off the system without saving the data or Photoshop file results in loss of photos. Most times, People shut down their system forgetting they haven't saved files yet.
Conclusion:
The loss of the Photoshop file can happen with anyone at any time. So, be prepared in advance for it.
Try to enable autosave option of Adobe Photoshop or take measures to avoid losing Photoshop files. In case, if you lose the files due to some unfortunate incident, you can always turn to Recoverit Photo Recovery software. It is easy to use and a reliable data recovery software that helps you to retrieve data with a recovery rate of more than 96%.
Photo Recovery
Recover Photos from Camera

Recover Photo from SD Card