How to Restore Photos and Videos from Fujifilm Instax Square
When the first Fujifilm Instax Square it was a tremendous success for the Japanese manufacturer. It had the uncanny ability to bring us back to a time where photo-making was much simpler and impactful. The Instax Square was so well received it sprung multiple releases in the two years that followed its released.
It became the favorite camera for tourists and traveling aficionados all around the World, as it offered great control over the images, and excellent quality. The edit-in camera interface only enhances the user's experience. However, as with any other device, photo loss is a reality.
Part 1: Chance of Photo Recovery from Fujifilm Instax Square 10
Losing pictures or deleting them by accident is one of the most common yet heartbreaking problems camera users are likely to go through. It's not a secret that due to multiple factors, photographs and videos could get erased from your camera.
When this situation occurs, you'll no longer have access to your pictures due to several reasons. Below is a list of some of the most common causes responsible for your photo-loss from your Fujifilm Instax square sq10.
System corruption.
Accidental camera formatting.
File corruption.
Accidental deletion.
Viruses.
Physical damage.
Improper configuration/handling of the Polaroid Fujifilm camera.
Imagine borrowing your friend's Fujifilm Instax Sq10 to take pictures of some event you've been waiting forever to go to. After you're done, you connect your camera to your laptop to start transferring your photographs.
However, and soon as you make the connection a message pops-up asking you to format the incoming device. You accidentally click yes, and all your pictures get erased. This means you'll desperately need to find a way to recover your lost photos from the Fujifilm camera.
This would be a problem if it happens in any other camera other than a Fujifilm Instax Square 10. The Japanese manufacturer added a couple of features meant to prevent this situation.
First of all, this Fujifilm camera comes with a separate SD card slot, allowing the user to automatically transfer the pictures taken into it.
Second of all, the camera's advanced software, allows the user to recover the images before overwriting them.
Finally, with the help of a trustworthy photo recovery software you can also get your lost pictures back from the Fujifilm camera.
Part 2: How to Recover Photos & Videos from Fujifilm Instax Square 10
Just as there are many reasons why you would lose your favorite pictures from your Fujifilm Instax Square 10, there are many ways to help you recover them. If you are going through the nightmarish situation of losing your valuable photos, don't despair, because thanks to the guidelines listed below you will be able to retrieve them without too many complications, even if you aren't a gifted computer whiz. Simply follow the steps to the letter.
Many users preferred to recover their pictures by following a series of manual steps, meaning without the assistance of a professional photo recovery software. These users have some level of computer knowledge and are capable of retrieving lost data without too much hassle.
But if that isn't your case, you should know that there is a big catalog of recovery software solutions out there, that makes the process easier for everyone, instead of following a complicated series of manual steps, you can just relax, follow the onscreen instructions, and a few clicks later you'll be rejoicing at the fact that you just recovered all the pictures from your trip to the French Riviera.
You may think that getting those deleted photos back will be impossible, and complicated, but you are about to find out that the process has never been easier.
A Reliable Tool Needed for Camera Recovery
The first step in your journey to photo recovery begins by choosing a reliable software. A quick search online will yield countless websites offering the "ultimate best super software for photo recovery," but don't let the fake publicity dazzle you, out of the option found on the World Wide Web, there is only one that comes on top, known to be one of the most reliable options, Recoverit Photo Recovery. The software as designed to offer an easy user's experience, thanks to its friendly interface you'll be able to recover lost, overwritten, or formatted pictures from the Fujifilm Instax Square 10 camera with just a couple of clicks.
This photo recovery software is known as one of the best in the World. It supports multiple image formats like JPG, CR2, JPEG, TIFF, GIF, BMP, PNG, and PSD to name a few. You can also retrieve videos formatted in AVI, MPG, MOV, SWF, MP4, FLV, M4V, ASF, 3GP, WMV, and 3G2 to name a few.
Recover lost or deleted photos, audios, music, videos and movies in all formats effectively, safely and completely.
Support deleted photo recovery from memory card, flash drive, SD card, Android cell phone, digital camera and camcorders.
Recover pictures under different situations, like sudden deletion, formatting, hard drive corruption, virus attack, system crash, etc.
Support to create a WinPE bootable media and recover inaccessible data from a crashed or unbootable system on Windows computers.
4,027,239 people have downloaded it
Tutorial on Instax Square Camera Recovery
There is no way around it, thanks to Recoverit Photo Recovery, getting those deleted pictures back has never been easier, pay close attention to the steps listed below, and find out for yourself just how simple it really is.
Step 1: Choose the location
Once you start the program, it will ask you to select the location that will be scan. Before you do anything, make sure the SD card is inside the Fujifilm camera. Once that's done, you may pick the SD card as the location to be scan by the program to retrieve your photos and videos, click start, and let the scanning process begin.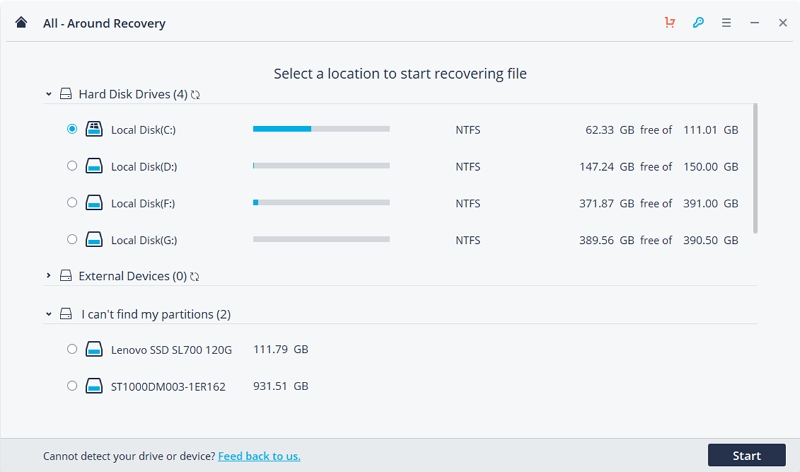 Step 2: Performing the scan
After you click the start button, the software will immediately begin to search the location for all deleted data, depending on the memory size, the process could take several minutes to finish, and so be patient.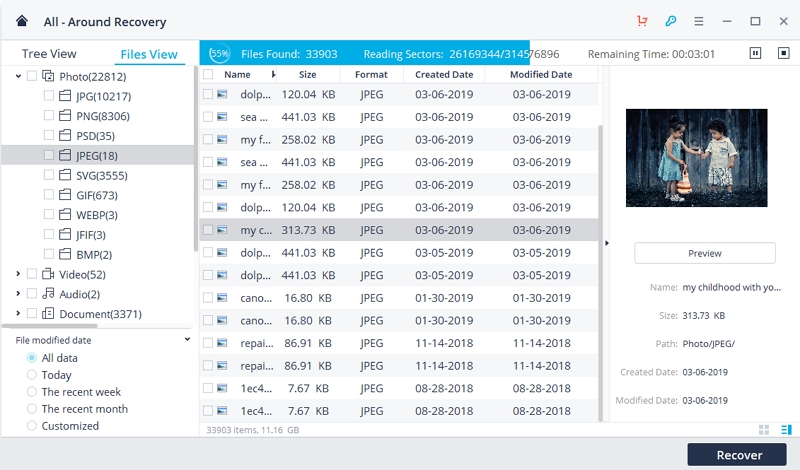 Step 3: Recover the lost pictures and videos
Once the software has completed the scan, a list of all the recoverable files will appear onscreen. You may go through the list previewing all the photos and videos and selecting those you want to bring back. After you finish the selection process click on the recover button.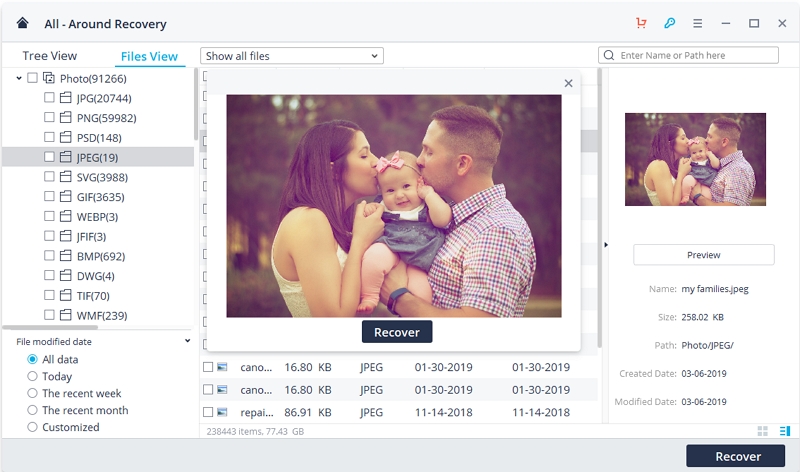 Part 3: Extra Information about Fujifilm Instax Square Camera
As mentioned at the beginning, the Fujifilm Instax Square camera took the World by surprise, and by the time the Instax Sq10 hit the market, it was complete madness, anyone who has ever used the camera knows exactly how amazing they are, and the wonderful pictures that can be taken with them. Additionally, it comes with many incredible built-in features that bring photo-taking to a whole new level. It also comes with predictive software which simplifies the process of photo recovery in case of accidental deletion.
What Is Fujifilm Instax Square Camera?
The Fujifilm camera is well known for delivering top-notch results, allowing the users to capture mesmerizing moments with the push of a button. Thanks to the hybrid design of this Polaroid camera, and the built-in user-friendly features, the Fujifilm Instax Square 10 is rapidly becoming the favorite among professionals and enthusiasts alike. If you enjoy the simple point-and-click concept, the all-new Sq10 has everything you need.
You will never run out of reasons to fall in love with this incredible Fujifilm camera, even the pros have nothing but praise for it. Its simplicity makes for a happy customer. Some of the standouts feature everyone loves about the camera are:
3.7 MP, 1/4-inch sensor camera
Fixed f/2.4 28mm lens
3.0-inch screen with 460,000 dots
How Does Fujifilm Instax Square Work?
When the Fujifilm Instax Square 10 came out, the Japanese manufacturer had one goal in mind, create a device so full of amazing built-in features that will attract the youngest generation of tech-savvy adults who love to take photos. The camera was so well conceived it is competing directly against smartphones cameras and it's putting up a fight.
The Instax Square 10 uses the square-format film, giving it a boost in functionality when compared to other digital cameras. It also ranges between the Wide and Mini range. One of the favorite features it comes with it is in-camera photo editing, thanks to its LCD display.
Where Are Photos & Videos Stored?
The videos and pictures are stored in the internal storage unit of the camera. However, it does come with an external SD card slot in case the user wants to add more storage capacity to the Instax Square 10. The addition of the extra memory slot also helps to simplify the process of photo recovery in case of deletion. Once your pictures are safely stored in the camera, you can go through them, adding effects, pumping up the brightness levels, adding funny filters, etc.
Part 4: Something About Lost Photos & Videos
Whenever you've accidentally deleted your precious photographs or videos, you need to remember that they aren't really gone, you can still recover them without too many complications. Simply follow the steps we have listed above using the Recoverit Photo Recovery and restore the lost images from your Fujifilm Instax Sq10.
Why Do Photos & Videos Get Lost?
Photos and videos are lost for any number of reasons, ranging from accidental deletion to the device malfunctioning at some level. The most important thing to bear in mind when facing this situation is that there are a lot of tools at your disposal to help you bring the photos back.
What to Do During Photo & Video Recovery
Whether you are using the Recoverit Photo Recovery program or any other software to help you retrieve lost files from your Fujifilm Instax Square 10 camera, there are certain things you need to be on the lookout to prevent future losses.
Here is what you need to do during the recovery process, do not use the memory card while the images are being recovered. Also, if you suspect some of your pictures have gone missing, do not take more pictures with the same SD card or you are running the risk of overwriting the files, and you won't be able to salvage them.
What to Do Against Future Data Loss
Make use of the "remove safely" feature before removing the SD card from its slot.
If you want to delete one or two pictures from the device, do not use the "Delete All" option.
Use extreme caution when you are deleting all the unwanted files from your camera.
Handle your camera with care.
The Bottom Line:
The Fujifilm Instax Square 10 camera has been deemed the perfect companion for professional photographers and enthusiasts alike. Its state-of-the-art looking design, and its amazing features are what make this Japanese camera so popular these days. But, what truly makes it stand out from the rest is how simple it is to recover lost photos and videos from it.
Even when you think the worse has happened and you thought your memories from that amazing trip you took to the Bahamas are lost forever, there is still hope. The simplistic interface allows the user to retrieve their photos in a few simple steps as you saw earlier. To make things even easier for you, the Recoverit Photo Recovery tool is your best ally in the quest to get those pictures back.