How to Restore Pictures and Videos from DJI Drone?
Case- I was recording a birthday video for my younger brother and suddenly the recording stopped. I tried to save the video but somehow it has been deleted. Can somebody tell me how to get the video back?
It is an amazing experience to take pictures and videos from DJI Drones. The drones are amazing technology but like any other technology, they are also susceptible to damage. And the most frustrating thing is data loss. There are many people who have to struggle to restore photos and videos from the drone.
If often happens that you crash the drone is some bush or water. As a result, the SD card gets damaged and you end up losing the media files. But fortunately, we have a solution for that. We can help you with the photo and video recovery without any delay. In this article, we are going to learn the best ways for media file recovery, i.e. Video Cache, Recoverit Photo Recovery, and CHKDSK. All these methods can effectively help you to recover your lost or deleted files. So, have a look at all these methods and decide which one suits you the best.
Part 1. Recover DJI Drones Photos and Videos from Video Cache:
One thing that you cannot avoid while flying the drones is that you are eventually going to crash it. No one is born as a professional pilot. It will take some hits to make you perfect. As the crash is imminent, it will be better that you know about the video cache feature too.
1: How Video Cache can help you to recover photos and videos?
Just like the normal cache, video cache is a system that temporarily stores the files both photos and videos in case system malfunction occurs. The benefit of using this feature is that it stores the recent photos and videos in the RAM. Therefore, you can access those files and possibly restore them. For data loss scenarios, the DJI GO app has an in-built feature of the video cache option. The sad thing is that not all users know about this feature.
2: Use Video Cache Feature:
To help you know how to recover photos and videos, we are providing you a step-by-step guide. Follow the steps and get your files back instantly:
Step 1: Open the DJI GO app and click on the 3 dots on the upper right side to open settings.
Step 2: Scroll down and look for the Video Cache option. Enable the option and you can also enable the audio function so that you'll have good quality audio with video.
Step 3: After you've activated the feature, the next time you are recording a video and the drone crashes, you'll have to access the "Editor" at the bottom of the app interface.
Step 4: There you will find the recent videos and photos, and you can recover them with just one click.
3: Some Tips on Photo and Video Recovery:
While you are trying to restore photos and videos from the cache, you will be a little disappointed with the quality. The files from cache often have a glitch. And the worst thing is that you don't get the full video back. It will be small and the last few seconds won't be there. Thus, it will better if you switch to Recoverit for effective recovery of the files.
Part 2. Use Recoverit Photo Recovery to Rescue Data from DJI Drones:
It can be very disappointing when you mistakenly delete the videos and photos from your DJI Drone SD card or system. Still, you have an amazing opportunity to recover them with Recoverit Photos Recovery Software.
1: Recoverit Photo Recovery - Best Photo and Video Recovery Software:
Overview: As it is pretty clear from the name, Recoverit is an effective and fast recovery tool that can help the users to restore lost and deleted files from any storage media.
With an advanced file-recovery algo to recover the files, you don't have to worry about losing a single file. The software is perfectly capable of restoring the media files in original quality. With a recovery rate of 96%, we can assure you that the software will be able to recover almost 70 GB of data in 3 hours which is commendable.
Features:
Restore Photos/Videos from All Devices: The software allows you to recover the photos and videos from computer hard disk, emptied recycle bin, SD card, USB flash drive, external hard drive, CD/DVD, and partitioned hard drives too.
Recovery from All Data Loss Scenarios: The software supports recovery when data is lost due to some accident or mistake, formatted drive, system crash, virus attack, or resizing of the partitioned drives.
Multiple Device Support: Another great feature of the software is that it is compatible with Windows and Mac OS. And you can recover data from any device such as digital cameras, camcorders, phones, or drones including the popular ones like Mavic, Phantom, or Inspire drones.
Reviews:
Recoverit photo recovery software is an exception to tools that do not perform as per their promises. This software offers each feature that it claims. It also offers the All-Around recovery option to perform a deeper scan and find the lost pictures. It takes a little longer time, but eventually, you get what you want to retrieve. Therefore, it is the best-deleted photo recovery software. - Thrive Global
There is no doubt that photo recovery or any other data recovery has become an easy task with Recoverit. It's easy to use interface with quick scanning & recovery makes this data recovery software a must have for every computer user. If you are looking for a high-quality free photos recovery software that surely provides you the solution ten Wondershare Recoverit is highly recommended for you. - eCloudBuzz
2: How to Restore Pics and Videos from DJI Mavic, Phantom or Inspire Drones:
Here is the step by step process that you need to follow to recover your lost or deleted files. But first, you have to download and install the software on your Windows or Mac PC.
Step 1: Launch Recoverit and Specify the Location:
Launch the software and connect your drone storage with the computer. Once the device is connected, you will see the drive as DJI Drone camera. Click on the option to specify the search location and tap on the Start button.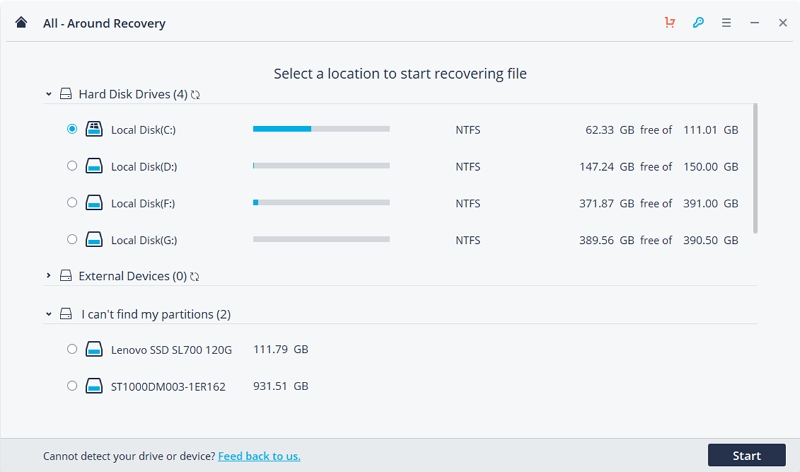 Step 2: Scan the Device:
In a moment, the software will scan the storage and the scan results will be displayed on the screen sorted ours according to formats. If the file size is big, then scanning might take a while.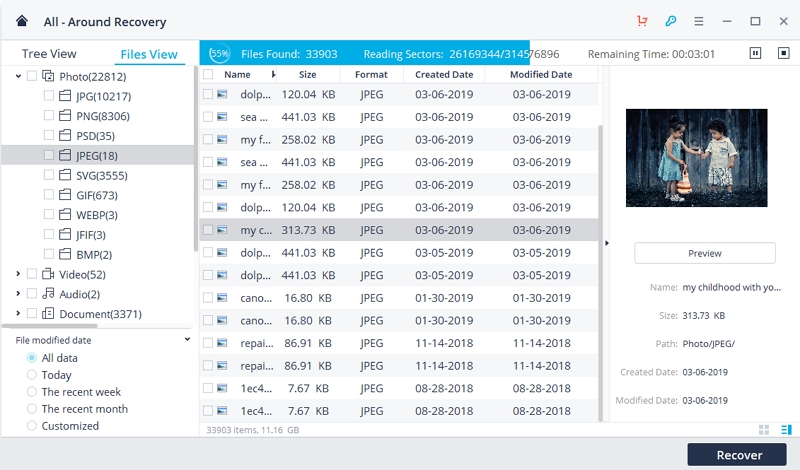 Step 3: Preview and Recover:
Now, you can select the files and have a preview. Select as many files as you want and click on the Recover button to retrieve the lost files. But make sure that you save the files on a safe location.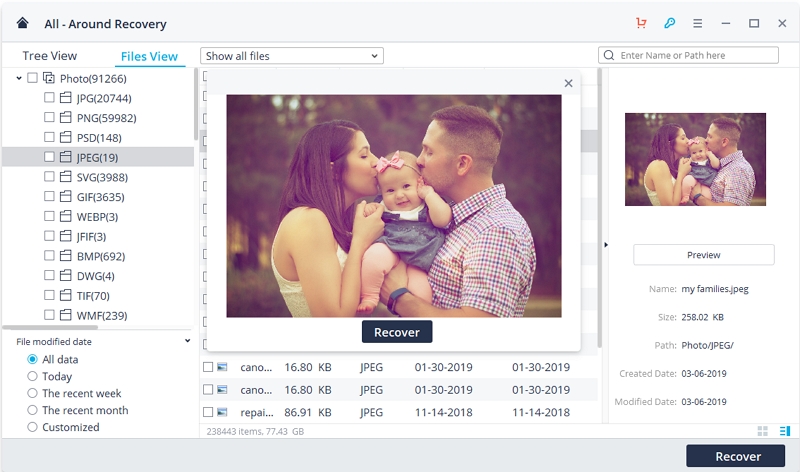 3: Tips on DJI Drone Photos and Videos Recovery:
The main tip that you need to keep in mind is to be patient and not to recover the files in the original location. There are chances that the files might get corrupted again and you will lose them all over again.
Part 3. Perform CHKDSK to Get Pictures/Videos from DJI Drones:
Most of the users already know that CKDSK command can help them to be sure that the file system integrity is maintained. Plus, it can be used to fix the corrupted drives and memory cards too. Thus, we can also use CHKDSK to recover photos and videos from the corrupted card of DJI Drone. Even removing the card from the device without proper ejection can lead to corruption. Therefore, it is advised that you gain as much knowledge as you can that can serve in media file retrieval.
1: What is CHKDSK and how it can help in Media File Recovery?
CHKDSK is an acronym for Check Disk. It is a command that provides a status report for a volume such as a disk. The command can also help to correct any kind of error in the volume. It is the command which is passed that enables the users to locate the bad sectors in the storage and retrieves the readable information. But first, you need to fix the errors too.
2: Recover Photos and Videos using CHKDSK:
To use the Windows feature, you need to follow the guide given below:
Step 1: Open File Explorer and click on My Computer. There you will see the SD card drive. Click on the drive from where you lost the files and follow the next step.
Step 2: Press Windows logo and R keys together to open the command prompt. Type the command chkdsk drivename: f/ to find the errors in the drive. When you hit Enter key, the command will run and fix all the errors in your drive. After that, type chkdsk drivename: r/ and the files will be recovered.
3: Helpful Tips:
Before you run CHKDSK for data recovery and fixing errors, remember that:
It only checks and repairs logical disk errors in the file system
It can't check network drives
CHKDSK marks the corrupted sectors as bad so that you will avoid storing the data in it.
Don't use parameters with chkdsk unless you know how they work.
Close all the drives and folder before you run the CHKDSK utility otherwise, you will end up losing more data.
Part 4. Lost Pictures and Videos from DJI Drones:
It is a hard fact that every now and then you are going to crash your drone. And it has a great impact on the files that are stored on the SD card. If you want to avoid this, then you have to understand the causes and prevention methods.
1: What Causes Lost Photos & Videos from DJI Drones?
The main causes of photos and videos loss from your drone are given below:
Mishandling: The first and the foremost reason for losing media files is mishandling the drone and memory card. Plugging in and plugging out of the memory card without ejecting it properly from the drone often leads to malfunction and data loss.
Corrupted SD Card: Data corruption happens when you insert the card in one too many devices frequently without following proper procedure.
Drone Crash: As it is already established, when you crash the drone, it becomes imminent that you will end up losing the files after the crash. Sometimes, the crash is so hard the card is damaged permanently.
System Crash: It is obvious that you need a remote control device to operate the drone. Sometimes, unexpected switching on and off the device often leads to disruption of the transmission and you lose the photos and videos.
Virus Infection: Sharing pictures and videos with your friend's random devices often corrupt the card and lead to virus infection. The virus will spread across the files and all your files will be corrupted.
2: What Makes DJI Drone Recovery Possible?
The good part is salvaging the damaged, corrupted and deleted files. The thing about technology is that nothing is truly deleted, at least not right away. Unless the files are overwritten by new files, they stay intact in the storage space. Thus, you can recover photos and videos easily. Typically, the files overwrite takes longer than usual. Therefore, you always have 50-50% chances that you can retrieve your lost files.
If data loss happens, then stop using the drive immediately and use an effective method of photo and video recovery as soon as possible.
3: Comparison Chart- Ways to Recover Pictures and Videos from DJI Drones?
Here, we have drawn a comparison chart of the three methods that can be used to restore photos and videos from DJI Drones. Take a look and choose the best one.
| | | | | | |
| --- | --- | --- | --- | --- | --- |
| Recovery Methods | Quality | Speed | Ease of Use | Requirement | Basic Premise |
| Video Cache | Low quality | Fast | Simple enough | Knowledge about cache files | DJI GO and preset configuration |
| Recoverit Photo Recovery | Original & High quality | Fast | User-friendly and highly intuitive interface | No technical knowledge required | Only SD card |
| CHKDSK | High Quality | Average | Quite difficult for the non-programmers | High-level cmd knowledge required | SD Card |
Part 5. How to Use DJI Drone SD Card:
Usually, SD cards are used to store media files. But choosing the right card is very crucial. If you use a low-quality card, then you will regret the decision because they are more vulnerable to damage. So, here are some things that you need to consider if you want to make sure that you can recover photos and videos even after deletion.
1.How to Select SD Card for DJI Drones?
The basic requirements you need to fulfill while selecting the SD card are given below:
Size: It is not vital that you have a big storage space on the card. You need to buy the card which suits your requirements. But when you are choosing the size, keep in mind that a small size card will run out of memory very soon. The Drones record videos in high-quality that means it takes up big storage space. Thus, you need to consider an ideal size up to 64 GB for the SD card.
Capacity: There are two types of SD card. The first one is conventional SD card and the second one is the SDHC card which stands for high capacity. The standard cards are good for phones, mp3 players, and small gadgets. But for heavy devices like Drones or DSLR, you must use the SDHC cards.
Speed: To read and write big files, you need a card which can perform better and have at least 75 Mbps speed. Using a fast memory card is vital as it will reduce the overall time to create a backup of the files too.
Cost: Without any doubt, the cost of the card also matters. But nowadays, good quality cards are available in the market at an easy cost too. So, instead of choosing the expensive ones, you can choose the one which fits your budget and requirements.
Warranty: Before you make the final purchase, don't forget to look for the warranty services to aid you in case of damage or malfunction. Choose the ones which have a viable warranty period. There are some cards which come with a lifetime warranty.
Compare all these aspects and then decide which card you should buy.
2: How to Use SD Card for DJ Drones:
When you are using the card, you have to pay attention to the basic requirements too. To assure that you have the best experience using the SD card, you need to follow a few simple rules:
Read and Write Speed: The read and write speed of the card matters a lot. Thus, unless you have a faster processing speed up to 75 Mbps, don't try copy-paste big files from one storage space to another.
Confirm the Capacity: When you are about to use the Drone, make sure that there is enough memory space left on the card to record at least for 60 minutes.
Use USB 3.0 port: Transferring the 4K and 6K raw files can be quite complicated. Therefore, it is advised that you use a 3.0 USB port that matches the speed of the card.
Create a Backup of Files: A backup is a very essential aspect of using such devices. It is recommended that you use a SanDisk card with up to 1 TB capacity to create a durable backup.
Keep One Device for Use: Frequent plugging and unplugging of the card leads to damage. So, make sure that you keep a big size card in the Drones and don't use it for other devices.
3: Overall Tips on DJI Drone SD Card:
Never forget to switch off the Drone before you take out the memory card.
Using an SD card with faster speed will serve you better.
Buy a memory card from a trusted and reliable brand.
Don't copy random and big files in the card from unknown devices to avoid corruption.
Remember expensive things don't mean that it has the best quality.
Conclusion:
Hereby, it can be concluded that photo and video recovery can be done easily if you know the appropriate tools. There are lots of people who have suffered from data loss due to mere incidents. But now, the users have access to Recoverit Photo Recovery which is capable of retrieving all your lost media files from DJI Drones and other devices too. So, pass on the information to your friends and family so that they can also take advantage of using Recoverit.
Photo Recovery
Recover Photos from Camera

Recover Photo from SD Card