How to Fix SD Card Won't Read
These days SD card one of the most popular storage media for smartphone, camera, laptops, and other digital devices. It is an efficient and easiest way of saving valuable digital files.
But what about the moment when all of a sudden you see a message - SD card won't read? Can you afford to lose your critical files? Don't panic! Although these cards are prone to corruptions; there are methods that can fix corrupted memory card.
Read here about how to fix memory card not detectedand save the data from being lost permanently.
Part 1- How to Fix SD Card That Won't Read
Undoubtedly SD card is the best medium for data storage. But it can malfunction anytime. The moment you notice memory card not showing files, stop using it and remove it from your device. Once you are done, recover your files with these methods.
Use CMD To Fix "SD Card Can't Be Read"
To fix SD card read error, you can refer to CMD (Command Prompt) – Windows Application. But be very careful while executing it as a little mistake can lead to no or lost access to your important files permanently.
So carefully start the execution to fix micro SD card problems with these steps:
Step 1: Connect SD with Computer and Launch CMD
You can connect it by inserting a memory card into the card reader. Then insert it into the computer or directly insert it in the slot provided. Launch CMD by typing "cmd" in the search bar of the start menu.
Or use a shortcut to open CMD – windows button + R and type "cmd."
Step 2: Type "chkdsk h: /f G"
Perform this step carefully by typing the correct designated letter of memory card. G here represent memory card letter.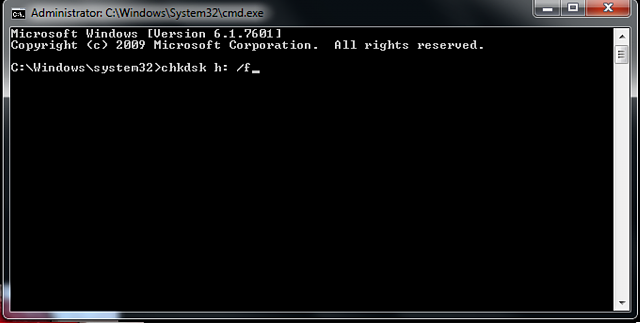 Now the command prompt will start repairing micro SD card problems.
Scan and Repair the Unreadable SD Card
Proceed by connecting SD with computer and run a scan to fix corrupted memory card. Select the options for repairing the memory card.
If SD card is not getting assigned to a new drive letter, it signifies your card has become unreadable. You need to change the drive path to make it readable.
Right-click memory card by going to disk management -> Change the drive path and letterby clicking on the drive letter and selecting the change option -> Select a new letter for the drive and click OK.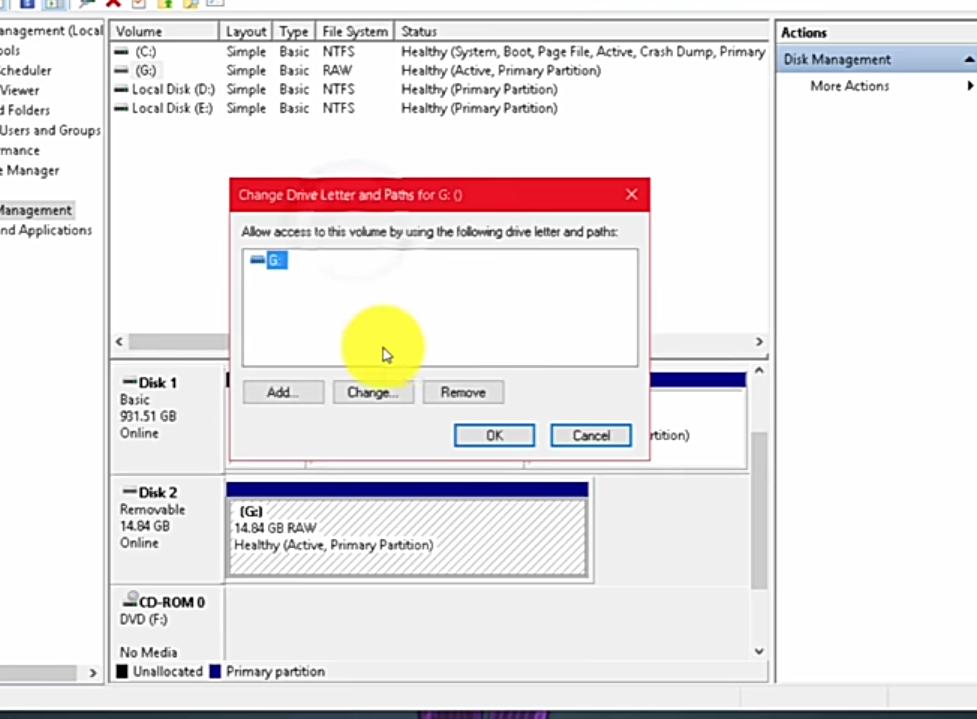 Update Driver For Micro SD Card
Outdated driver can also be the possible reason for unreadable SD card.To fix the issue:
Connect SD card with computer -> Open device manager by clicking on the control panel -> Look for an exclamation mark in a yellow triangle
If you notice any sign like this, it signifies that SD had compatibility issues. Under such situation, download SD card driver from a trusted source and install it.
Format Micro SD Card Not Working
After trying different options for fixing the memory card, are you still receiving SD card read error? Here you are left with no other choice than formatting the memory card. You need to proceed with this as your card is too corrupted and is impossible to repair.
Now fix the SD card by formatting. Be cautious as it will erase data. Once the device undergoes format, chances of recovery are very less as it becomes tough.
Formatting usually takes time depending upon the SD card's capacity. To begin format:
Connect SD with computer > Right click the non-working card -> Click Format.
Ensure you have recovered your important files and all are stored at a safer place before performing this step.
Use Recoverit Photo Recovery to Access SD Card Photos
When the SD card becomes unreadable, usually stored data is lost. Although these files are recoverable, but still there is a need for reliable recovery software.
The best solution for recovering data from corrupted memory is by using Recoverit Photo Recovery software. It is designed to fetch lost files from their place. Stop using the card before recovery and ensure it is not damaged physically.
This user-friendly software is compatible with both Windows and Mac operating systems- Windows 10/8/7/XP/Vista and Mac OS 10.6-10.13.
Part 2-How to Retrieve Photos from Corrupted SD Card
At times you face difficulty in accessing your SD cards photos or videos. Might be there is a problem in your phone or other devices that uses SD card, or there are chances that your SD got corrupted. Check for the problematic area.
Try your SD card in another device; if you are still unable to access it, there is a chance that your card has developed a problem. Use the best software, if you want to retrieve your important photos from the corrupted SD card. You can even fix the corrupted SD card with it.
Though there are numerous software's for data recovery, Recoverit holds the top spot because of its 96% success rate. It supports photos of all major formats like JPG, TIFF/TIF, PNG, BMP, GIF, ERF, RAW, CRW, CR2, NEF, ORF, RAF, and many others.
Recoverit Photo recovery
Recoverit photo recovery software is a powerful tool for recovering files from memory card not showing files.
Whether you have lost your important files due to accidental deletion, virus attack, crashed or formatted device, or due to a corrupted data card, the software has solutions for all. It has the highest success rate in recovering photos, videos, audio of various formats from the SD card.
Recover lost or deleted photos, audios, music, videos and movies in all formats effectively, safely and completely.
Support deleted photo recovery from memory card, flash drive, SD card, Android cell phone, digital camera and camcorders.
Recover pictures under different situations, like sudden deletion, formatting, hard drive corruption, virus attack, system crash, etc.
Support to create a WinPE bootable media and recover inaccessible data from a crashed or unbootable system on Windows computers.
4,027,239 people have downloaded it
How to Perform SD Card Photo Recovery
Retrieve your data from corrupted SD card with Recoverit. As the software is compatible with both Windows and Mac, the user can explore the software on their systems with these easy steps.
Step 1: Select Recovery Mode
Whether you use Windows or Mac, download the compatible version and install the photo recovery software on your system. Attach your SD card with the computer and launch the software.
Select the recovery mode to start retrieving photos from damaged or corrupted SD card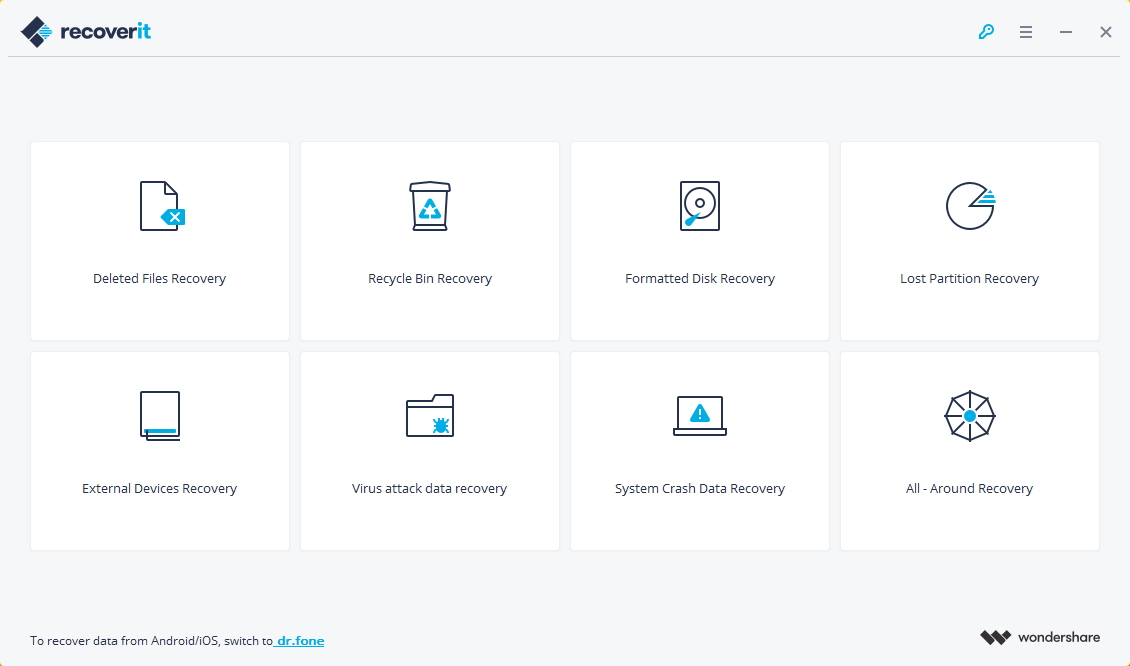 Step 2: Select the Location
Choose the location from where you lost the photos. Here you need to select the letter that is designated to your SD card. Select the drive and click on start to continue the process.
You need to be very careful while selecting the drive as the wrong selection might lead to losing the data forever.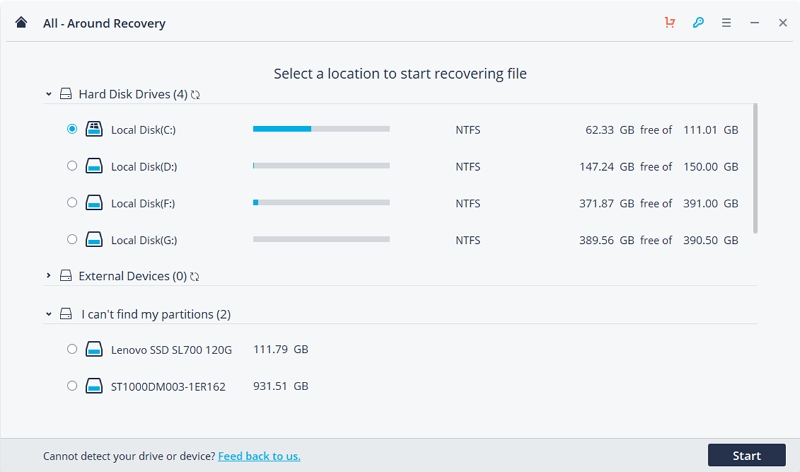 Step 3: Scan the SD Card
The software runs the quick scan to give you a preview of your lost data. It uses deep search algorithm for retrieving your files. There are times when you need to scroll down to look for your desired file.
While performing the All-Around Recovery, the software takes some time to complete the whole scanning process.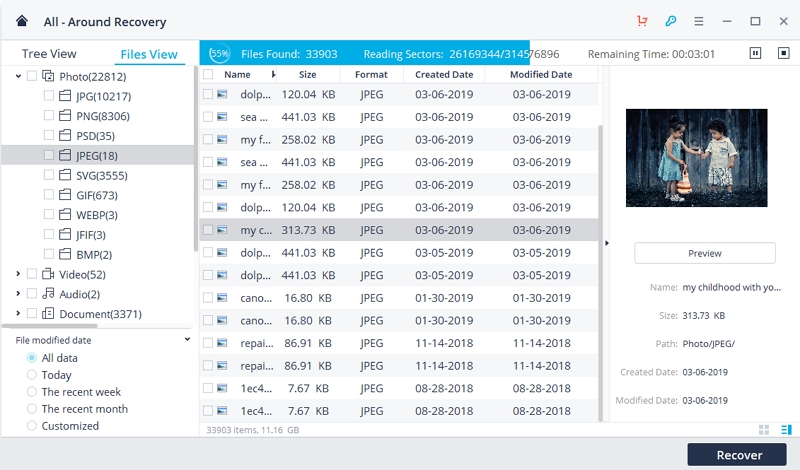 Step 4: Preview and Recover the Deleted Images
Reliable and efficient software allows its users to preview the recovered files before recovering them. Once you complete the selection procedure, click on the recover button for retrieving your files from the corrupted software.
Save them on the safe location; different from the one from where you lost the data.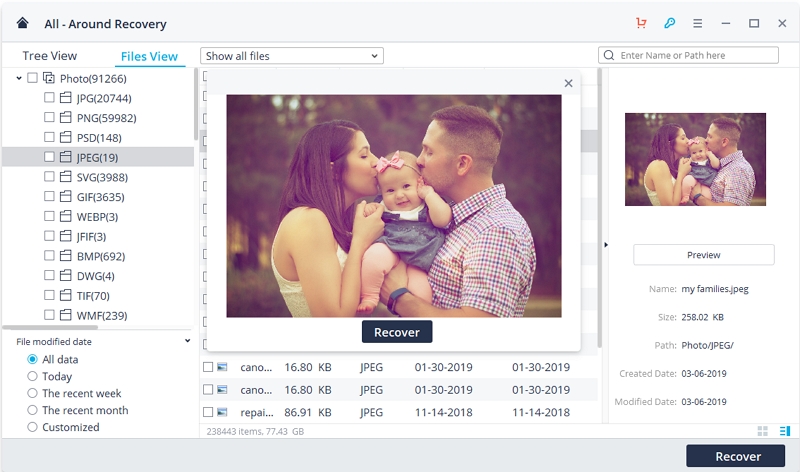 Recovery step is very crucial. Most of the times people end up saving the files on the same location. Saving files on a different drive or other external storage device increase chances of not losing the retrieve data again.
Part 3- What does an SD Card Do?
SD card is a secure digital card. Mobile devices, cameras, and other smart devices use it. Understand more what does an SD card do? This ultra-small flash memory is designed as a memory for storing a vast amount of data. The non-volatile device does not require power to save the data. Along with that, the portable card is compatible with several devices.
The moment you insert the card in the slot, the device picks it up for storing the necessary information on to it. Sometimes they develop some issues and results in losing vital information, but it is recoverable with the best recovery software.
Sony introduced another storage medium that works similarly like SD card- memory stick. So, what is a memory stick? Well, it is a type of portable flash memory that Sony used it in cameras, camcorders, and even other digital equipment of photography. Usually, people confuse USB flash or pen drive with a memory stick. But it is different in technology, appearance, and even in usage. The initial versions were 2 inches long and had very thin breadth. It had 8MB to 128 MB capacity.
Part 4- How Does an SD Card Become Corrupted?
Undoubtedly SD card provides ample storage capacity and permits data access at a very high speed. But improper handling of card and due to some other unavoidable reasons, the card gets corrupted.
Physical Damage
Most of the SD card scan can withstand damages like water, etc. But still, they are vulnerable to numerous physical damages. The tiny card can break into pieces if force is applied. If they get exposed to extreme conditions for longer durations, it results in damage of data card. Along with that, as the card is made up of electronic components, electrostatic discharge damages it.
File System Corruption
The operating system of the device greatly impacts the SD card. In case your device develops a malfunction it results in corruption of files. Further, it results in damage of SD card when you try to access the information that is already on it.
Improper mounting and un-mounting of SD card
As USB flash drives need insertion and ejection of SD correctly and safely. Similarly while inserting and when you are about to unmount the SD card from your digital device, it needs to be handled appropriately. Frequent and abrupt removal of cards from devices often leads to corruption of the card.
Bad Sectors
Like hard drives, the creation of bad sectors in SD cards is unavoidable. It is the storage space that stops storing data with time. With time these bad blocks increases which ultimately leads in making SD card permanently inactive.
Interruption during Formatting
You might need to format your SD card for certain reasons. During this course, if formatting is interrupted, chances increase that SD card gets compromised. So whenever you are going to format your card, precede it cautiously as they become difficult to repair if damage occurs during this process.
Part 5: How to Keep SD Card Healthy
Even though there are reasons that are unavoidable still maintaining SD cards is paramount as they store vital information. Maintain your card's health with these tips:
Format the Card before Use
The memory card comes pre-formatted, but it is necessary to reformat it for optimal performance of the card. The formatting needs to take place on the device that is holding the card. This frees up the card but also prevents issues that may arise while writing data on the card.
Don't Fill Your Cards Completely
Every card has a set storage capacity. Always try to maintain the number of files below than the full space indicator. If your memory is full in the card, and you try to store information on it, the cards still attempts in writing it. This can easily lead to corruption of files already stored on the card.
Use Branded Cards
Always prefer using high-quality cards, because photos stored on branded cards are safer than storing them on off-brand SD cards.
Prefer Reformatting Than Deleting The Content
Reformat restores the card to a recognizable format and increases the life span of the card. So next time you are about to delete unwanted images, either use the computer to erase data or format card.
Don't Abruptly Turn Off The Device
Sometimes the device is still in the writing mode and the sudden switch off can lead to loss of communication between card and device. It can even cause serious issues. So, never eject the SD card or switch off the device when the card is processing some information.
Final Thought:
By the end of this article, you are now familiar with the best way to fix corrupted memory card. Along with that, it is also advisable to regularly backup your important data. This saves your vital information under such critical circumstances.
Whatever the reason was behind the corruption of data card, always unmount it from the device the moment you notice it has become unreadable. Follow the steps mentioned above for recovery with Recoverit software to fix SD card and recover the corrupted files.
Photo Recovery
Recover Photos from Camera

Recover Photo from SD Card