Top Five Easy Recovery Software for PC Data
Have you lost data on your PC because of a sudden system crash? Do you have trouble to find missing files in the system? Have you been looking for an all data recovery tool, one that can recover your device data quickly?
You are in the right place! In this article, we shall discuss several tools that are perfect for your multiple needs. The listed software here all has excellent features and exceptional functions. Any time you fall victim to any data loss scenarios, data recovery software for PC has got your back.
Now let us look into the top 5 easy recovery software that is free.
Part 1: Top 5 Free Easy Recovery Software for PC
If you want the best free, easy data recovery software for PC, here is the list to choose from:
1.Recoverit Free Data Recovery
This tool is an all-in-one data recovery software that is very popular among desktop users. It efficiently and effectively recovers data from external drives, memory cards, USBs, MicroSD card and other storage devices. Recoverit, Free Data Recovery, can also retrieve data lost due to partitioning, virus attack, accidental deletion, formatting, and malware problems.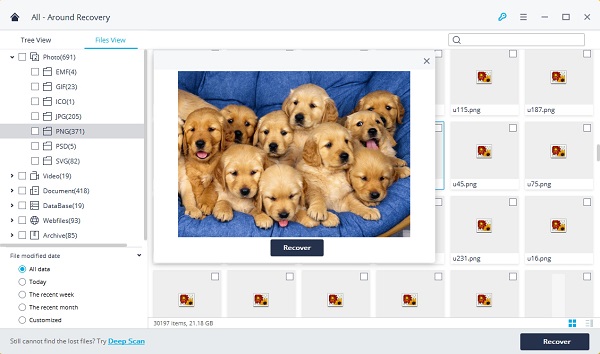 Why is Recoverit the best recovery software for PC?
Well, here are some of its top-most functions which make it the most recommended:
Recoverit, Free Data Recovery, is available for the Windows operating system as well as Mac operating system.
You can recover lost documents, photos, emails, music files, videos, and all other media, and data files quickly.
It has 100% safe and dependable recovery options.
Data recovery is simple, fast, and useful.
It has advanced scanning and preview options.
The company is a data recovery expert since 2003.
Recoverit data recovery software has more than 5 million users in over 160 countries.
The only drawback of Recoverit data recovery is that it has a data restriction limit up to only 100 MB files only in its free version.
Otherwise, it is the best software with a user-friendly interface and top-notch efficiency. I would choose Recoverit any day and anytime.
2.Recuva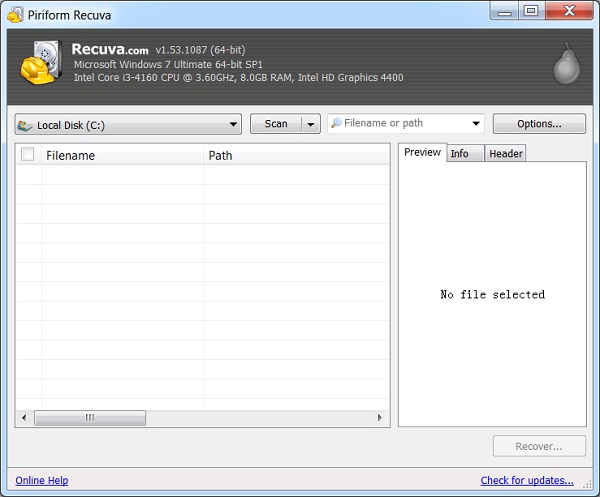 Who does not know that this is one of the most sought after recovery software for PC?
Recuva can retrieve files from a variety of devices not just limited to hard drives, CDs, External drives, DVDs, and memory cards. There is very few rival software to this one when it comes to photo recovery tools. Its overwrite feature uses standard deletion techniques for improved security, thus most secure.
Reasons why you should choose Recuva are:
It has advanced Deep scan mode for superior file recovery.
The software can recover damaged and formatted files as well.
It has an easy user interface with preview feature.
Its limitation is that it is accessible on only the Windows operating system.
3.Data Rescue 5 Demo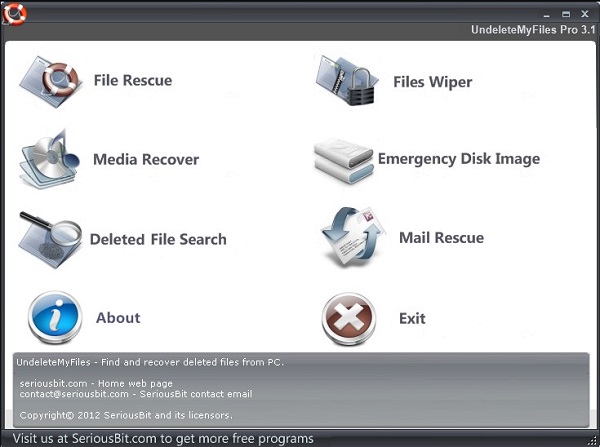 Data Rescue 5 Demo is a brilliant tool when it comes to easy recovery software. It has an ideal feature for efficient data recovery. The software gives you exceptional recovery results and can support more than 150 file types such as photos, media files, archives, documents, etc.
Below are its pros:
It entails a professional user interface with a secure navigation system.
It ensures a quicker Scan and Recovery Process.
Supports both Windows and Mac operating systems.
It has two cons:
Deep scanning takes a long time.
The scanning cannot be paused or resumed in between.
4.Wise Data Recovery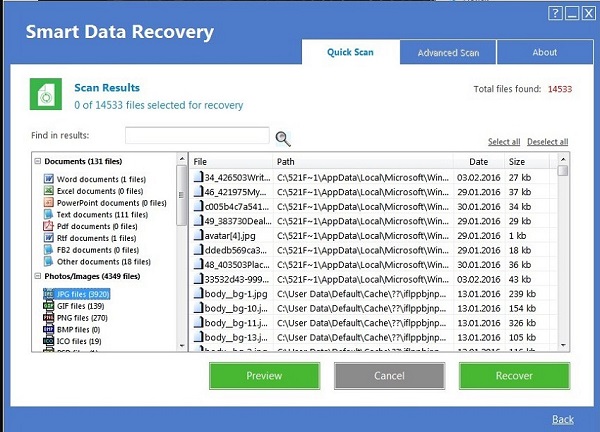 It is a smart data recovery tool that enables users to get back deleted, corrupted or formatted data files. It supports a wide range of data including videos, images, archives, emails, documents, and many more data files. It possesses the ability to restore compressed files as well plus it enlists the recoverability of the data you want to get back.
Its advantages are:
It has an outstanding file format support.
It can be moved around, and it has an advanced search utility.
It can recover multiple files all at once.
Disadvantages
It is compatible with neither Mac nor Windows XP.
The time taken by the recovery process is lengthy.
5.UndeleteMyFiles Pro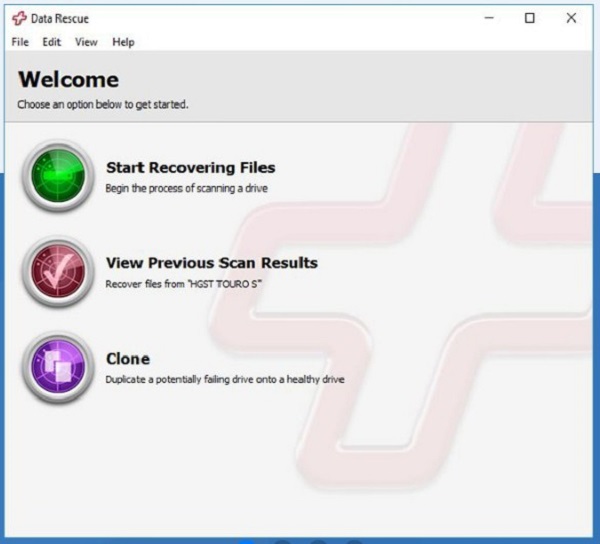 It is a fundamental and easy software. It has improved data recovery system with other various options. You can, therefore, recover data files based on your needs.
Also, it has a straightforward rescue wizard you can use to search for very old lost or deleted files. You can delete files permanently from the storage using the Files Wiper feature.
Pros:
It has specialized filters for better search.
It also has an emergency disk image tool.
Cons:
It only supports Windows OS.
Comparison Table
Products

Recoverit Free Data Recovery

Demo version

Yes

File support

Over 1000 file types supported

Supported OS

Windows/Mac

User Interface

Easy and Interactive interface

Tech Support

Complete technical support with guide

Recuva

Yes

Up to 100 file types supported

Only Windows

Old fashioned interface

Only document support available

Data Rescue 5 Pro

Yes

100+ file types supported

Windows/Mac

Intricate interface

Product support available

Wise Data Recovery

Yes

Over 150 file types

Only Windows

Interactive interface

Customer support but not technical

UndeleteMyFiles Pro

Yes

Up to 200 file types supported

Only Windows

Complex Interface

No tech support.
Part 2: Best 5 Paid Easy Recovery Software for PC
These are software that is not available freely online. You pay some amount of cash for their services. Paid all data recovery software have remarkable additional features. If you require better alternatives to free recovery software, here are some you can choose from:
1.Recoverit Data Recovery
There are two versions of this! Remember the free version? We discussed it in Part 1.
The paid version has a very high recovery rate and offers more dependable recovery options. Recoverit Data Recovery has a super advanced recovery system. Besides, it provides better scan results. You get to preview the files before getting the actual recovery part. This software is the same as the free version, only upgraded. It has no restriction on the size of data that can be restored.
You should get this data recovery software because:
It provides 100% data security and robust data recovery solutions.
It has an excellent Algorithm support with Deep-Scan features.
It has more than 500 format support.
It takes only three easy steps to complete the recovery process.
It is crystal clear how efficient and effective Recoverit Data Recovery software is. It allows you to recover unlimited data from anywhere due to any reason.
So, what are you waiting for? Get it already!
2.Smart Data Recovery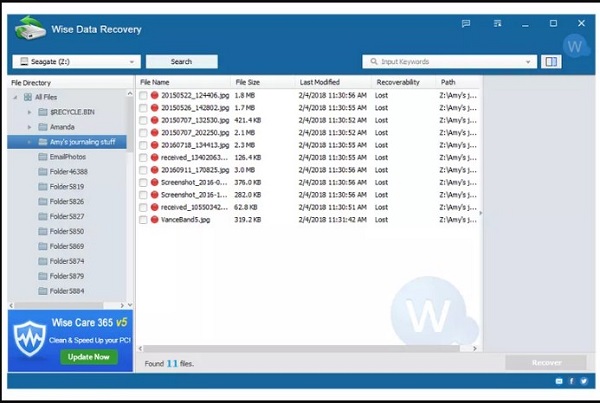 This software is one of the safest and smartest data recovery solutions for most users. It can get back files that are accidentally deleted or lost during physical damage or system crash. One does not require technical skills to navigate it thanks to the super easy software interface.
Pros
It is convenient and price-friendly.
It deep scans files that are difficult to restore.
It is a safe and secure recovery with customizable scan options.
Cons
The recovery process takes longer than expected.
It does not guarantee that the scan results will be okay.
3.Data Rescue 5 Standard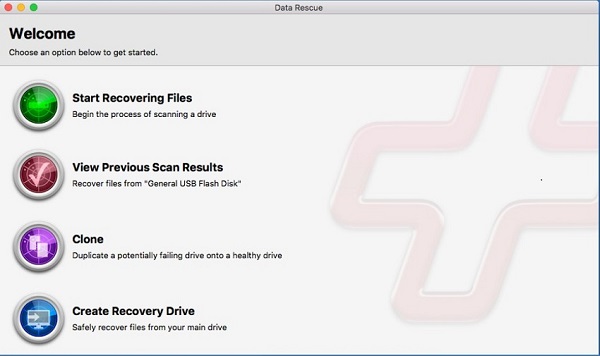 This software can save your accidentally lost or deleted data files. It does not matter if the data are photos, videos or documents, you utilize this deleted data recovery software.it has upgraded and new search procedure for improved results. You can also preview files before restoration.
Pros
It has robust file support for enhanced recovery.
It has Time Machine Compatibility.
The software can also save storage space by excluding the duplicated data.
Cons
The software needs an internet connection to work
Its license is very costly.
4.Recoverit Photo Recovery
Recoverit Photo Recovery is recovery software that is perfect only for photos, videos and audio files. The software has a wide range of format support for media files. Additionally, it's quick, and All-Around scan mode improves search results. In this too, before restoring lost data, you can preview them.
Pros
It has selective recovery of files.
It's easy, and interactive UI contributes to faster recovery.
It has a vast array of device support.
It has a wide range of video, photo and audio formats support.
The preview feature is compelling.
Cons
It only supports the recovery of videos, photos and audio files.
5.Ontrack EasyRecovery
Ontrack EasyRecovery is one of the best-deleted data recovery software. The software allows the user to get back files in an instant. With this software, you can recover data from any storage media quickly.
Also, it has a free trial available to enhance the user's utilization of the tool.
Pros
It can restore files from old storage devices.
It is easy to use and has excellent customer support.
It is possible to pause and resume the recovery process.
Cons
The user takes some time to get familiar with the UI.
It is expensive.
Comparison Table
Products

Recoverit Data Recovery

Supported OS

Windows/Mac

Price

$39.95 for Windows and $59.95 for Mac

User Interface

Simple and smart.

File Support

Over 1000+ file types

Tech Support

24/7 free US- based Tech support with detailed online guides

Smart Data Recovery

Windows

$49.95 only

Simple

Mainly for photos, audios, and document files

No technical support

Data Rescue 5 Standard

Windows/Mac

Standard version at $99

Intricate UI

Over 100+ file types

Product Support

Recoverit Photo Recovery

Windows/Mac

$29.95 for Windows and $69.95 for Mac

Interactive and easy UI

Only Photos, videos, and audio files

24/7 free US- based Tech support with detailed online guides

Ontrack EasyRecovery

Windows/Mac

$79 for Windows and $99 for Mac

Little bit complex to navigate

Over 100+ file support

Professional tech support
Part 3: What Makes Easy Recovery Software
Some features that make data recovery software better for restoration like:
Easy Recovery for All Data
The software should have a wide range of file type support up to 500 types. Recoverit can quicly recover data files from any data.
Easy Recovery from All Devices
Just like the file type support, the device support must also be vast. The software should enable users to easily recover data from recycle bin, hard drives, external drives, and other devices.
Easy Recovery Steps
The steps taken to get back data files should be short and precise. This ensures that you get easy recovery software.
Secure Easy Recovery
The data recovery tool should measure up to its promises. It is vital that the software maintains the data security too.
Stable Easy Recovery
Another critical factor to take into consideration is the stability of the data. The data recovery software tool should be able to provide steady data recovery. It is crucial that the data files should not crash unexpectedly and remain safe entirely.
Understanding the important factors for efficient data recovery will make you realize that Recoverit data recovery fits the best recovery software for PC perfectly.
Conclusion:
It is evident from this article that, among all the software available in the market, Recoverit data recovery outshines all of them. Its brilliant quality feature with a 96% success rate for recovery makes it the most ideal deleted data recovery software.
Thus, you now know the answer to "which is the best and easy recovery software?" right? So, download Recoverit today and experience its huge expendable feature list.
Photo Recovery
Recover Photos from Camera

Recover Photo from SD Card