How to Recover Deleted Files from Recycle Bin
As the name denotes, "Recycle" refers to an item that has already been use, can be used in the future course. Every folder, data file deleted by a user on their PC directly gets moved to this folder. You may think you have deleted the file permanently but it is still available in the recycle bin until you command to delete the file from here too. So, if you've accidentally deleted an important folder, file or any of that stuff, you can easily get it from Recycle bin. But, also there are times, where a user might require some file that they have accidentally deleted from recycle bin even. To brief out the work for you, we will touch upon some alternative methods helpful in recovering files deleted from recycle bin.
Part 1: Recover Deleted Files from Recycle Bin (if not emptied)
Generally, our Recycle bin is merely a folder in PC where our deleted items are stashed. Each item deleted by us is stored in there. In the recycle bin, there is a provision of fetching the files back to its native location. So to understand how it can be possible to recover the non-emptied recycle bin, follow the steps mentioned below.
On your PC, go to the Recycle bin folder appearing at the desktop.
Open it and surf out your deleted file from recycle bin.
Simply, right click on it and press on "Restore". In case of multiple files, hold on "Ctrl" and then click on the files for multiple selection, hit on "Restore the selected items" afterwards.

Now, search for the file saved in the previous location.
Part 2: Recover Deleted Files from Recycle Bin (if emptied)
2.1 Recover Deleted Files from Recycle Bin using program
When it comes to perform recovery of deleted file from recycle bin, it is extremely important that it doesn't eat up all your day. To save your time and efforts while helping to recover almostyou're your data, recoverit is the one of its kind software for you. Designed with the dynamic quality features, it allows users to retrace missing items from Recycle bin or any other location. Whether a person has lost files due to system crash, formatted drives or folders that vanished from the external devices, recoverit is here to hold you back! Users can enjoy the privilege of performing an in-depth scan, preview files and then march to recover them!
Now that you're well acquainted with the nitty-gritties of recoverit, let us quickly understand how you can recover deleted files directly from recycle bin.
Step 1: Load Program and enter Recycle bin/trash Recovery mode
To start with, head on to download Recoverit on your PC/Mac. Load the program and press on the "Recycle Bin Recovery" mode for recovering the deleted files from recycle bin respectively.
Step 2: Perform a detailed level of scanning of files
The program will now kick-start the process of scanning the recycle bin/trash. After completion of scanning, have a brief preview of the files you wish to rescue. You can either select each individual file from right or select the categories from the left bar.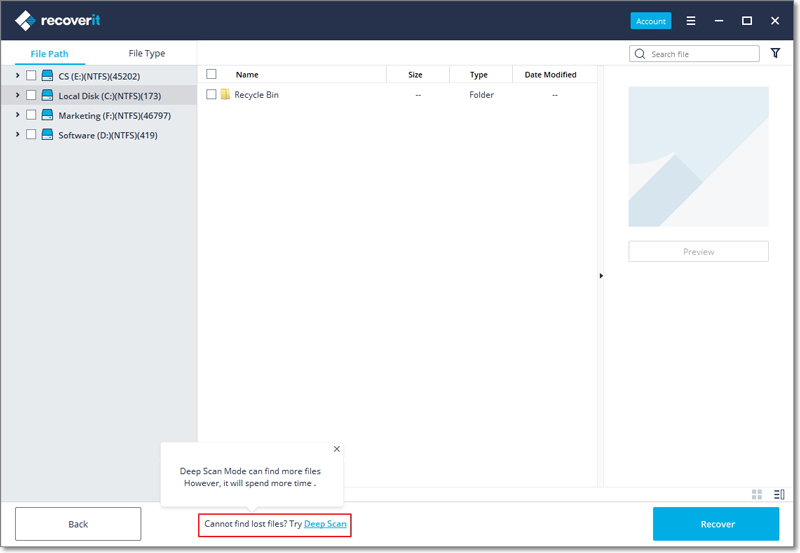 Note: Incase, you're unable to view the deleted files, you must try out the option of "All-Around Recovery" option appearing at the bottom-left corner. This may take some time, so be patient and then get the files.
Step 3: Recover deleted files
After you fetch your deleted file, Recoverit will enlist all the files with its respective file types. Once through with viewing files, just tap on "Recover" button for retrieving down the data!
Note: For an in-depth scanning process, opt for "Deep Scan" option located at the left-bottom of screen. This may be a bit time consuming, so you got to wait for the result.
2.2 Restore from Previous versions feature in Windows
In case, you feel that the file was not deleted by your or traced in Recycle bin or anywhere else. Chances can be of your file being lost in the previous versions feature in Windows. Well, it may seem a bit unusual but uncertainties like these may come up. To provide a solution for the same, in Windows 7, there is a provision for restoring files from its previous version restore. Just follow the below steps for recovering the deleted files from recycle bin by using the feature of restoring from previous version.
First of all, just browse the file or folder that you're finding out and then right click it.
You'll notice a right click menu, from where you have to tap on "Restore Previous Versions".

Now, tap on "Open" or "Copy" button to copy the older versions of file over your desktop.
Note: You must not click on "Restore" button, thinking that it may restore files. As, this button completely overwrites the version of file.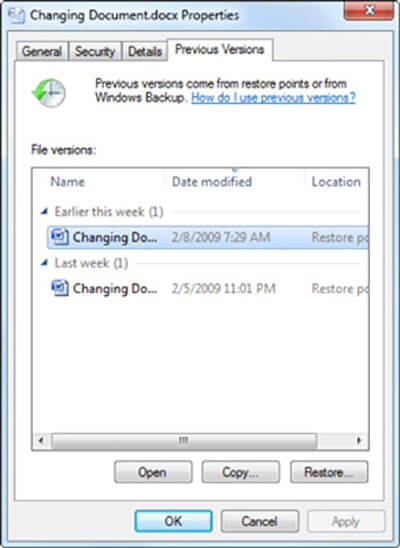 Now, that you've got the newer result, just copy down the file back to its original location and ensure to delete other version.
2.3 System Protection feature in Windows
Computer is one heck of a complicated machine. For you do not know what is going to happen next. And, if you're working and due to some issues, or crashes problem the computer fails to work, the data may be lost. But, to tackle this problem and fetch you the real state of System, Windows System Restore is a feature you can benefit from. This allows you to restore to Windows installation back to the state it was running to. Here is the complete tutorial to recover deleted files using System Protection feature.
Note: You must ensure that the System Protection feature is tuned on your PC. Only then, proceed with the following steps.
Right click over the "This PC" icon over your desktop and select "Properties" option. Now, opt for the "System Protection" link from the left panel.

From the upcoming window, tap on "System Restore" option.

This will prompt a System Restore Wizard briefing out the process. You need to tap on "Next" to proceed.
The Restore point's page will occur. Just, click on the restore point and then press on "Next".
After, opting for the suitable restore point, just click on "Finish" to end the task.
Note: Your Windows PC will automatically restart and then proceed with restoring files. This might take a few fraction of seconds, so don't worry and wait till it gets over to fetch the new restore point!
2.4 Restore from Windows Backup
One of the organic means of retrieving data can be solely carried out by restoring from the Windows Backup. This facility is helpful in restoring the files lost from your PC. It doesn't matter whether the data doesn't seem to recover in the Recycle bin or any other drive. Simply, follow this complete step by step tutorial to understand how to recover emptied recycle bin.
Note: The steps mentioned below are for the system working in Windows 7.
Begin with, opening your Windows PC and going to the "Control Panel" from desktop or searching the same from search bar.
The control panel will appear with the enlisted tools and options. Just, press the "Backup & Restore (Windows 7)" option.

From the following screen just tap on the blue link of "Select another backup to restore files from". And, thereafter proceed with following the on-screen prompts to restore files from the Windows Backup.
2.5 Using Attrib command
The game of recovering files may level up if the deleted file becomes impossible to find out. If you've tried and tested the method of finding it in all the drives, documents and every other folder and it doesn't seem to be located. Then, a bit tech savvy method of using command prompt with the Attrib command can be used. Here is how you can recover the permanently deleted files from recycle bin. Do ensure to follow the steps in the said order.
First and foremost, just use the key combinations of "Windows key + R" to enter Run and then write CMD on the search box followed by Enter.
The Command Prompt Window will display over. Just type in chkdsk "[drive letter]": /f and hit the "Enter" key.
Then, enter "Y" key to proceed further.

Now, you have to enter the [drive letter] from where the files went missing followed by pressing
"Enter" key. The command line will again be transported to the first line.
At last type in the following command and then hit Enter:

[drive letter]:\>attrib –h –r –s /s /d *.*
Depending upon the nature of size of files, the above command will do its work of retrieving down all the lost files from storage drive.
2.6 Command Prompt or CMD
There are some unfortunate scenarios, where a user happens to miss out on the components that you deleted and kept in Recovery bin. When, the folder is filler to the brim, Windows by default happens to brush away the files to make some space. So, when you wish to retrace the files from recycle bin, it may become impossible. However, you can resort to use Command Prompt. For getting acquainted with the methodology of recovering deleted files from recycle bin after getting empty, follow the said steps!
Firstly, go to "Command Prompt" window by using "Windows + R" and entering "CMD" in the field.
Once you enter the CMD windows, just type the following command followed by Enter key:

start shell:RecycleBinFolder

Simply opt for the files you wish to get back and enjoy them on your PC.