Recuva Mac Alternative: 6 Best Tools for Mac Data Recovery
Part 1: Does Recuva have a Mac version?
Unfortunately, Recuva is not available for Mac. So one cannot use it over Mac if their files are deleted and they want recognized data recovery software.
However, you needn't worry. As Piriform Recuva's Mac version is not offered, we are listing 6 best alternatives to it. Using those, you will surely be able to get the data from your Mac.
Part 2: Top 6 tools to recover data on Mac
2.1 RecoverIt for Mac
On the top, we have Recoverit for Mac as Recuva Mac OS alternative. It is the expert recovery software that securely retrieves files from your Mac. Offering an intuitive interface and one-stop recovery solution, this software doesn't disappoint users and therefore, has achieved immense love from them. With this you will be able to recover your deleted files effortlessly irrespective of how they got lost.
Key Features of Recoverit for Mac
Provides a quick recovery process and support all data loss scenarios like accidental deletion, virus attack or emptied Trash
It supports a wide variety of data and file types like documents, email, videos etc
Solves the problem in a few clicks
Possibly the safest and the most convenient tool in the market
All the popular devices are supported like music player, memory card, Hard Drive, USB Drive and more.
How to Use Recoverit for Mac to Recover Files
Step 1: Download Recoverit for Mac
To begin with, visit the official website of Recoverit on your Mac and download it from there. Install it then and open the tool.
Step 2: Choose a Recovery Mode
From the main interface, you have to select a recovery mode. For instance, choose "Deleted Files Recovery" or "Virus Attack Data Recovery" according to the reason how files got deleted.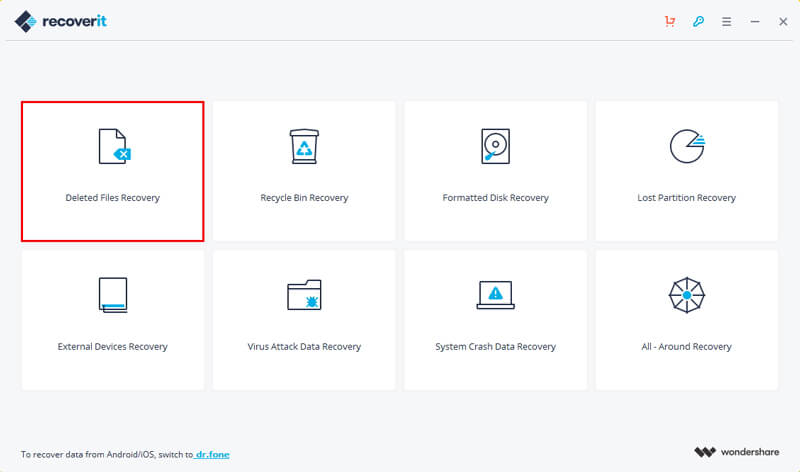 Step 3: Pick out the Drive
Thereupon, choose the source hard disk drive. In other words, select the location from where the files were deleted. Hit on "Start" button right after selecting.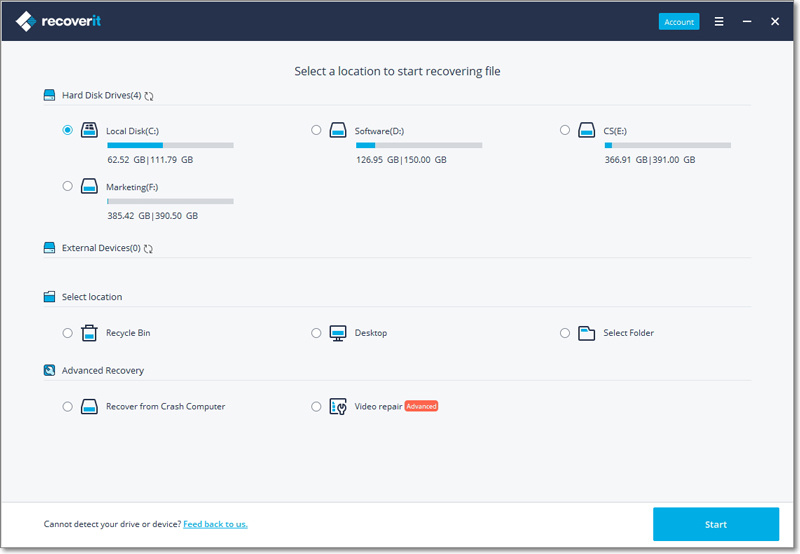 Step 4: Scan the Disk Drive
The program will begin to scan your deleted files. After a quick scan, you will be able to preview some of the deleted files on your screen. Look for the file you want. If not found, hit on "All-Around Recovery" given at the bottom left of the screen for deep scan.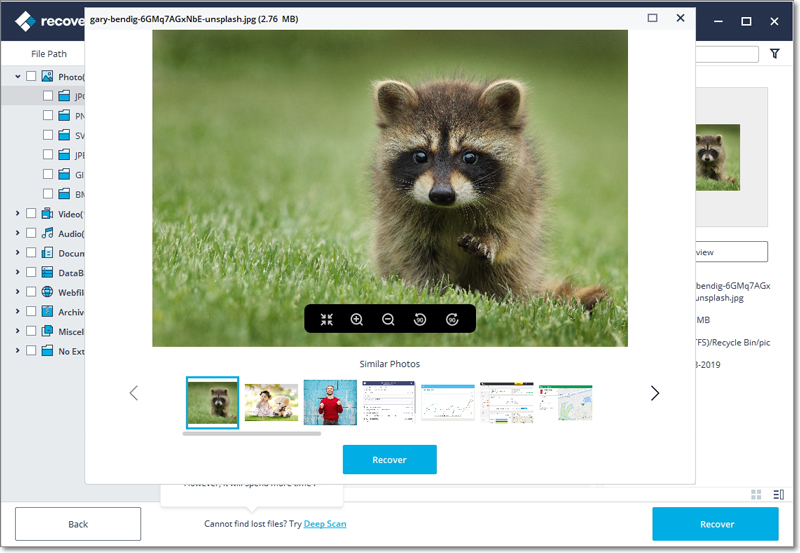 Step 5: Recover Files
After deeper scan, you can again preview the retrieved files. once you see the files you need, select them and click on "Recover" button.
2.2 MagicCute Data Recovery for Mac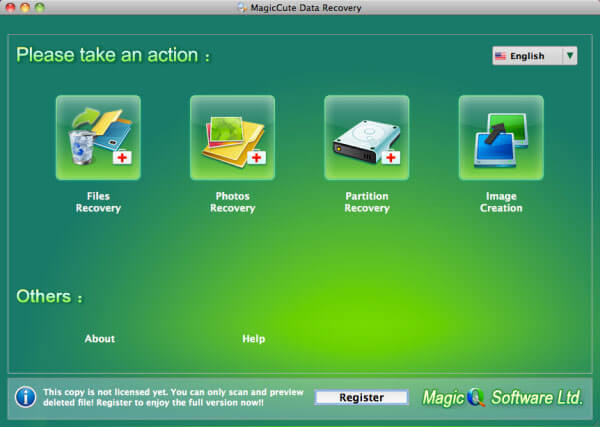 MagicCute is the next Recuva Mac alternative that we would like to introduce. Over 2000 file types can be supported and it is convenient to install and operate. It has the ability to recover deleted partitions (FAT, FAT32 AND HFS/NTFS). You can also avail its functionality of creating a drive image for recovered backup purpose.
URL: https://www.magicqsoftware.com/mac-recover-files.html
Pros:
Fast, efficient and easy tool to use
One can install and run it over an external hard drive as it is a portable application
Cons:
This Recuva Mac alternative's free trial is not available
Doesn't allow preview before recovering
Scanning process can be time-taking
How to Use MagicCute Data Recovery for Mac
Step 1: Download and install MagicCute on your Mac. Launch it now and choose the action among the options given on the main screen.
Step 2: Then choose a drive from the next page.
Step 3: Choose between "Fast Scan" and "Deep Scan" and click on "Next". Wait until the files are recovered.
2.3 Exif Untrasher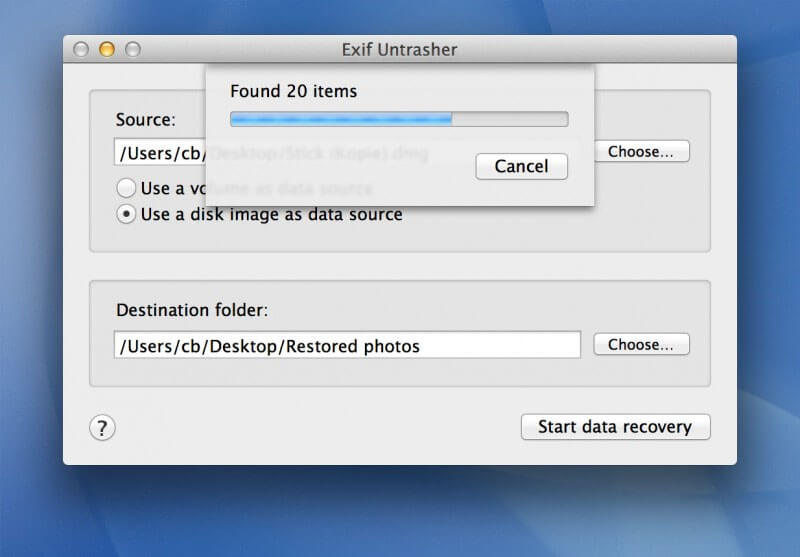 A yet another Recuva Mac OS alternative is Exif Untrasher. It can be best used for retrieving JPEG images that are gone because of accidental deletion or disk formatting, SD card trash. It is safe to use and stretches compatibility with Mac OS X 10.6 and above. It simply detects your drive, performs read-only operation sans any alterations or harming your removable drive.
URL: https://www.bluem.net/en/projects/exif-untrasher/
Pros:
Free and easy to use
Recovers photos in an excellent manner
Cons:
Internal Mac hard drive isn't supported
No provision of supporting raw images or video formats other than JPEG
How to use Exif Untrasher
Step 1: Start with connecting the external device like USB Drive and visit the Exif Untrasher website to download and install it on your PC.
Step 2: Launch the tool and choose the source folder (from where the files were deleted) and the destination folder (where the recovered files are to be saved).
Step 3: You will be asked to select the volume that represents the storage medium you want to scan. Then it will detect your drive.
Step 4: Choose the drive and click "OK". A disk image will be created now. You can now click on "Start data recovery".
Step 5: The flash drive will now start getting scanned. When the recovering process gets over, the program will notify you and the chosen destination folder will be opened. You can now see your deleted pictures and get them back.
2.4 Boomerang Data Recovery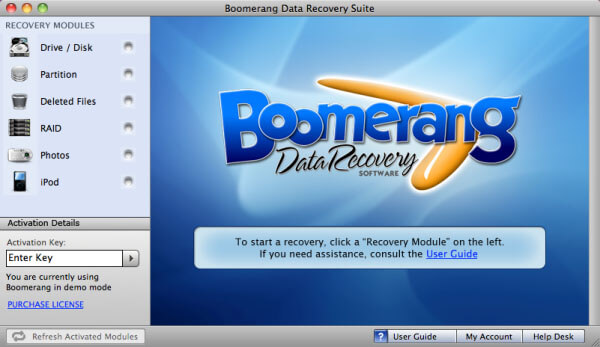 Another alternative to Recuva Mac is Boomerang Data Recovery software. Handling a great number of data loss scenarios, it shows compatibility with almost every Mac systems. Be it graphics file format, archives, email, multimedia, it never says no to any of the data type and works efficiently.
URL: https://boomerangdatarecovery.com/data-recovery-software-for-mac/
Pros:
It takes time into consideration and therefore offers an easy interface to get the work done quickly
RAID data is easily recoverable with this Recuva Mac
Cons:
Unlike other software, deep scanning isn't offered by this tool
Many of the files aren't easily supported
Poor customer service may annoy you
How to Work with Boomerang Data Recovery
Step 1: Visit the official website and download the tool on your Mac. Install it then to a USB Flash Drive.
Step 2: On the next screen, 6 recovery modules will be displayed on the left panel. Choose the one that you want to recover followed by selecting the drive where the file was saved. Hit "OK" to begin with the scanning.
Step 3: When the tool will scan the chosen drive, you will notice the files appearing on the screen. Choose the needed ones and click on "Save Selected Files" and ensure not to save the files from which drive they were deleted.
2.5 Time Machine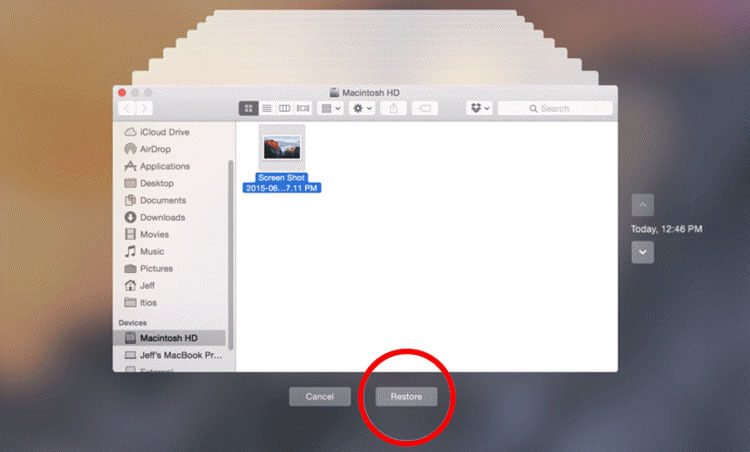 This can also be used in place of Piriform Recuva for Mac. Time Machine is Mac's built-in feature designed to backup files on Mac. If you are using this service, you can then restore your files once deleted. It works every hour to backup. Though, it deleted the old backup when the backup drive begins to run out of the storage. It can be connected using an external hard drive or one can make a wireless connection.
URL: No URL because it is an inbuilt Apple tool
Pros:
You can set it up quickly
Can recover almost everything when it has backup of the files
Cons:
External storage device recovery isn't supported by Time Machine
How to use Time Machine
Step 1: From the menu bar of Mac, look for Time Machine and open it.
Step 2: Hit on the up arrow or use the Mac's trackpad and swipe upwards with two fingers. Do this to go to the time before deletion of the files.
Step 3: On reaching the backup that has your files, hit on the Finder window. Now, locate the files that you want to recover.
Step 4: When the file is found, preview it using the spacebar button. Hit on "Restore" thereafter and you are done.
2.6 Stellar Phoenix Mac Data Recovery
Lastly, we have Stellar Phoenix in the list of alternatives to Recuva Mac download. It ensures hassle-free retrieval of the files whether deleted permanently due to formatting or unintentionally. It offers a great compatibility to Mac systems and can recover data from corrupt drives, unmounted USBs etc.
URL: https://www.stellarinfo.com/mac-data-recovery.htm
Pros:
Fast and offers 100% results with no compromise on quality
User interface is really clean
Cons:
User may get hard time when it comes to recovery and scanning speed for both HDDs and SSDs
Can't recover unsaved Word or Excel files
How to Use Stellar Phoenix Mac Data Recovery Software
Step 1: Download and launch Stellar Data Recovery over your Mac system.
Step 2: On the next page, choose the file type you want to recover with the help of the toggle switches.
Step 3: Further with choosing the storage drive where the file was kept before deletion.
Step 4: Click on Scan or you can enable Deep Scan option on the bottom left corner for file scanning.
Step 5: In order to recover the files, register the application and get the license key.
Recuva Software
Recuva Data Recovery