iPhone Restore : How to Restore Your iPhone
1.Why Do You Need to Restore Your iPhone?
There are just those "Oh no" moments that we can't handle well with our iPhones. When it happens, restoring iPhone to factory settings can always be a great choice that can help us out of those troubles like:
* After jailbreaking an iPhone, restoring is pretty common.
* Some apps start to crash at random even after reinstalling it.
* Just need a clean restore after testing some new apps, especially new jailbreak ones.
* The battery meter was acting up, and it needs a restore to be fixed.
* Do a regular restore to keep your iPhone in a great environment.
* There are still more other reasons leading you to make a restore on your iPhone.
2.How to Restore Your iPhone under Different Situations
Generally, we can easily restore iPhone with iTunes with one click on the restore button. However, there are lots of unexpected occasions, like what if you've forgot the password of your iPhone? Next, let's talk about how to restore your iPhone under those situations one by one.
Part 1: How to Restore Password Protected iPhone
Step 1. Put your iPhone in recovery mode
First of all, get your iPhone powered on and the USB cable connected to your computer (not the iPhone). Press and hold down the Home and Power button at the same time. Once the phone is turned off, release the Power button and continue pressing the Home button. Connect your iPhone to the computer right now. When your iPhone is in recovery mode, iTunes will detect it and give you a message.
Step 2. Restore your iPhone with iTunes
Click "OK" on the pop-up message from iTunes to confirm that you're going to get your iPhone restored. Then click "Restore" to begin restoring your iPhone.

Part 2: Restore iPhone after iOS 9 Update
Way 1. Restore your iPhone from iCloud
When the iOS 9 update is complete, your iPhone will restart and you can set the language, country and Wi-Fi network. Then you'll get there: Set up your iPhone. There are two ways for you to restore your iPhone. Here let's see "Restore from iCloud Backup".
It's simple. Choose "Restore from iCoud Backup" > Sign in your iCloud account > Choose the backup file you want to restore to your iPhone. That's all. You can get it done in one minute as long as you have iCloud backup available.
Way 2. Restore your iPhone from iTunes
If you choose to restore your iPhone from iTunes, you need to run iTunes and navigate to Edit > Preferences > Devices. Make sure that the "Prevent iPods, iPhones and iPads from syncing automatically" option is checked, and then click OK. This will prevent your iPhone from automatically syncing with iTunes to overwrite the last backup file.
Then connect your iPhone to the computer. Once your iPhone is recognized, click on your iPhone's name. In the Summary tab, click on the "Restore Backup…". You can choose a backup that you want and click "Restore" to restore your iPhone with it.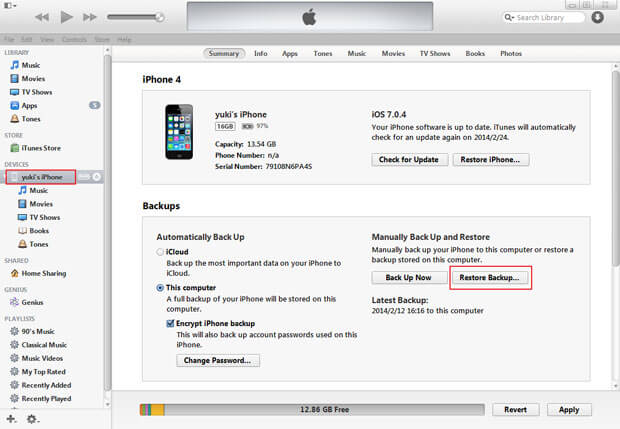 Part 3: Fix iPhone Restore Errors
What if some errors happen during the iPhone restoring process? You know, it happens all the time. Even iTunes refuses restoring your iPhone, but only stuck there. When this happens, you can't restore your iPhone from iTunes in the regular way. That's to say, you need to put your iPhone into recovery mode, and then get it connected to your computer. iTunes will give you a positive response to let you go on. It's just the same way we've mentioned it above in part 1. It's a useful way to get lots of restoring issues done.
Restore iPhone

iPhone Restore Tips