Two Solutions to Root LG D325 on Android Kitkat
LG D325 also known as LG L70 Dual SIM D325 was announced on February, 2014. This sensational device released on May, 2014 peaked a 4+/5 rating on most tech websites. Out of the box it runs on Android v4.4.2 (Kitkat), packed with a mighty Qualcomm MSM8210 Snapdragon 200 processor. With a 5mp rear camera, 1 GB RAM and 4.5 inches LCD, it makes a satisfying combo at 5k-10k segment.
There have been many users who wanted more from this device and thus were looking for a relatively safe and promising method. For the novices, rooting is a process where the user gets total control over his device. Android that runs on the Linux kernel version, on rooting, gives similar results as administrative gives on Linux OS. Rooting LG D325 has its own sweet tooth:-
• Powerful battery saver apps like Greenify can be installed that boosts the battery life exponentially (as long as up to 4 hours!).
• Bloatware can be uninstalled to reduce unnecessary RAM and CPU usage, speeding up the Android and increasing the working potential of the processor.
Many service providers charge as much as Rs.300/month for Wi-Fi tethering. Rooting enables tethering while avoiding costly fees.
• Custom ROMs completely changes the android skin. One can even access the latest version of android before anyone else, a feature that almost all android users dream about these days.
• Thousands of "incompatible"apps become available after rooting! Even apps from the Google play store that were incompatible on your devise could be downloaded after the rooting process that too directly from the Google play store!
Part 1: Pre-requirements
To ensure we have a successful and error free rooting, before we start with the process, we need to make sure that we are ready with the following requirements below:
• Make sure that the phone battery is charged up to 75% or more (you seriously don't want your device to turn off during the rooting process!).
• Enable USB debugging. Open Settings>Developer options>USB Debugging. If developer options can't be fount then go to Settings>General>About phone>Common>Software info (tap on it 5-8 times).
• Download MiniTool Partition Wizard tool. Search for it on any search engine, you will get multiple links to download it for free.
• The external SD card (if any) must be formatted into ext2 by using card reader and MiniTool Partition Wizard Tool (one can also try ext4, if ext2 fails by any chance).
• The device must run on android OS v4.4.2 (KitKat).The below processes doesn't support any other version.
Now that we are aware of the requirements for rooting, let us proceed the two different methods of rooting the D325.
Part 2: How to root LG D325 with Android Root?
"Android Root" is a handy rooting software available from dr.fone toolkit. This toolkit is known for supporting over 7000 devices and has the highest success rate in the industry. Now let us look at the easy and hassle free steps to follow in order to carefully root LG D325.
Root Your Android Phone with One Click.
Simple process, hassle free.
Supports over 7000 devices.
Highest success rate in the industry.
100% safe and secure.
3981454 people have downloaded it
Step 1.Download dr.fone toolkit from the download button above and install it on your Windows computer.
Step 2. Connect the device to PC
Launch dr.fone toolkit for android on your computer. Click on the Root option among all others in the toolkit.
Connect your device with USB cable to your PC. Click OK on the pop-up message to enable debugging for starting android root your D325.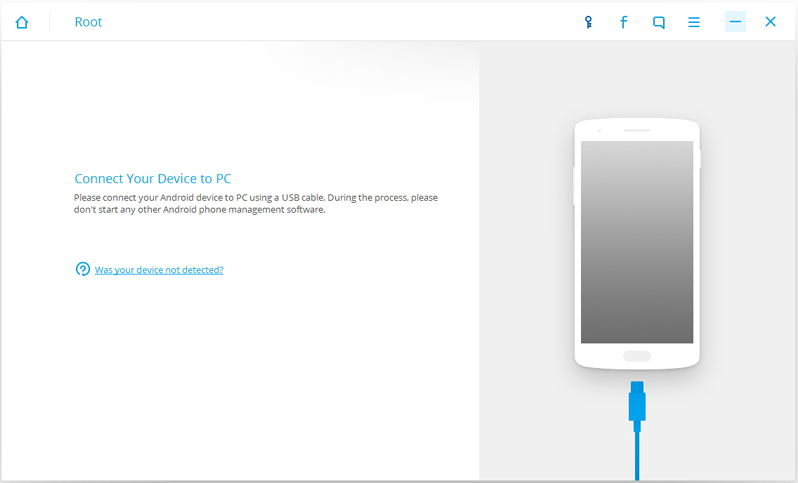 Step No 3. Detect and Root your Device
The final step involves detecting and rooting your LG D35. After connecting the phone. Click on Start on the dr.fone toolkit for android. The device will then start to detect the phone and find the best way to root the device. The process takes a few minutes varying for different models.
After the system detects the best way possible click on "Root Now "to android root LG D325.
During the Rooting process another pop-up message appears on the phone screen asking whether the user wants to android root LG D325.Tap on confirm to continue the process of rooting your device. Just a few minutes wait and your LG D325 will be successfully rooted.
This is the easy and error free process to root you LG D325!
Part 3: How to root LG D325 with Towelroot
All thanks to the popular hacker Gorge Hotz, that Towelroot came into existence. Using Towelroot anyone even without any technical knowledge can root their device effortlessly. Towelroot can root thousands of android devices and what's the most exciting part is that it does not require a PC!
You simply need to follow the steps carefully to root LG D325 by using towelroot
Step No 1. Download and Install Towelroot on your LG D325
Go to Settings >Security and enable the option for installing apps from unknown sources. After doing so download and install the .apk file of Towelroot on your LG D325. The installation wizard will be initialized and you will be taken to the installation page. Hit the button "Install".
Step No 2. Root LG D325 with towelroot
After successfully installing towelroot on your android device, launch the application. After launching towelroot tap the button "Make it ra1n" for LG D325 root.
Caution:-If your device reboots then towelroot failed to root tour device. In such a case give it another shot and if the same outcome prevails, use android root.
Step No 3. Check Rooting Status
One successful completion of the process your device will restart after a particular amount of time. After it has finished restarting, download "Root Checker". Then install the Root checker app and after installation launch the application. On successful launch click on the button "Verify Root" to check whether you have been successful in your quest of LG D325 root.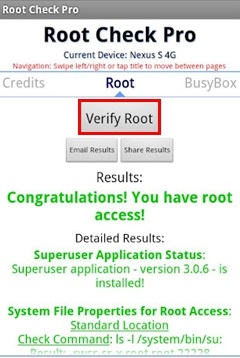 After you have successfully rooted your device and cross checker it with root checker you can manage your rooted LG D325 with SuperSU and SuperUser. You will get divine control over your device, for example:-block unwanted ads, personalize the very core of your device, install unauthorized and even unsupported apps on your device!
Note: Rooting with the method using PC has greater chances of success than without it.
So today we have discussed the two methods to root LG D325 which includes the dr.fone toolkit for Android root (using PC) from Wondershare and towel root (without using PC).The user must follow all the steps with extra caution because the fear of bricking the device prevails in some cases. One last thing once you root your device, the warranty will turn null and void, thus the company will not entertain any complaints/claims from the customer. So the best possible advice is to try rooting only after the warranty period of your devise comes to an end.