Ultimate Guide on How to Remove Bloatware Android
You have a new device in your hands and there are certain software's or applications which make you smart and high-tech. With the passage of time your phone processing slows down and you can see a sudden drop in the battery.
People get worried about what has happened to the productivity and the performance of their device. Well, the technical answer is the Bloatware apps. These are the pre-installed applications provided by the manufacturer to increase their brand value and promote their products and applications.
They work well for the company but are a technical threat to the device user and the device itself. These applications are pre-installed and consume the ample space of the device memory. Also, they are proactive in the background processes and decrease the fast rate of processing. Your device is unable to withstand the battery charging for a longer time. These incidents make it entirely important to uninstall bloatware from the device.
What is Bloatware?
Explaining in a layman's language, bloatware is that unnecessary software which comes pre-installed by the manufacturer in your smart device. These smart devices can be your personal computer, mobiles, and laptops. This software takes out the ample space of your current device and makes the processing slow and dizzy. They are active in the background and are the major reason behind the slow processing and sudden drop in the power. Describing any Smartphone from Android, some bloatware software's are pre-installed, which are developed by various carriers like AT&T, T-mobile and Verizon for value-added services. Moreover, the device manufacturers like HTC and Samsung also provide with their software for increasing the brand value and promoting their apps.
Most of the Bloatware can be useful but overall they do not provide any assistance but lowers the productivity of the device. For every smartphone user, it has become necessary to remove these applications. To remove bloatware android, you can use the basic criteria to uninstall or disable it from application settings. If you are using jellybean version of Android mobile or below you can follow the simple steps i.e. Settings > Application > All > Select Unwanted Application > Uninstall/Disable. And if you are using Kitkat version or above, Settings > Applications/Apps > Application Manager > All Apps > Select > Uninstall/Disable.
However, some of the bloatware cannot be uninstalled as well as disabled, to know how to read such sticky bloatware from your phone, scroll down.
Root to Remove Bloatware Android
Despite rigorous efforts, it's sometimes hard to uninstall the bloatware apps. You just can't disable or uninstall from Android devices because they are internal and pre-installed applications. These applications basically mean system software which cannot be uninstalled or disabled without system permission. You can only update it time to time, to uninstall bloatware software from the device you need to root your device first.
Rooting basically means giving access to the operating system so that user can install third-party apps to remove bloatware. It is also known as jail-breaking and unblocking. Your device warranty will be void, once you root your device.
One of the most popular rooting software for your android device is dr.fone-Root because it provides you with various features; also it supports almost every Android device.
With this software, you can root any device with three simple steps (Connect, Find, and Root). This is free software for all users, it gives access for more applications, also gets installing custom ROM's with ease. These are just basic features of the dr.fone-Root software and the advance and modern features are given below:
Convenient Root Tool to Help Remove Bloatware Android
The very quick process to root your device without any hassle
Totally compatible with all Android versions and devices, such as LG, Samsung, Nokia, HTC, and more
Fully safe and secure for Android devices
Free of charge, ads, or new bloatware
5,504,534 people have downloaded it
Root your Android Device
Step 1 - Connect your Android device to computer and launch dr.fone on your computer. Click on "Root" among all the tools.
Note:
If your device android version is 4.2.2 (Jellybean) or above, you will get a pop-up message, once you connect the phone to computer. And at that time tap OK to allow USB debugging.
If your device android version is below Jellybean, you should have to first enable USB debugging on your phone. For debugging, follow the steps: Settings > Developer Option > USB Debugging > swipe Enable.
Step 2 - After detecting your Android device with software, click on "Start" to begin the process.
Step 3 - Click on "Root Now" option, once the software detects and finds the proper way to root your device.
Step 4 - In the rooting procedure, a pop message will appear which is, would you like to root the phone? The user has to tap on "Confirm" option to give the permission and continue rooting. After that, in a couple of minutes, you will root successfully.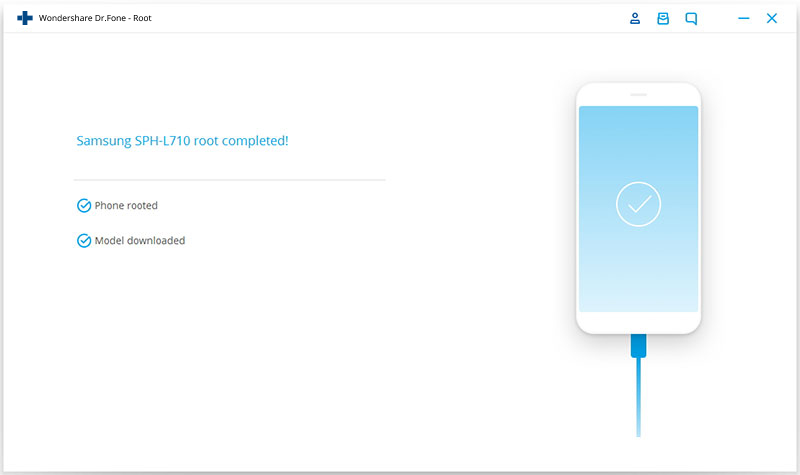 Video Guide: Root to Remove Bloatware Android
Remove Bloatware Android
Before engaging in the processes to uninstall bloatware, you should create a backup of your confidential data in an external storage. Backup of your data is important because in various cases when you are using a third-party application to remove bloatware it removes the whole data from your device.
After rooting your device, you can download and install various third-party software to remove the bloatware android list from your device. You can download it from various app stores like the Google Play Store, in which you will find numerous of applications like Nobloat, Titanium Backup, and Es File manager and so on.
Following this, we shall describe how to uninstall bloatware with Nobloat.
Step 1: Download and install the Nobloat Free application from Google Play Store.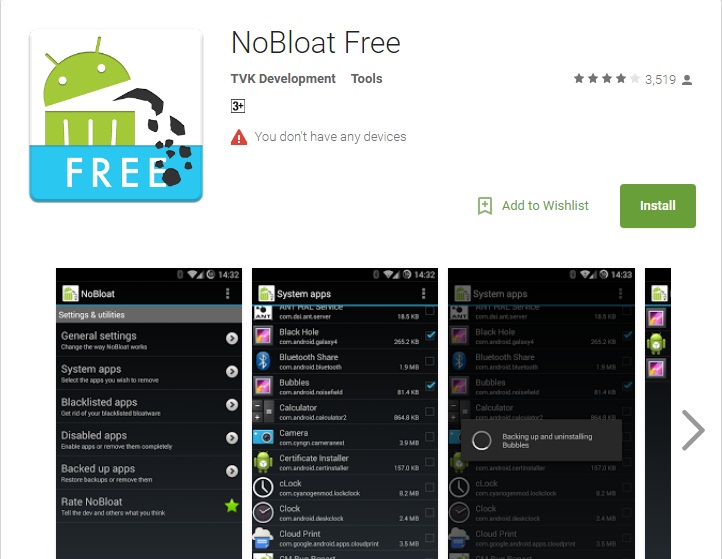 Step 2: Open the application and select "System Apps".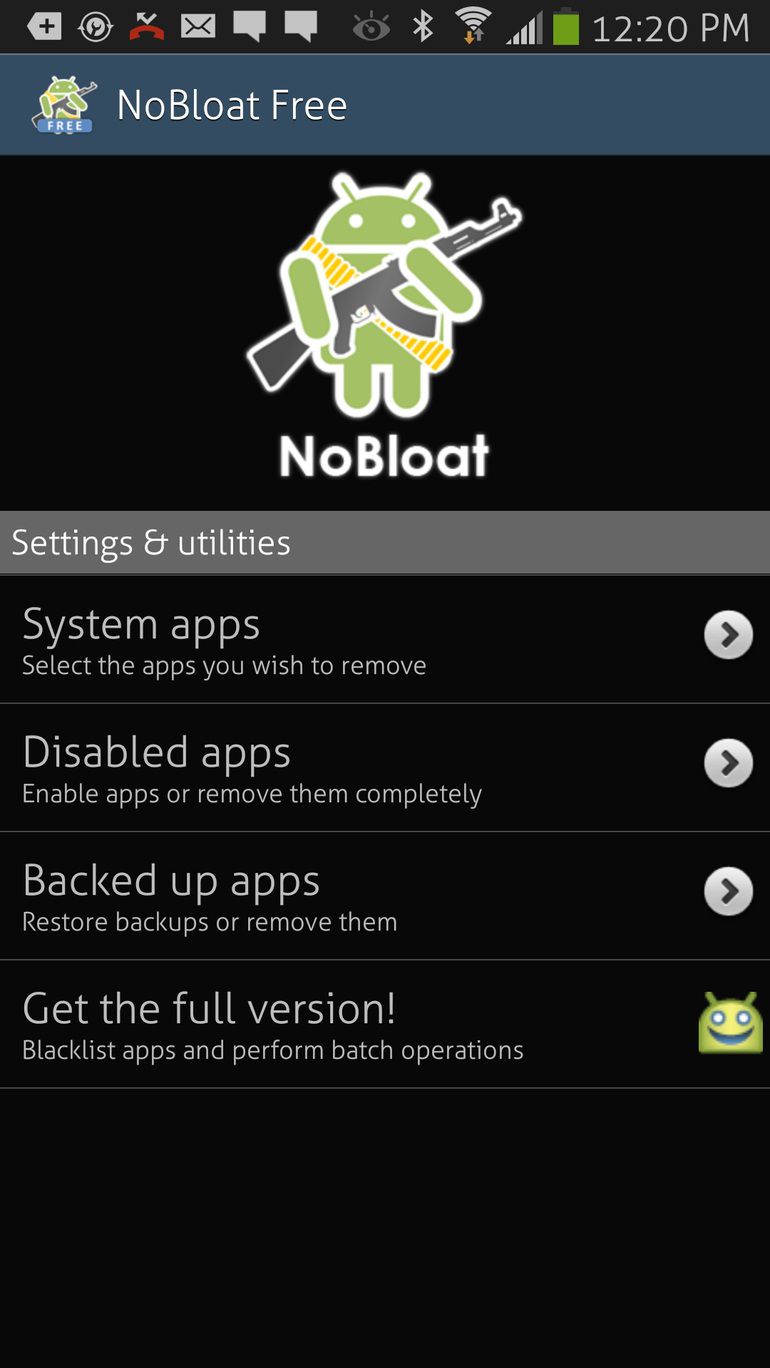 Step 3: Select the application to remove, and click on "Delete without Backup".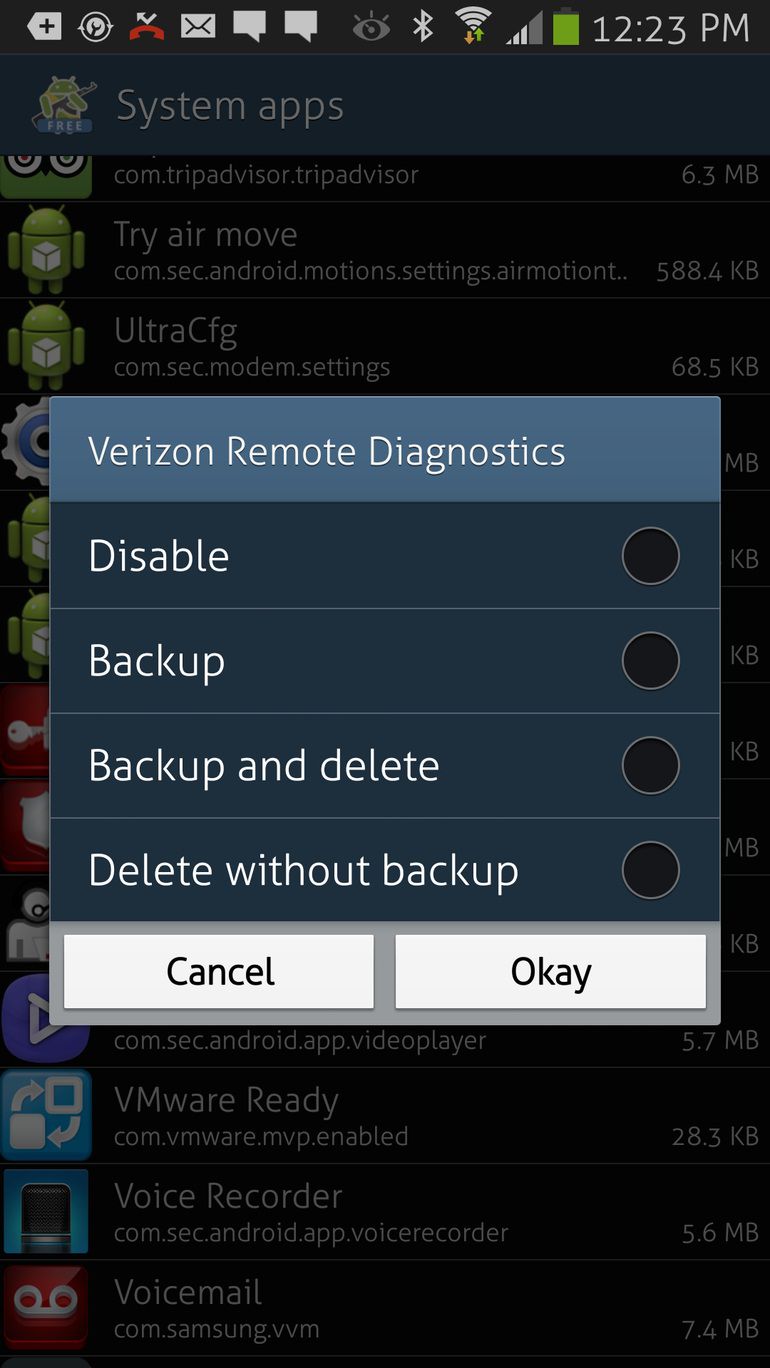 Note: Instead of choosing "Delete without backup option", you can also choose "Disable", "Backup" or "Backup and Delete" as preferred.
Comparison Between Disabling and Uninstalling (Root)
Disabling bloatware software only makes it disappear from your menu but it is still there and taking extra space in your internal memory. Some of the bloatware software in various Android versions will not support the disabling feature. So it is better and simple to root your device and remove Bloatware applications from your device.
From the above information, you will get to know what is bloatware, where they came from, common types of bloatware, and how to remove bloatware android with third-party application Nobloat (available in the Google Play Store and works only on rooted devices).
To root your android device you can use the best software known as dr.fone - Root. This software provides the in-depth rooting feature that helps with easy and quick work.