Guide to Root Huawei G7 Easily and Safely
Huawei is a leading smartphone manufacturer globally and Gartner Inc announced Huawei as the third largest tech giant after Apple and Samsung. Founded in the year 1987,Huawei also became the largest smartphone manufacturer surpassing Apple in 2015 in China.
The Huawei G7 is a beautiful looking smartphone with a built in storage of 16GB and a micro SD slot for external. It is supported by a large 3000 mAH battery with a 13 MP camera and a 2GB RAM with a 1.2GHz snapdragon processor. Huawei G7 has been rated 9/10 on trusted reviews due to its excellent battery life, nice metal body, large screen and good value for price. However, it comes with its own cons like its has few software quirks and slightly slow dpi-screen. It is an all budget buyers phone and offers excellent value.
In this article today, we will focus on how to root Huawei G7 easily and safely. While rooting in many ways is considered risky and dangerous for phone's life and usage, in many other ways it is known to result in better performance and user experience. It really depends from individual to individual, well if one can oversee the risks involved, rooting the Huawei G7 can vouch to make one the sole master of its device with abilities to even delete the pre downloaded apps and files on the mobile phone.
Part 1: Before rooting Huawei G7
Are you thinking of rooting your Huawei G7? Well rooting is the way to go if you want to customize your smartphone using the exclusive apps available for rooted phones in addition to improving battery life and performance. However, rooting may not be your cup of tea if you are worried about losing its warranty, or bricking your device and if you want to master the phone being completely unsafe. Rooting can be very well dangerous if you do not pay complete attention to the instructions.
Let us look at the few things that you must keep in mind or rather the pre requisites before rooting your Huawei G7:
• Do not change any settings that may harm your phone.
• Be extra careful of any malware as it could hurt your device adversely.
• Make sure that you verify your device model number.
• Remember, rooting will void your device warranty.
• Before you start, download and install USB drivers to your computer for smooth functioning.
• Most importantly, fully backup all your data on the Huawei G7 before you start the rooting process.
• Your phone battery must be 50-60% charged to avoid any unexpected disconnection in between the rooting process.
If you keep the above points in mind, rooting your smartphone will ensure you have a faster, better and complete experience on your device.
Part 2: How to root Huawei G7 step by step?
dr.fone toolkit - Android Root is a great rooting device for Android that is 100% safe and secure for your smartphone. This software supports more than 7000 devices and has a two step, simple process for rooting your Huawei G7. The process is so easy that any one can use it, you do not have to be technically sound to follow the process, unlike it is in most of the other rooting software which make you download files, use technical commands which are jargon for the most of us. The dr.fone toolkit Android root is the best in terms of success rate in the industry and you are free to try it out.
Root Your Android Phone with One Click.
Simple process, hassle free.
Supports over 7000 devices.
Highest success rate in the industry.
100% safe and secure.
3981454 people have downloaded it
Just keep in mind and carefully follow the steps below to have a better experience and enjoy using your phone to the fullest.
Step No 1: Connect the device, that is your Huawei G7.
In this step you simply have to launch the Wondershare dr.fone toolkit for Android on your personal computer. Once it is launched, just click on the icon called Root among all the other visible toolkits as shown in the screenshot below.
Now, within the first step itself you have to proceed to connect your Huawei G7 to your computer with the help of a USB cable. In case the Android version on your Huawei G7 is 4.2.2 and above, you will see a pop-up message on your screen which will ask your permission to allow USB debugging. Click on OK to continue, after which dr.fone toolkit will automatically recognize and be able to connect your smartphone device.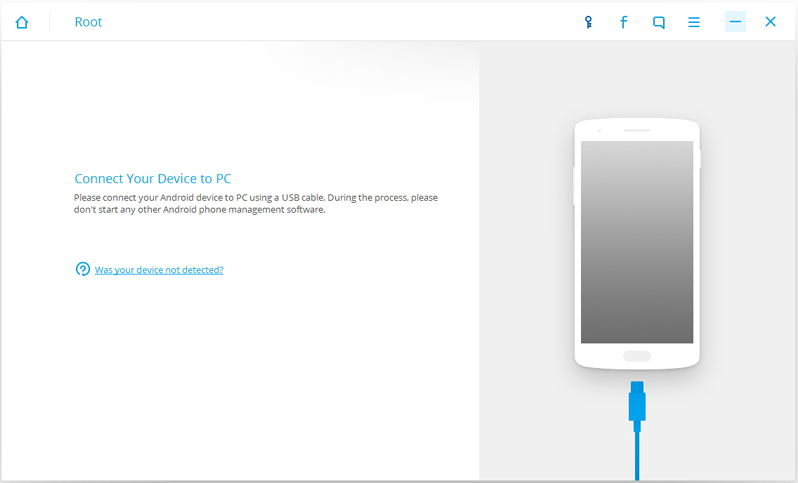 Step No 2 : This steps involves detecting and rooting of your Huawei G7.
Once you have your Huawei G7 connected, click on Start which you would be able to see on the Wondershare dr.fone toolkit. This way the dr.fone program for Android will be able to detect your phone and find the right way to root it. The detecting process on your phone may take several minutes so you must be patient enough.
Once dr.fone has detected your Huawei G7, it will be ready to root. Now you simply have to click on the icon called Root to start the process.
Once again, now during the rooting process a pop-up message will appear seeking permission to root your phone. Confirm by tapping so that the rooting can start and in a few minutes your Huawei G7 will be rooted successfully.
Awesome! you have safely and easily rooted your Huawei G7 for a better user experience.
While the process of rooting enhances its performance and life, experts do warn about some of the issues that one may face after rooting:
• Rooting will make the phone work well but it may also cater to some limitations and hence damage to the phone.
• Warranty will be void as mentioned above.
• Device may get damaged during the process of rooting.
• No future updates will be sent to your phone from Android, once rooted.
Although, rooting is risky, but the percentage of risk is very low if proper instructions are followed keeping in mind the warning. Hope this article helps you in rooting your Huawei G7 in the best, safest and easiest way by using the Wondershare dr.fone toolkit.