Most Effective Solution: How to root Huawei P7
The Huawei P7 is a great phone from the third largest mobile phone manufacturer n the world. The phone has a great design and is definitely getting accolades from Huawei fans. However, some say that there are some features that the company would have made better on the software side. If you are of the same view, then do not despair. You can simply root Huawei Ascend P7 and make tweaks to the system according to your wishes. Rooting a Huawei P7 opens up a world of possibilities when it comes to customizing the phone.
Part 1: Benefits of rooting Huawei P7
When you root Huawei Ascend P7, you get access to the root sector allowing you to make a lot of changes that will optimize your phone for better performance. Manufacturers usually add restrictions and apps that you really do not need and it is only by rooting the phone that will allow you to get rid of these system-hogging apps.
1. Installation of custom Huawei P7 ROMs.
There are ROMs that are specifically designed to improve the performance of this device. Install them and watch your phone transform into a better device.
2. Removal of bloatware
There are Huawei P7 apps that you do not need to use. Simply get rid of them when you root the device.
3. Blocking unwanted ads running in your apps
When you download some free games, they come with ads which can interrupt your game play. When you root the Huawei P7, you can easily remove these ads and play an uninterrupted game.
4. Installation of incompatible apps
You may want to place apps in your Huawei Ascend P7 but they will not be compatible. When you root the phone, you will be able to install them.
5. Get the latest Android version
You can now get the latest Android version without having to wait for the Huawei P7 manufacturer to release it. Some of these advance releases come with a few extras that will be left out by the manufacturer when they release their version.
6. Boost the performance of your device
Many people say that one of the downsides of this phone is the poor software experience. When you root Huawei P7, you can improve its performance to your requirements.
7. Get complete backups of the device
When you root Huawei P7, you are able to make a full backup of the device, including settings and apps that will require root access.
Part 2: How to root Huawei P7 with Android Root
With dr.fone toolkit - Android Root you can root Huawei Ascend P7 with ease and safety. You will go through the simple steps that you follow when rooting an android device so you get access to the features tat you could not in the past. Improving the performance if the phone and how long the battery lasts are just some of the benefits that you can gain from this process.
Root Your Android Phone with One Click.
Simple process, hassle free.
Supports over 7000 devices.
Highest success rate in the industry.
100% safe and secure.
3981454 people have downloaded it
Step 1 - Launch the application
When you launch the application on your computer, you will be presented with a home screen, where you will click on "Start". Dr. Fone has a bundle of tools, but in this case you are only looking at the rooting feature.
Step 2 – Connect the Huawei Ascend P7 to your computer
Using the USB cable that came with your device, connect it to the computer and then wait for it to be recognized. You should make sure that the device is in debug mode. If you ha Android 4.2 and above, you will get a pop-up message enquiring on whether you want the phone to be put in debug mode. Click on "OK" in order to fully connect the device to the computer.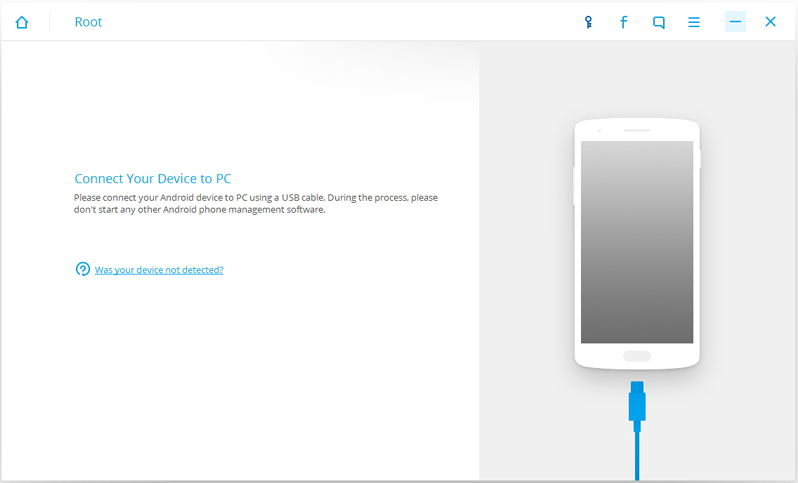 Step 3 – Detection and Rooting of Huawei P7
Once the device has been fully connected to your computer, go ahead and click on the "Start" button, and let Dr. Fone decide which the best rooting methods is for the Huawei P7. Be patient since this will take a few minutes.
Once the correct rooting method has been determined, you should click on "Root Now" and let the Huawei Ascend Rooting process to start.
Step 4 – Finalize the root Huawei P7 root process
When you complete the above step, you will get a prompt asking you whether you should go on with the Huawei Ascend P7 root process. Tap on "Confirm" and wait for the process to be completed. A word of caution – do not use the device when the root process is in progress because this can brick it. It is advisable to remove the SIMS cards so nobody texts or calls you inadvertently.
When you want to get the best out of your device, the root Huawei P7 process is the best way to go about it. Dr. Fone from Wondershare allows you to do this in a simple and safe manner. It is one of the leading tools in the industry, when it comes to managing the performance of your android devices. As shown above, you stand to get a lot of benefits when you root Huawei Ascend P7, including installing custom ROMs and restricted apps. You should always ensure that you follow the steps properly so you do not ruin your phone, since the root process comes with some serious risks. Backup your phone before you attempt this process so you can restore it should the unexpected happen.