How to Root Huawei Y550 in Easy Steps
Back in the year 2014 Nov, the Chinese smart phone manufacturer company Huawei launched their latest model "Ascend Y550". This device sports 4.5" 480 X 854 resolution display with a 2000 mAh battery backup for it. It is also equipped with a 5mp rear camera and 2 mp front camera. The chipset used was Qualcomm Snapdragon 410 with 1 GB RAM to support it.
However, at the present time with the technological advancements and new features coming up, some of the users might want to root their phone. For those who do not know about the way to rooting their Huawei Y550, this is the perfect article to look out for.
Now, to be precise, rooting is the process which allows its user to gain full control over the device from hardware to software. It also allows user to access privileged control over the Android sub-systems. Being the most versatile, open, and customizable mobile operating system, Android offers surprisingly a lot of new addition of features just by rooting the device.
Part 1: Preparation of rooting Huawei Y550
The method of Huawei Y550 root is a complicated process for any newbie. So, it is recommended that you understand and follow each and every step carefully. Before proceeding for root, you should clear all your doubts about the process.
• Below are a few warnings that one should remember before rooting Huawei Y550 like:Rooting Y550 will give you access to the kernel of the device. Hence the sensitive data may be at risk and hackers can use any loophole to access your data which may further lead to theft and other cyber crimes.
• Rooting Huawei Y550 may void its warranty as rooting is not officially supported or entertained in some of the countries. So your phone may not be repairable through the manufacturer.
• In some cases, rooting process is very lengthy and difficult to execute for a newbie. Hence, unsuccessful try or wrong process can lead the device bricked. So, it is recommended that you go for an easy process and also clear all your doubts before proceeding.
So, before you begin the root process of your Huawei Y550, make sure you fulfill the following points -
• Backup of the Internal Storage– Rooting is a complicated process and you never know what happen last. So, for the safety, please back up all your important datas to external storage device.
• Battery Level– Huawei Y550 is a lengthy process and can take upto hours for completing and unsuccessful rooting can damage your device forever. So, it's recommended to charge your mobile 70 – 80% before start rooting so that the battery can't be drained before the whole process.
• Download all Drivers – All the necessary drivers for Huawei Y550should be downloaded from the official website and must be kept handy to use if required any time.
• Follow rooting guide and tutorial step by step – The thorough tutorials of the Huawei Y550 root should be read carefully and clear all doubts before proceed for the main process. If in the mid-way, you got confused in any step,that may lead to unsuccessful rooting.
• Unrooting process – In some cases, this may happen that you want to get back your previous condition of your device i.e. unrooted. Then the process for unrooting your Huawei Y550 may be handy for you.
• Disable Firewall and antivirus – Sometimes, firewalls and antiviruses of PC and mobile interfere the rooting process. So, this is recommended to disable all such programmes form both the PC and mobile.
Now that we are aware about things that we should keep in mind before rooting, let us proceed with the method.
Part 2: How to root Huawei Y550 step by step?
Android root is a software built by the Wondershare dr.fone for windows and MAC for rooting any android device using a simple automated process. It's free to try and supports over 7000 android devices worldwide with the highest success rate in the industry. It is also 100% safe and secure to use on any device. Let us look at its simple and hassle free process.
Root Your Android Phone with One Click.
Simple process, hassle free.
Supports over 7000 devices.
Highest success rate in the industry.
100% safe and secure.
3981454 people have downloaded it
Step 1. Download the dr.fone toolkit "Android Root" from https://ssl-download.wondershare.com/drfone-for-ANDROID_full2798.exe
Step 2 : Connecting with your phone –
After installation, run the software on PC and you should see the below window. Then click on "Root".
Now, connect the Huawei Y550 phone with PC via USB cable. Please allow USB debugging mode when prompted. The dr.fone Android tool now will automatically recognize your smart phone.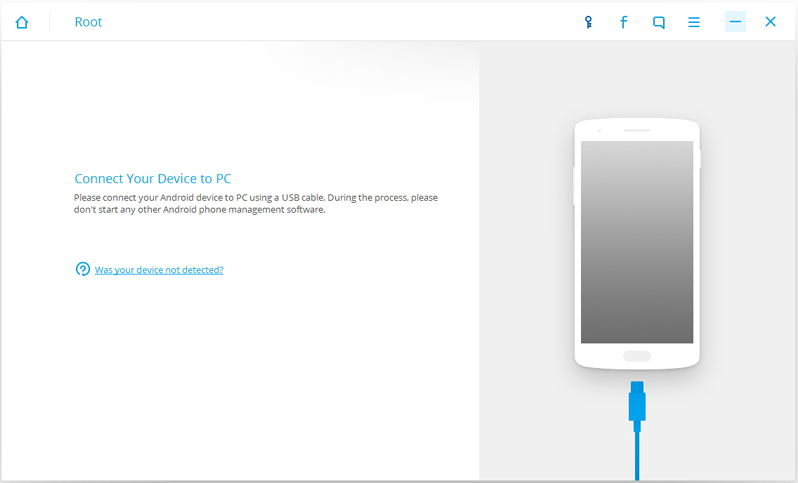 Step 3: Detecting the Mobile –
After the successful connection with your Y550 and PC, click on the "Start" to allow the tool kit detect your smart phone and find proper way to root it. It may take a few minutes to find the process.
Step 4: The Rooting:
Now, after successfully finding the proper way for rooting, you should see the below window -
Now, click on "Root Now" to start rooting of your Huawei Y550. During the whole process, you can see pop ups like if you continue with rooting, just confirm with those pop ups and voila! After few minutes, your Huawei Y550 root will be successful.
Note: When you using the Android tool kit, please remember DO NOT disconnect the data cable from the device or PC. This may lead to damage your device or even brick it.
So this was the easiest and most convenient one click rooting software available in market to root Huawei Y550. Just follow the step by step guide and you can Huawei Y550 rooting will be done in a matter of few minutes.
Rooting Huawei Y550, can give you several advantages from total customization option of the looks of the device to you have total control on your smart phone to full access to the kernel of the device to installation of custom ROM, Kernel and third party apps to edit, backup and removal of bloatware and even pre-installed apps to increasing the battery life and performance of the phone. You can even block unwanted ads on any of the apps of your Huawei Y550 after rooting. The only thing you must keep in mind is to follow each and every step properly and be patient throughout the process.