Root Samsung N7000: The Benefits, Risks, and Rooting Instructions
Samsung N7000 is undoubtedly one of the most successful devices, which is produced by the giant tech firm. With an impressive share in the Android market, the device is used by plenty of users out there. We all know the perks of using an Android phone. Most of these devices are packed with various features. Though, you can always root N7000 if you really wish to customize your phone.
Just like any other Android smartphone, N7000 also comes with a few limitations. After rooting it, you can unlock lots of added features and make the most out of your device. In this comprehensive post, we will make you familiar with all the major benefits of rooting and what are the major risks associated with it. Furthermore, we will teach you how to root N7000 with a single touch. Let's take it one step at a time.
Part 1: Benefits of rooting Samsung N7000
If you are reading this, then chances are that you are already thinking of rooting your Samsung smartphone. Plenty of users out there root their devices to enjoy the added benefits of rooting. Here are some of the major benefits of it.
• Uninstall native apps: Every Samsung smartphone comes with plenty of inbuilt apps that can't be uninstalled just like that. Though, after rooting your device, you can simply uninstall them and save your device's memory.
• Custom ROM: This is one of the most evident benefits of rooting. Instead of using your device's static ROM, you can flash a custom ROM and truly customize your smartphone experience.
• Installing more apps: Not just from Google Play Store, you can install apps from other sources that were earlier tagged as "unsupported" or "incompatible" by your device.
• Block in-app ads: Do you also get irritated from all those in-app ads? Well, after rooting your Samsung device, you can simply block them without any trouble.
• Performance enhancement: With a rooted device, you can control almost everything related to its operation. This will result in a better performance and fast operating speed.
• An extensive backup: Sometimes, it can be a tedious task to take a complete backup of your data. After you root N7000, you would be able to take its entire backup in no time.
• Customized skins: Don't get tired of looking at the same skin over and over again. You can just customize your phone by changing its overall look and feel.
• Automate everything: After rooting, you can install certain apps that will let you automate everything around you. This can be done by implementing the IFTTT (If This Then That) logic.
Part 2: Risks of rooting N7000
Now when you know about all the added benefits of rooting, I'm sure you must be tempted to root your Samsung device as well. Nevertheless, it is important to know all the risks that are associated with it. Before you go ahead and root N7000, make sure that you are familiar with the following risks.
• Losing the warranty: In lots of devices, after performing the root operation you might end up tampering with its warranty. That is, the rooting process can void the warranty of your device.
• Update issues: After rooting your device, you might have to face some trouble related to various updates of your phone's firmware (or more).
• Loss of data: If the rooting process is not successful (or is halted in between), then you might end up losing your phone's data. To avoid such an unwanted condition, it is essential to take a backup of your Samsung N7000 beforehand.
• Security risks: Needless to say, since you would be able to download apps from plenty of unknown sources after rooting, your device can be subjected to a few unwanted security threats.
Part 3: How to root N7000 with Android Root?
Now when you know about all the major risks and benefits involved in rooting N7000, you are ready to root N700. By using Android Root, you can easily root your device with a single click. Though, before you use the application to root your device, it is important that you enable its USB Debugging feature. To do so, simply visit Settings > About Phone and tap the "Build Number" option seven consecutive times. This will unlock the "Developer Options" on your device. Now, just visit the Developer Options feature and turn on the setting of USB Debugging.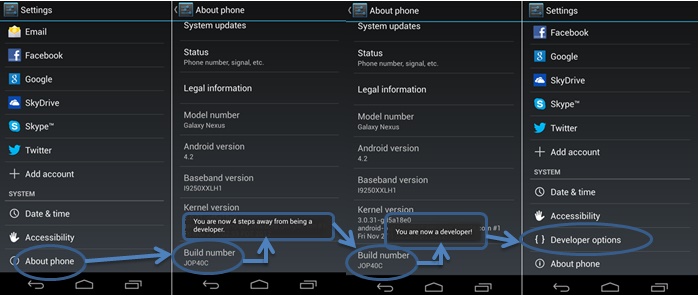 Great! Now, you can just download Android Root from its official website right here. The software is currently available for Windows and is compatible with thousands of Android devices out there. It has a high success rate and is an extremely reliable and safe way for you to root your Samsung device. All you got to do is follow these easy instructions.
Root Your Android Phone with One Click.
Simple process, hassle free.
Supports over 7000 devices.
Highest success rate in the industry.
100% safe and secure.
3981454 people have downloaded it
1. Start by launching the software on your system. You will get the following welcome screen of dr.fone toolkit. Select "Root" out of all the other provided options.
2. Subsequently, the interface will ask you to connect your phone to your system using a USB cable. The moment you would connect your device, you might get a pop-up message on its screen regarding USB Debugging permission. Simply tap on "Ok" in order to confirm it.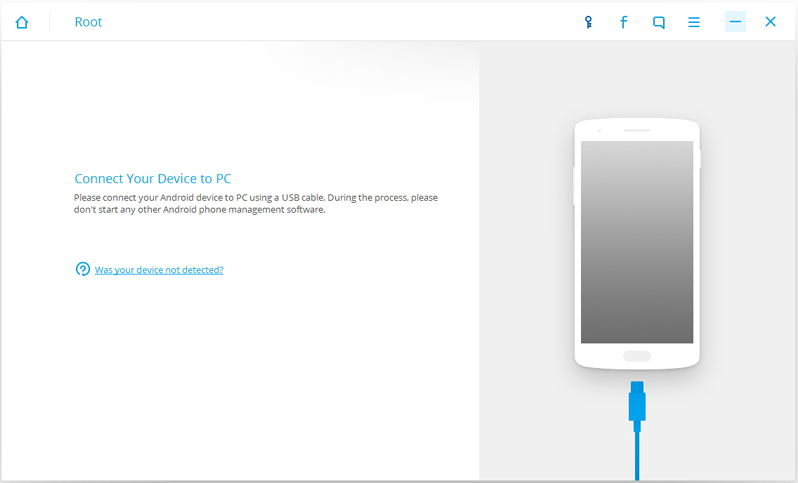 3. This will let the software detect your device automatically. Just give it some time as it will make your phone ready for the rooting process. It will also show the progress on the screen. Make sure that you don't disconnect your device during this stage. Also, your phone might get restarted in the process as well. Don't panic and let the application do its job.
4. After making your phone ready, it will display the following message. Great! Now, all you got to do is click on the "Root now" button in order to commence the rooting process.
5. The software will start rooting your device. Sit back and wait for a while as the application will perform all the needed steps to root your phone. You might get an additional pop-up message on your phone's screen regarding the permission to root it. Simply agree to it and wait for a few minutes till you get the following message.
Congratulations! You have just performed the entire rooting operation on your device without any trouble. Now, you are free to enjoy all the benefits of rooting.
We hope our post will help you decide if you want to root N7000 or not. There might be a few risks associated with it, but it also comes with tons of benefits – and this makes it a risk worth taking. If you are planning to root your device, then you can easily take the assistance of Android Root to do so. If you face any setbacks in between, feel free to reach out to us.
>
How-to
>
Frequently Used Phone Tips
> Root Samsung N7000: The Benefits, Risks, and Rooting Instructions