Quick Guide: How to use Root Uninstaller
Everyone likes to use their device to its true potential. Chances are that there might be plenty of system apps on your device that you might not like. Since you can't get rid of them, you need to give them a dedicated space. Too often, it compromises with the end-user experience. If you want to get rid of those system apps or would like to clean your device, then you have come to the right place. We will help you make the most out of your device while using Root Uninstaller. Let's get it started!
Part 1: What is Root Uninstaller?
From freezing pre-installed apps to installing any other app as a "system app", with Root Uninstaller, you can do it all. It works on system as well as third-party applications to truly personalize your smartphone experience. It has both, free as well as a paid version. You can perform all the basic operations using its free version, which can be downloaded from here. Though, if you want to use the PRO version and have an unlimited access to its features, then you can download it from here.
For Non-rooted Devices
If you haven't rooted your Android device, then you can perform the following basic functions using Root Uninstaller:
• Can clear the cache data
• Install or delete .apk files
• Can perform batch uninstall third party apps
• Create a list of all .apk files present on the SD card
• Filter apps (third party, system apps, apps on SD card, etc.)
• Can restore factory setting
• Explore code and app data folder
• Supports tablet view, etc.
For Rooted Devices
Needless to say, there are plenty of added options for those who have rooted their devices. Besides the above-listed functions, you can perform the following operations for a NAND + ROOT unlocked device.
• System apps can be uninstalled
• Bloatware can be disabled (or frozen)
• Can freeze or de-freeze any application
• Perform a backup of any application
• Easily restore the backup
• Hide any app
• Launch frozen apps
• Edit preferences by exploring app data or code folder, etc.
It is compatible with Android 2.0 and above and has a sleek interface. Let's learn more about its basic functions in the next section.
Part 2: How to use Root Uninstaller
After installing the app from the above-mentioned sources, you can easily perform different tasks using its helpful interface. You can explore different functions of the app and perform most of the operations with a single click. Nevertheless, let us guide you about some of its major functions.
Editing a system app
1. Simply open the Root Uninstaller and it will provide a segregated display of every app. Move to the "System apps" section and tap on the app you want to uninstall or freeze.
2. It will simply provide a list of actions that you can perform. You can either freeze it, uninstall it, or can take its backup. You can also change it to a user app.
Though, before uninstalling a system app, you need to make sure that it won't tamper with the overall performance of your phone. For instance, you should never uninstall the OS and other essential kernel apps.
Installing an app
1. With Root Uninstaller, you can also install an app. To do so, simply go to the "Installer" option and select the app you want to install.
2. Now, you will get an option to either install it as a regular app or a system app. Select the option you like and move ahead.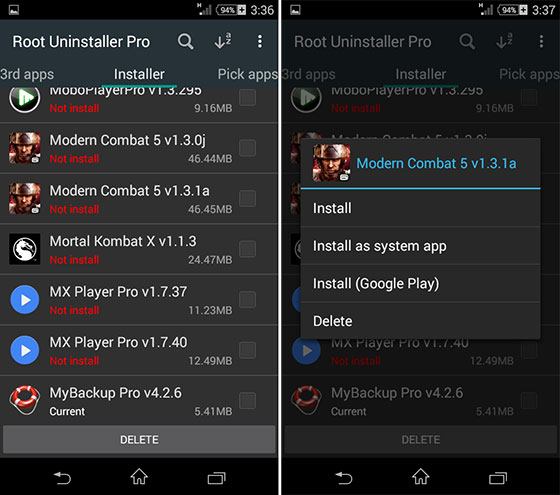 Editing a third party app
1. If you want to perform a desired operation on a third party app, simply tap on the "3rd apps" option and move to the app of your choice.
2. Now, you can see a list of different options. You can freeze or install it, and can even take its backup before removing it from your phone. You can also change it to a system app.
Other options
The app provides a wide range of other options as well. For instance, you can simply go to the "Toolbox" option and select the battery saver or call blocker option as well. Additionally, by visiting the "settings" option, you can set the auto backup or connect it with your Dropbox account as well.
As you can see, one of the major differences is that for a rooted device, Root Uninstaller can let you uninstall system apps (besides other major operations). If you want to root your device, then take the assistance of Android Root to perform this cumbersome task with a single click.
Part 3: Use Android Root to Get Root Access
If you want to get root access without facing any kind of trouble, then you should definitely try Android Root by Dr. Fone. It is a secure and fast way of rooting your device and supports a wide range of devices as well. Simply perform the following steps to root your android device.
Root Your Android Phone with One Click.
Simple process, hassle free.
Supports over 7000 devices.
Highest success rate in the industry.
100% safe and secure.
3981454 people have downloaded it
1. Install Android Root on your system. You can download it from here and can either try its free version or opt for the paid one.
2. After successfully installing it on your system, open it and look for the "More Tools" options on the left panel. Click it and select the "Android Root" feature.
3. Enable the USB Debugging option on your device before connecting it to the system. The interface will ask you to connect your device in order to start.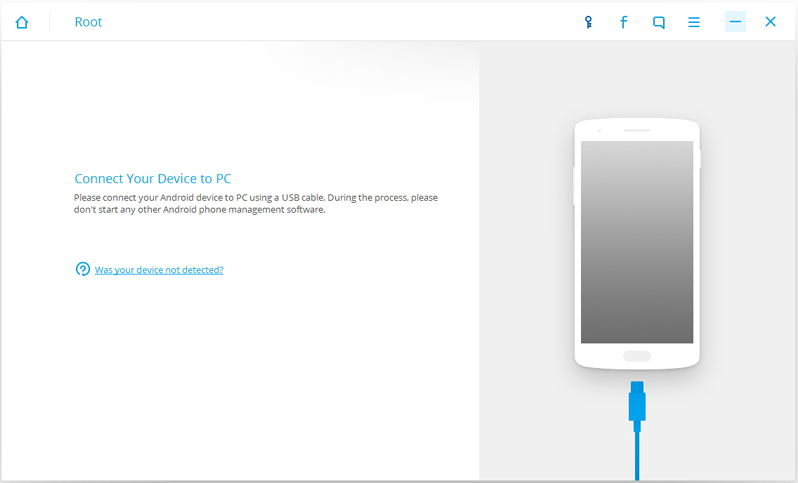 4. It will detect your device in a few seconds and make it ready for rooting.
5. Simply click on "Root now" option for the processing to commence.
6. As the operation would take place, there would be a popup message on your device asking your permission. Agree to it and wait for a few minutes for the app to root your device. Subsequently, it will display a congratulatory message on your screen after completing the rooting process.
It is only after performing the rooting operation you can easily perform a wide range of tasks using Root Uninstaller. With Android Root, you can make that happen and gain an unparalleled access to your device. Root Uninstaller is an amazing application and can let you perform so many operations with just a single tap. Give it a try and personalize your device to a great extent.