Two Solutions to root Sony Xperia E1 Easily
Sony Xperia E1 is an entry-level smartphone with 4-inch WVGA capacitive touchscreen and 3MP primary camera. It also packs Android Jelly Bean operating system coupled with Qualcomm MSM8210 dual core processor, dual SIM, 512MB RAM, 2GB internal memory expandable up to 32GB, and contains 1700mAH battery.
Now, before getting to know the steps involved in rooting Sony Xperia E1, we should know about the process of rooting.
In simple terms, Rooting is nothing but an equivalent version of Jailbreaking. It permits you to gain root access to your android OS, thereby allowing you to download and install apps, themes and extensions that are unavailable through the official Play store. Rooting your android phone will enable you to customize it the way you want and it gives you early bird access to some of the android versions and apps before they are actually released for use.
In initial days of android development, the process of rooting a phone was a tedious and time-consuming task. One who does this rooting process has to geeky and technically very sound to do it properly.
But, thanks to the rapid enhancement in technology, now the same rooting process can be done in a single click. There are thousands of apps available in market just to do the entire rooting process for you. All you need to do is initiate the process by clicking on the 'Start' button. Your android phone will be rooted successfully in a matter of few seconds depending on the phone model.
Part 1: Preparations of rooting Xperia E1
There are different types of rooting techniques available in the market ranging from one-click toolkits. Depending on the model of your phone and the android version you are currently using, you can choose the best suitable techniques for you and get it done.
In this article, primarily we will discuss about two different ways to root your android phone (Sony Xperia E1)
1. Rooting Xperia E1using the dr.fone toolkit from Wondershare
2. Root Xperia E1 with Framaroot (Without PC)
However, there are certain things you need to keep in mind before starting the rooting process.
• Take a backup of your phone. Once the rooting process is complete, you won't find any data in your Xperia E1 and everything will be wiped out. So make sure you backup everything before you proceed further. Backup your contacts list, text messages, photos, videos, and everything else you need to.
• Check for USB drivers in your computer. If not, please install one for a successful rooting
• Next, enable the USB debugging option on your phone. Go to Settings >>> Developer options >>> USB debugging. This will allow you to connect your phone with the computer and you are ready to start the root operation.
• Last but not the least. Your phone battery should have at-least 70 - 80% charge left.
Now that we know what should we keep in mind before rooting our Xoeria E1 with ease, let us proceed the process.
Part 2: How to root Xperia E1 in one click?
Have you ever heard of the Wondershare dr.fone toolkit? For those of you who don't know, the dr.fone toolkit is a multi-functionality toolkit. It not only does the rooting process but several tasks such as Data recovery, data backup & restore, system recovery, Screen recorder, SIM unlock service, rooting etc for both Android and iOS devices. It offers simple and secure rooting experience in just one click and is 100% safe and secure. It supports over 7000 devices and has the highest success rate in the industry.
Root Your Android Phone with One Click.
Simple process, hassle free.
Supports over 7000 devices.
Highest success rate in the industry.
100% safe and secure.
3981454 people have downloaded it
Let's see the steps involved in rooting process of your Xperia E1
Step No 1: Download and launch the dr.fone toolkit on your computer. Select "ROOT" option from the list of other available options.
Step No 2.In this step, you have to connect your Xperia E1 to the computer using a USB cable. If your Android os version is 4.2.2 or above, the dr.fone toolkit toolkit will pop-up message on your phone. Click on OK to allow USB debugging. Then dr.fone toolkit will automatically recognize and connect your Android phone.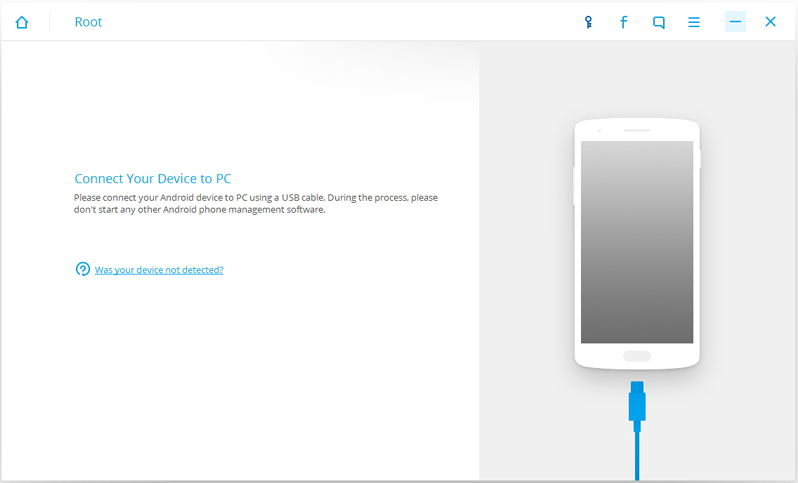 Step No 3: Once the connection is established between your android device and computer, start the rooting process by clicking on Start available on the dr.fone toolkit. The toolkit will then start the rooting process on your phone.
Now, click on Root Now to start rooting your phone. This will take different time interval depending on phone models.
During the rooting process, the phone might sometimes pop up a message asking permission to carry out the rooting process. Tap on Confirm to continue the rooting.
In just in a few minutes, your Sony Xperia E1 will be rooted successfully.
Rooting your android phone using this dr.fone toolkit is really simple. Well, some people don't wish to waste their money buying some tool from a third party website. They also feel unsecure about connecting their phone to these tools in unknown websites.
Part 3: How to root Xperia E1 with Framaroot
For those people who want to stay from these toolkits and save money, there exists an alternate method of rooting with the help of Framarootapk file. This rooting process is equally simple and doesn't require any PC. Let's know more about the technique.
This method basically involves downloading and installation of framarootapk file on your android phone. You can search for the latest apk file through Google. Try to download the file from the trusted source.
Let us go through the steps one by one:
Step No 1:Download the latest framarootapk on your Xperia E1 (You can use Google to get the latest apk file)
Step No 2:Navigate to the downloaded framaroot file using file manager and Install the file on your Xperia E1. If your android phone warns you about security risk, click on OK and check Unknown sources to allow install of applications outside of Play Store. This can be done via Settings -> Security -> Enable 'unknown sources'.
Step No 3: Open Framaroot and select the option "Install SuperSU" and then tap on 'Gandalf' Exploit.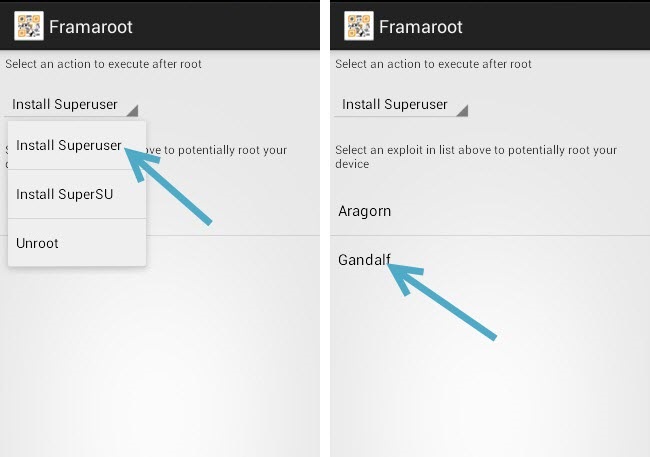 Step No 4:Root your Xperia E1. After few minutes, your device will be successfully rooted and will be ready for use.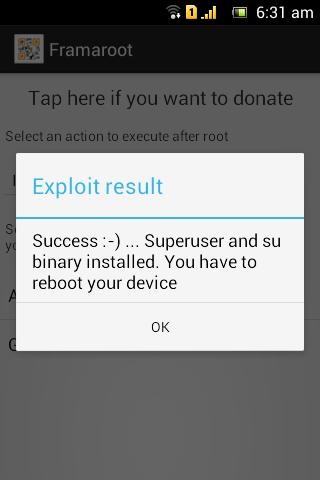 Note: To make sure your device is rooted successfully. Install 'Root Checker' tool from the Google play store and check for successful root.
After following the above procedure, your Sony Xperia E1 will be successfully rooted., repeat the process in case rooting is by chance unsuccessful.
A rooted phone, as we all know, lets you install unapproved apps, deleted in-built/ unwanted bloatware, replace firmware, update Operating System, overclock (or underclock) the processor, customize anything and everything as per your wish. However, it is completely your choice to pick anyone of the mentioned methods for rooting your phone. In our experience though, rooting process with the use of a PC has higher chances of success than without PC. Hence, choose the best suitable technique for yourself and do let us know how were the results for you after rooting your Xperia E1 in the comments section below.