Two Solutions to Root Xperia Z Devices Easily
Are you searching for how to root your Xperia Z easily all by yourself? You have come to a right place. We are going to show you today how to root the Xperia Z easily in this article. Xperia Z is one of the most popular Android phones of 2013. Rooting you Xperia Z will give your phone with additional features and feel you would love to. Regarding how to root this cool smartphone, we will present two best solutions; the first method will be using dr.fone – Android Root and the second one will be using Kingo Root application.
Part 1: Notice Before Starting
Before starting to root your Xperia Z, it is essential to notice some basic things about Rooting. It is not safe and wise to start rooting before considering these important facts.
Rooting is a very challenging task which may damage your phone if not done properly. Always do check these before rooting.
It is essential to back up your data from your Xperia Z before rooting in case the lost during the rooting process. This will help you restore your lost date on your phone again.
2. Fully Charge Xperia Z
The Xperia Z should be fully charged before started to root it so that there be no chance of draining the battery while rooting.
3. Choosing Right Method
It is also a very important pre-step to make a good research on how to root your Xperia Z and choose a correct one. Watch the tutorial many times to get clear ideas of that method. Rooting methods differ from device to device so be specific to yours.
4. Learn How to Reroot Xperia
The chances are that you might have trouble in rooting and want to unroot to get everything back to normal. To make things earlier at that time, you can now search the internet to get known some tips about how to unroot your Android device. Actually, some rooting software also allow you to unroot Android device.
Part 2: One Click to Root Xperia Z Device with Android Root
Rooting an Android phone has become so easy and simple process with Android Root that you can root your Xperia Z just in a single click. dr.fone offers you the fastest and most convenient way to root your Android. Supporting over 7000 devices, dr.fone - Android Root is 100% safe and secure. Let's learn the steps now how to use Android Root for rooting your Xperia Z.
Root Your Android Phone with One Click.
Simple process, hassle free.
Supports over 7000 devices.
Highest success rate in the industry.
100% safe and secure.
3981454 people have downloaded it
Step 1. Launch dr.fone
First of all, we have to download install and launch dr.fone on our computer. Next, we need to click on 'More Tools' from the left column and select 'Android Root' from the toolkits.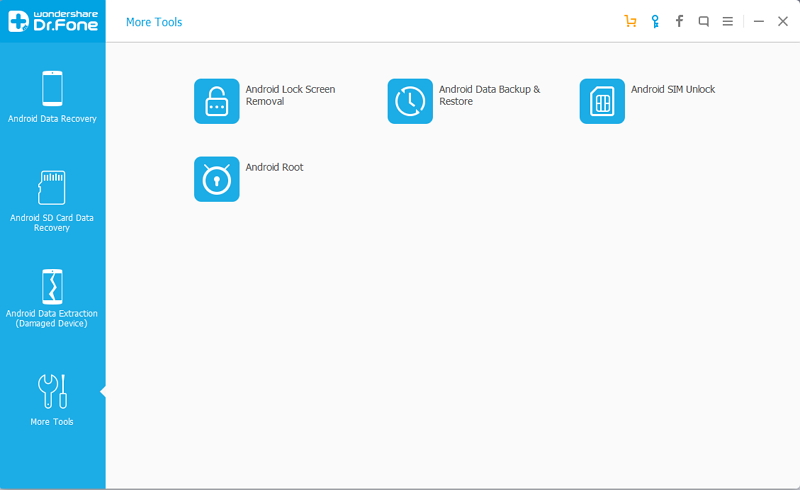 Step 2. Connect Phone to Computer
Now we have to connect our phone to the computer using a USB cable. We should have enabled the USB Debugging mode on our phone. The phone will be automatically detected and connected.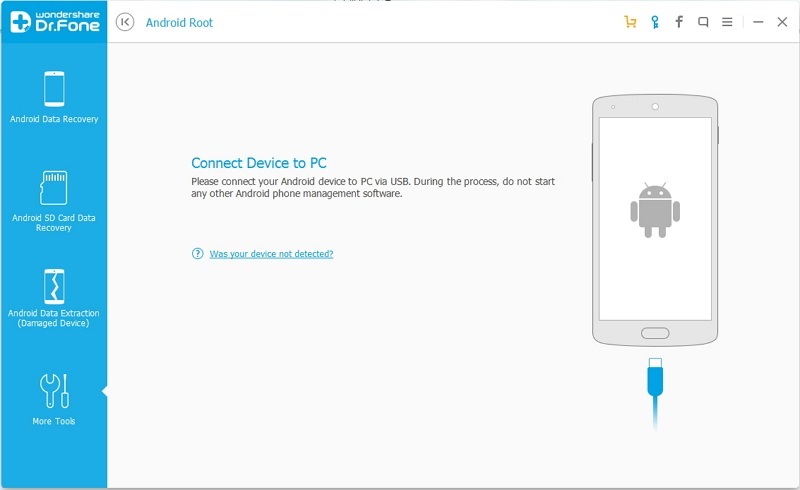 After your Android phone is connected successfully, dr.fone - Android Root will automatically detect your phone and find a proper solution to root your phone. Click on Start to continue.
Step 3. Root Android Phone
Once the phone is detected, there we get an option to root the phone. What we need to do now is to click on the root option.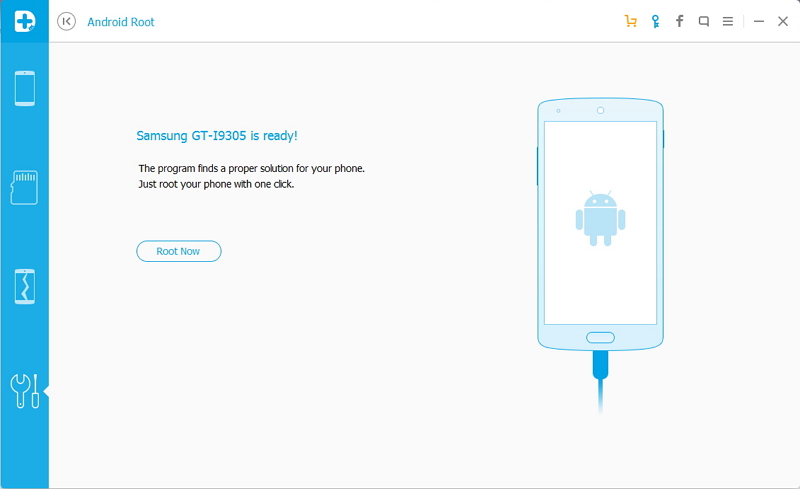 During the rooting process, the phone will pop up a message to ask whether you would like to root the phone. Tap on Confirm to continue the rooting. Just in a few minutes, your phone will be rooted successfully.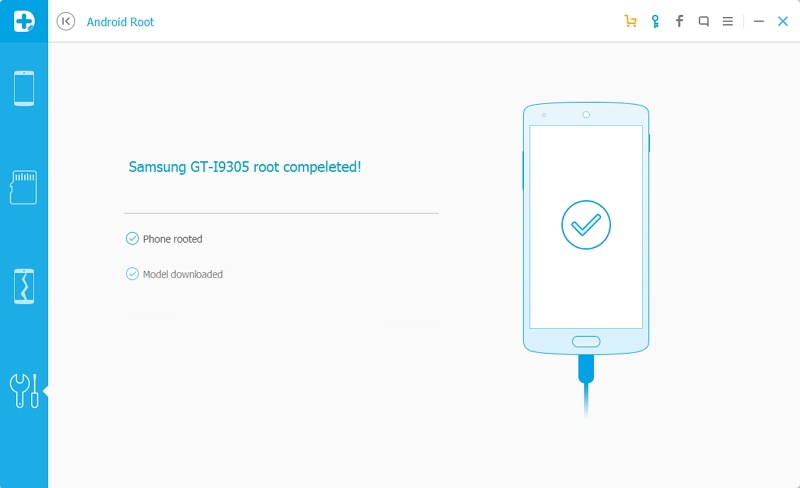 Part 3: Root Xperia Z without Computer (kingoroot application)
Now we will introduce you with Kingo Root which provides you with a global android root solution in a single click. KingoRoot is very easy to use for rooting an Android phone like Xperia Z without making use of a computer. Before we proceed to use KingoRoot for rooting Sony Xperia Z, make sure that your phone is switched on and has at least 60% battery charge. We will also need a good internet available. As we know, KingoRoot is not available on Google Store, we have to enable 'Unknown Sources' Settings. Let's see the steps now:
Step 1. Download and Install Kingo Root
At first, you need to download Kingo Root from its website. While downloading you may get a warning that this app may be harmful but don't worry, just continue. Once downloaded, you need to install it.
Step 2. Run KingRoot on your Xperia
In this step, you have to open the recently installed application. It is an easy step as you need to just tap on the icon of KingRoop on your device and it will run by itself. Next, you need to tap on 'One Click Root' to start the rooting.
Step 3. Wait till Phone gets Rooted
In this step, you don't need to do anything but waiting for the device to be rooted successfully. If it fails to root, try it again and again and it will be done. This is how you can root your Xperia Z with Kingo Root.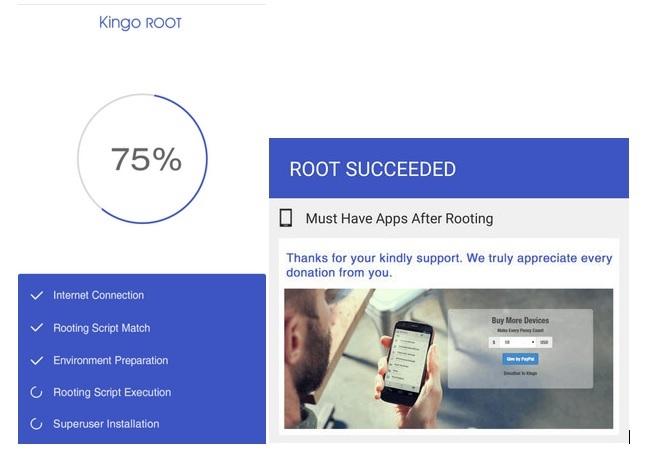 Now, we came to learn the two different ways to root our Xperia Z easily. The methods are really easy and simple to do.