One Click to Root ZTE Blade L3 with Android Root
The Chinese multinational company ZTE had launched their latest Blade range of smartphone "Blade L3" on May 2015 featuring a gorgeous 5" display with 8 MP rear and 2 MP front facing camera. It is also equipped with Quad-core mediatek processor and a 1GB RAM. Powered with 2000 mAh battery, it has a very slim profile look due to its 8.6 mm width.
With rapid changes and quick technological evolution, in a span of few years of using this device, some users may want to know how to root ZTE Blade L3. This will help them to use all the hidden features of the device and experience new possibilities to the fullest. Here, we'll learn about the simplest way to perform ZTE Blade L3 root within a few minutes.
So, in this article to root ZTE Blade L3, we will share with you the complete process including the dos and don'ts of rooting this device.
Part 1: Preparation before rooting ZTE Blade L3
Before we start with the process of rooting, it is very important to remember and pay key attention to a few must-do activities. Let us go through them one by one:
• Backup of the Internal Storage– All the important and sensitive personal information and files should be saved to external storage device before starting to avoid any damage or lose of data.
• The Battery – Root ZTE Blade L3 might be lengthy. So it's recommended to have at least 70-80% of juice left on your battery.
• Download all Drivers – Please download all the drivers for the ZTE Blade L3 before you start the process.
• Follow rooting guide and tutorial step by step – As instructed earlier, you should go through all the steps and clear all your doubts first.
• Unrooting process – Sometimes, you may not feel satisfied or secured with your rooted device. Then you might want to go back to unrooted stage. Then it's recommended to learn how to unroot also.
• Disable Firewall and antivirus – Some of the firewall block the rooting process. So, please disable all firewalls and antivirus before you proceed.
Now that you are fully aware of the checklist to root ZTE Blade 3, let us now proceed with the rooting process.
Part 2: How to root ZTE Blade L3 step by step?
The Wondershare dr.fone toolkit for Android Root is a wonderful tool to root ZTE Blade L3. It has the simplest and the easiest user interface available in the market. It is also 100% safe and secure to use with the highest rate of success in the industry. Supporting over 7000 devices, the Android root from dr.fone is known worldwide to offer simple and hassle free rooting solution.
Root Your Android Phone with One Click.
Simple process, hassle free.
Supports over 7000 devices.
Highest success rate in the industry.
100% safe and secure.
3981454 people have downloaded it
Let's have a look at its step by step guide for easy rooting.
Step No 1. The first step is to download the dr.fone toolkit "Android Root".
Step No 2 : Connecting with ZTE Blade L3-
Once done, install the software on your PC and click on "Root" option form the window below -
Then, connect your ZTE Blade L3 via USB data cable (an original preferred). Allow the USB debugging mode if prompted and let it connect successfully with the PC.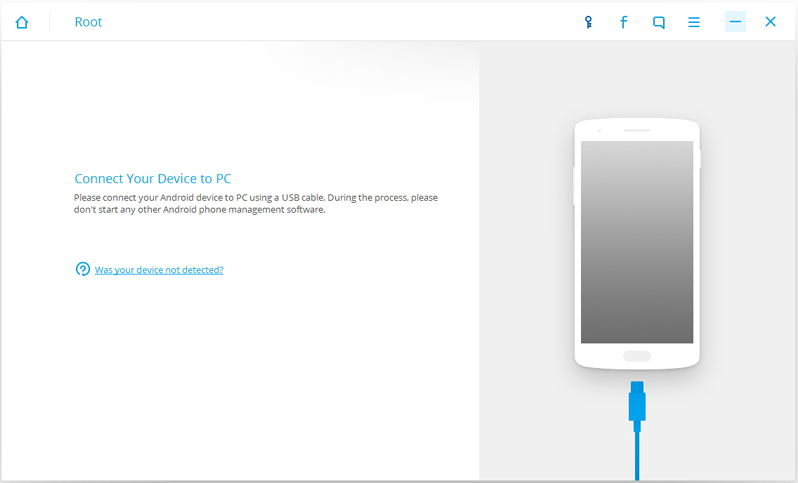 Step No 3: Detecting your ZTE Blade L3 –
After the successful connection of your ZTE Blade L3 and PC, Click on "Start" to allow the Android Root tool kit find the proper way to root your device. This may take a few minutes to complete the detection. Wait, patiently!
Step No 4: Perform the ZTE Blade L3 Root Process:
After detecting the proper process to root ZTE Blade L3, the window will prompt with "Root Now" option. Click on it to proceed further.
After a few minutes, you'll get a confirmation like in the picture below that the rooting has been completed.
Note: During the whole process, please make sure not to disconnect the USB cable from the PC or MAC as this may lead to damage the device or unsuccessful rooting.
So these were the simple and easy one click root solution for your ZTE Blade L3, using the dr.fone Wondershare- Android toolkit.
Part 3: Pros and Cons of rooting ZTE Blade L3
Rooting has endless advantages for the users. However, the good things can never come alone and they are bound to be accompanied by some negatives as well. In this section we bring you both the good and bad points of rooting your ZTE Blade L3, so that it is easier for you to take the right decision in terms of rooting.
Pros:
• You can customize every single thing on the ZTE Blade L3. From icons to appearance, menu to font, you have total control over the device.
• Users can also over clock or under clock the GPU speed as per their need. Depending upon the requirements, user can boost the performance of the device by their own. They no longer have to restrict the performance by the manufacturer default.
• Custom ROM, Kernel and third party apps can be installed. Thus, many supporting operating systems can be tested and experienced.
• Rooting allows full access to apps to edit, remove, back up and also remove all the bloat ware. No bloat ware means more free space and less RAM usage.
• Users can block ads on certain apps by their own choice. So, no more annoying ads will come in between using the device or any app.
• Significant extension of battery life and CPU speed and performance can be observed.
Cons:
• Rooting your ZTE Blade L3 might void its warranty. For any problem, either software or hardware, you can't claim the warranty in you root your device.
• It can causes your device working abnormally as it changes the internal kernel setting and may be dangerous if not done properly.
• Rooting your device makes it unqualified to receive OTA Android update from Google. For any future updates, the user will have to find and download the boot file from internet and manually install it on the device.
• Rooting may make your device hot during the usage.
• Rooted phones are easy to be hacked as it gives you access to the android sub folders and kernel.
So, rooting ZTE Blade L3 has its own positive and negative impact on the device. If you want to discover the exciting features and the rich world of rooting then you can choose to overlook the few negativities. Believe me rooting is the best way you enjoy your smart phone. Just make sure you follow each and every step of a proper tool for rooting.