How to Root ZTE Z820 - Easy Rooting Solution
If you own a ZTE Z820 and wish to root your device, then you have certainly come to the right place. In this informative post, we will make you familiar with a foolproof way to root ZTE Z820 by providing a stepwise tutorial. Also, we know how crucial the process of rooting can get at times. One bad step and you might end up facing unfavorable results. To avoid such an unwanted scenario, it is always recommended to know all the basic prerequisites before commencing the rooting operation. Read on and prepare your device to perform Z820 root and root it with a single click.
Part 1: Preparations for rooting ZTE Z820
Needless to say, before you learn how to root ZTE 820, it is of utmost importance that you prepare your device for the same. Additionally, you should also be aware of all the repercussions of rooting. Before you take the big step and perform ZTE Z820 root, make sure that you are already familiar with these points.
1. Most of the leading smartphone manufacturers follow a strict guideline when it comes to rooting. You need to know that after performing the ZTE Z820 root, the warranty on your device can turn void. It is important to note this, as for many users, this can be a dealbreaker.
2. Additionally, if the rooting process is halted in between due to some unforeseen circumstances or if it yields undesirable results, then you might end up losing all the data on your device. Therefore, it is important to take a complete backup of your data before commencing the rooting process.
3. There are times when a device's inbuilt firewall might tamper with the rooting process. To avoid this, it is recommended to turn off any firewall or anti-virus feature on your smartphone.
4. Your phone would be restarted during the entire process and might undergo several operations. To make sure that it won't stop processing in between, charge it to at least 60% before starting.
5. Also, to ensure that you won't face any unexpected output, you should download all the essential drivers related to your phone.
6. Take the entire process of rooting seriously and don't take the assistance of any run of the mill application to root your device. Only rely on reliable and secure software to do so.
7. Since we will be connecting the phone to a system using a USB cable, it is important to turn on the feature of USB Debugging. Firstly, turn on the Developer Options by visiting Settings > About Phone and tap the "Build Number" seven times. Now, visit the "Developer Options" and turn on the feature of USB Debugging.
Now when you are aware of all the basic prerequisites, let's move on and learn how to root ZTE Z820 right away.
Part 2: How to root ZTE Z820 step by step?
If you are planning to perform Z820 root, then you can't find a better solution than Android Root. The application is a part of dr.fone toolkit and provides an extremely reliable and safe way to root your device. It is already compatible with thousands of Android devices out there and will let you root ZTE Z820 with a single click.
It has a highly impressive success rate as well and comes with plenty of other features. After meeting all the above-stated requirements, you can easily perform ZTE Z820 root using Android Root. The application currently runs on Windows and provides a hassle-free way to root your device. Simply follow these steps and perform Z820 root using Android Root.
Root Your Android Phone with One Click.
Simple process, hassle free.
Supports over 7000 devices.
Highest success rate in the industry.
100% safe and secure.
3981454 people have downloaded it
1. Start by downloading Android Root from its official website right here. You can either go for its freely available trial version or buy the fully equipped tool. After downloading, just install it on your system and launch it. You would be welcomed by the following screen. Out of all the provided options, simply go for the "Root" feature in order to proceed.
2. The interface will ask you to connect your phone to the system. Take the assistance of a USB cable and connect your ZTE phone to your computer. As soon as you would connect it, you will get a pop-up message on your phone regarding the USB Debugging permission. Just tap on the "Ok" button to confirm it and let the application detect your device.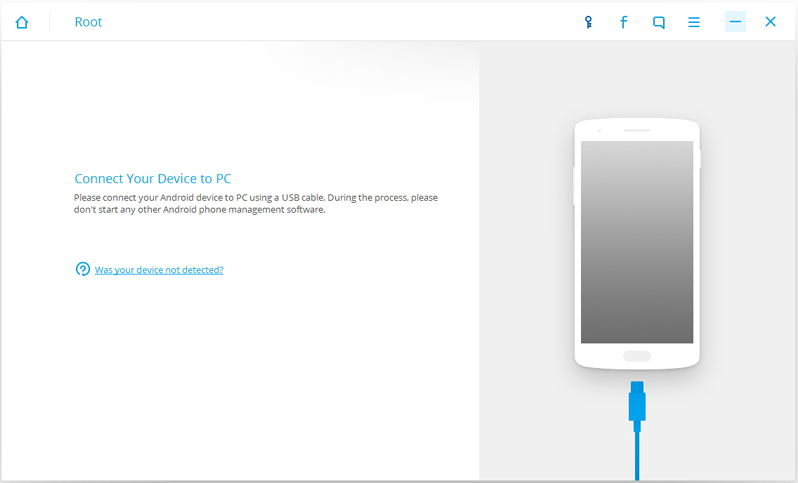 3. Wait for a few minutes as the application will perform all the needed steps to make your device ready for the rooting operation. The time duration might change from one device to another. You can get to know about it from an on-screen indicator as well. Additionally, you should make sure that you don't disconnect your device and let the application perform all the needed steps.
4. Whenever your device would be ready, the application will let you know by displaying the following on-screen message. Now, you can simply click on the "Root Now" button in order to start the rooting operation.
5. This will commence the rooting process. Sit back and relax as the application will perform all the needed tasks to root your device. Your phone would be restarted in between as well and might give another pop-up message regarding the permission to root it. Just agree to it and wait for a while until you would get the following congratulatory screen.
After getting the above screen, just restart your phone and enjoy all the benefits of rooting.
Now when you know how to root ZTE Z820 using a foolproof method, you can easily make the most out of it. Go ahead and customize your smartphone experience by performing the Z820 root. I'm sure you would be able to root your device using the above-mentioned method in no time. Nevertheless, if you face any trouble in the process, feel free to reach out to us.